Woohoo! You've sold a ticket. But before you get too complacent: communications after ticket sales are key if you want to grow your event and cultivate more informed participants. We have a few key ways you can automate your communications to ensure consistent attendee follow-ups and prompt your attendees to promote within their network.
Customize Notifications
The first key communication tool we'll touch on is your Confirmation Notification. That's the automated email you get anytime you buy tickets for an event. While TicketSignup sends that confirmation out automatically, you have the ability to customize it – don't overlook this quick and easy way to improve your messaging.
How to Customize Your Notification
First, navigate to Event >> Notifications, and then click on the "Tickets Purchased" Notification.

By default, the subject line for your notification is Confirmation for "Event Name". You can click the checkbox to customize the subject line, but we recommend keeping "Confirmation" and your event name somewhere in the subject line to make it easy for attendees to find it in their inbox.

Below the subject line is the automated notification for your attendees.

The default notification includes a number of replacement tags (all the text between percent signs) that tie directly to information from your race or the attendee, such as the event logo and the purchase confirmation code.
When your attendee gets the email, it will show up with the personalized information instead of the tag (like to the right) You don't need to update these – some of the replacement tags (like tax deduction details or raffle ticket details) may not apply to your event, in which case they won't show in email that your attendees see.
This basic confirmation shows:
QR code for Check In (you can remove this if you don't need it)
Manage Tickets link, which will ease ticket transfers if they are enabled (if not, it allows them to re-send confirmation emails)
Ticket purchaser information
Summary of the tickets and the purchase
Link back to the event website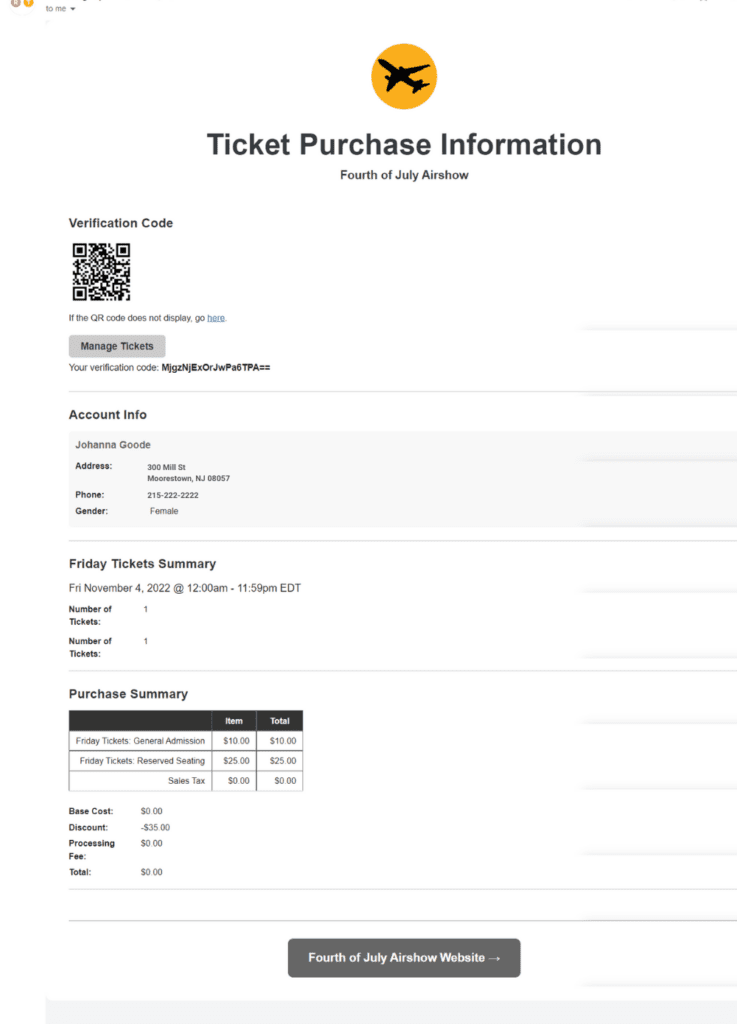 How to Make Your Confirmation Notification BETTER
The default confirmation email includes the basics that your attendees will need. But you can make it even better with a few quick tweaks:
Add Key Logistical Information
Include location information about the event to make it easier for attendees to find you.
Add important information like parking and prohibited items.
Link to an FAQ on your website to make it easy for attendees to find more answers to questions without overwhelming the email.
Add a Prompt for More Action
Include a reminder about your Referral Rewards program. The default replacement tags include one for their unique referral link (%RSU_Purchase_Referral_URL%) is included in the email, but to maximize sharing, make sure to add a snippet explaining what they get for their referrals.
Keep it Concise
Punch up your confirmation email, but don't add every detail – that's what your pre-event email is for. You want your confirmation notification to make your most important information and messages easy to find.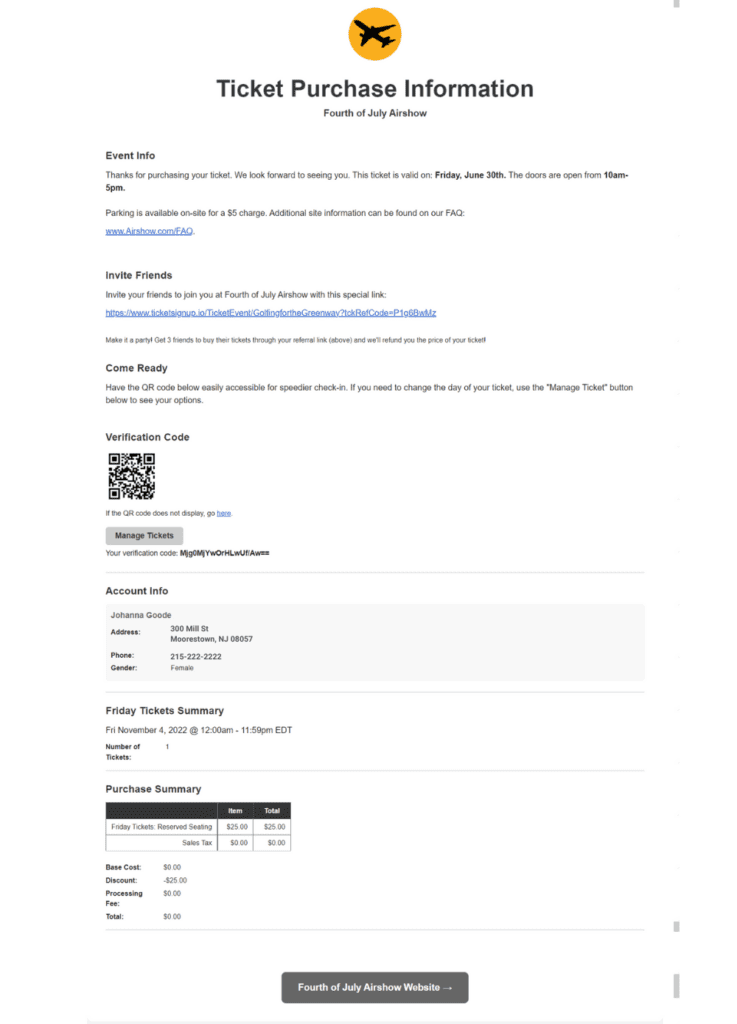 ---
Automated Ticket Purchase Followup Emails
Your second key communication tool for after the purchase is the Automated Ticket Purchase Followup Email. This set-it-and-forget it option lets you re-visit your key messaging points after a little time has passed since the post-purchase.
How to Use Ticket Purchase Followup Emails
Ticket Purchase Followup Emails allow you to send pre-written emails at specified intervals after the ticket purchase. You can schedule them for an amount of time post-purchase (like 2 days after purchase) or a specific date (like the day before the event).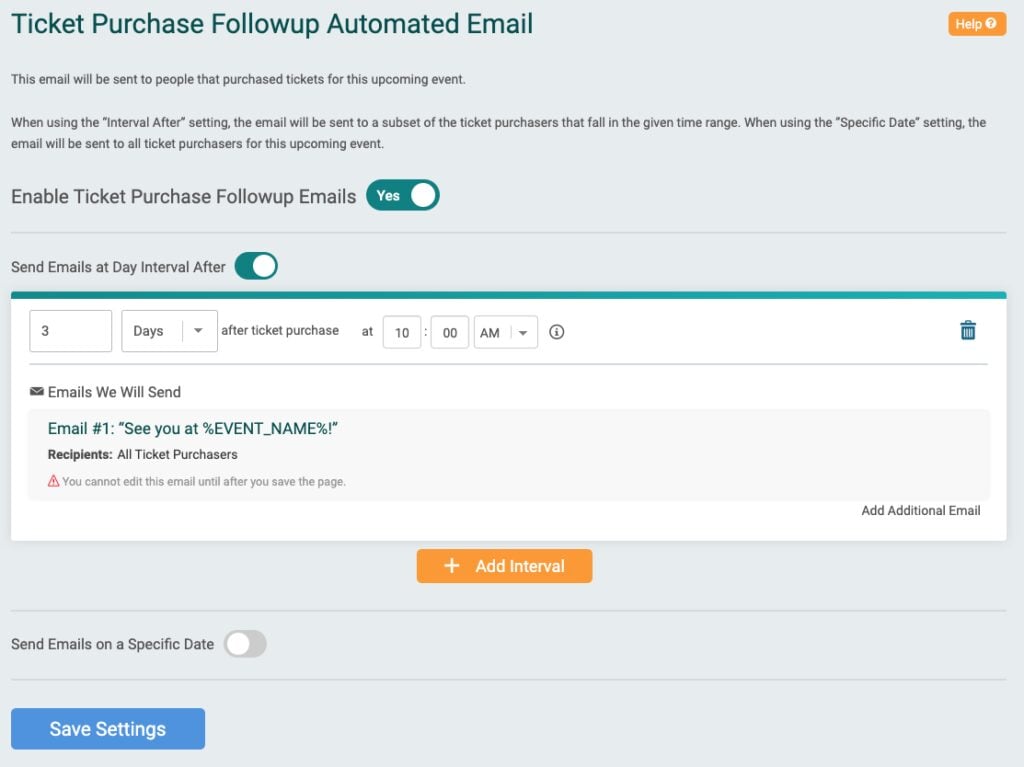 Growing Your Event Via Ticket Purchase Followup Emails
The best marketing for your event is always other people attending your event. One of our favorite usages of followup emails is to encourage and incentive attendees to bring their friends. A few key ways to do that include:
Remind attendees about your referral rewards program. People are more likely to share if they remember what's in it for them!
Remind attendees of discounts and promotions for the event. Encourage attendees to share your bargains with their friends and family. Word of caution, though: never promote a discount to purchasers that's cheaper than what they paid – it's never good to make them regret buying early!
Stoke FOMO. Share videos and images of how much fun attendees had in previous years to motivate attendees to share the event with their network.
How to Craft Better Purchase Followup Email
Hit the sweet spot on sending. We recommend sending 2-3 followup emails – enough to get your message across, but not so many that you annoy your attendees.
Personalize your emails with replacement tags. Whether it's simple personalization (like using their first name) or a more functional replacement tag (like their custom referral link), using replacement tags makes your emails more genuine and more actionable.
Curate your message. There are a lot of things you wish your attendees would know and remember. But a too-long email is a not-read email, so pick your MOST IMPORTANT messages for each message.
Divide and conquer. If you have a lot to share, you may want to split up your messages. For example, send one email 2 days after purchase to remind attendees of your referral program, a second email a week later to showcase your sponsors, and a final email the day before the event with your event day logistics.
---
Summary
Your marketing job doesn't end when an attendee buys a ticket. Keeping attendees engaged and excited to invite their friends and family is key to a successful event – but that doesn't mean you need to spend hours each week following up with attendees. Instead, automate your follow-up by curating more informative and actionable confirmation notifications and purchase followup emails.