Customer Snapshot

Days of Competition: 3
Number of Athletes: 3,500
Average Tickets Per Purchase: 2
Adidas Outdoor Nationals and TicketSignup
The Adidas Outdoor Track Nationals brings together the best middle school and high school athletes in the country for a three day track meet. With all those young athletes comes fans (and parents) looking for the opportunity to watch the competition unfold. Nearly 5,000 spectators descended on the three-day event, providing Event Director Nolan Jez with both a challenge and an opportunity.
Challenge: Provide a good experience for spectators by eliminating lines and making the entry process as simple as possible.
Opportunity: Use spectator ticket sales to ease the tight margins of event production and increase revenue for the event.
Nolan found that TicketSignup could help with both of those and made the move to TicketSignup for spectator tickets in 2023.
"As an event owner, one of the most important things is maximizing all our revenue streams. And as an event director, one of the biggest concerns is making sure that the on-site experience is seamless for our spectators. TicketSignup really hit both goals."
– Nolan Jez, Adidas Outdoor Nationals Event Director
Easy Purchase, No Cash
To maximize sales and reduce roadblocks, the purchase path for spectator tickets was kept as simple as possible – no added questions and no login requirements. Just make few quick clicks from the TicketSignup purchase website (branded to match the event), and the ticket confirmation lands in the spectator's email.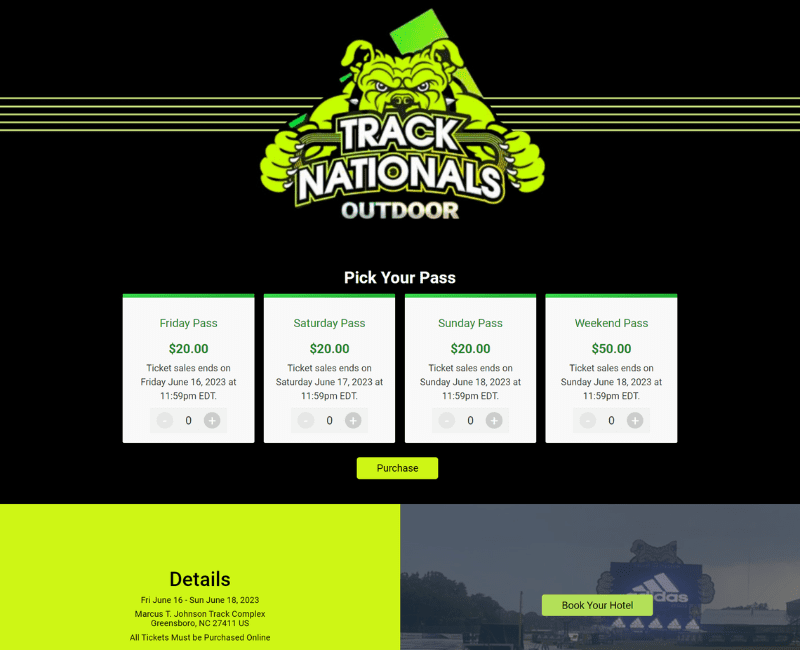 Spectator tickets for the Adidas Outdoor Nationals are available only online. This solves a couple of problems for the event:
For a high volume event, there's no time wasted making change or running credit cards.
No need to hire on-site security to manage the cash collection area.

To manage the no-cash process without increasing wait times, the event used two separate entrances, with QR code signage reminding everyone to buy their tickets from their phones if they had not already done so. Since all spectators had to pass through security, they used a tent halfway through the security line to scan tickets, making entry quick and easy from that point.
With the public increasingly used to QR codes and mobile purchases, the Adidas Outdoor Nationals team had no pushback about the decision to sell all tickets online. If anyone really struggled to get their ticket, volunteers on-site could help them navigate the process – especially since the number of people needing assistance lingered in the single-digits.
Access Control
One priority for Meet Director Nolan Jez was the ability to limit the information that staff and volunteers could access, allowing them to check-in tickets without giving everyone access to all backend data and financials. TicketSignup's Tickets App for CheckIn made that simple. In advance of the event, Nolan set up a simple preset and configuration for volunteers that allowed them to check-in attendees from the Tickets App without. No backend event access needed, so your data is always just yours.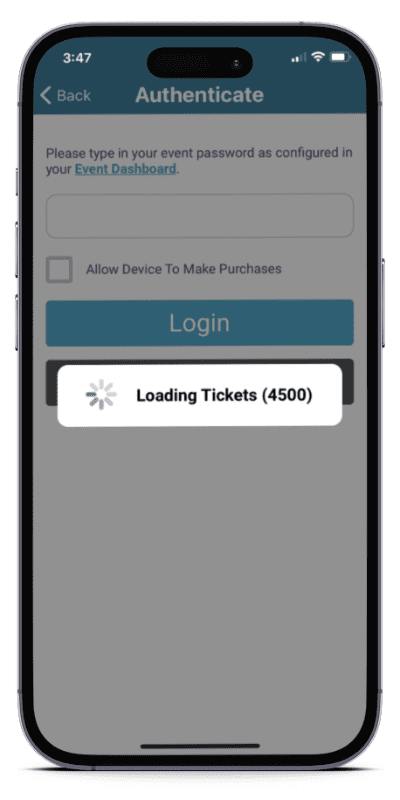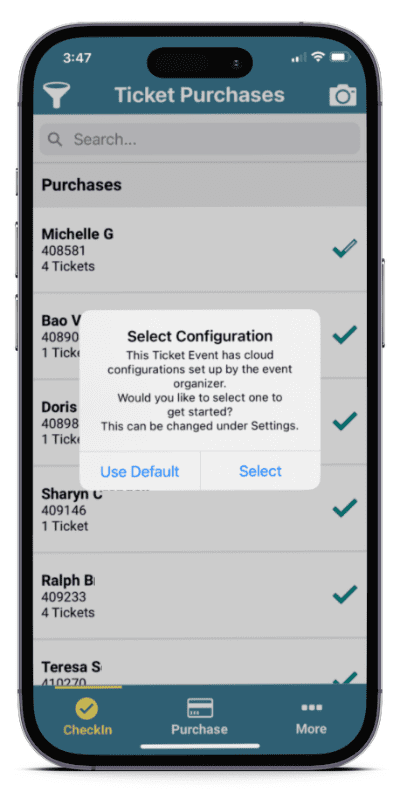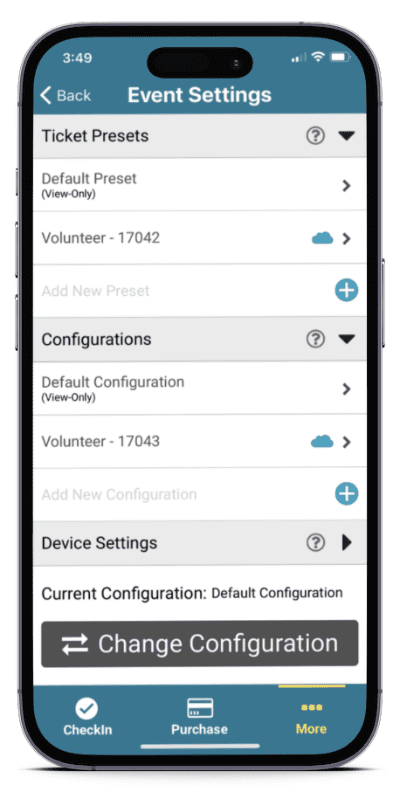 Fast Check-In (Training)
When you're bringing in thousands of spectators, every second counts. Not only was the process of checking in tickets simple, but the process of training volunteers to check in was simple. This meant less time training and more time getting straight to work!
"Training volunteers on the Tickets App for CheckIn App took about 2 minutes, start to finish – which is good, since volunteers tend to show up just minutes before their shift. Because the app was so easy, once one group of volunteers had been trained, they could take care of on-boarding the next group."
– Nolan Jez, Adidas Outdoor Nationals Event Director
A Happy Audience
With runners descending on Greensboro, NC from all across the country the event saw fans making the trip from all over the country, particularly the regions that were drivable.
Given the effort and money that spectators poured into attending the Adidas Outdoor Track Nationals, the experience they had on-site was important. By providing an online only option with fast purchase and even faster check-in, the event was able to create a super-streamlined experience and keep their audience cheering.