Customer Snapshot

A Celebration of: Taste and Tradition
A Collaboration Between: Two Event Partners
A Variety of Options: With Five Events
The Pinehurst BBQ Festival came to be because event partners Peter Stilwell and Dave Droschak were looking for an event for the Village of Pinehurst that was unique and had room to grow year after year. Their chosen branding "Taste and Tradition" comes from the dual delights of experiencing the taste of NC BBQ while enjoying the history and traditions of the Village of Pinehurst. The goal? Making the event more than just a food event, but rather, a true experience with multiple events throughout Labor Day Weekend.
Moving to TicketSignup
While the Pinehurst BBQ had researched various ticket alternatives over the years, Jake Unger from TicketSignup actually found them. Additionally, the events team was already using RunSignup for their Festival D'Avion Air Show 5K without realizing that the same company also offered a ticket solution. The decision-process was measured and thorough, with Jake taking the time to speak with all the stakeholders and address the challenges of their specific events.
The Importance of Simplicity
Easy for Attendees
While the multi-event weekend creates an amazing experience, it also runs the risk of creating confusion, especially with less tech-savvy attendees. Pinehurst BBQ keeps their ticket buying process as simple as possible, with ticket options for each event (as well as an all-events ticket), and no additional information collection or added questions. This lets attendees pick their tickets and checkout in just seconds!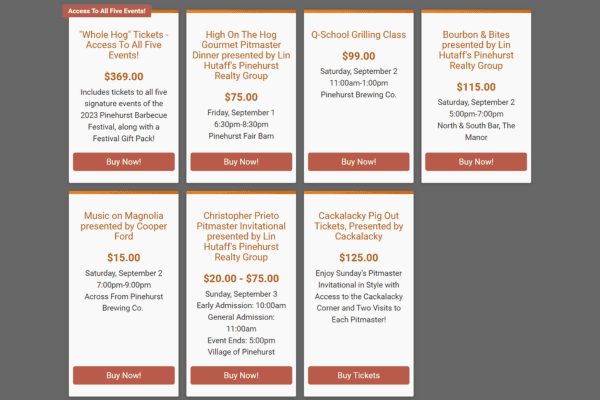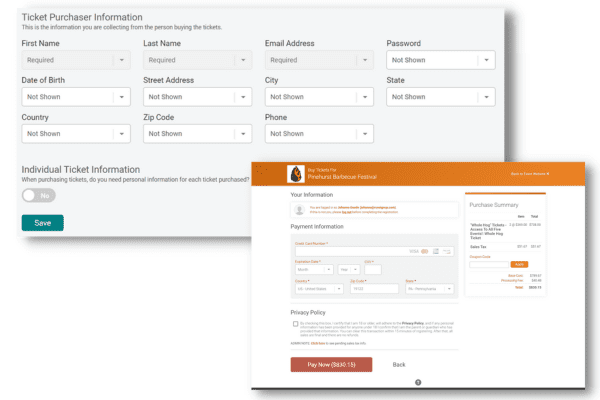 Easy for Organizers
The Pinehurst BBQ is located in multiple NC locations, but needs every team member to be able to access the backend of TicketSignup, including both partners and Andrew, a part time employee who focuses on the technology side of ticket sales. This ensures that the event partners always have daily sales information at their fingertips to evaluate their marketing plan, while allowing Andrew to set up and modify their ticket options as needed.

Self-Serve Website Updates
The Pinehurst BBQ maintains their own robust website with event information, but that doesn't mean they don't care about how their TicketSignup purchasing site looks and feels. Rather, they want their ticket portal to mirror their site so it feels to attendees like there is a connection, not a third party ticket seller.
They've taken the time to add logo and branding elements, and keep their event information updated as new information becomes available.
The ability to quickly make website changes on their own directly impacts their bottom line because each event has different sponsors. Brand exposure is a key value proposition for the sponsors, and they need to be able to keep all the sponsor information on their ticket portal updated. Additionally, the entertainment schedules and food menus will evolve over time and it's important that they are fast and easy to update.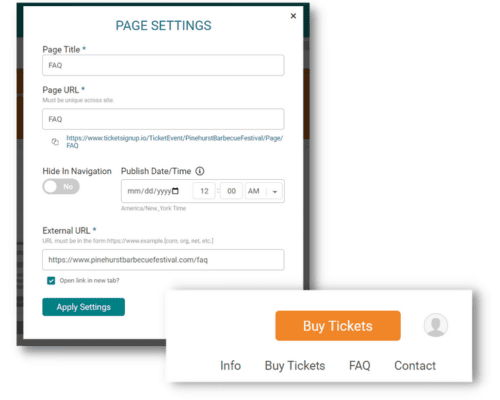 Beyond that, they make the experience of moving between their hosted website and their TicketSignup site seamless by using TicketSignup's built-in Website Builder to create menu items that link back to the FAQ on their hosted website. This ensures that ticket buyers can always find the information they need, while creating the impression of a single, consolidated website.
An Early Start
While the Pinehurst BBQ is still a summer away, the organizers wanted to capitalize on the enthusiasm around the event to lock in some attendees early. To jumpstart the the excitement, they used TicketSignup's integrated email platform to email their list a full 6 months prior to the event to let them know tickets were available.
To super-charger their early purchase effort, Pinehurst BBQ promoted a one-month only sale of a special ticket that included a free kids ticket. That special offer was included in both the initial email outreach and created a reason to send a second "time is running out" email with a strong call to action.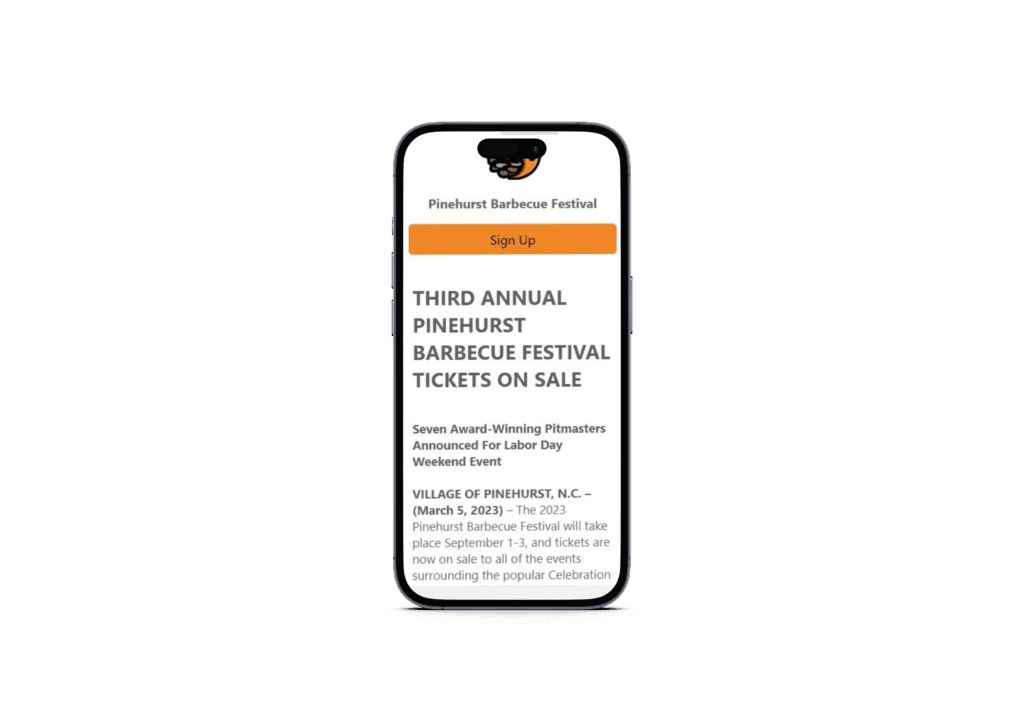 The results? You can tell from the spikes in ticket sales when each email was sent! Despite the early date, the emails resulted in a large boost in ticket sales.

Summary
The Pinehurst BBQ team was able to make a smooth transition to TicketSignup, and is looking forward to having the data from both the Pinehurst BBQ and the Festival D'Avion Air Show 5k integrated into the same platform. With a few tweaks to customize their website and some early-bird email promotions, festival-goers are already finding it easy to secure their ticket to the weekend – no customer support from the Pinehurst BBQ team needed!
And if you're near North Carolina and feeling hungry…tickets for the 2023 Pinehurst BBQ are available!