Taste the Town was conceptualized by a neighborhood group, Take Out 25, and organized by local residents to support small businesses and families in Oak Park, Illinois. The idea was simple: work with local restaurants to create a takeout meal featuring the best small dishes for each.
The meals were packaged and sold for $100 for a family of four, with an optional add-on for dessert. Revenue from ticket sales was divided between the 9 restaurants that participated (sharing 90% of ticket sales), and the local nonprofit Housing Forward (receiving 10% of ticket sales and any added donations.
Each Restaurant Earned $3,917
Tripled Donation Goal of $2,000
61% of Transactions Included Donation
The Challenge
Addressing two problems:
Local restaurants were struggling to cover costs during the pandemic. A rough local estimate by Take Out 25 determined that the restaurant industry would need each household to spend $25 a week at a restaurant throughout the pandemic to survive the loss of in-person dining.
Local food and housing insecurity has been rising in Oak Park. The nonprofit Housing Forward has focused on both housing security and providing regular meals for struggling community members.
Raising More with TicketSignup
Organizer Allison Cummins chose to set up the event on TicketSignup because she had previously used RunSignup for endurance events for her family's nonprofit, Rally for Ron. The purposed-built technology platform ensured easy event setup and easy ticket purchase while encouraging giving within purchasing path.
Ticket Organization
Ticket Groups: To organize the pickups and keep the flow of traffic steady, tickets were organized into ticket groups by time, with each hour between 4pm-8pm designated as its own ticket group. Within each ticket group, tickets were available for both vegetarian and non-vegetarian options. Additionally, dessert was an additional ticket option that could be added to any of the pickup times.
Flexible limits: The overall limit for tickets was set by participating restaurants at 300 (with 200 for dessert). With four time-slots, Allison was able to move around the ticket group caps to allow more slots at more popular times, while ensuring no slot exceeded 100 pickups and the overall total did not exceed 300.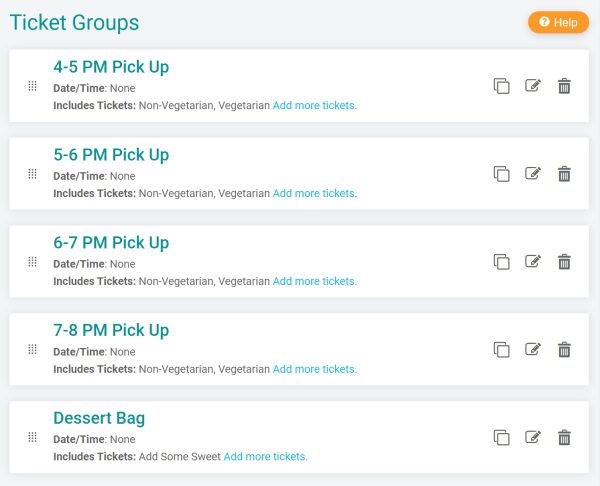 ---
---
Supporting Housing Forward
A perfect fit. Housing Forward became involved in the event when they reached out to Take Out 25 after hearing about the concept. The nonprofit already purchased food from local restaurants, so donating some of the ticket proceeds for the nonprofit were a win-win: Housing Forward could use their portion of the proceeds to purchase more food, supporting their food insecurity programs and ensuring an additional revenue stream for the restaurants.
Integrated donations. Take Out 25 and Allison Cummins were pleasantly surprised by the impact of integrating donations into the ticket-purchasing process. With 61% of transactions adding a donation, the event raised nearly 3 times their initial fundraising goal of $2,000 (a total of $5,880).

Direct Payment: As a nonprofit, the financials all flowed through Housing Forward. This arrangement meant the nonprofit got money faster and the organizers didn't need to touch any financial information – they just sent the payment account setup to the organization and focused on the logistics.
More Lessons from Taste the Town
Taste the Town took a tried-and-true concept (the food festival) and reimagined it to work with social distancing (and home dining). If you want to duplicate the idea in your town, they left us with two basic pieces of advice.
Local community groups and local media are key to spreading the word about your event, as well as supporters of the nonprofit Housing Forward and each of the restaurants. Use neighborhood connections to save money on marketing.
Don't underestimate how much food you're handling, and the challenges of packaging and storing the food properly. Discuss packaging with restaurants in advance, and ensure you have adequate refrigeration space.
Problem Solved.
Taste the Town was a success. Restaurants received more revenue while introducing local eaters to their food and encouraging future orders. The local community got to participate in an event "together", building camaraderie for the community. Housing Forward raised more money to support its mission. In the weeks since the event, both restaurants and residents have eagerly asked for another round…so round 2 of Taste the Town is in the works!