Basic Information Collection
The most basic information collection (such as email, name, and date of birth) are automatically built into the TicketSignup System – with the ability choose:
Which fields you want to collect.
Whether to ask for information from all ticket holders, or only from the ticket purchaser.

If an attendee is already signed into their TicketSignup or RunSignup account, these fields for ticket purchasers will be filled in automatically, but no account (or password) is required unless you choose to require one. Because our ticket management options are built to be accessible from email (instead of an account), you can speed the ticket purchasing process by allowing purchases without a password.
---
Custom Questions
If you need more information about your attendees or purchasers, Custom Questions allows you to ask just about anything. For each custom question you can choose a style:
Text Field for short open-ended answers
Check Boxes for multiple options where more than one can be selected
Radio Buttons & Select Menu for multiple options where only one can be selected
Yes/No for simple yes/no questions
Essay for long open-ended answers

Custom questions can be further customized with thumbnail images and additional details for an easy-to-understand process for your purchasers. Additionally, all questions can be re-ordered into an intuitive flow.
Questions can be asked for:
Ticket purchasers only, or all ticket holders
Purchasers of all tickets, or only specific ticket groups or tickets
Required or optional answering
You can access and download the responses to your custom questions from your Individual Ticket Report and Ticket Purchases Report.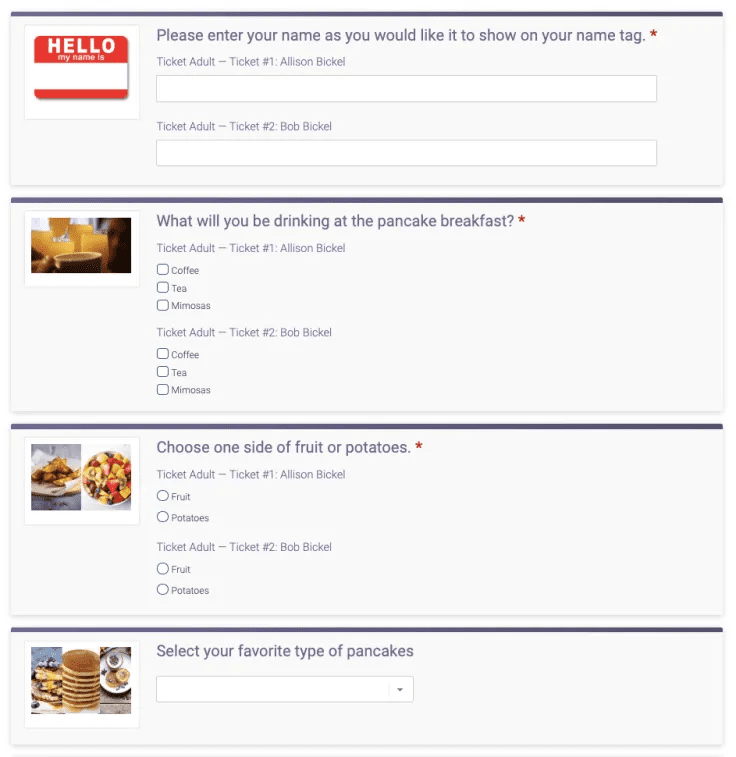 ---