The Block Party at the Richmond SPCA is a family-friendly celebration featuring live music, beer, wine, and food trucks, vendors, and special activities for animal lovers of all ages. The ticket event they have set up for the event encapsulates the spirit of the event, with a fun, retro website, easy ticket purchasing, and multiple reminders to contribute to the cause.
Customer Snapshot

Donations: In purchase path and checkout
Design: Eye Catching Cover Page
Website Builder: Use of Sub Menu Pages
Impact: Saved over 4,000 homeless animals
Milestone: 20 Years of a no-kill operating model
A 2002 PARTY Website
In honor of the twentieth anniversary of adopting a no-kill operating model, the Richmond SPCA selected a theme and imagery for their event that screams "Party like it's 2002". The bold, neon color scheme, fun graphics, and selection of a dog photo (of course) make their event website memorable and enticing.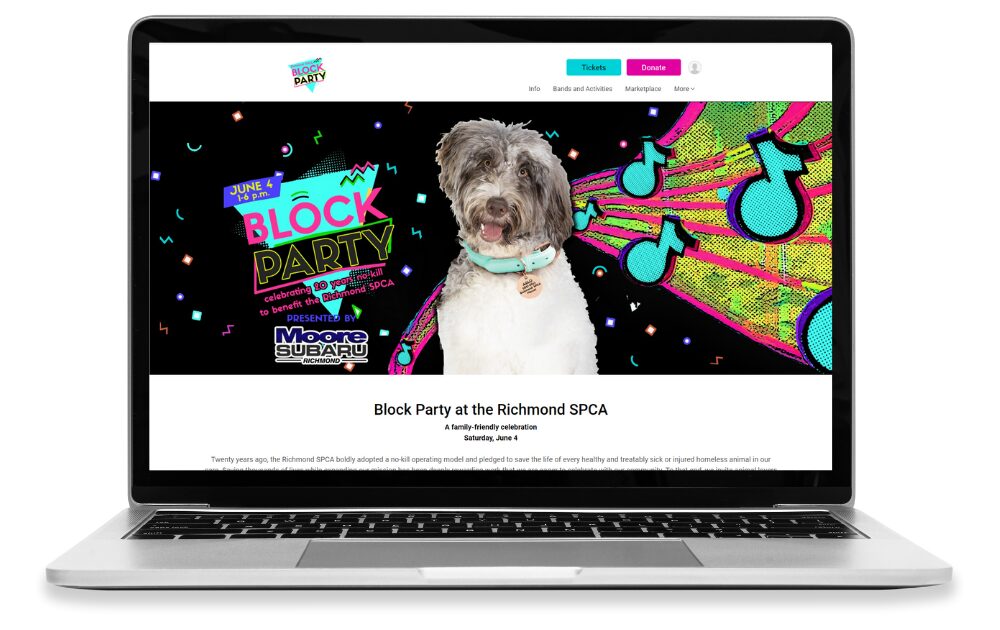 The website isn't solely an aesthetic element of the event, though – the Richmond SPCA also used the Website Builder to add in pages with key information about what to expect on event day, including a page for Bands and Activities, a page for Marketplace Vendors, and COVID Safety information.
Encouraging Donations
The Richmond SPCA Block Party is about more than fun: It's also a fundraiser for the organization. The event offers two opportunities for ticket purchasers to make an additional donation in support of the mission. Ticket purchasers find a donation prompt within the purchase path, along with the ability to make their donation one-time or recurring.
But that's not the only option to donate. If a purchaser skips through the donation page, they'll find another super-simple opportunity to donate on the checkout page by simply clicking a radio button.
By providing two opportunities to donate, the event is more likely to capture donations – even when the purchaser is in a rush and skips by the initial donation opportunity.
Incentivizing Online Ticket Sales
The ticket setup for the Richmond SPCA Block Party is simple and straightforward – all online tickets are General Admission, at a single price-point of $8. The smart part about their pricing is the way they framed the discount for purchasing in advance. The Block Party used Display Options (Tickets >> Ticket Groups >> Down Arrow to select Display Options) to add an event tile highlight focused on the discount and an event description clearly calling out the savings for purchasing in advance.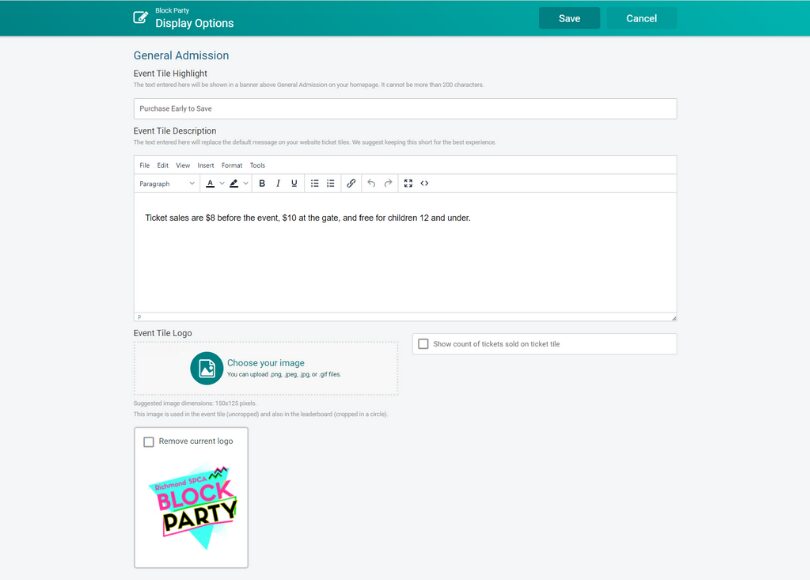 On the website, the event tile looks like this:
The benefit of these easy, minor updates to the display of ticket options? In addition to increasing the chances that people will get the event on their calendar, encouraging people to purchase online helps an event plan logistics, determine ordering needs, and decide on crowd management tactics. Price is an easy incentive to use to push your potential attendees toward action now rather than later.
If there's one clear takeaway from the Richmond SPCA Block Party, it's that you don't have to over-complicate your website or your event options to stand out. A few fun design elements, a focus on your cause, and a simple-but-motivating call to action can be all you need to make your event a success. We can't wait to see this fun and vibrant event in action in just a few weeks!