The Epilepsy Foundation of Colorado provides resources, support, and education for people living with epilepsy and their families in Colorado. Epilepsy Foundation of Colorado, which is based in Denver, is a local affiliate of the national Epilepsy Foundation organization. In 2020, they began using TicketSignup's Ticket Event platform alongside GiveSignup's Peer-to-Peer Fundraising platform to raise money, save money, and save time.
Customer Snapshot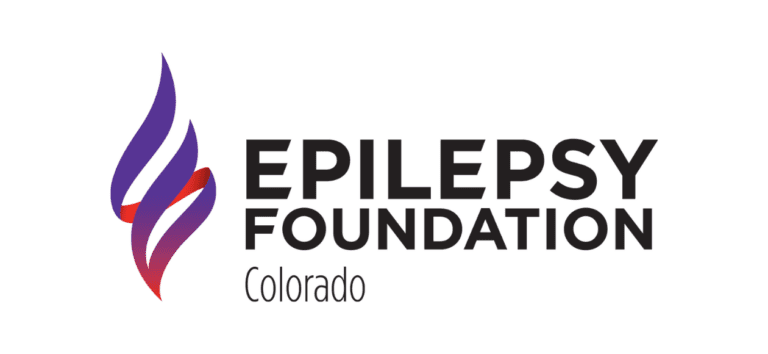 RAISED MONEY: with annual Fundraising Events
SAVED MONEY: with free email marketing & Facebook Fundraising integration
SAVED TIME: with a self-serve platform, and central data location that allowed for shared access
---
Raise Money
Epilepsy Foundation of Colorado is using TicketSignup Ticket Events and GiveSignup Peer-to-Peer Fundraising Events to generate revenue in the following ways:
Ticket Events: Epilepsy Foundation of Colorado uses TicketSignup for their ticket events. They have a variety of free ticket events, like webinars and trainings, as well as a fundraising gala and a symposium. Their events are almost all virtual in 2020. Epilepsy Foundation of Colorado has set up 11 different ticket events on TicketSignup since June of this year.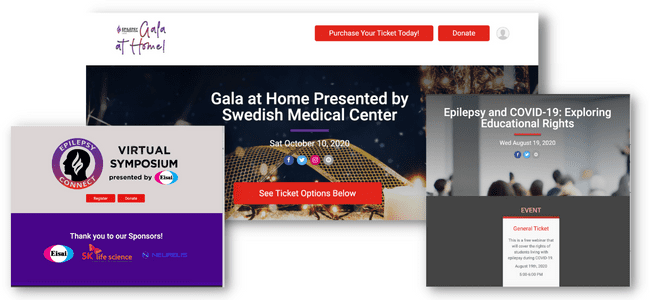 Fundraising Walk: Epilepsy Foundation of Colorado holds an annual fundraising walk for epilepsy awareness called the Colorado Springs Walk to END EPILEPSY. In 2020, the event is a virtual walk with a drive thru car parade on the event date. They are using GiveSignup's integrated peer-to-peer fundraising platform with registration, donations, fundraising, and team capabilities to make the event as engaging as possible in a year when they cannot hold it in-person.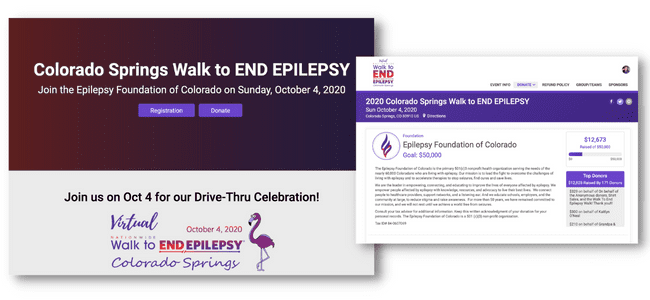 ---
Save Money
Epilepsy Foundation of Colorado is saving money with TicketSignup and GiveSignup because the platform is completely free, with no subscription, monthly, or setup feels. The only fees are processing fees (which include platform + credit card fees). They further reduce the impact of processing fees by giving donors the option to pay the donation processing fees. For free events, like their monthly webinars, the ticket purchase path features a soft ask for donations.
Free Email: Epilepsy Foundation of Colorado uses TicketSignup's free email to communicate with supporters and participants. It's easy to create filtered lists across supporters and send targeted emails, set up automated drip campaigns, and cross-promote fundraising events. For example, Epilepsy Foundation of Colorado can create a list of all supporters who donated more than $25 in the past year and send them a coupon to their virtual walk.
Free Facebook Fundraising: Epilepsy Foundation of Colorado uses GiveSignup's free integration with Facebook Fundraising for all of their peer-to-peer fundraising events. Supporters can connect their GiveSignup fundraising page with Facebook, creating a synced Facebook Fundraiser that they can share. Donations made on Facebook are completely free and fundraisers can more easily reach their broader networks to ask for donations. Using the Facebook fundraiser integration in 2020 has reduced their effective processing fee on donations to their fundraising walk to only 2.76%.
Free websites for every event: Each ticket event and peer-to-peer fundraising event has it's own full website, which Epilepsy Foundation of Colorado can customize to reflect their branding.
---
---
Save Time
Epilepsy Foundation of Colorado saves time by using TicketSignup and GiveSignup for their ticket events and peer-to-peer fundraising events.
TicketSignup is a self-serve platform that's easy to use, with thousands of how-to guides, blogs, Youtube tutorials, and webinars. Epilepsy Foundation of Colorado can do everything themselves, which means they don't have to rely on TicketSignup support to help them set up their events, pull reports, or manage supporter data. It's a great balance between an easy-to-use platform and support from TicketSignup to make fundraising a success.
TicketSignup's help guides, videos, blogs, webinars, and provide product updates and support. Epilepsy Foundation of Colorado also contacts info@ticketsignup.io when they have questions, need assistance with event setup, and to give feedback on features that help them raise more money.
Epilepsy Foundation of Colorado has access to robust reporting tools on all of their TicketSignup and GiveSignup events, making it easy to view, manage, and export supporter data efficiently.
Epilepsy Foundation of Colorado has one payment account that they use for all their events and campaigns, meaning that they get one weekly payment for the amount of that week's registrations, donations, and paid tickets. Clean payment reports break down funds by event/campaign, so it's easy to reconcile finances.
It's easy (and free) for Epilepsy Foundation of Colorado to manage access for their team members. Everyone on their team has their own GiveSignup account and can be added to any ticket event, donation website, or the virtual walk, with different levels of access. There are no limits on how many team members can view one event, and team members don't have to be added to all events, either, making it easy to customize access for each person on the team.
All of Epilepsy Foundation of Colorado's data is in one place. This means they get a 360 degree view of their constituents across all of their revenue generating activities. Epilepsy Foundation of Colorado can provide tailored support to fundraisers and participants, easily take actions to help fundraisers and participants, and log notes and interactions so that all Epilepsy Foundation of Colorado team members can view the engagement history with supporters.