Spring is just around the corner and what better way to get your supporters outside and fundraising for your cause? A golf event! We have both a lightweight Ticket platform that works for many golf events with simple requirements. For golf fundraisers with more robust features for team participation, peer-to-peer fundraising, and robust participant management, our registration platform may be a better fit (more on that breakdown between tickets and registration here).
Here are some examples of golf fundraising events using from our incredible customers. These examples showcase the flexibility and ease of use of our two purpose-built solutions. We'll start with some examples built in the ticketing platform, and then move onto a few utilizing registration.
---
Ticketed Golf Events
This event creatively uses golf in the most family-friendly and accessible way – mini golf!
Organizers implemented automatic Ticket Caps to limit the number of golfers to 48 per hour
To drive donations, Wood Library offered multiple Donation Levels with golf-themed labels to gamify the experience of giving to their organization and its cause.
The Addis Faith Foundation (AFF) is putting on their own golf tournament to work towards ending childhood cancer.
AFF also utilized our Cover Pages tool to present a professional and compelling presentation of their event details and cause.
By featuring sponsorship options along with participation signups, AFF broadened its reach to potential sponsors and provided an easy way for companies to partner with the event and pay quickly online.
Don't forget, though, that we have a fully integrated sponsorship tool with additional functionality including automatic logo displays and quick and easy sponsorship invoicing. Learn more here.
---
Registration Golf Events
Part of a national series of golf events, Tunnel to Towers (T2T) created a beautiful event website with compelling content and smart branding.
Using our Cover Page tool and our website customization features, T2T built a dynamic and customized website with a cover page featuring photos, graphics, call-to-action button, and a sponsor logo.
Employing smart branding, T2T used our BYO domain feature that allowed them to use their own URL. In this case, they have a custom URL for this event – golfbentwater.t2t.org. Some customers will use a subdomain for events – like golf.mynonprofit.org. We provide this customization (and the SSL certificate) for free.
All Wheels Up (AWU) leaned into the virtual event trend to minimize risk as the events industry emerged from crippling restrictions during the pandemic with this event. Flexibility is king here as participants were invited to complete 100 holes within a single month to raise funds and awareness for their cause. Some highlights include:
Using Event Display Options, AWU customized the event tile at the point of purchase with key details for that helped reduce support needs and motivated potential registrants to continue confidently in the purchase process.
Individual Fundraising and Fundraising Minimums were enabled that required registrants to agree to meet the minimum before continuing with the registration process.
To fulfill their swag, they are using our automated Shipping Options, registrants were required to provide their shipping address during registration.
After completing their 100 holes, participants will have the ability to upload their scores to our Virtual Results page within their TicketSignup event website.
*We've covered this one in a previous blog about golf fundraising events, but it's so good not to mention again as inspiration for 2022!
This is a more advanced setup that uses our more advanced registration platform. Some of the things that are added with this:
Full website capability with multiple content pages and menus
Teams are required to help groups register together for their preferred tee time
Individuals are encouraged to set up their own Fundraising Pages
Free Facebook Fundraising pages can be automatically created for each fundraiser
A countdown clock was added to create urgency.
Bundled sponsor information
Note with the registration platform, there is the capability to do more complex team setups. For this golf outing, each participant can create or join a team. Team sizes for this event are capped at 4.
When a team is created, the captain can set up a password so others do not join (there is also a link they can share with their friends so that they can sign up and each person pays separately).
Also note that it is simple to add multiple people when a person is signing up. This makes it simple to sign up all 4 team members together as long as one person is willing to pay.
One last one to remind us all it's important to have fun and offer additional ways to provide entertainment and reach your revenue goals.
Registration Add-Ons were enabled to offer special event upgrades like a hole-in-one contest. Genius!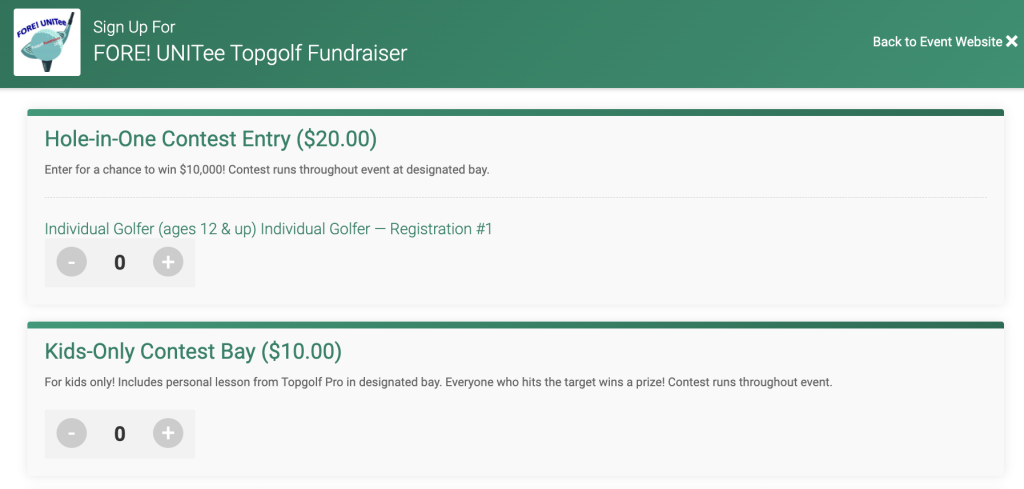 Summary
TicketSignup's purpose-built platform has the free technology that event organizers need for their golf-themed events, with tools to raise and sell more. Keep following Ticketsignup Blog for more customer stories in the coming weeks. Next up, we'll showcase how some of our favorite furry friends and their top supporters take advantage of our platform's powerful tools and features.