Eventbrite announced their Q4 and full year earnings yesterday. Julia and Lanny also held their quarterly earnings call.
The good news for the event community is that Eventbrite is finally seeing ticket sales approaching pre-pandemic levels. Here is a chart that shows relative ticket sales for Eventbrite and our company: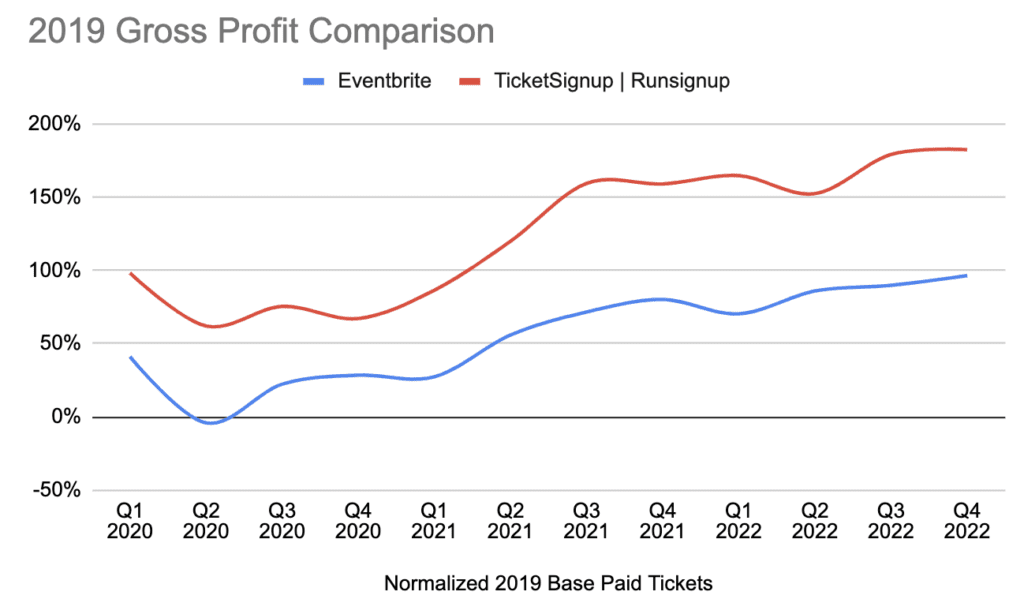 Eventbrite is about 10X our size in terms of ticket sold – about 25 Million in Q4 vs. our 2.5M. But we are slowly catching up with them, and some of the things they announced yesterday will further their customer's frustrations with them and open up the door to explore TicketSignup as an alternative: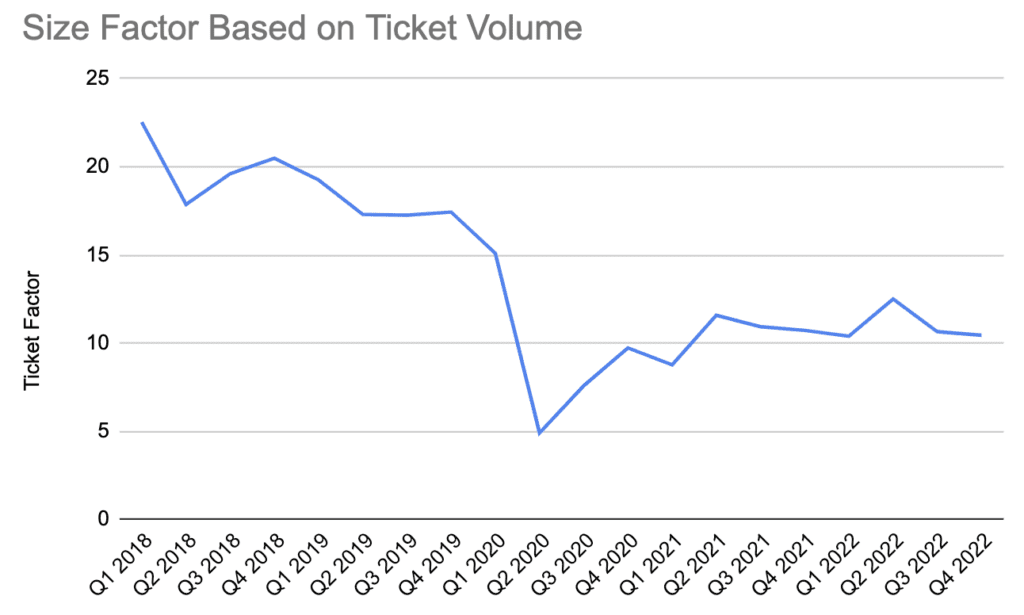 Here are some of the key things they announced and potential implications:
Price Increase
They have raised their price to $1.79 per ticket plus 6.6% including credit card fees. This compares with TicketSignup's pricing of $1.00 per transaction (no per ticket cost) plus 6% ($0.80 plus 4.8% if you have over 5,000 tickets across your event portfolio). Do they think they are TicketMaster?
As we pointed out in an earlier blog post, events could charge Eventbrite level pricing (if your customers will accept that level of fee), and keep the difference if you use TicketSignup. That could add $Thousands to your bottom line.
8% Layoffs
Julia Hartz in the Earnings Call: "we will eliminate 8% of roles immediately". This is after going on a hiring spree the past two years after laying off 50% of their staff at the beginning of the pandemic. This type of staff turnover is hard on a company, hard on producing quality products and hard on customers and continuity.
30% Offshoring
Julia Hartz in the earnings call: "relocate 30% of roles over the next 10 months". This means that hundreds of people in the US will be replaced by people in India and Spain. Again, this type of turnover may have lower costs per employee, but the loss of experience and employee trust will have long term impacts to customers in product quality and customer support.
More Ads, Costly Email
"A major focus on"Eventbrite Ads" was mentioned 24 times in the earnings call yesterday. Eventbrite generated $1.7 Million in Ad and Boost sales in Q4 and plans to grow that significantly. The Ads product is in 20 cities today and will grow to cover the country over the course of 2023. Boost is basically a paid email platform as Eventbrite seeks more subscription revenue.
Eventbrite is growing the amount of "real estate" they have on their website for ad customers. As we have discussed previously, Eventbrite is more interested in promoting themselves than helping their customers. Eventually, this may prove to be very frustrating to Eventbrite customers – in addition to the high processing fees they will need to place ads with Eventbrite to gain traction in their marketplace. Eventbrite's focus on Ads is potentially a very bad strategy.
We Have Seen This Before
Seeing these moves to increase revenue and margin without really focusing on the implications to all of their customers is what has created opportunity for us in the past. The endurance market had legacy vendors in it when we first started RunSignup in 2010. Those vendors did things like move to lower cost locations, leaving once loyal employees behind and bitter. They focused more on high margin marketing programs – reselling customer data. Many customers began feeling frustrated that the vendor was in too much control, was too expensive, and was not delivering enough value. That opened the opportunity for us to stay focused on building technology for to help events.
A similar dynamic is happening in the event ticket space now. And we look forward to continuing our strategy of staying focused on building technology that helps our customers.