Referral Rewards are the lowest cost, highest impact marketing tool for events. We've added additional features to Referral Rewards to help grow your ticket events by rewarding supporters for getting their friends and family to join them in buying tickets.
When you navigate to Promotions >> Referral Tracking >> Manage Codes there are three new options:
Add a Referral Code
You can add a referral code to track purchases from a unique link that is not associated with a ticket purchase. Some events are using this feature to create unique links for each stakeholder to track the number of attendees they bring to an event. To add a Referral Code, enter a description (this will only show in reports on the dashboard) and the referrer's email address. Then click Add Code. You can send the unique link to the stakeholder so that they can promote your event to their networks.

Assign Referral Code for Existing Purchases
If you enable a Referral Rewards program after tickets have been purchased, it's easy to bulk assign referral codes to existing tickets that do not already have a code. Select the Tickets (or Ticket Group and Ticket) that you'd like to assign referral codes, then click Assign Referral Codes.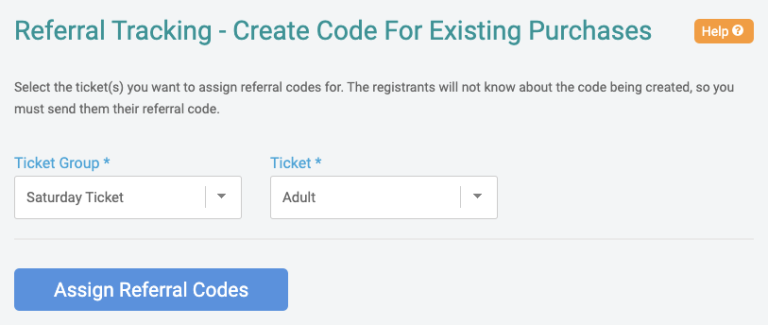 Manually Add Referred Purchase
This features enables you to assign a referral code to a ticket purchase. This is useful if someone referred a friend to the ticket event, but the friend forgot to sign up using their unique link. You can enter the friend's ticket purchase ID (from the Ticket Purchase Report) and the Referral Code of the referrer. This will give the referrer credit for their friend's ticket purchase.
You can learn more about how to use Referral Rewards to grow your fundraising events for free here.