Tickets vs. Ticket Groups
For complex events, you can enable Advanced Ticket Setup from your dashboard and organize your tickets into ticket groups. A ticket group is a category of tickets that corresponds to part or all of a ticketed event. Tickets are the sub-category of ticket groups used to create different options or variants, such as times or prices. Tickets are created in the Ticket Wizard (although you can add more later), while ticket groups are enabled via Tickets >> Advanced Tickets on your ticket dashboard, and then edited from Tickets >> Ticket Groups.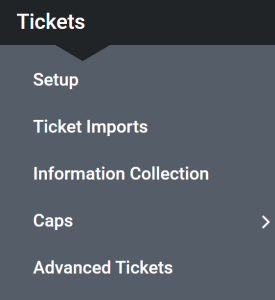 Setting Up a Multi-Day Event
Multi-day events, like festivals, are easy to set up on the TicketSignup platform. Most multi-day events choose to create ticket groups for each day of the event, with tickets for variants like times, adult/child pricing, or even location.
Example Setup for a Multi-Day Festival
This is one way to use ticket groups and tickets to sell tickets to a small-town festival.
Scenario: You are holding a festival that will be open on Thursday, Friday, and Saturday nights, as well as Saturday afternoon. Each of these four days needs to have separate tickets so that someone who comes on Thursday can't come again on Saturday without buying another ticket. You want families to come together and so you need to incentivize them with some kind of family pricing deal. There is a magic show each night (but not during the day on Saturday) for which you need to charge extra to cover your costs.
Recommended Setup: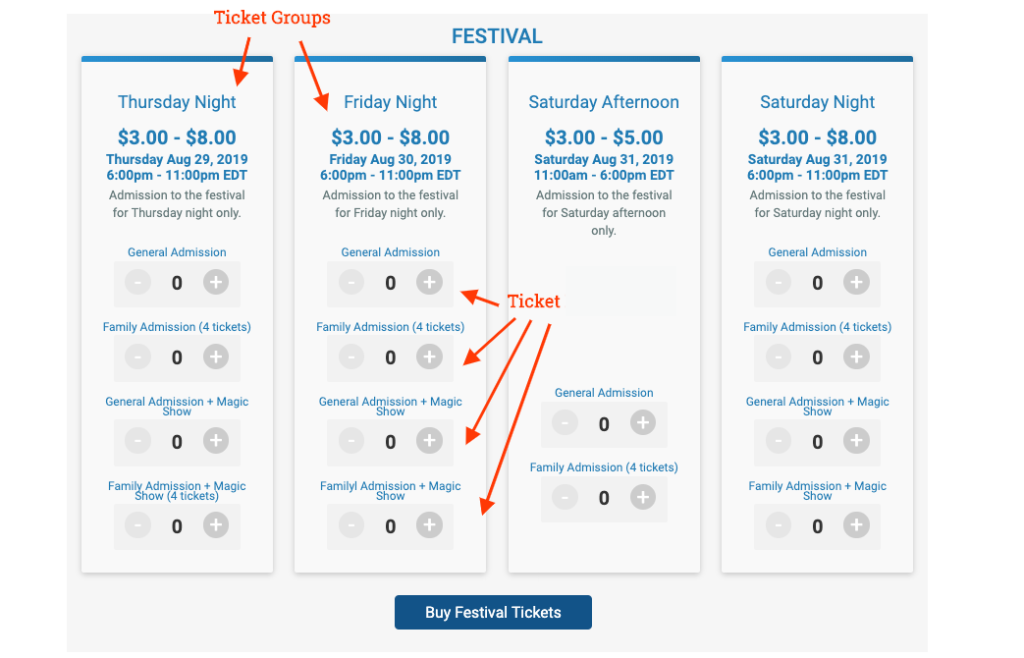 The most user-friendly way to set this up is to create a ticket group for each night, as well as one for Saturday afternoon. Everything else can be configured as tickets. There are four tickets for the Thursday night, Friday night, and Saturday night ticket groups. The Saturday afternoon ticket group has only two, because there is no magic show in the afternoon.
The first ticket is General Admission. This has a straightforward setup: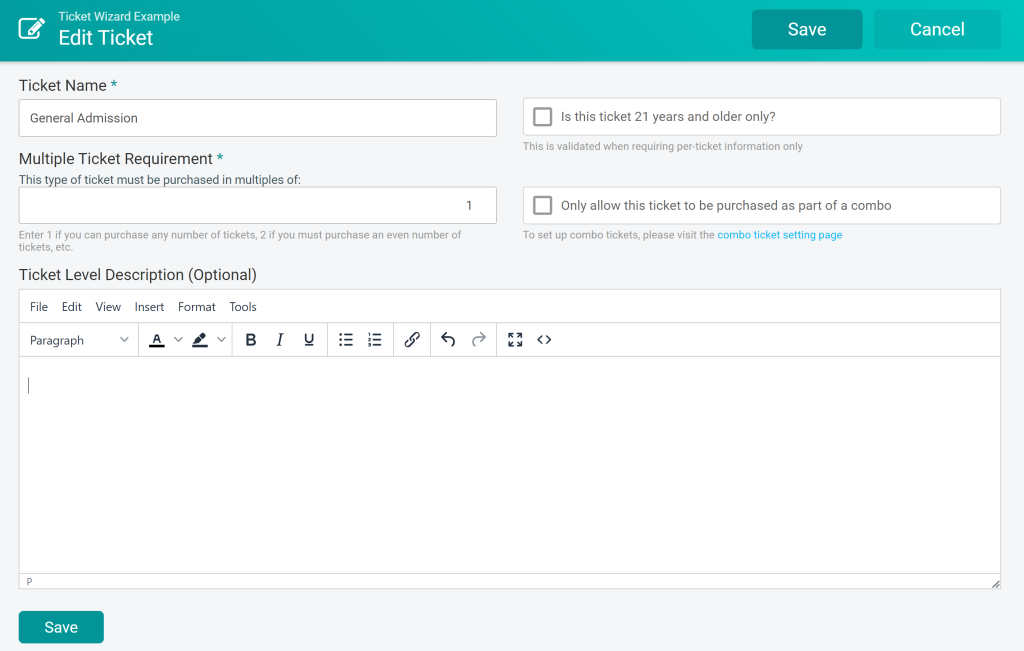 The next ticket is Family Admission. This level is set up so that the purchaser has to buy the tickets in sets of four: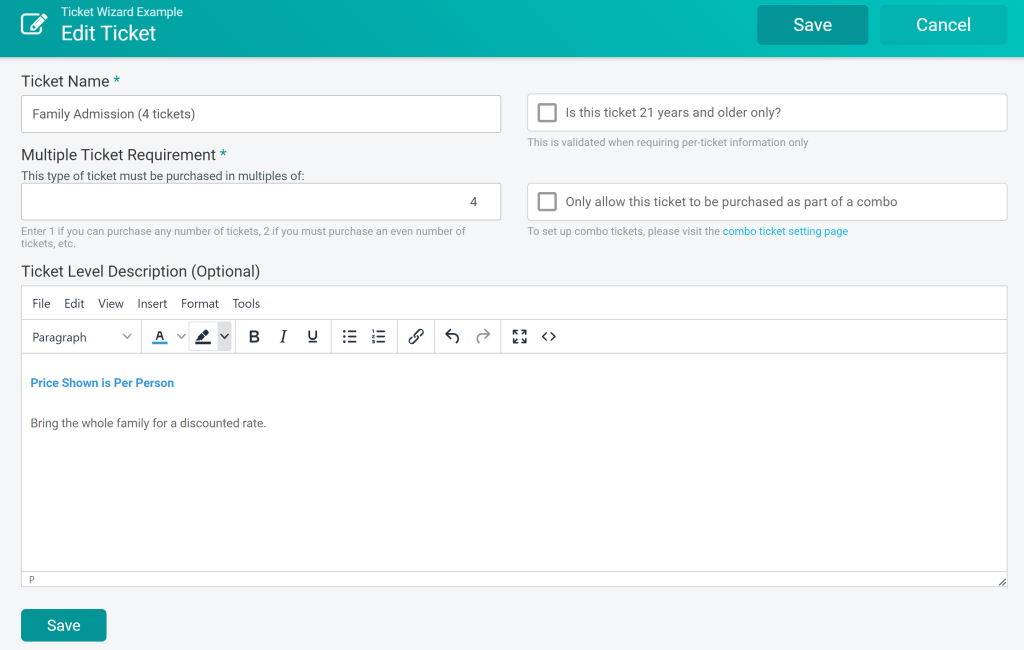 The price per ticket is lower to create a family rate. A set of four tickets is $12 instead of the $20 it would be if a family bought general admission tickets.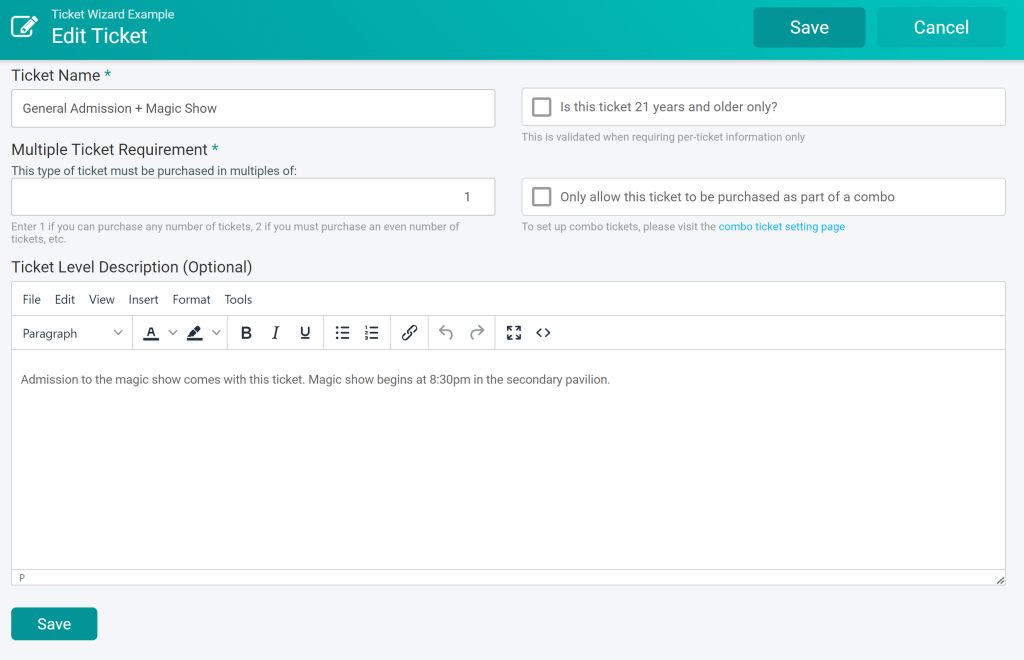 The last two tickets for the Thursday night, Friday night, and Saturday night ticket groups are tickets that come with entrance to the Magic Show. The Family Admission + Magic Show ticket level again requires that tickets be purchased in sets of four.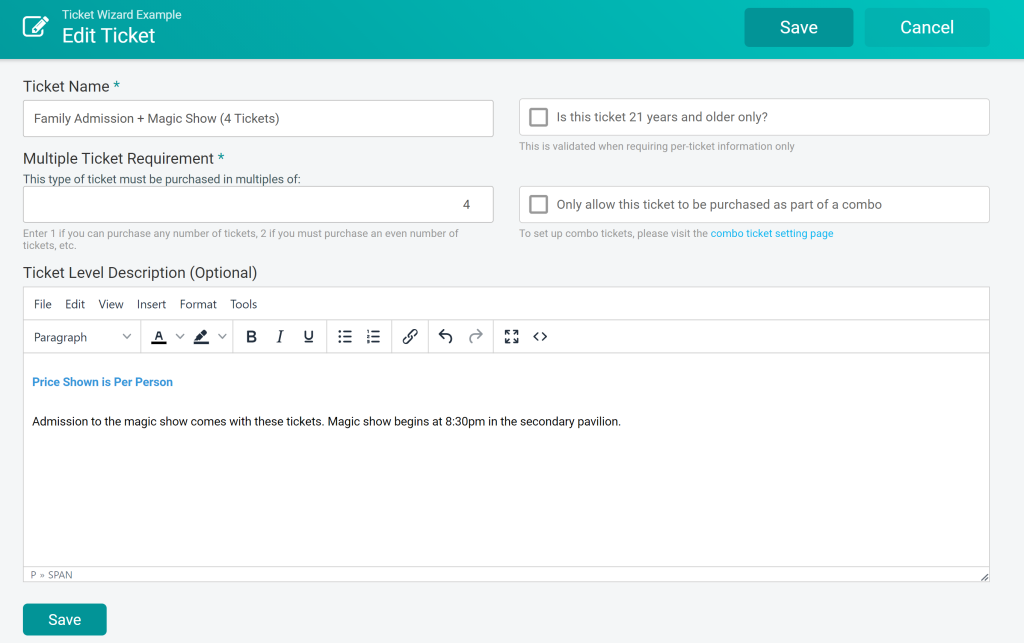 These tickets also have higher prices:

Alternate Setup Option
Another way to set this up would be to make the Magic Show a store item that appears in the purchase path. Then people who wanted to buy admission to that could add it on as they buy their tickets. This reduces the number of tickets (which simplifies the event page), but it means that the magic show option isn't visible anywhere on the event front page, which may make people less likely to buy a ticket to the magic show.
It also means that magic show ticket purchases would appear in a different report than ticket purchase (which could be either helpful or inconvenient for the event, depending on the situation).
Simple Multi-Day Events
This setup is actually more complicated than the setup for many multi-day events. For a lot of them, all that is necessary is a ticket group for each day and one or two tickets for different prices or time slots. But the festival example shows how flexible the platform is: there are several ways to set up a multi-day event, depending on the way you want your ticket options to display.