With TicketSignup, we make it seamless for your event to allow customers to transfer their own tickets to a different date so that you can deliver an exceptional experience for your attendees, decrease your customer service burden, and reduce chargebacks. Now you can set self-serve ticket transfer date and fee rules per ticket group.
For multi-day, timed entry events that are held outdoors, weather can be a problem. These festivals, haunts, light shows, farm events, and more need an action plan when there is a last minute cancellation. Now your event can set variable transfer rules; for example, allow attendees to transfer their tickets to a different date or time for $5, but make it free for Friday's ticket holders because it rained and the event was cancelled. With TicketSignup's free email marketing, it's easy to send an email to Friday's ticket holders with their unique Manage Tickets link to let them move their tickets to a date that works for them – no customer support calls or emails needed!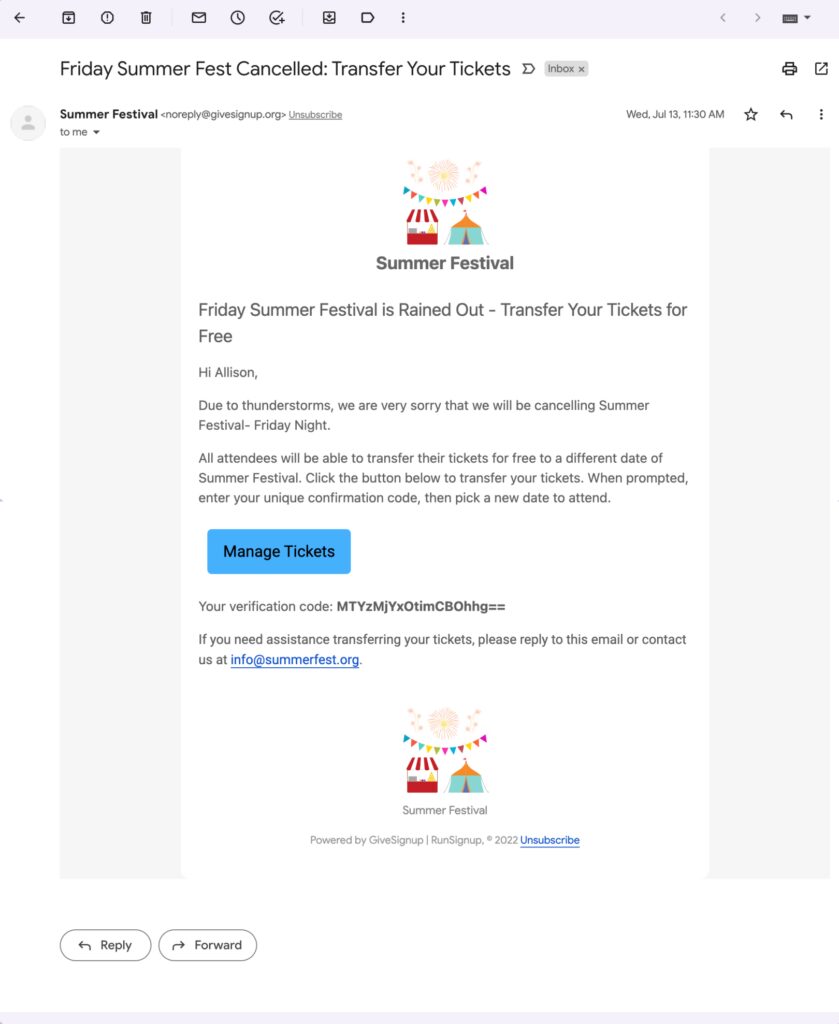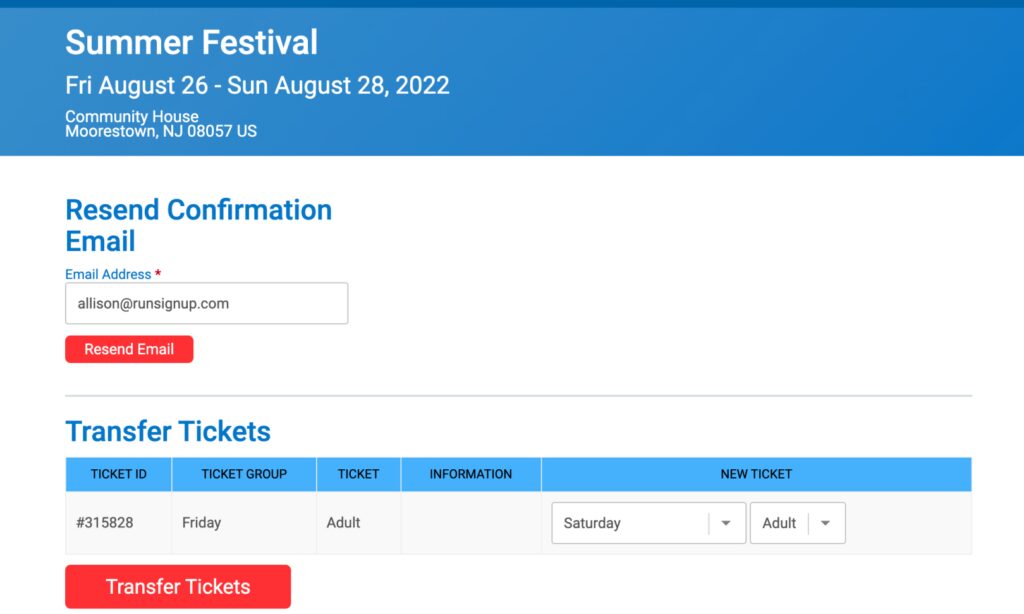 To enable ticket transfer settings per ticket group, navigate to Tickets >> Ticket Management >> Ticket Transfers. Click the toggle to enable.

This expands the settings that you can customize. At the top, you must enter overall transfer settings. One
common set up is to allow transfers for a fee up until the first day of the event. These ticket transfer permissions will automatically apply to all ticket purchasers.

At any time, you can override cutoff time and/or transfer fee settings for a particular ticket group. There is a quick search to easily locate the ticket group that you want to update. In the example below, the overall transfer settings no longer apply to Friday tickets; it is now free for Friday tickets to transfer through the last day of the event because it rained.

If you have dates enabled for ticket groups, the dates will prevent ticket purchasers from transferring their tickets after their ticket date has passed. This ensures that even if you have overall transfer settings to enable transfers through the end of the event on 8/28, someone with a Saturday 8/27 ticket won't be able to transfer their tickets after the 8/27 event has passed. (Note that we will be adding an additional setting to enable cutoff dates after a ticket group's date has passed so that you'll be able to give additional days to transfer tickets for certain ticket groups impacted by weather, etc.).
Once you have your settings enabled, clicked Save Settings at the bottom of the page. You can easily update these settings at any time.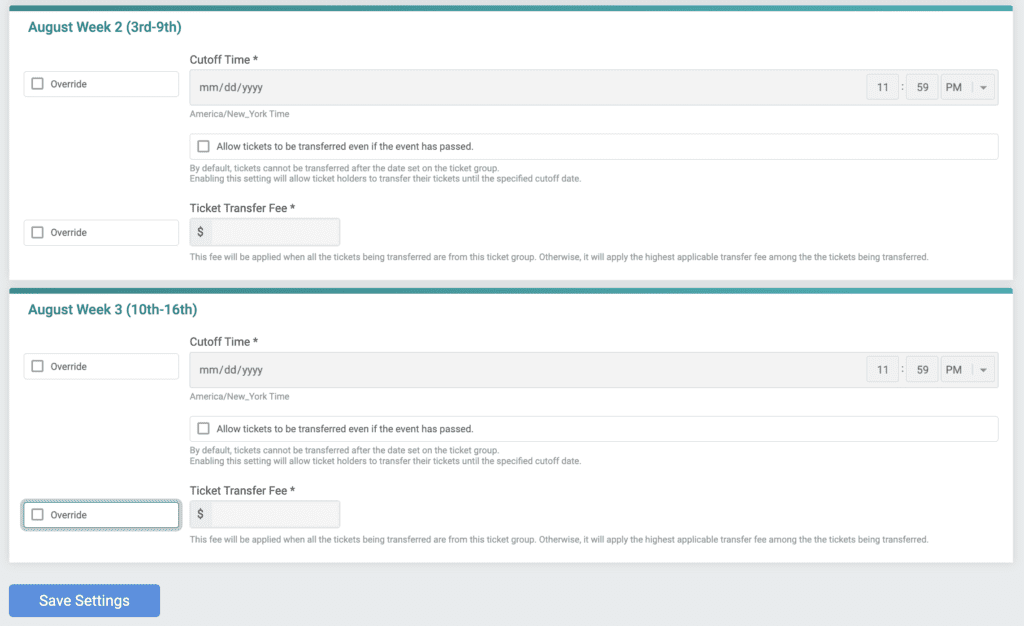 Ticket transfer setting rules also work for general admission events. If your dinner has general and VIP ticket options, you can allow your guests to upgrade their own tickets from general to VIP. The credit from the original ticket purchase is applied, and the ticket purchaser will be the difference in ticket prices upon checkout. For example, transferring 2 General admission tickets that were purchased at $10 each to VIP tickets at $20 each applies the $20 credit from the original ticket purchase and charges the $20 price difference.
Note that you can manage any transfers for attendees from the ticket event dashboard. While this will not charge transfer fees or price differences in tickets, you have the flexibility to transfer tickets for your customers from the dashboard. Simply search for the ticket and click the Manage button. This brings you to a page with different management options, including the ability to move the tickets.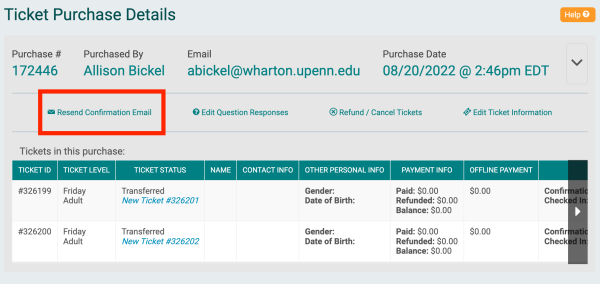 You can learn more about how to send an email to let your ticket holders know about a last minute cancellation and how they can transfer their tickets here.
TicketSignup is focused on building ticket management features that help event directors deliver an exceptional experience for attendees, decrease their customer service burden, and reduce chargebacks. Next we will be adding capabilities to allow both directors and ticket purchasers to add store items to an existing purchase.