Events are the best way for breweries to increase foot traffic, drive sales, engage with existing customers, and get new people to your brewery. While the beer industry grew just 1% in 2021, the craft brewer industry continues to experience higher growth rates, expanding by 8% in 2021 according to the 2021 Annual Craft Brewing Production Report. Bart Watson, Chief Economist of the Brewers Association, noted that growth was driven by "the return of draught and at-the-brewery traffic".
Over the past twelve years, we've seen many fun and creative brewery and beer events use TicketSignup and RunSignup. In this blog, we profile 8 of these brewery and beer events that get people to your brewery and drinking your beer.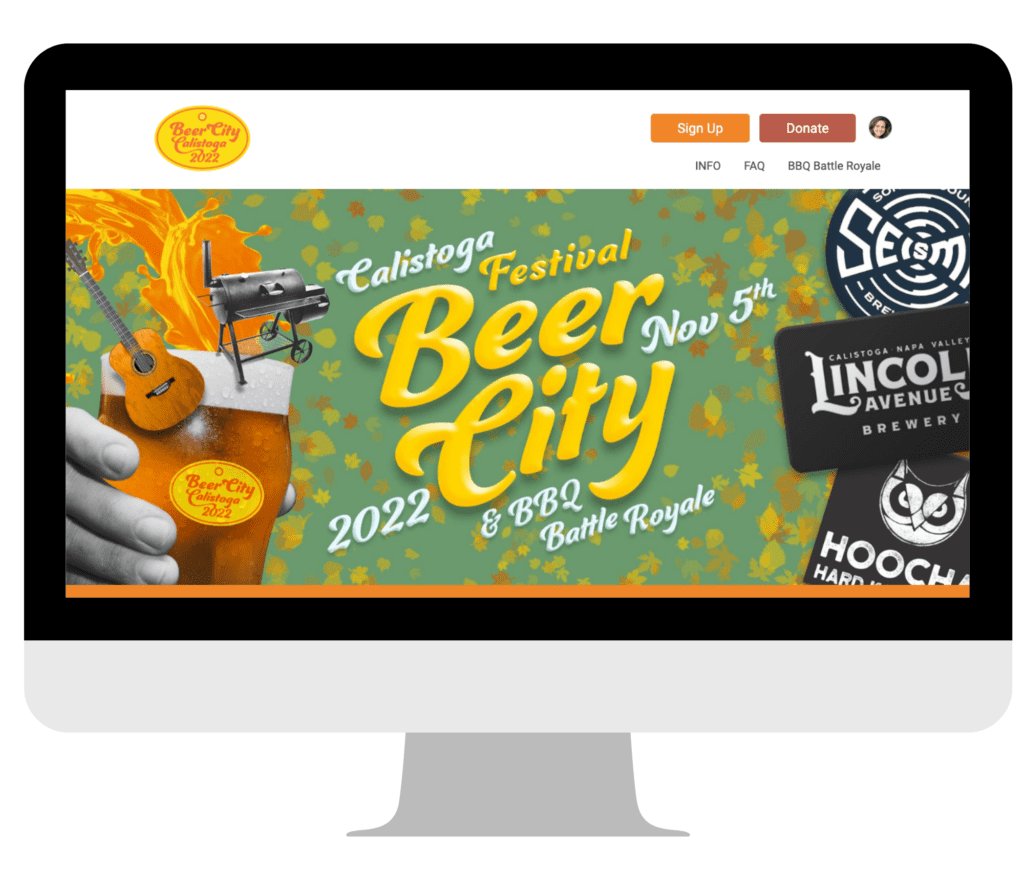 Beer City Calistoga is the first annual Beer City Festival in Calistoga, California. They are featuring craft beer from twenty regional brewers as well as hosting a BBQ Battle Royale team competition for local chefs, restaurants, kitchens, and community groups to grill the best meat and plant-based food.
Why We Love It
Email Capture: Sometimes visitors to your event website aren't quite ready to buy their tickets. TicketSignup's integrated Email Capture gives you a customizable pop-up to capture interested contacts' information, and automatically places those emails in a list to use with TicketSignup's free email marketing. This makes it easy to include these new contacts on marketing emails. Beer City Calistoga's event isn't until November, but they've already added 31 new emails of interested attendees to their email list from the Email Capture.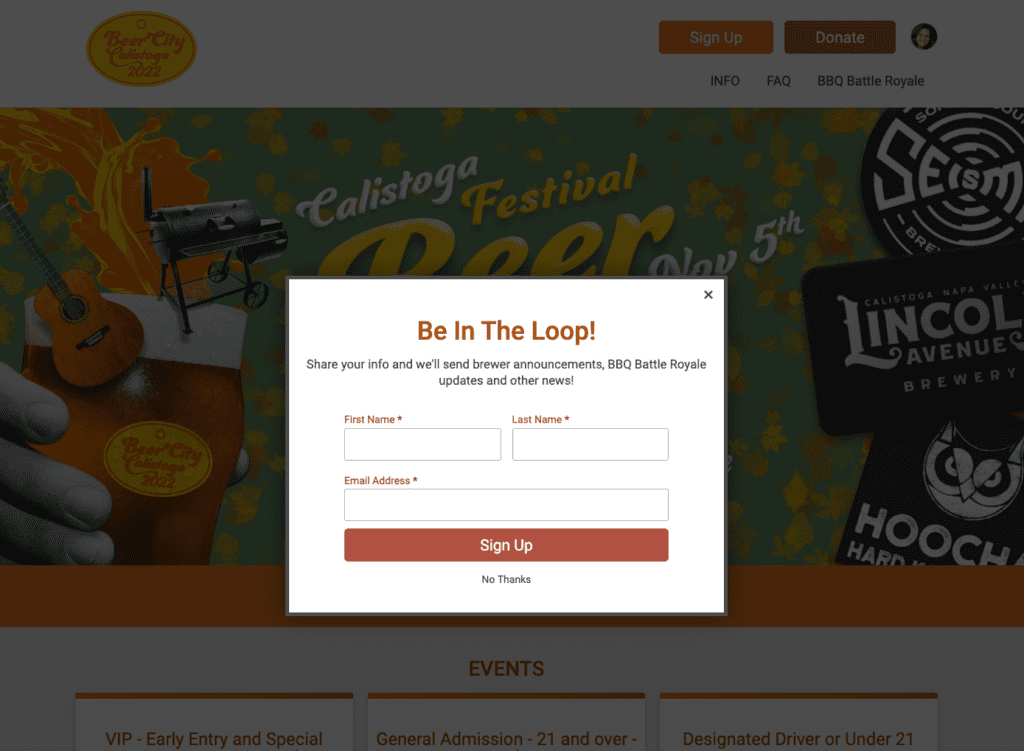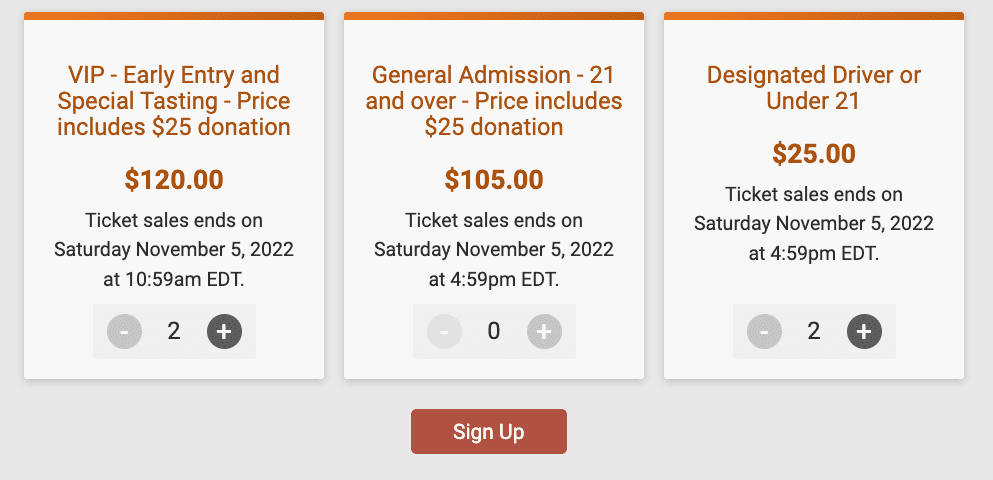 Designated Driver Ticket Option: Offering flexible ticket options that enable everyone to attend your beer fest is inclusive. A cheaper Designated Driver option lets designated drivers and people who don't drink beer attend the event with friends and family without paying for drinks. Beer City Calistoga uses TicketSignup's free websites to add content like a FAQ page to answer common questions about ticket options and the event in general.
Connecting to the Community: Beer City Calistoga connects to its local community in powerful ways. First, it features local craft brewers. In addition, tickets include a $25 donation and attendees are able to add an additional donation to their purchase or make a standalone donation. The donations go to their nonprofit partner to fund local nonprofits, which they feature on their donation page. Finally, Beer City Calistoga promotes local tourism, encouraging attendees to spend the weekend, offering lodging packages with local hotels, and providing a Beer City Trolley to make transportation easy and accessible.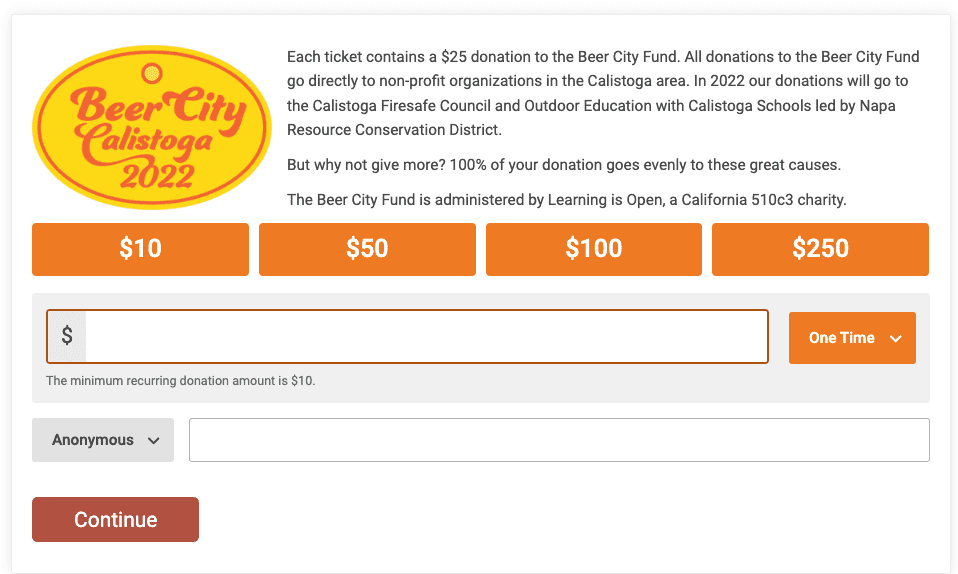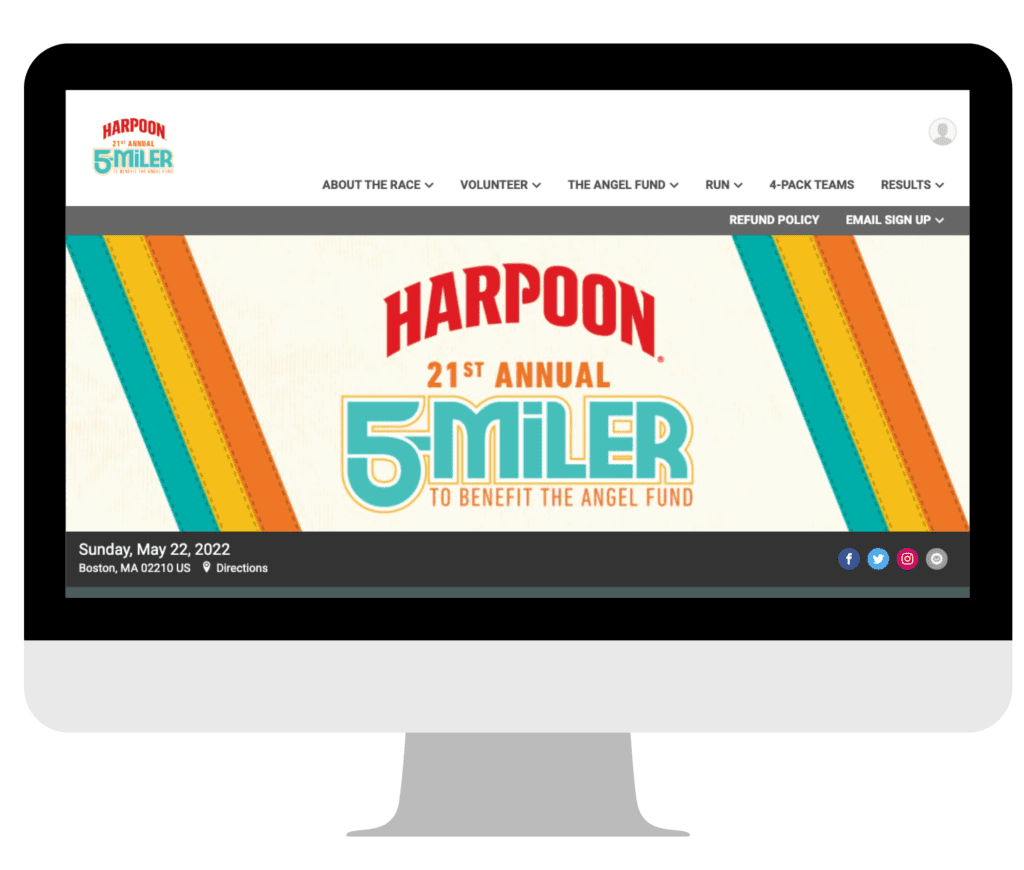 Harpoon Brewery puts on an annual 5 mile race benefitting the Angel Fund, a nonprofit raising money for ALS research. From 4-pack teams to a post-race party at the finish line/brewery, Harpoon Brewery does a great job of putting on an event that helps market their beers while raising funds for a good cause.
Why We Love It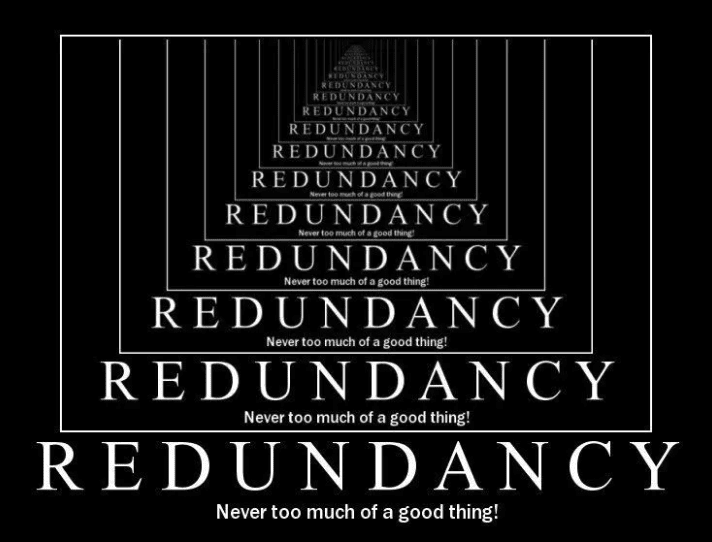 Fast Sell Out: Harpoon's 5 Miler is a sell-out event. In just one minute, they had 1,142 people sign up – and typically sell out all the spots available in just a few more minutes. There are no slowdowns or interruptions even when signing up at peak registration time. TicketSignup and RunSignup invest heavily in infrastructure that ensures continuous availability and performance. We've only had 4 minutes of downtime since 2015, and continue to make significant infrastructure investments.
Volunteers: Volunteer registration is available on the Harpoon 5 miler website. In addition to general volunteers, Harpoon Brewery also sets a certain number of volunteers required for specific jobs/posts. RunSignup's integrated volunteer platform makes it easy for volunteers to sign up and for Harpoon to track whether they have enough coverage for each of their volunteer jobs.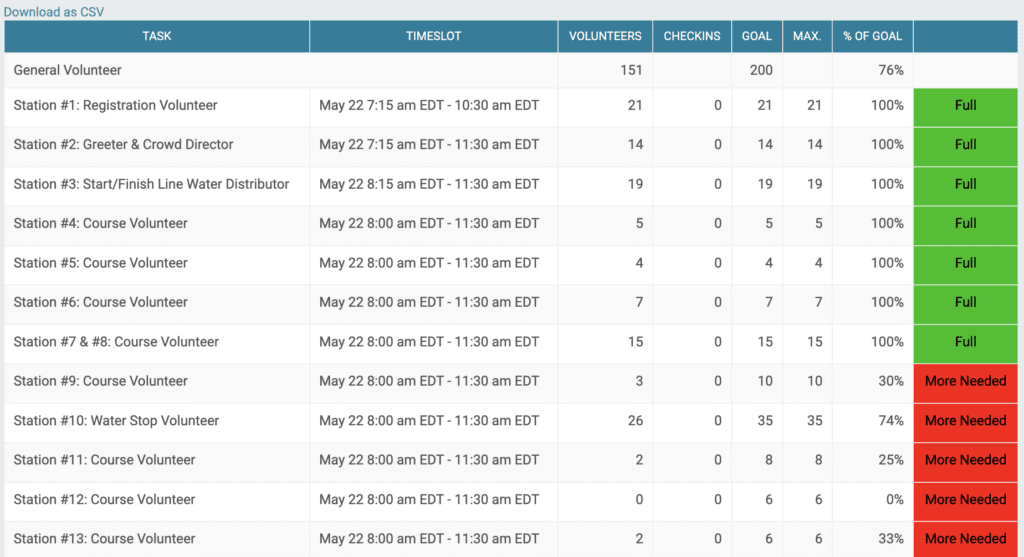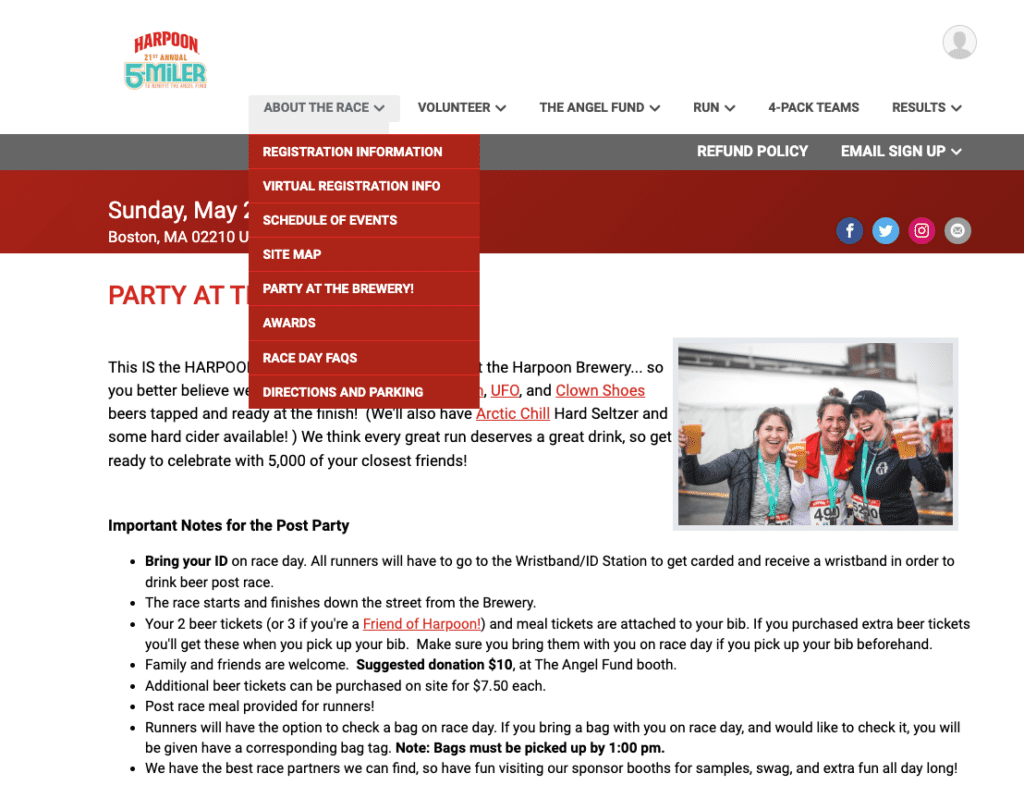 Full Event Website: Harpoon Brewery uses RunSignup's free website for their flagship event. They've used a custom domain – https://www.harpoon5miler.com/ – so that participants always see their brand first (we take care of the SSL certificate, SEO, and mobile optimization for free!). They've also added a lot of content to their website, which is easily updated and carried over each time they renew their event. This makes it easy for participants to take action (i.e. Sign Up, Donate, Fundraise, Volunteer) and learn more about the event in one place.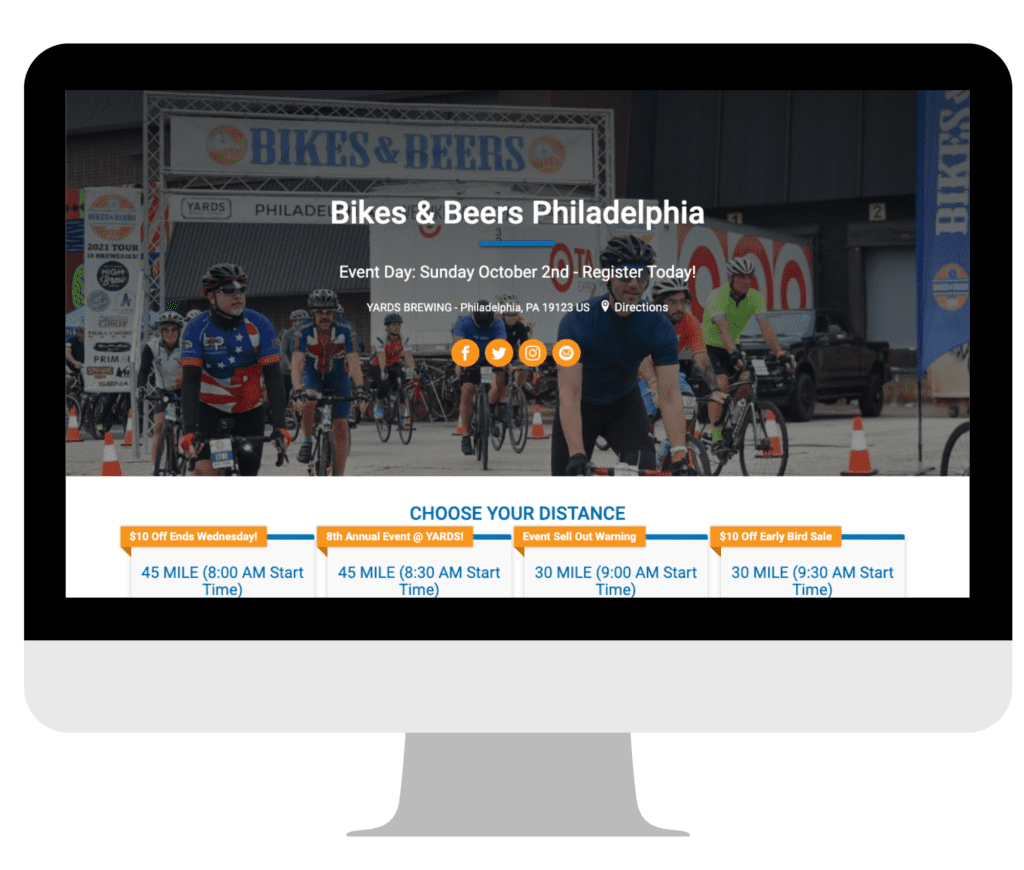 Bikes & Beers hosts 24 events across 14 states. Each event starts and ends at a local craft brewery with flexible distance options from 15 to 45 miles, and a post race party (registration includes 2 beers and a pint glass!).
Why We Love It
Pricing and Caps: Bikes & Beers uses early bird pricing to incentivize early sign ups. They dynamically display sold out time slots (some of their locations offer a waiting list). Price increases and caps create a sense of urgency to get people signed up.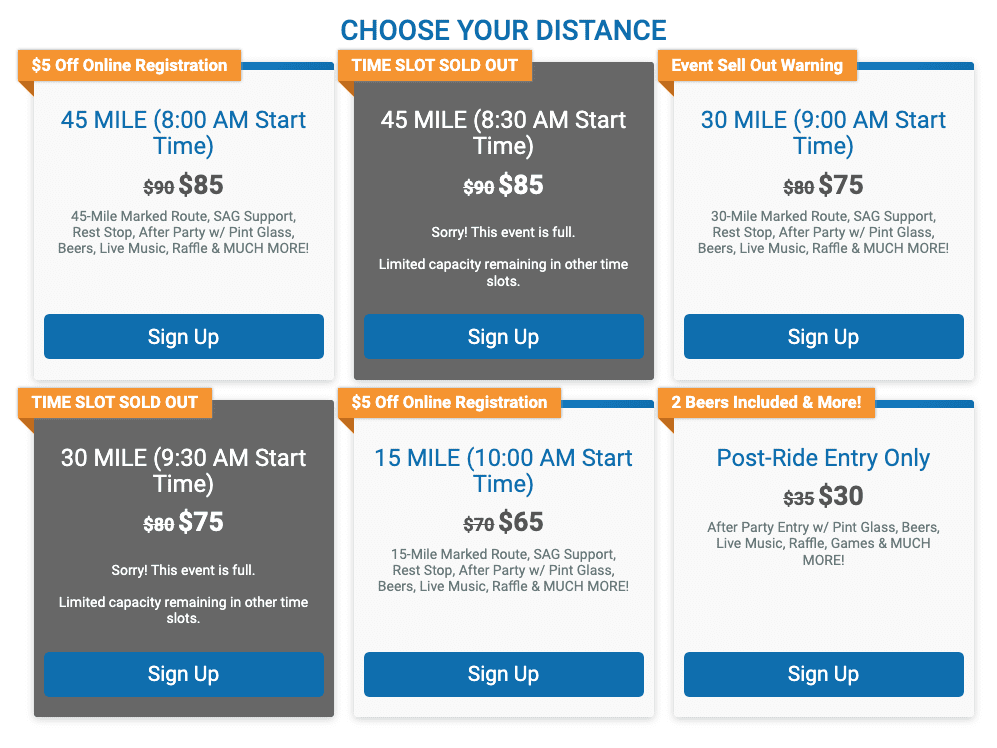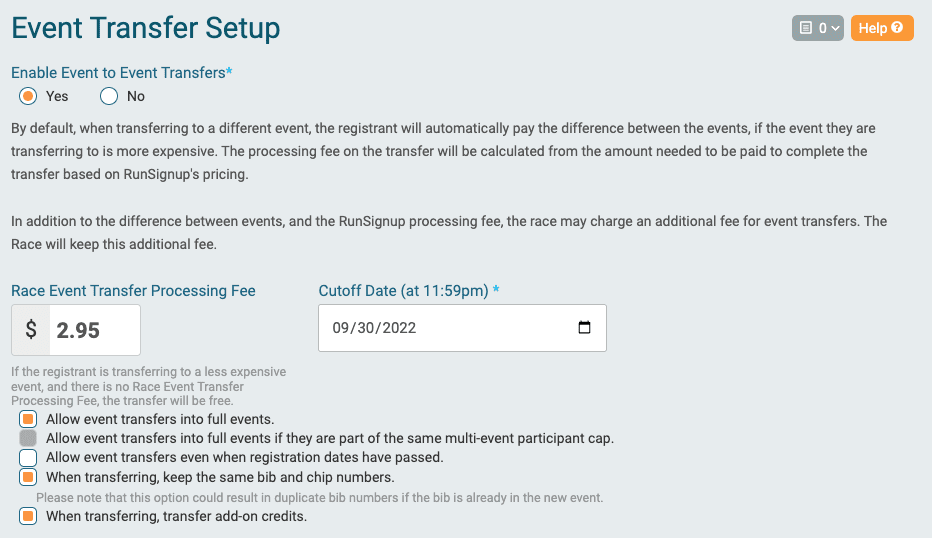 Event Transfers: Some participants may want to switch to a different distance. Bikes & Beers sets the transfer rules, which include a cutoff date and a $2.95 fee to transfer to a different option. Participants are able to easily transfer their own registration without contacting the event – price differences between distances and the transfer fee are included when a participant initiates a transfer. This automation empowers participants to have an exceptional experience and removes customer support from the event.
Photos: We make it easy for events to upload albums of photos to their free event website. With bib recognition (we recently upgraded to Tagily), you even have the option to include photos with individuals' results. For cycling events, we automatically use Tagily's cycling bib number mode. The benefit of their machine learning capability is they have used millions of photos to train their algorithm. This is very useful as more and more cycling and gravel events are using our platform.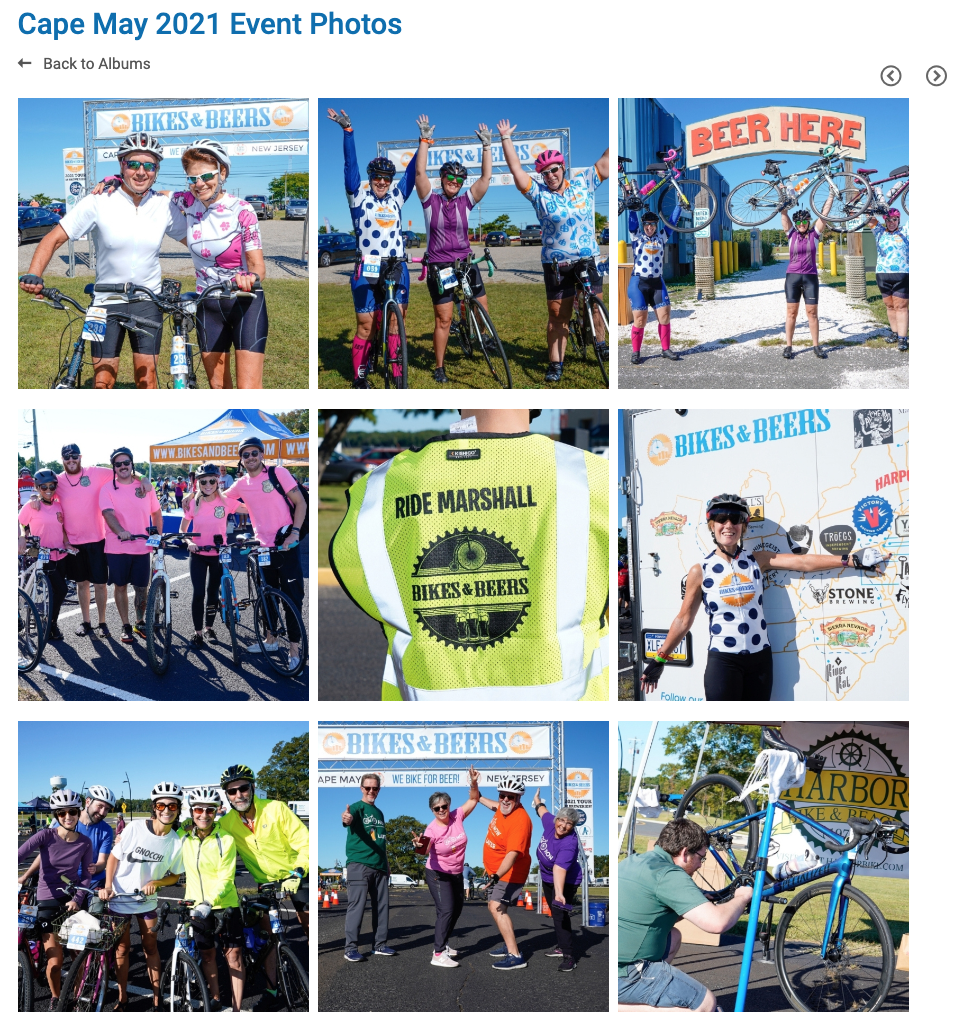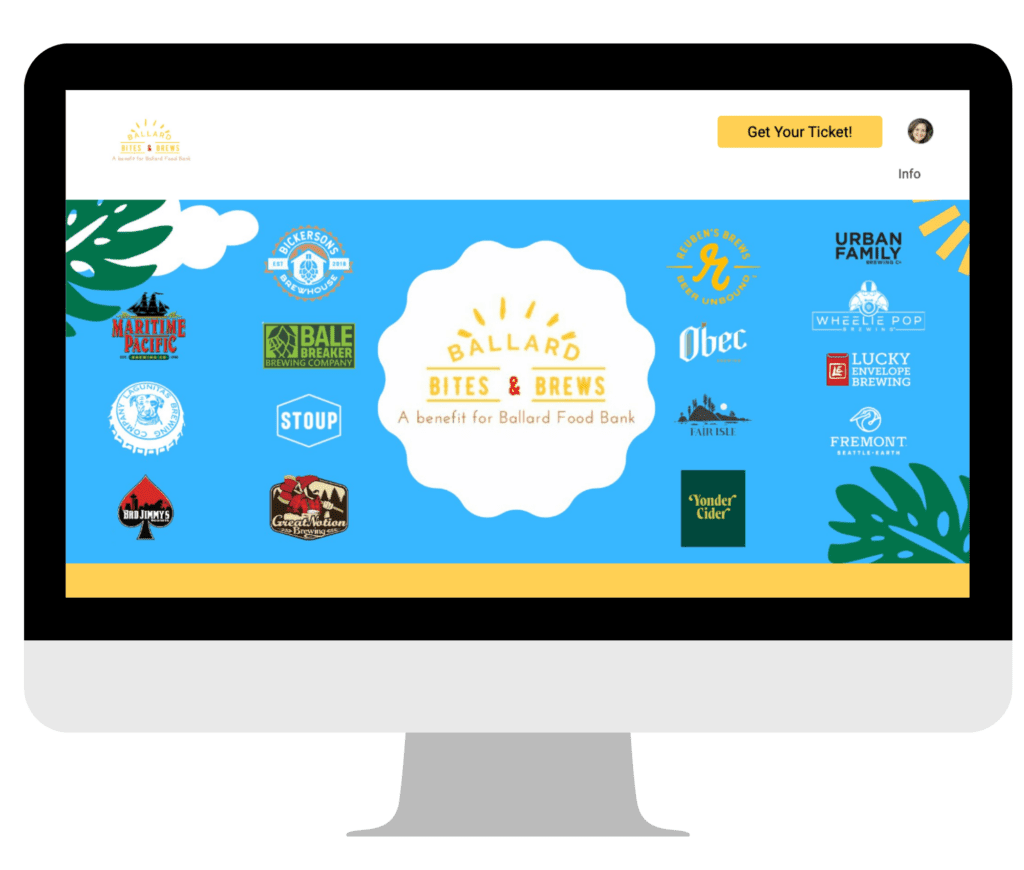 The Ballard Food Bank hosts a variety of community-centric fundraisers throughout the year to raise much-needed funds for their food bank. Ballard Bites & Brews brings together neighborhood breweries and restaurants for a summer neighborhood festival.
Why We Love It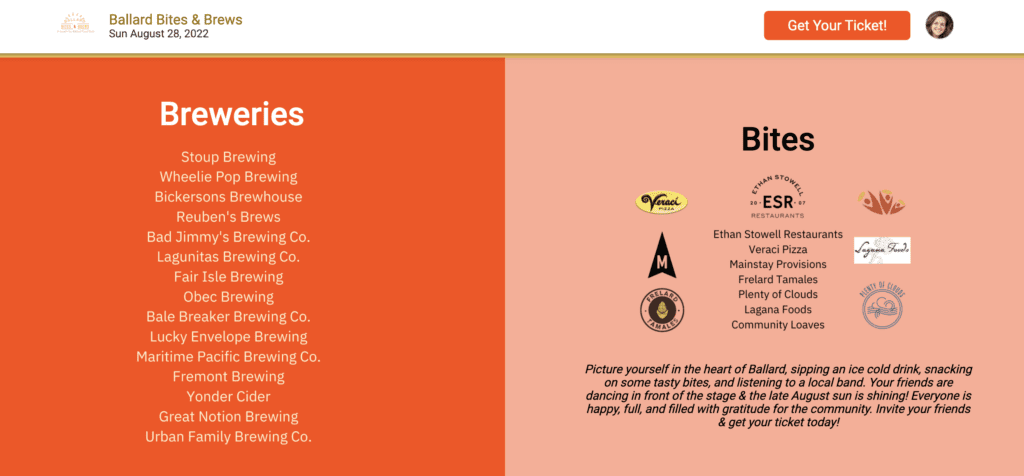 Featuring local breweries and restaurants: Local breweries are prominently featured throughout the Ballard Bites & Brews website. The craft breweries are listed alongside the local restaurants. Tickets include a tasting from 8 of the breweries and food is available for purchase.
Donations: TicketSignup enables events to accept donations in the ticket purchase path and/or through a standalone donate option. This is key for events put on by a nonprofit or for a cause. Ballard Food Bank had over 70 donors give more than $10,000 in addition to their ticket sales for the event.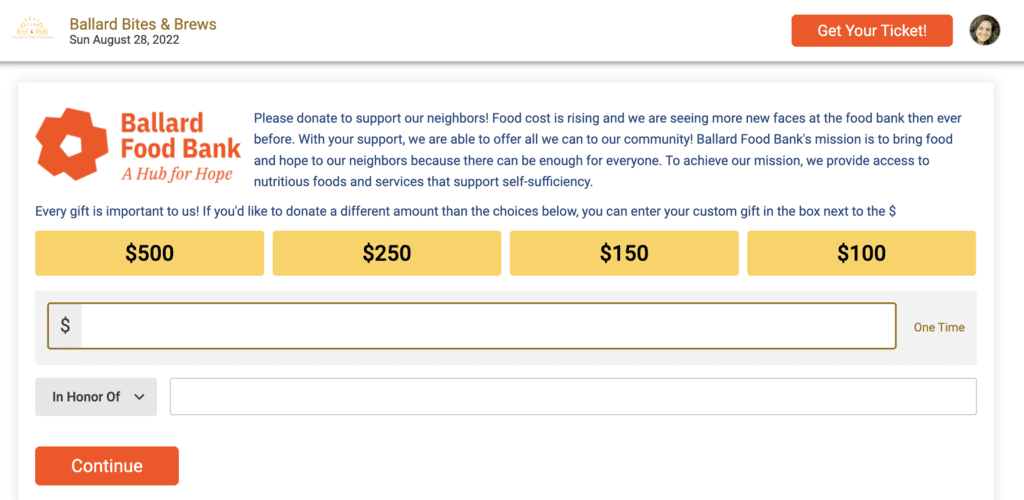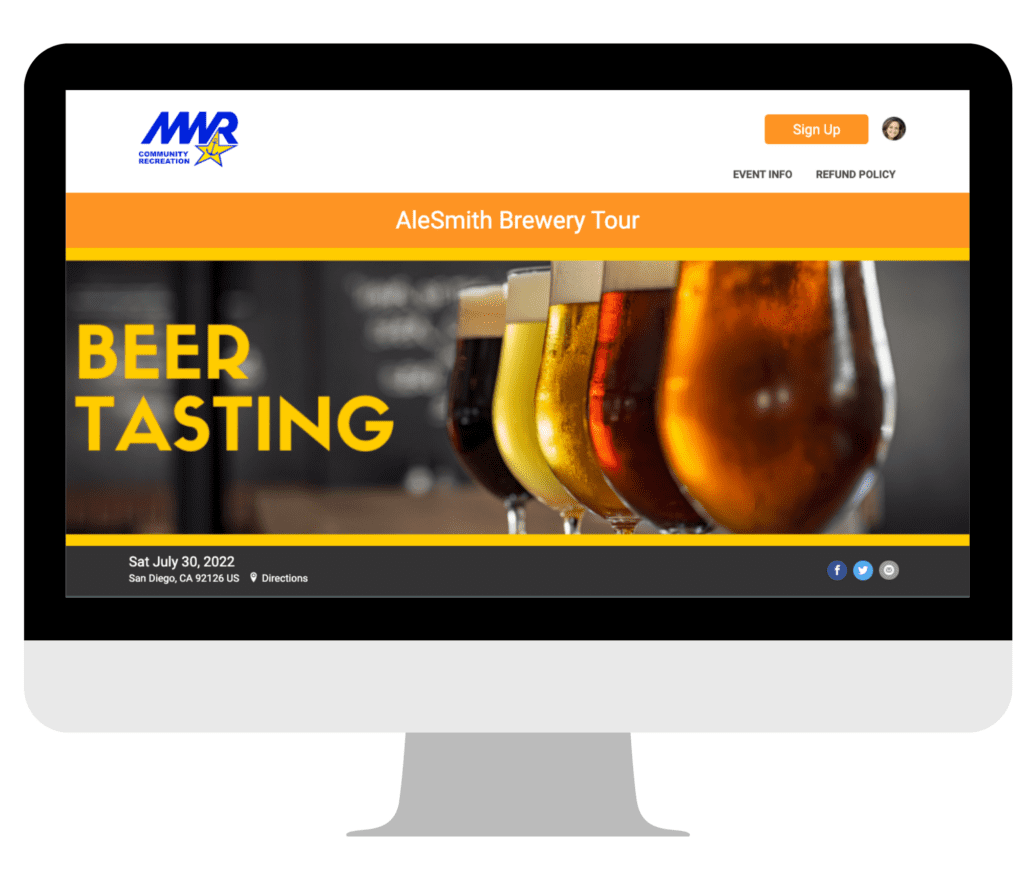 The Navy MWR division is responsible for leading a varied program of recreational, social, and community-support activities at Navy facilities across the world. One of MWR San Diego's many events this summer was a brewery tour and tasting at the local AleSmith Brewery.
Why We Love It
Members only event: MWR events are only open to valid ID card holders and their guests. It's easy to display member only messaging on your website like MWR. There are many other ways to set up a members only event: use our integrated membership platform to require member number validation, set an event as private or password protected, or generate unique registration links for members only.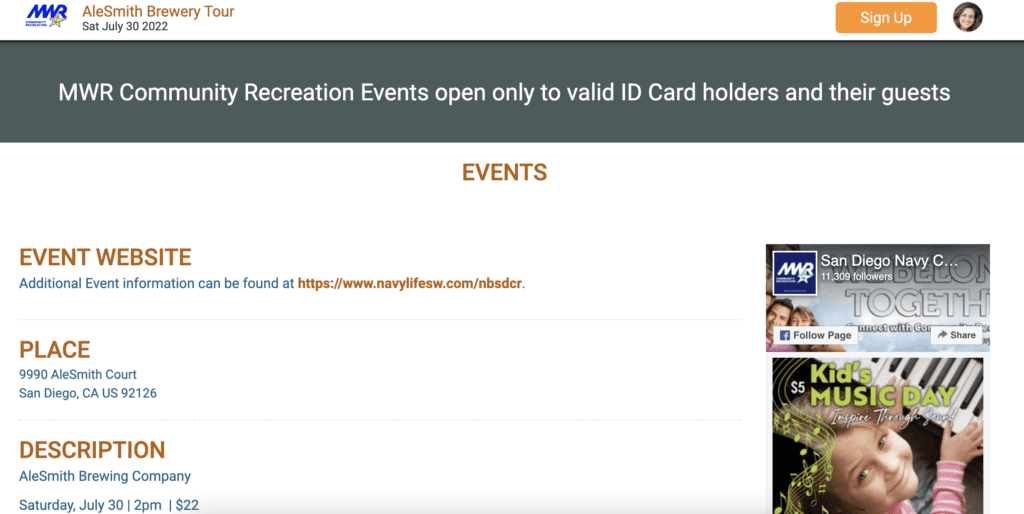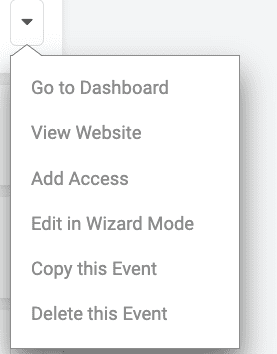 Lots of Events: MWR San Diego and its neighboring branches put on hundreds of events for their members each year, from outdoor movie nights and crafts to kayaking and bowling. RunSignup makes it easy to copy existing events to make it fast and simple to set up new events. This same functionality is coming to TicketSignup soon!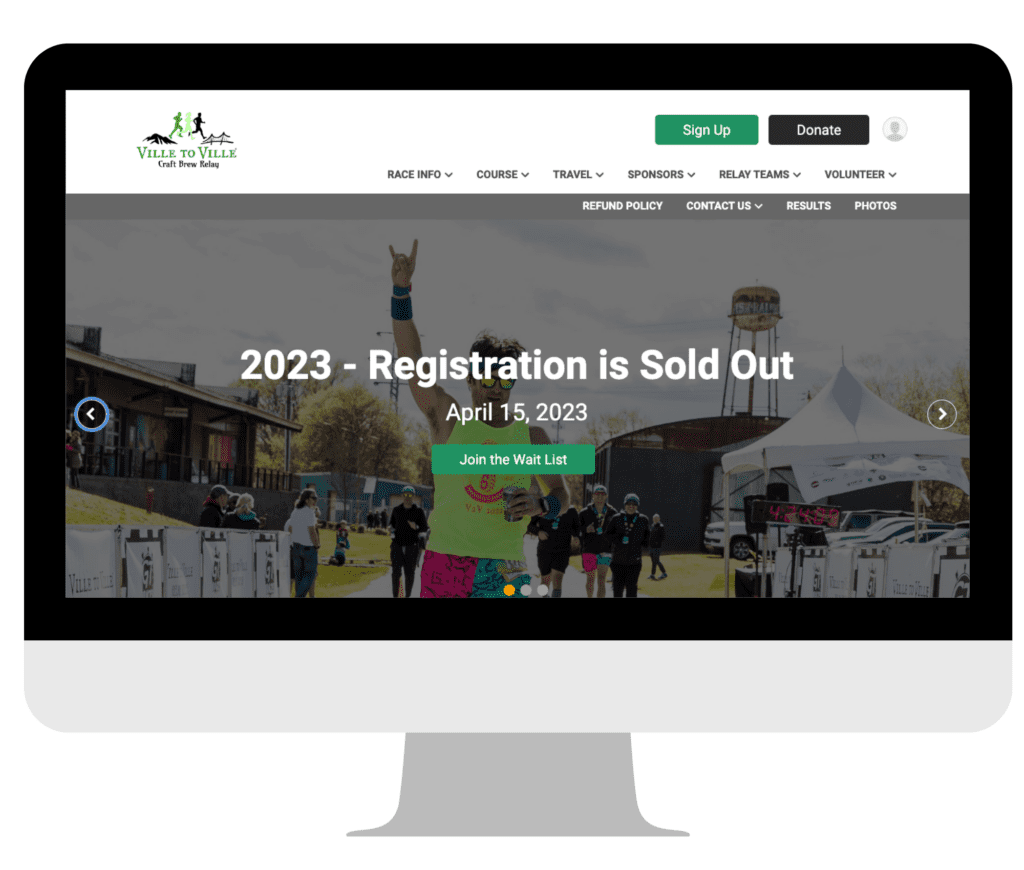 The Ville to Ville Craft Brew Relay is a 72 mile team running event that celebrates the region and breweries from Asheville, NC to Greenville, SC. This sell-out event has themes and costumes (2023's themes is "Hollywood"), and begins and ends at local breweries.
Why We Love It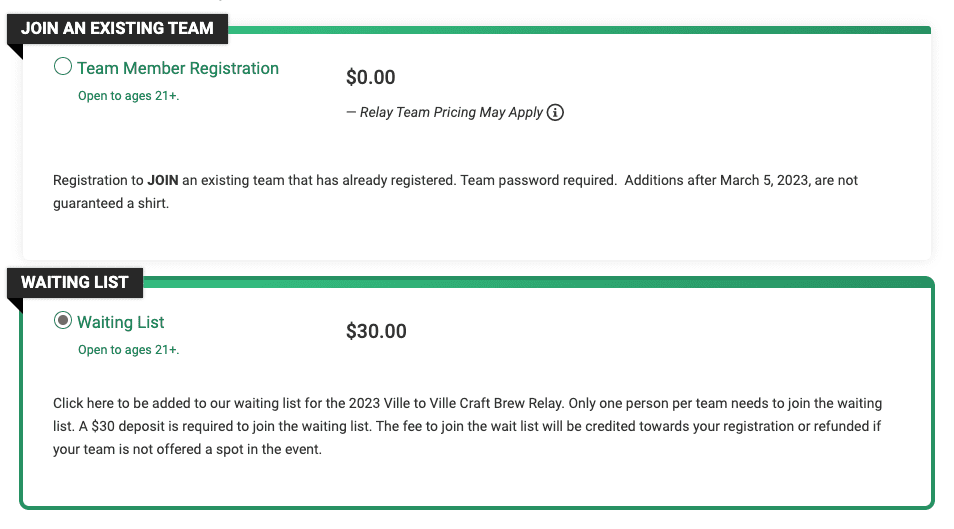 Waiting List: The Ville to Ville Craft Brew Relay sells out quickly, with a maximum of 380 teams able to participate each year. They offer a waiting list option for those who miss out on signing up. This ensures that the event is full and that Ville to Ville Craft Brew Relay continues to grow its marketing list; if teams don't make it into the 2023 race, they will be able to try for 2024.
Teams: This is a team only event. Team Captains register and the rest of the members can join their password-protected teams. The team captain pays a deposit and the balance for the team, but by registering each individual Ville to Ville ensures they have waivers, emergency contact info, and additional info for each participant. Results are displayed at the team level with split times and categories.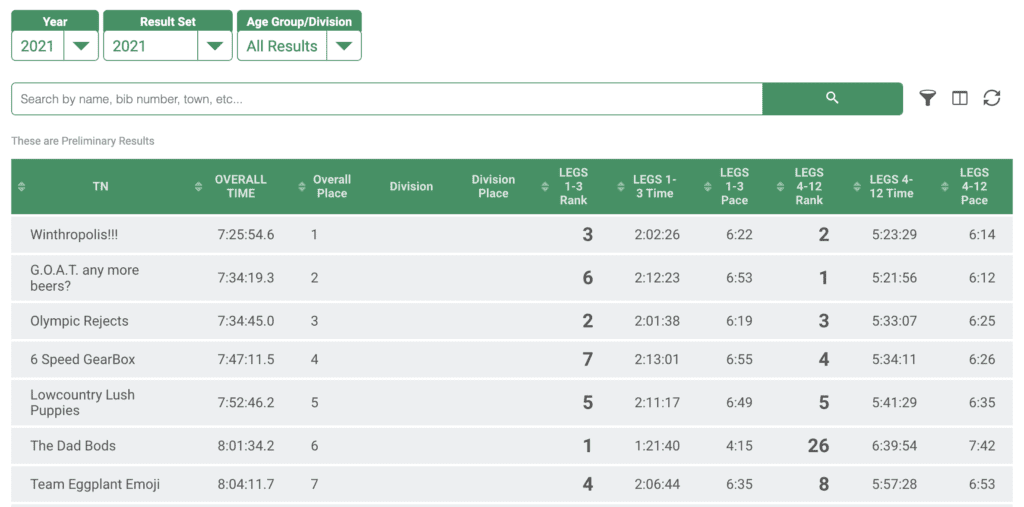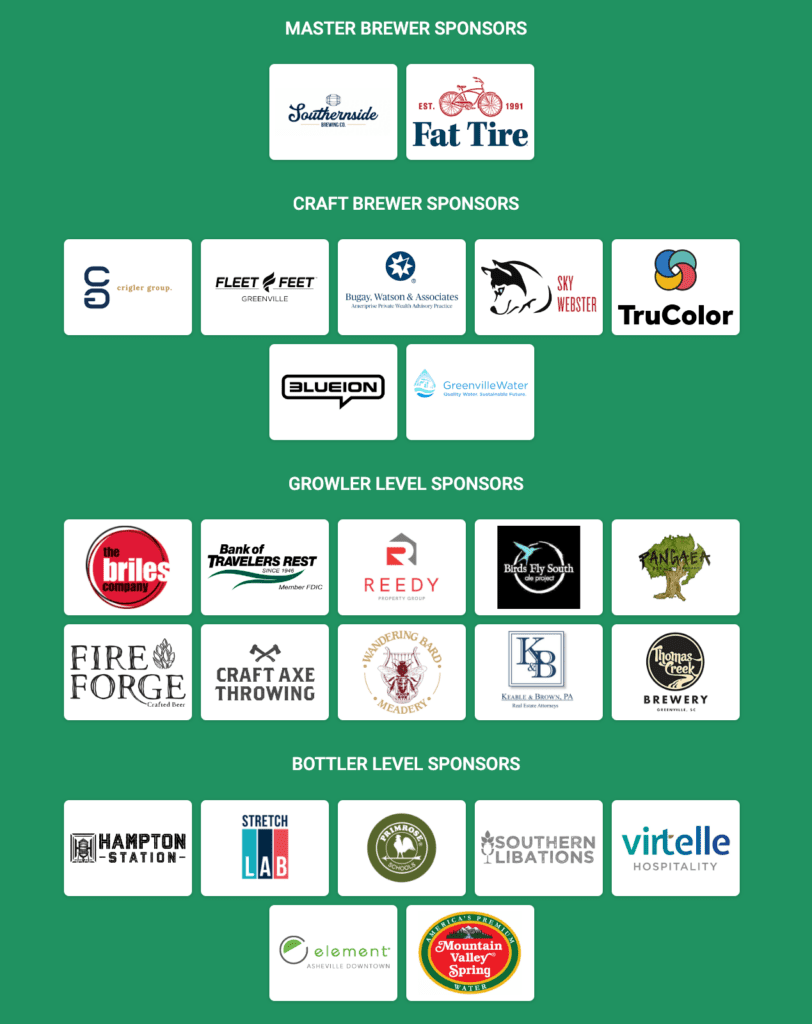 Sponsors: We love the creative beer-themed sponsor levels that Ville to Ville uses!

– Master Brewer Sponsor
– Craft Brewer Sponsor
– Growler Level Sponsor
– Bottler Level Sponsor

With RunSignup's integrated sponsor platform, it's easy for events to manage, invoice, and deliver analytics to sponsors (i.e. logo view, clicks, etc.) Sponsors can be automatically included in notifications, website page, results, email marketing, and more.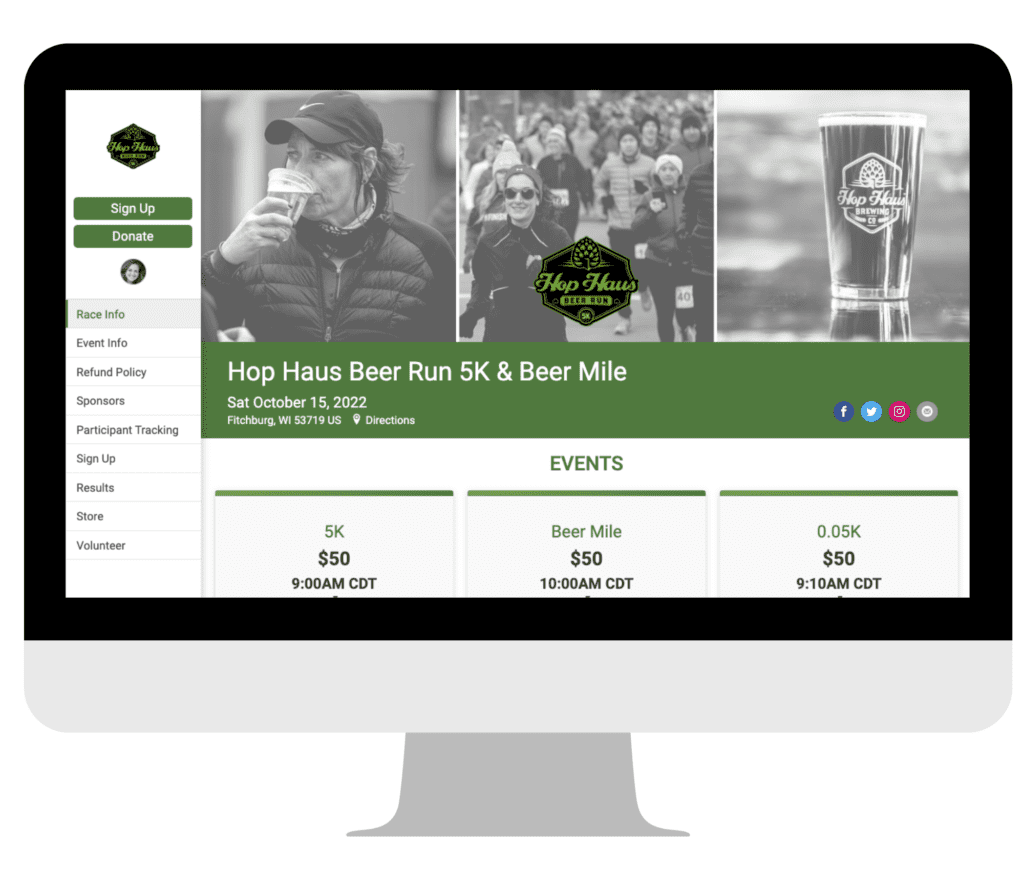 The Hop Haus Beer Run takes place at the Hop Haus Brewing Company in Fitchburg, Wisconsin with event options of a 5k, Beer Mile, and a .05K (even faster way to get to the included post-race beer!)
Why We Love It
Swag: An event at your brewery is an opportunity to get your logo shown around town. The Hop Haus gives every registrant a hooded sweatshirt that's perfect for fall weather. Also included are a finisher medal with a built-in bottle opener (very useful for beer drinkers!) and a free pint of beer.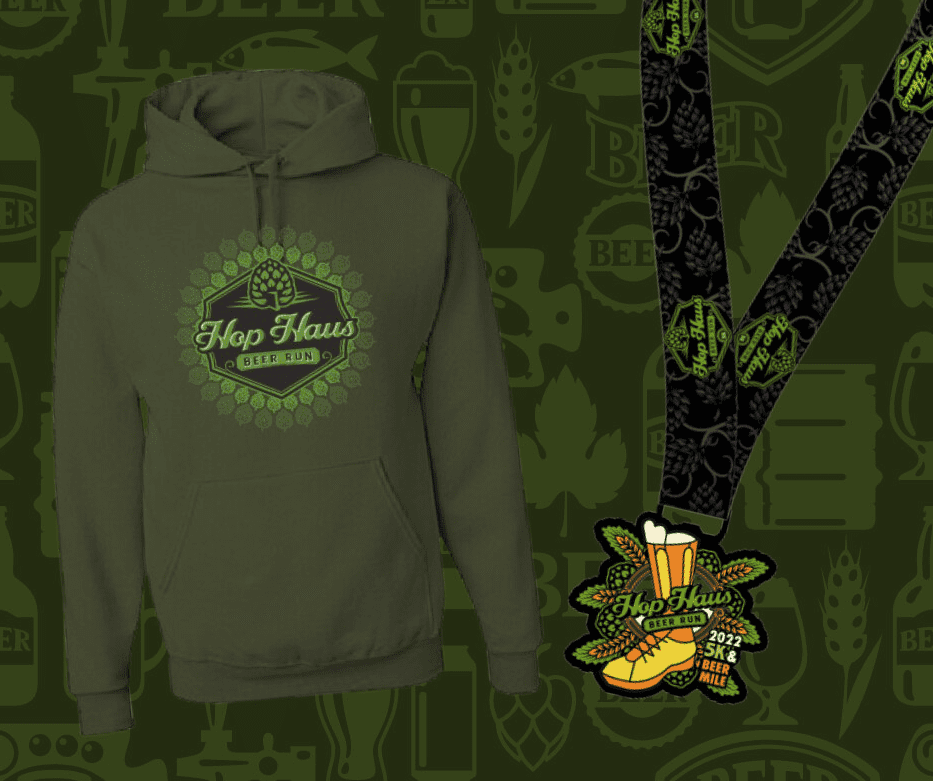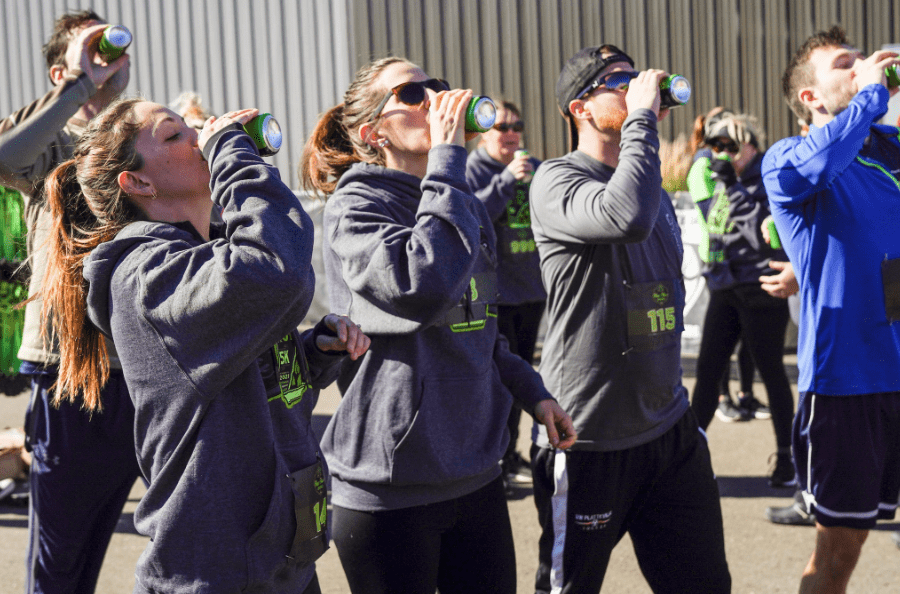 Beer Mile: This is one of the most fun running traditions (if you are watching – one of the most painful for those participating). In addition to swag, Beer Mile participants also get 4 12 ounce pours of beer included with their registration – participants drink a beer, run a lap, and repeat for a total of 4 beers and 4 laps. Learn more about official Beer Mile rules here.
Referral Rewards: Referral Rewards are one of the best and lowest cost marketing tools your event can use. Registered participants get a unique link when they sign up that they can share with family and friends. Once 5 people have signed up through their unique link, the original registrant will get a refund or swag determined by the event. Why is the Referral Rewards program so effective? Your participants are better at marketing your event than a digital ad! By setting a high threshold, high reward incentive, most referrers never reach the threshold to get a reward – so the people they do refer are completely free! This leads to an exceptionally low average cost per acquisition (CPA) compared to traditional digital advertising.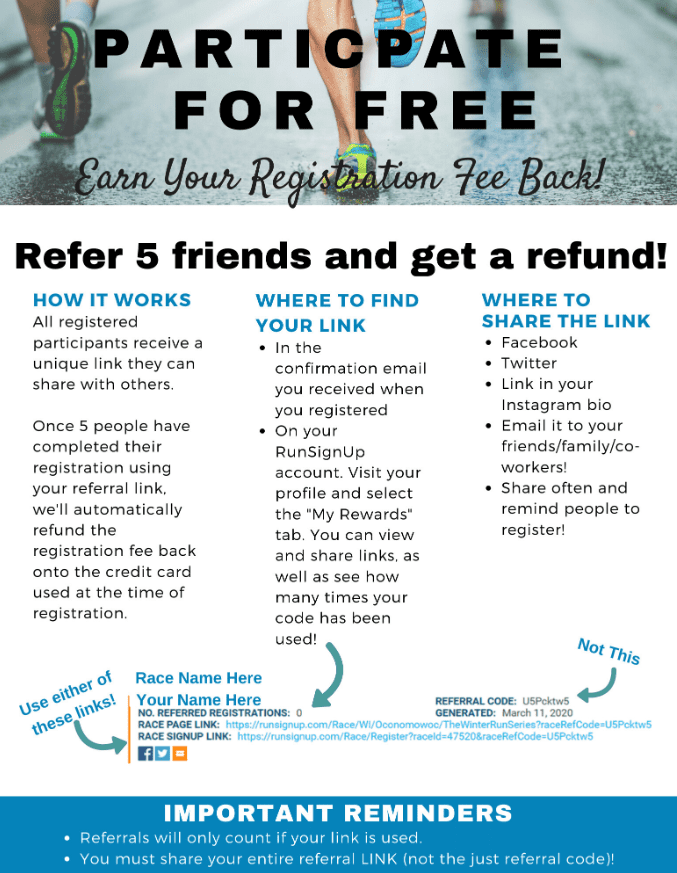 St. Al's Oktoberfest is celebrating its 20th anniversary this year. Having grown from a small parking lot gathering to a 3 day festival with live music, the Craft Beer Tasting is a signature event where attendees can sample 15 different craft beers.
Why We Love It
Ticket Tiles: With two simple options for tickets – Friday or Saturday – the Oktoberfest Craft Beer tasting uses quick purchase options on their website to making buying tickets even faster. Event highlight banners feature event times – which are also shown throughout the website.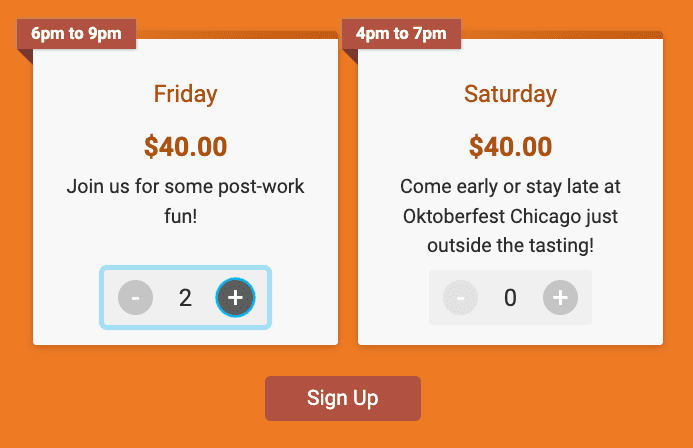 Caps: For popular events that need to manage crowds, ticket caps prevent you from over-selling tickets to your beer fest. The Oktoberfest Craft Beer tasting sets this at 700 tickets per day.