We spend a lot of time speaking to people about pain points and issues that come with putting on events. While ticketed events vary in many ways, the one thing they almost always have in common is a need for a smooth check in experience. The TicketSignup Tickets App for CheckIn makes event day check in easy and allows event organizers the bandwidth to focus on event day. Volunteers and staff can download the free app from any iOS or Android device, and quickly scan QR codes or search by name to check in your attendees in seconds (over 2 Million people will be checked into events this year with our CheckIn app). Each event is password protected so adding volunteers you trust is a cinch. Here is a quick guide on setup and use of the app:
Enable the CheckIn App
To enable the ticket check in app, navigate to the event dashboard >> Event >> CheckIn>> Mobile App on your Ticket Event Dashboard. You will set up a password that will be entered into the app to access your attendee data for security purposes.
Download the app from your Phone's App Store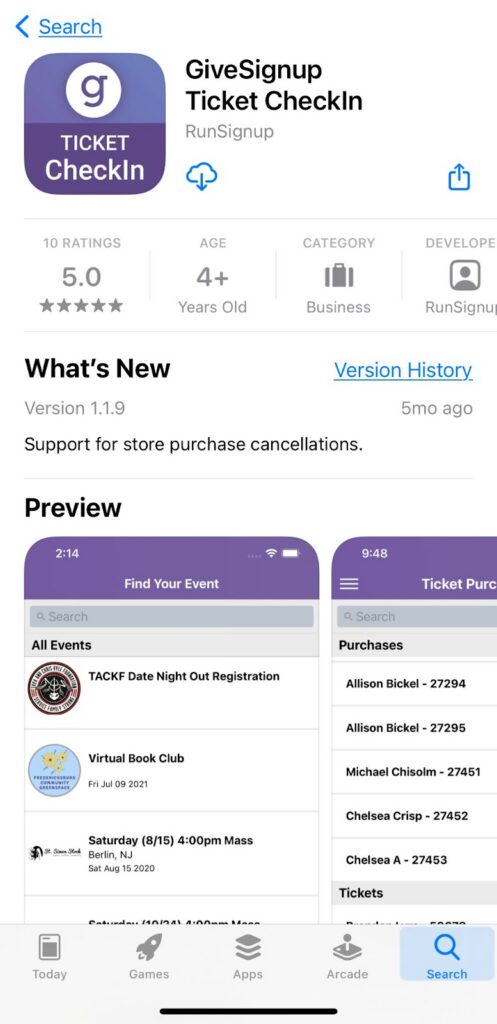 When you open the GiveSignup Ticket CheckIn App on your device, search for and then select your ticket event.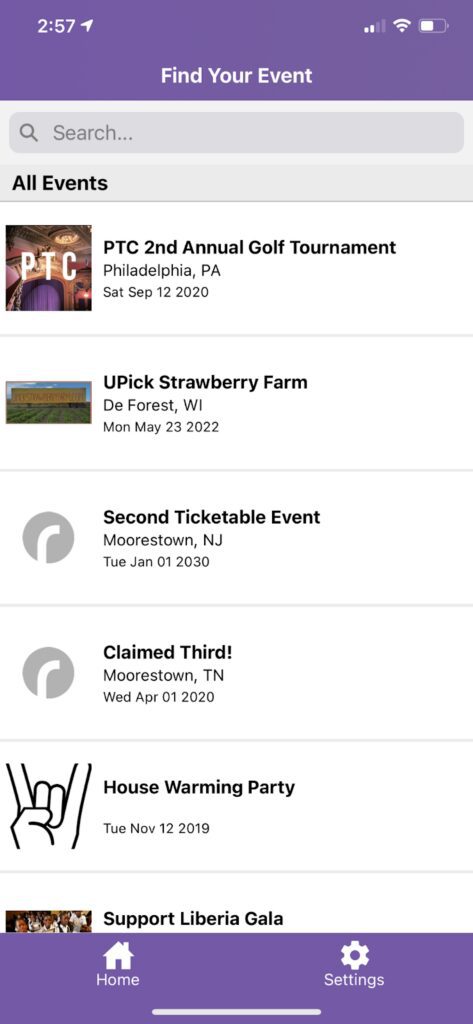 Checking In Attendees
In the CheckIn App, there are two ticket type event groupings:
Purchases, which are ticket purchases, allow the event representative to check in all or some members of a ticket holders group or transaction at once
Tickets, which are Individual Tickets or instances where you have collected per ticket information or their store purchases or add ons
You can configure your event within the app to show store purchases and custom questions giving your volunteers all the data they need to efficiently check people in.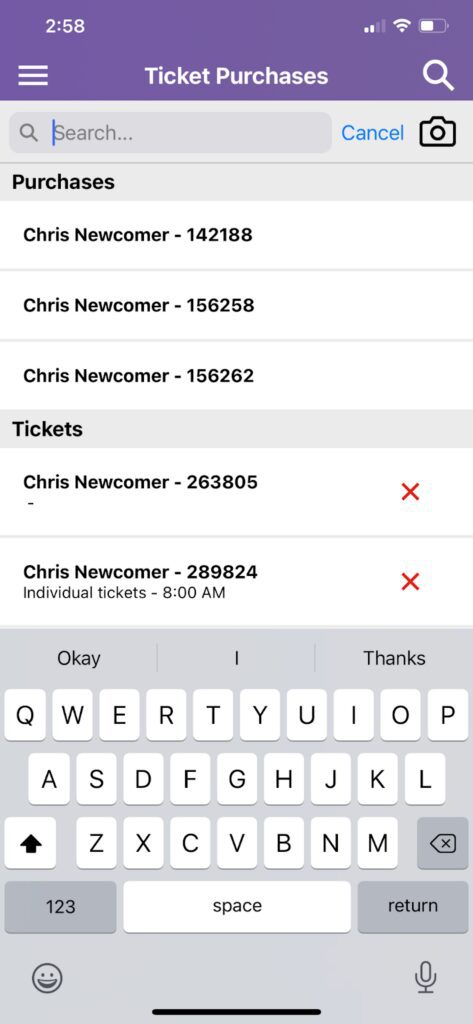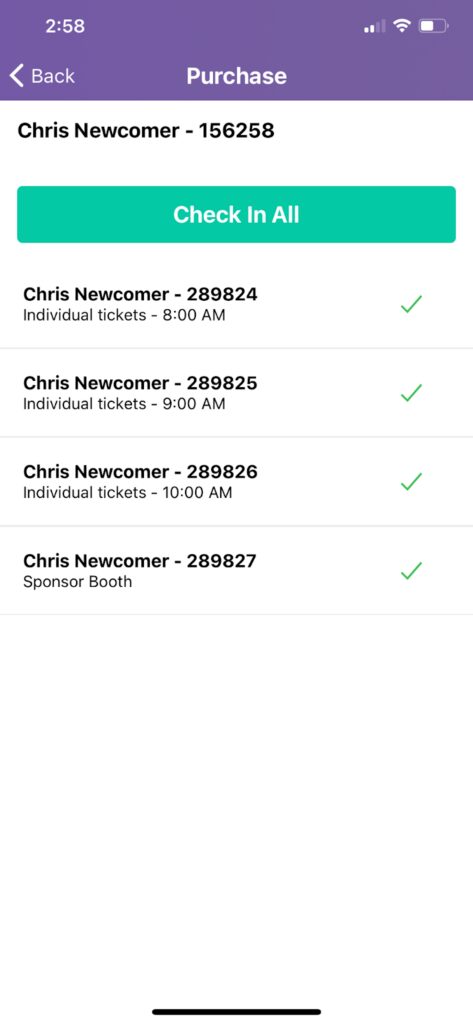 Each ticket holder's confirmation email contains a unique ticket purchase QR Code.To check in individuals or groups use the camera button in the upper right corner of the app to scan ticket holders' QR codes with your camera. You can also use the Search bar at the top of the app to find a ticket holder by name.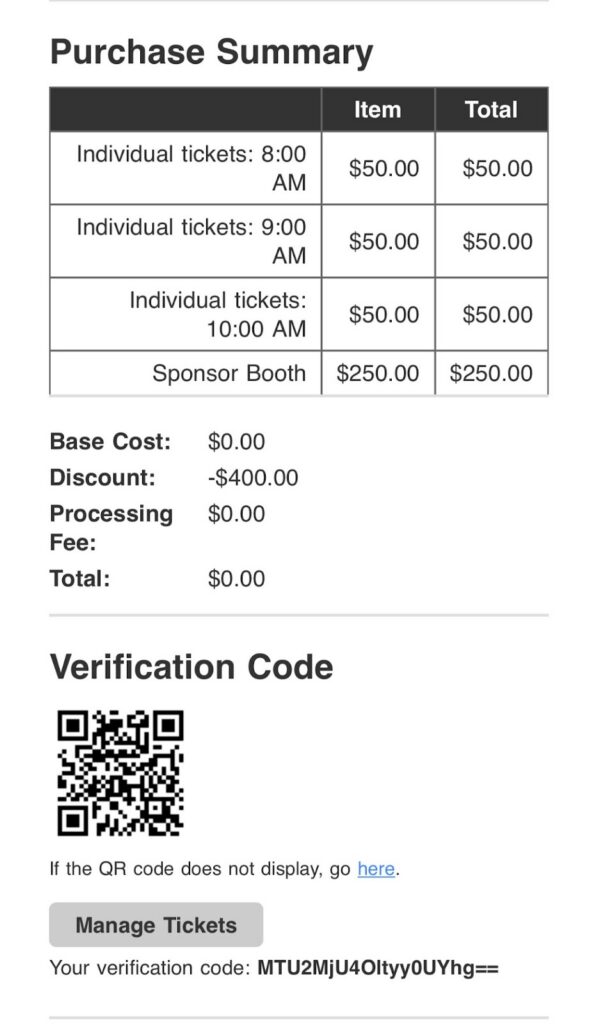 Review Ticket Event Stats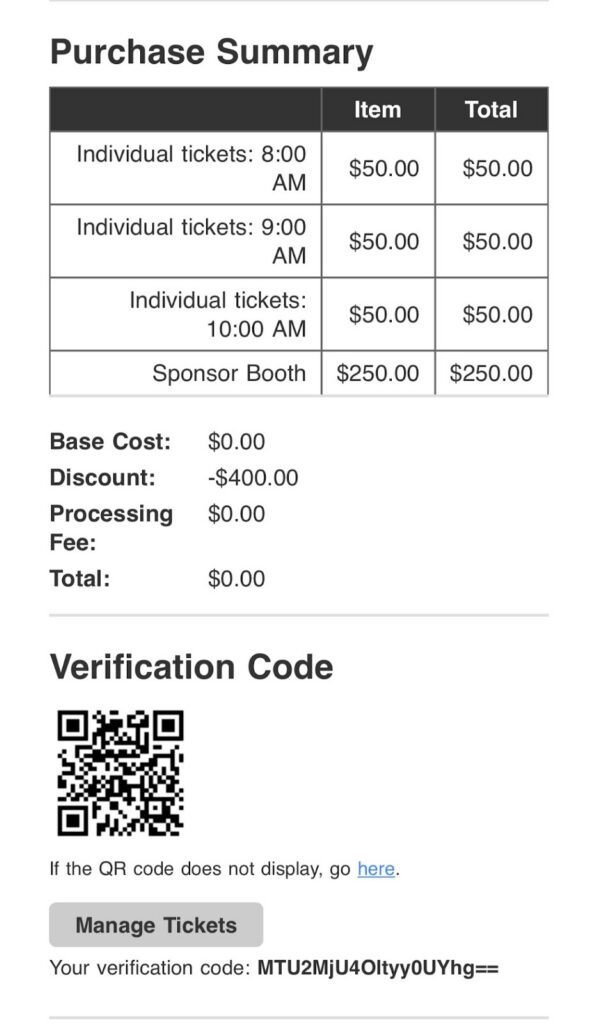 Both in the mobile app AND from the event dashboard event directors can view the stats of an event. Quick and easy access to these stats lets you view overall attendance, inventory for store purchases, and specific ticket group metrics just to name a few, which helps in making game-time event decisions.
With the TicketSignup Check In App event directors can give participants and volunteers an incredible check-in experience, leaving everyone with a great feeling and the ability to enjoy the event.
Questions?
If you'd like more information on you can take advantage of the various tools available at TicketSignup.