We are excited to introduce Ticket Bundles, which allow you to automatically include store items with tickets. For example, VIP Tickets include 2 drinks and Kid Tickets come with a free Corn Maze pass. When attendees purchase tickets, they'll have the option to buy additional drinks and Corn Maze passes. At the event, your team will be able to incrementally check in these items with the mobile Ticket App so that you can track which items have been redeemed. This is a powerful way for farm events, beer fests, golf tournaments, and more to automatically include additional items with certain (or all) tickets.
How to Set Up Bundles
First you will need to set up store items. In the example below, there are two items that are available when purchasing tickets: drinks and corn maze passes. Note that only items without variants (i.e. no size, color, etc.) can be used in bundles. You should include prices for all store items; while the bundles will automatically set the price to 0 when included with tickets, people will pay the price set here when adding additional items to their cart.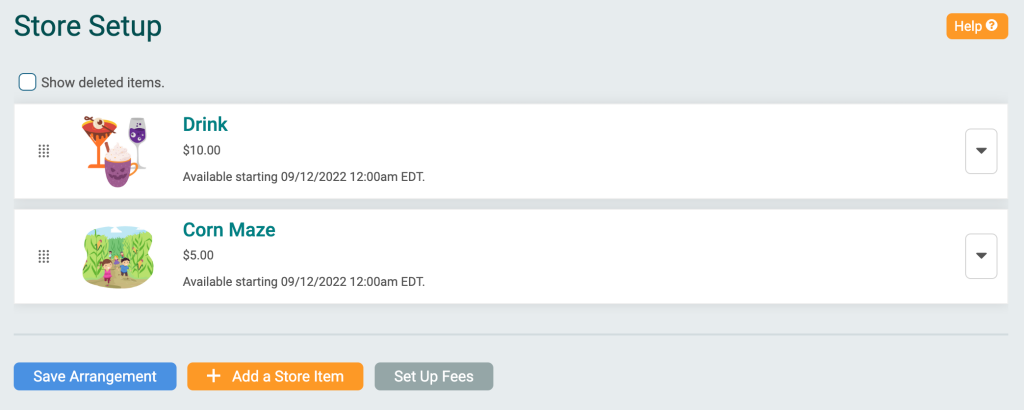 Once you have created store items, navigate to Store >> Bundle Store Items. Click the button to create a bundle.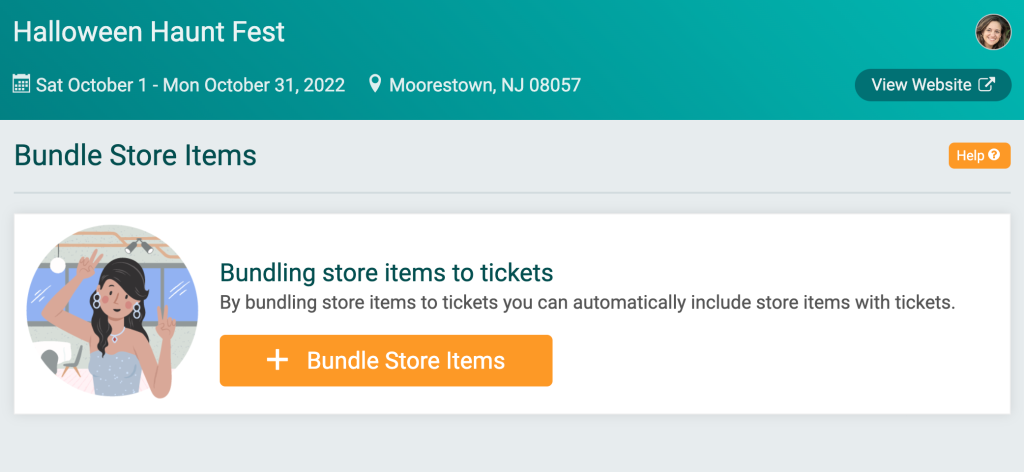 The first step of creating a bundle is to select the tickets that you want to include. In our example, VIP Tickets get 2 drinks included. You can either manually select the tickets you want to include, or use the search bar to automatically filter on a certain type of ticket and click Add All.
Next you will select the store items to include with the VIP tickets. In this case, we want to bundle 2 drinks with each VIP ticket. You can choose multiple items to add to the bundle.
Finally you will review the bundle and create a label for it so that it's easily identifiable; for example "VIP – 2 Drinks". Review the tickets that have a bundle included then click Save.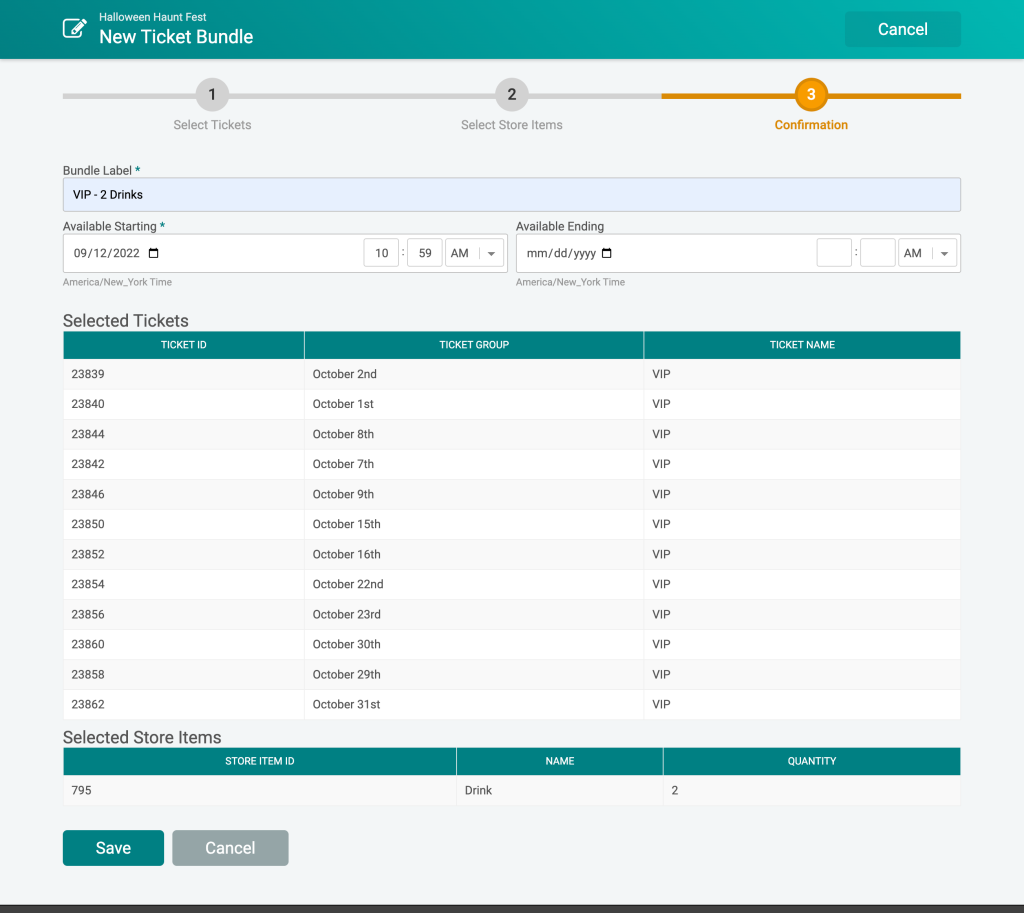 Saving will take you back to the Bundles page where you can add another bundle, like the free Corn Maze for Kid tickets.
Considerations for Ticket Bundles
Since bundles reduce the price of included items to $0, you may want to consider updating the pricing of your tickets. In the above example, the VIP Ticket costs $30 compared to the General Admission ticket at $20. This gives you the flexibility to price your tickets at the appropriate amounts when they include additional items.
When attendees purchase their tickets, they will see the items already included with their tickets along with the option to purchase additional items (this example is 1 VIP ticket and 1 Kid ticket, and includes 2 drinks and 1 corn maze).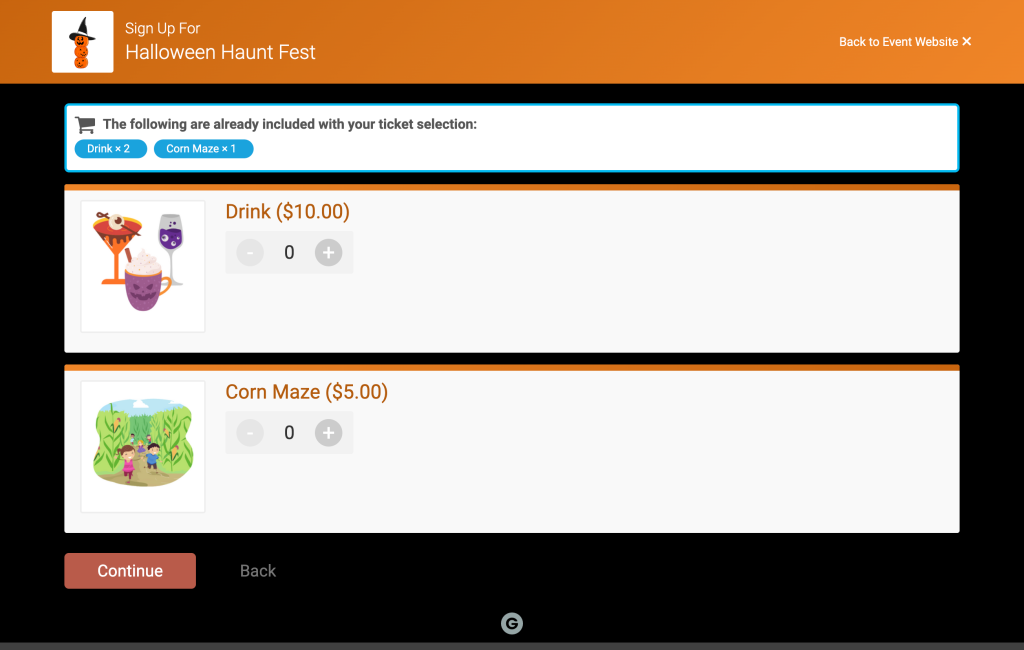 The checkout page itemizes the tickets, items, and sales tax. In the below example for a purchase of one VIP Ticket, one Kid Ticket, and one additional drink, the bundled items show with their normal store price. The cost is removed with the line items "Included with ticket: Drink" and "Included with ticket: Corn Maze." The additional drink purchased shows as its own line item on the cart.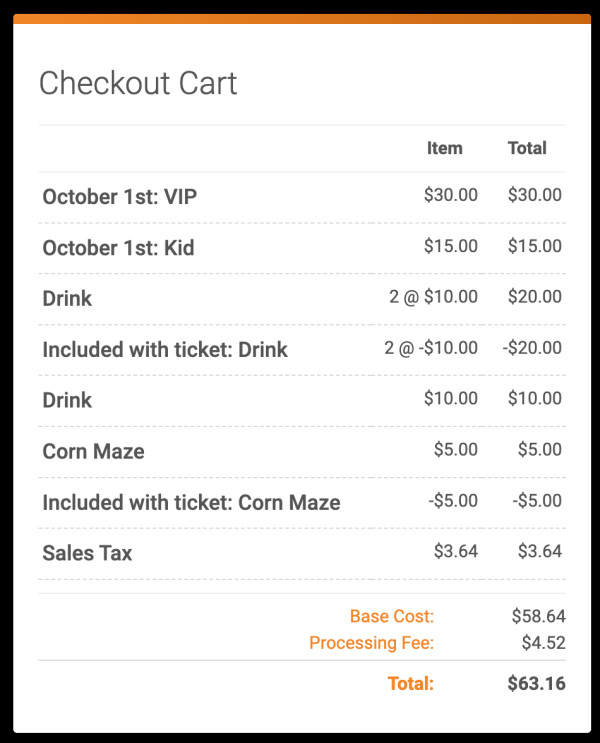 Some events do not want bundled items to be available for purchase. For example, one haunt customer is using bundles as a way to automatically include 3 attractions for free with each ticket purchased without the option to purchase additional attractions. This will enable their staff to check in attendees at each of the three attractions in the haunt while keeping the ticket purchase path simple. To set up bundles that do not show as additional purchase options, navigate to Store >> Setup. On the item, you can set the price to $0 and check the setting "Limit item to ticket bundles when registering."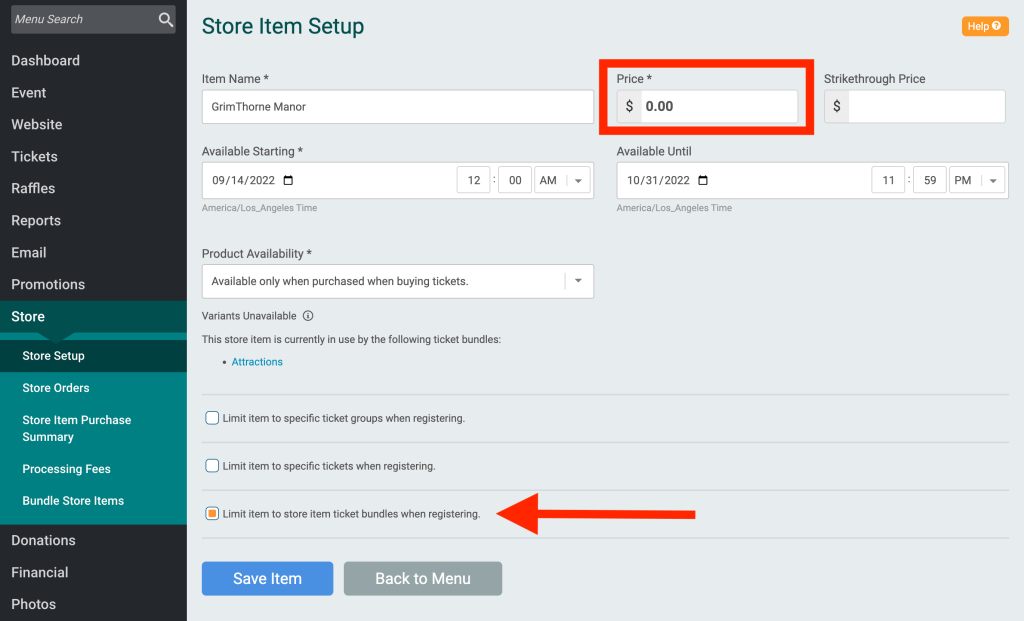 These attractions are hidden in the purchase path, only showing available store items.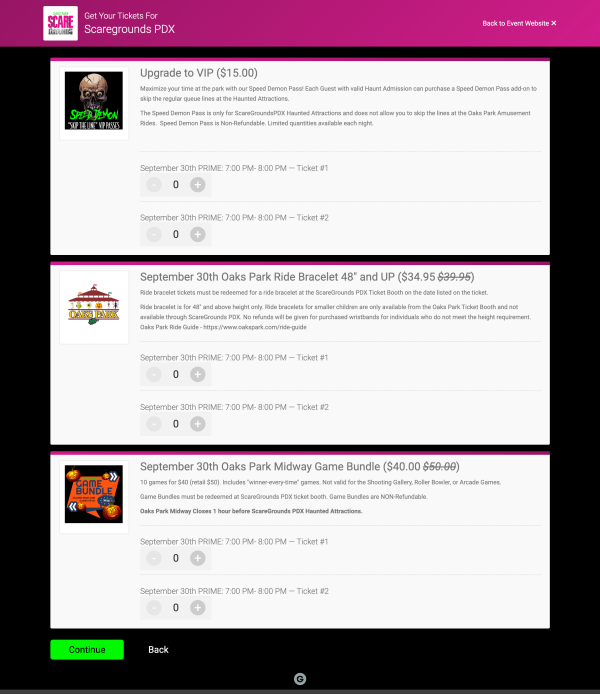 They show in the checkout cart as $0 items so that attendees understand they are included.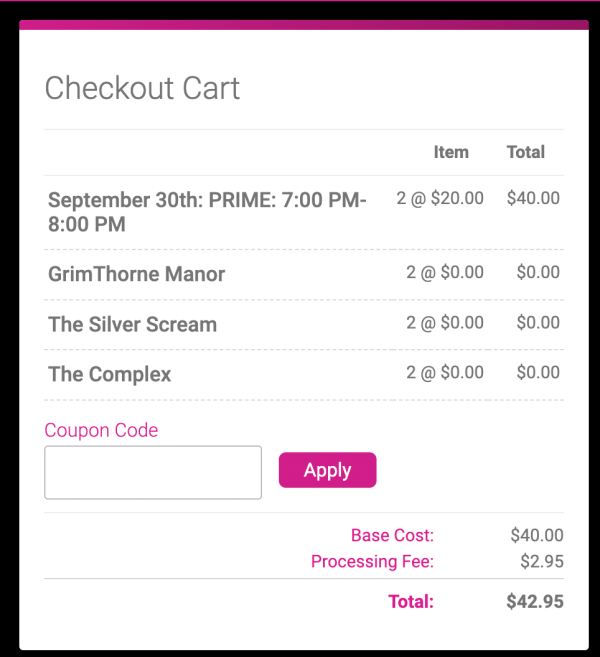 Summary
Ticket bundles are a powerful way to include additional items with tickets. Combined with TicketSignup's free Ticket App, your team will be able to easily check in additional items and sell more items at the event – perfect for farm events, beer fests, and more! Our next update will be enabling incremental and full check ins for store items in the CheckIn App to facilitate a best in class Event Day experience.