TicketSignup events have an integrated store capability, allowing organizations or businesses to sell merchandise, add-ons, or other additional items in the ticket purchase path. This feature is unique to our platform, and it gives organizations or businesses an additional way to generate revenue through their event websites. In the future, we will add the capability to have a stand-alone store in any ticket event to sell your merchandise year-round.
The store is extremely flexible–you can add as many items as you like and customize the way they display. Each item can have multiple variants, such as color or size. Here is an example store page in the purchase path of a golf tournament: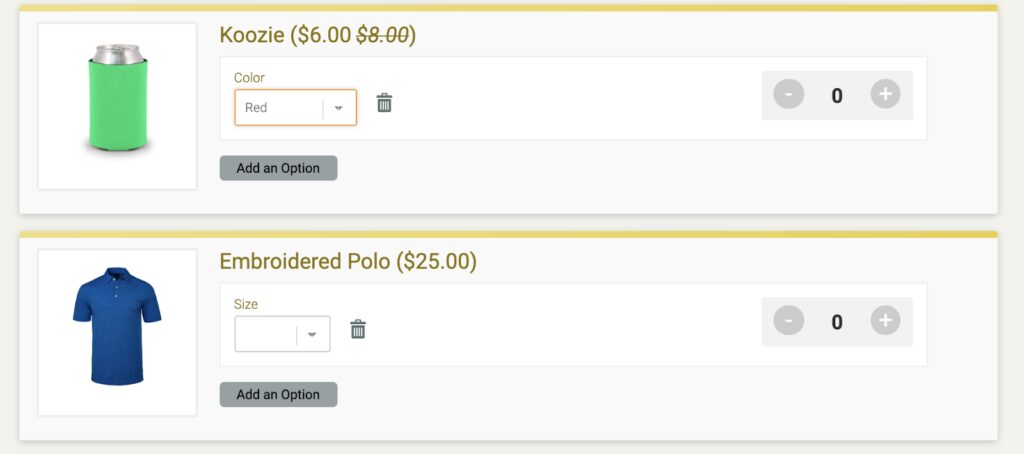 The quick-buy buttons on the right make it easy for supporters to add store items to their ticket purchase.
Managing Store Items

It's easy to add a new store item or edit an existing one. In Event Dashboard >Store> Store Setup, you can view your event's existing items or Add an Item to create a new one.
Here, in addition to a standard price, you can add a strikethrough price that will appear beside the actual price. Strikethrough prices are intended to suggest a discount, and so they should be higher than the actual price.

Variants
Variants are the options (size, color, gender, etc.) that you can build into a store item. When you set up an item, you will choose the number of variants. Currently, up to three are allowed for a single item.

An example of a three variant item is a hat that comes in two sizes, multiple colors, and has a few different logo options. To set this up, you would select 3 variants and then enter the variants into the fields that will appear: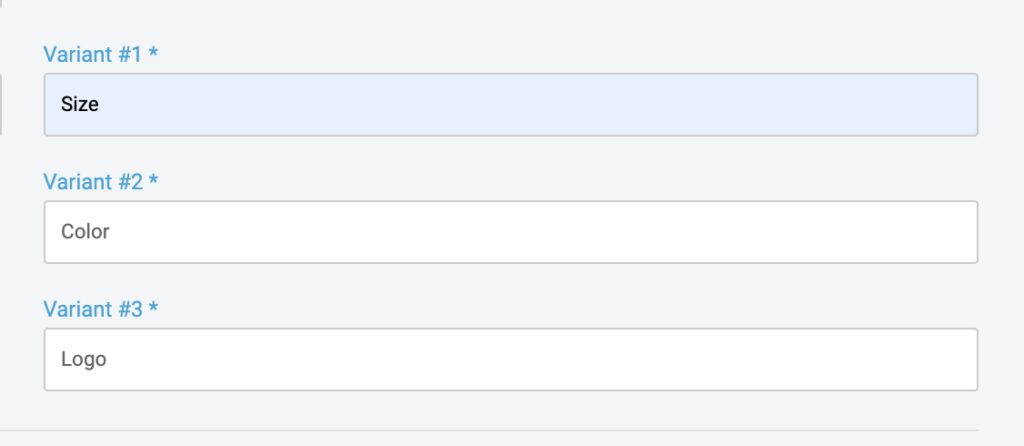 Next, enter the options for each variant under Variant Name. You can add as many of these as you like.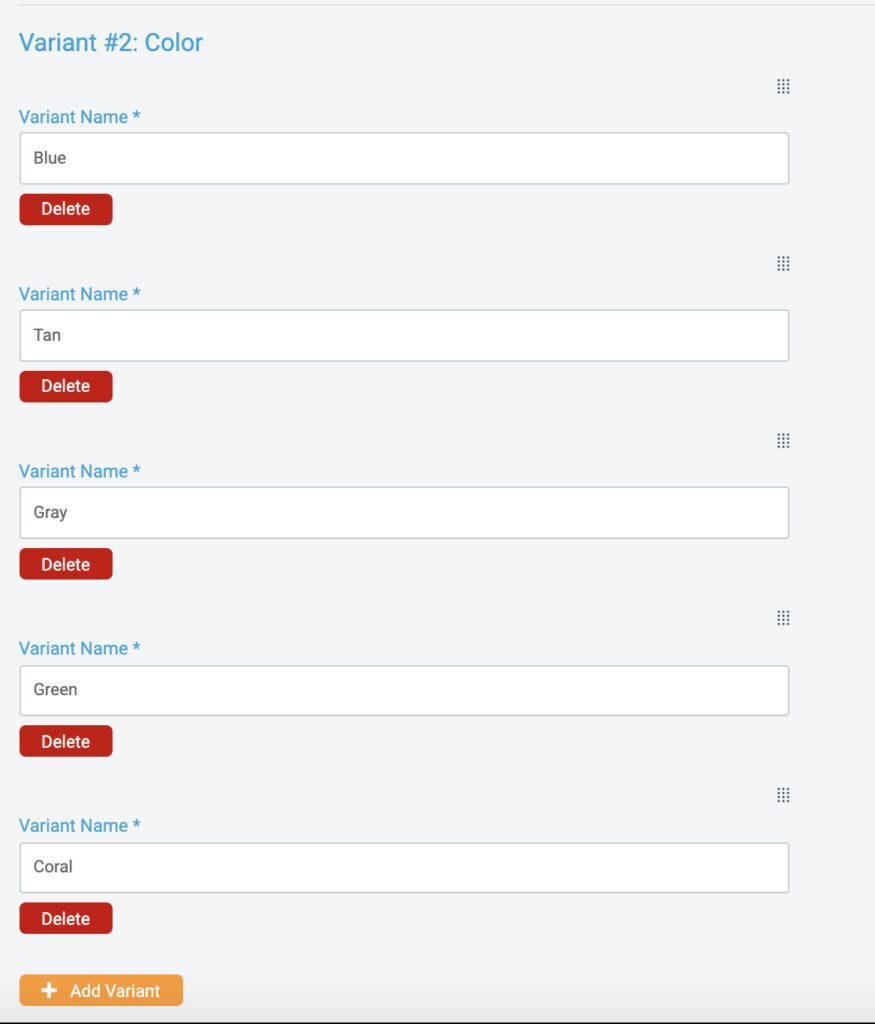 Item Display
After saving your new store item, you can click Display to add an image and description.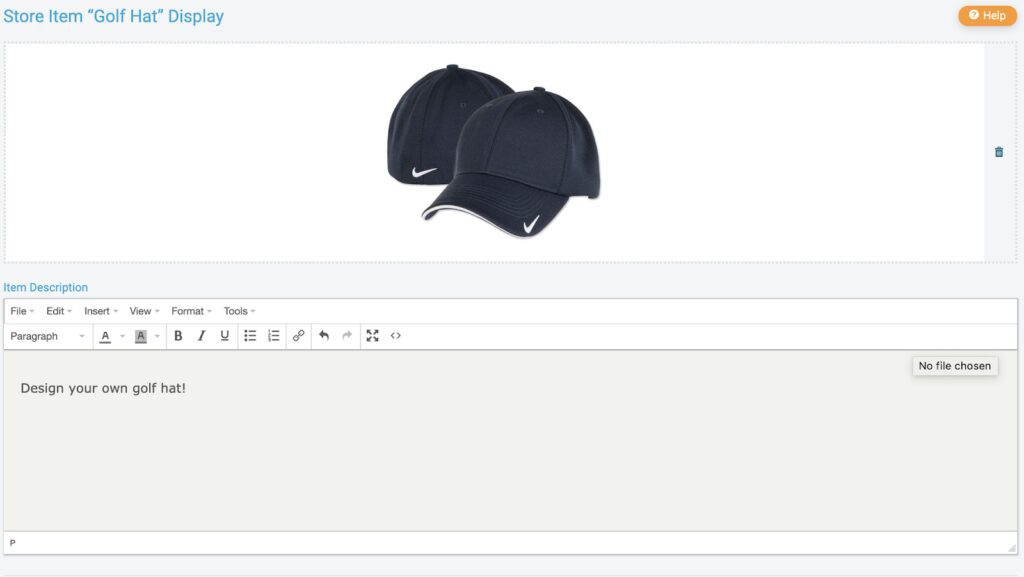 The item will display like this, with three dropdowns containing the variant options you entered: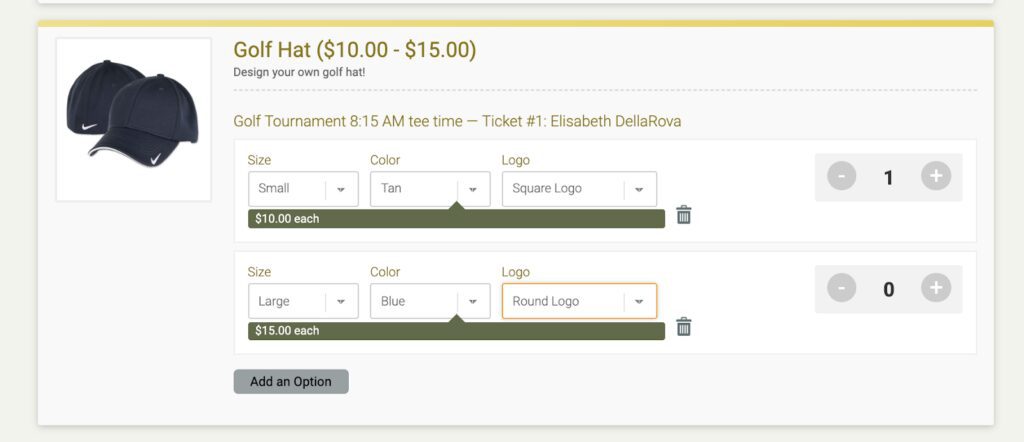 Variant Pricing
You are able to set special pricing per variant option, to allow for cost differences between options. This is set up through Event Dashboard>>Store>>Store Setup >> Item >> Variant Pricing. You will be able to create a pricing matrix, allowing for each combination of variants: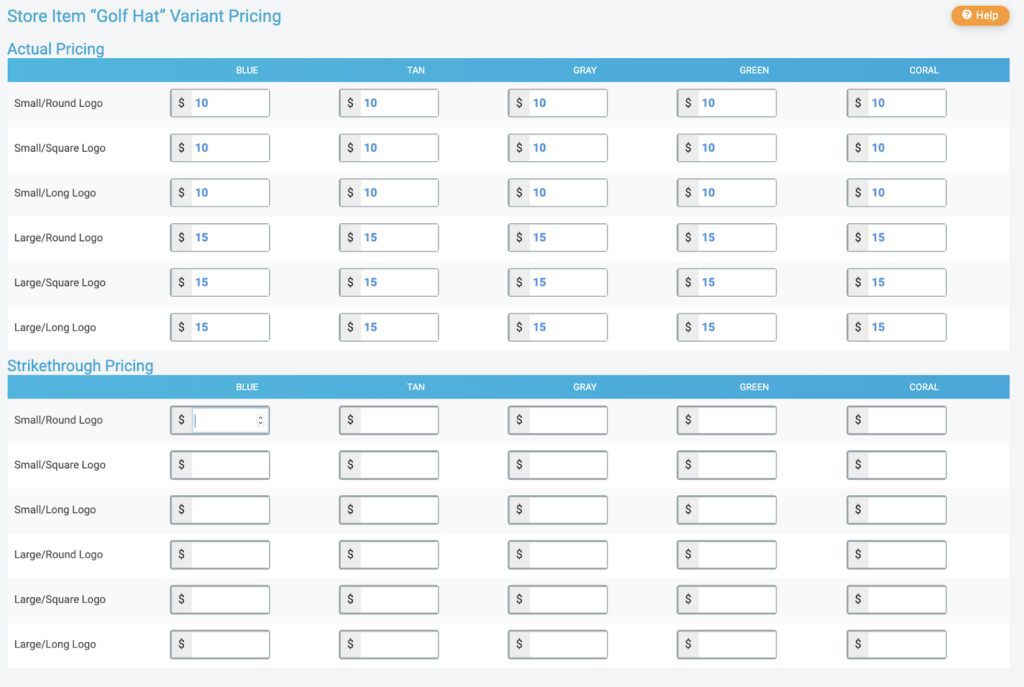 Quantities
You are able to set starting quantities for each of your items. These automatically update after purchases, so you can track how many of each item you have remaining.

If you want to require that ticket purchasers buy a certain quantity of an item per order or per ticket (e.g., if you were doing a giveaway or charging extra for a parking pass) you can enter that in the Minimum/Maximum Quantity Per Order fields. You can enter an initial quantity available in the field on the right side. If you have more than one variants, you can set their individual starting quantities in a matrix by clicking Quantities on the item menu: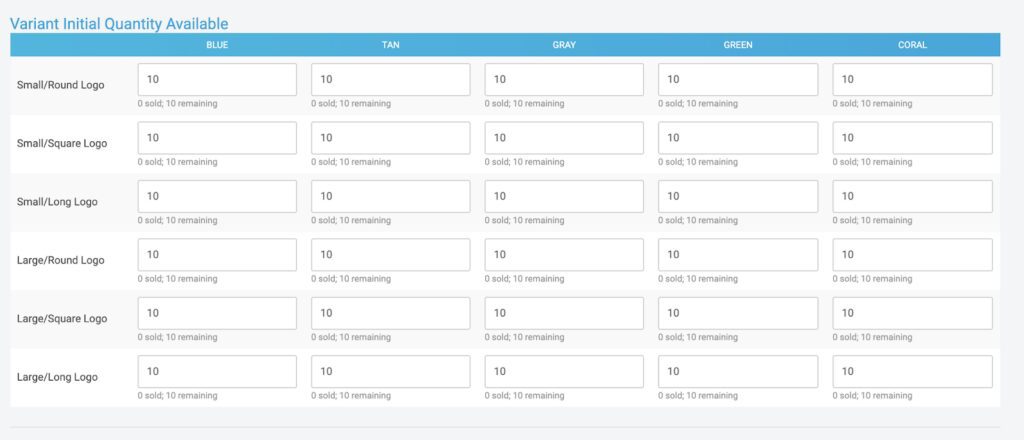 Order Report

The Store Order Report allows you to search for specific purchases, quickly see your store's total revenue, and view a list of store orders. This report can be exported as a CSV.
Giveaways and the Store
If your event has a giveaway, you can use the store to manage your giveaways by creating a $0 item with a minimum and maximum quantity of one per ticket. You can still use variants and all the other store features. This will force every ticket purchaser to "buy" the giveaway, which makes reporting and managing giveaways easier for you as the event director.
What's Next for the Ticket Event Store
In the coming months, we will add a standalone store capability to ticket events, allowing nonprofits to sell items on their event website to people who aren't buying tickets. Events will also be able to leave the store open all year, even when ticket sales aren't open.