With the return of in-person ticket events, events need to have the right tools for a touchless event experience. TicketSignup is excited to announce new updates to the Tickets App with CheckIn that make your organization's event check-in experience seamless and touch-free. Volunteers and staff can download the app for free from any iOS or Android device, and quickly scan QR codes or search by name to check in your attendees in seconds.
Key updates to the TicketSignup Tickets App include:
Ticket and group names are now displayed for each ticket, making it easy to manage advanced event check-ins with multiple ticket types.
Tickets can be un-checked in, making it easy for volundateers to fix mistakes.
The Ticket CheckIn can be locked for volunteers.
Events can now add a start and end date for when they want the CheckIn App enabled.
The Individual Tickets report shows checked in status so you can easily report on which attendees were checked in.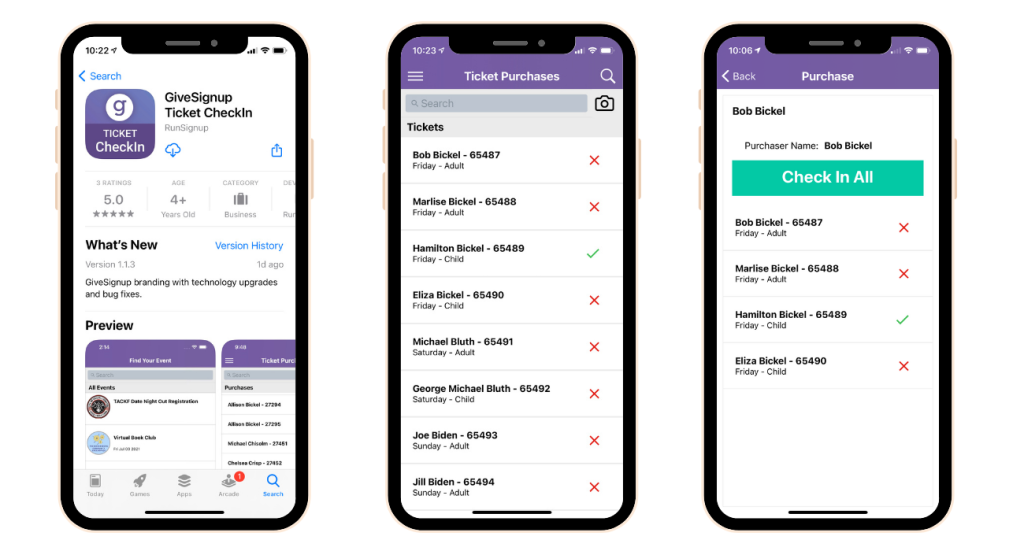 The TicketSignup Tickets App for CheckIn is free and easy to use.
1. Enable CheckIn
To enable the Ticket CheckIn App for your event, navigate to Event >> CheckIn in your ticket dashboard. Enter dates when you want the CheckIn App to be accessed as well as a shared password that will be entered on any mobile device to access your event's check-in.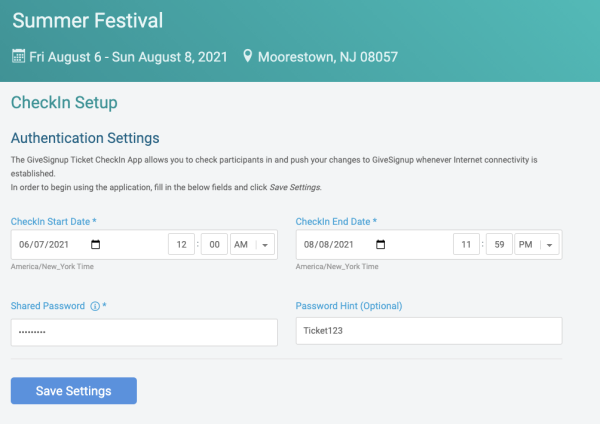 Once you have enabled Tickets App, you'll be able to search for your event in the Tickets App (1a). Click your event and enter the password that you set in the dashboard (1b). Once the password is entered, your ticket purchases and individual tickets will appear in the app (1c).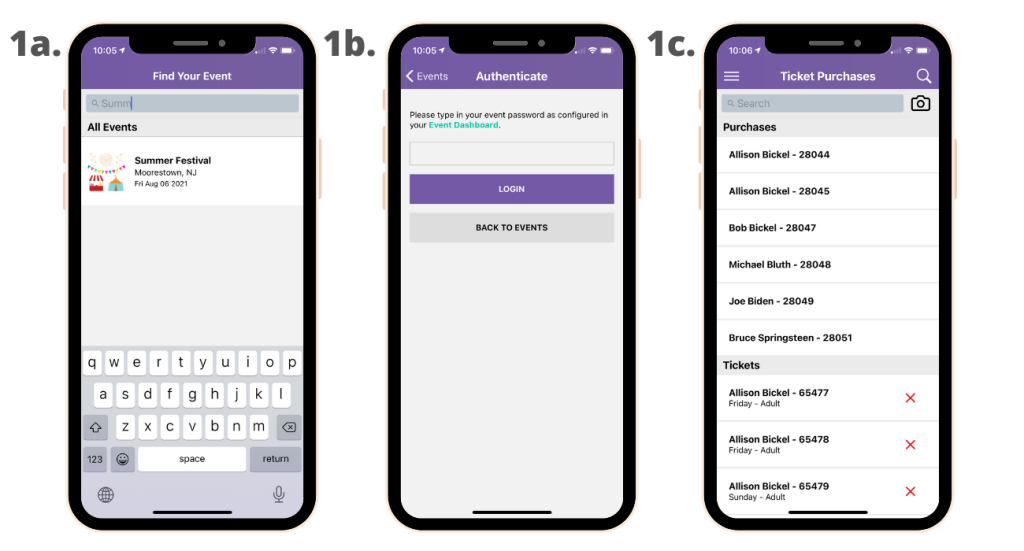 2. Check-In Attendees
There are 2 easy ways to check in your attendees:
Search by the ticket purchaser or ticket holder name (2a), which you can tap to check-in the ticket (2c).
Scan the QR code from the attendee's confirmation or pre-event email by clicking the camera icon in the top right corner of the app (2b), which will automatically display the specific ticket or purchase (2c).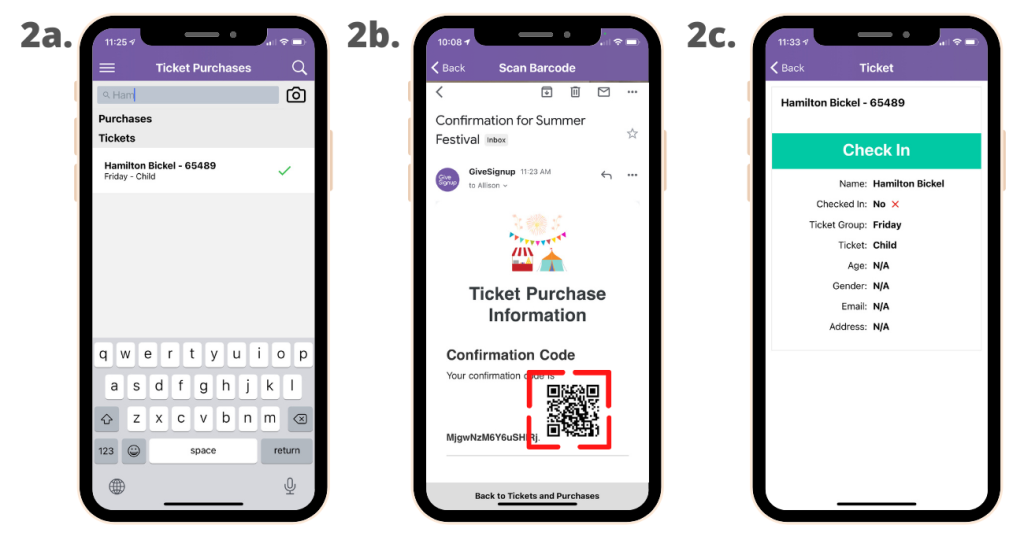 On a ticket purchase with multiple tickets, you have the option to Check In All tickets (2d). If the ticket holders are arriving at different times, you can click into individual tickets to check-in some of the tickets within the purchase (2e). It's easy to un check-in any ticket in case a volunteer makes a mistake when checking in attendees (2f).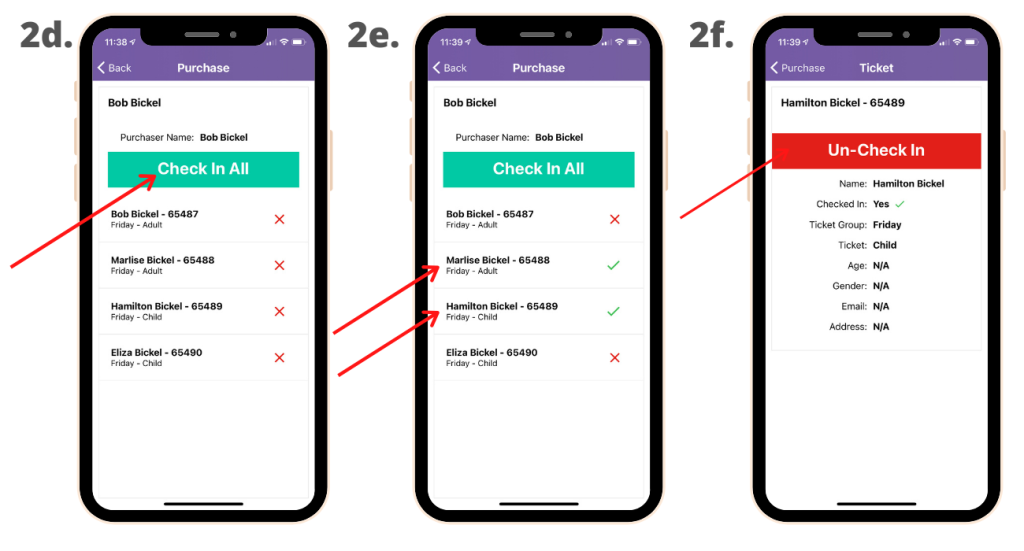 3. Settings
When you click the three bars in the top-left corner of the app, you can access additional app settings (3a). Lock Event allows you to enter a 4 digit code to lock a volunteer's phone so that they can only check-in attendees and not edit any settings (3b). While there are limited settings right now, we will be adding additional features like information fields, custom questions, and presets that allow you to filter and lock a volunteer's phone on a specific ticket or group and with certain data fields showing or hidden. You can unlock the CheckIn App at anytime by re-entering the same 4 digit code that you used to lock the phone (3c). (Note: use the same 4 digit code on all phones for your event so that you remember the PIN).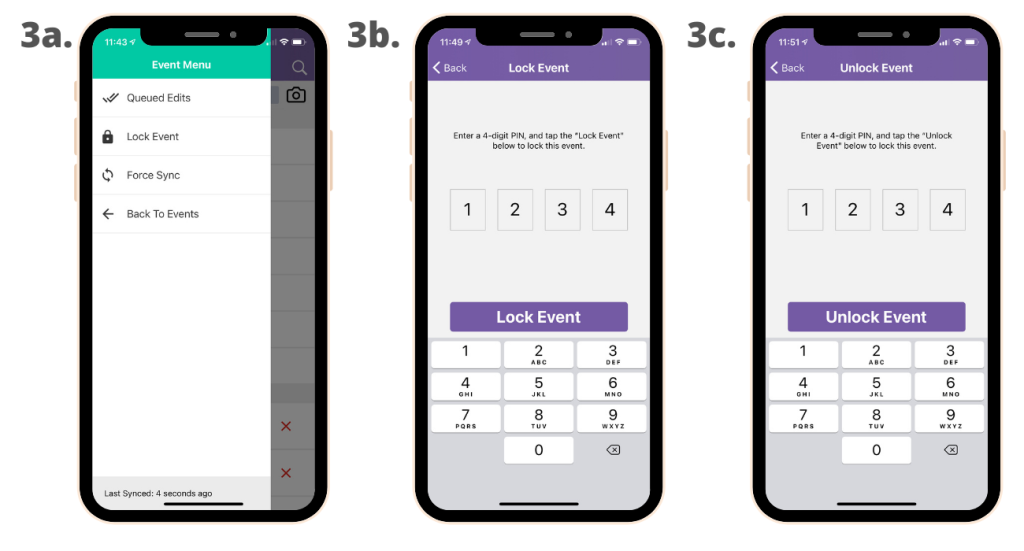 Queued Edits are the check ins that have not synced with the cloud. The Ticket CheckIn App automatically syncs every 30 seconds to post check-in updates to the Individual Tickets report and pull in any new ticket purchases that happened in that time. Clicking Force Sync will trigger a new sync. You can also pull the list of tickets down to refresh the ticket list at any time.
4. Reporting
We've added a Checked In status to the Individual Tickets report. This also shows as a column when you export the ticket report.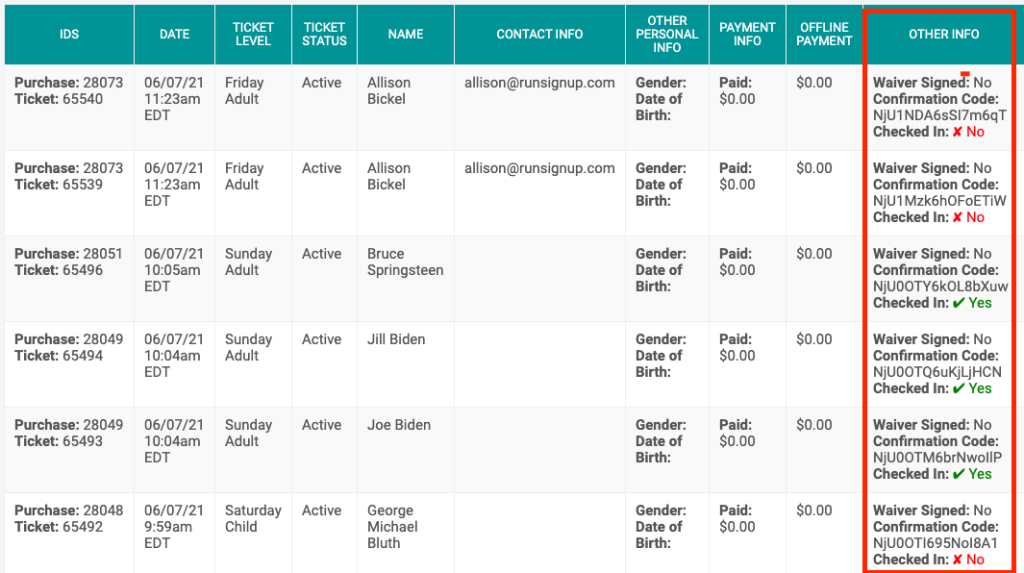 Ticket events are back and TicketSignup's free and easy-to-use Tickets App for CheckIn helps events run a seamless and touch-free experience. There are more Tickets App updates coming in the next few weeks, including:
Display information collection fields
Display custom questions
Create presets to determine which tickets and which information show for each volunteer