There are several unique things about our Processing Fees (see Pricing Page here) compared with other ticket vendors. The purpose of every one of them is to make you more successful.
Family Friendly – No per Ticket Charges
New customers often wonder why we do not charge a per ticket fee.
The reason goes back to the origins of our company where we knew that having multiple tickets on a transaction does not cost us anything extra, and it would encourage more families and groups to signup together.
This is proving to be a huge savings to events compared with vendors like Eventbrite and TicketSpice. Last year, we saw an average of 2.8 tickets per transaction. Since Eventbrite charges $0.79 – $1.59 per ticket and TicketSpice charges $0.99 per ticket, it really inflates their processing fee. (And neither of them provide their customers unlimited free email or websites like TicketSignup). We just charge $1 per transaction (less if you have high volume).
Credit Card Fees Included
Unlike many other ticket vendors, we are an approved Payment Facilitator. This means we include the credit card fees in our pricing. And you don't have to set up a separate Stripe account, and reconciliation is a breeze.
No Extra Fees or Subscriptions
We include Free Email, Free Website (not just a page), and do not charge any subscription fees. In comparison, many ticket vendors make you pay for expensive email from MailChimp and require you to pay for a website and manage it yourself. Eventbrite has started charging for Email, and they are distracting YOUR customers to other events so they can make money from ads.
Large Event Revenue Share
We offer a Partner Revenue Share program based on the size of event or volume of transactions: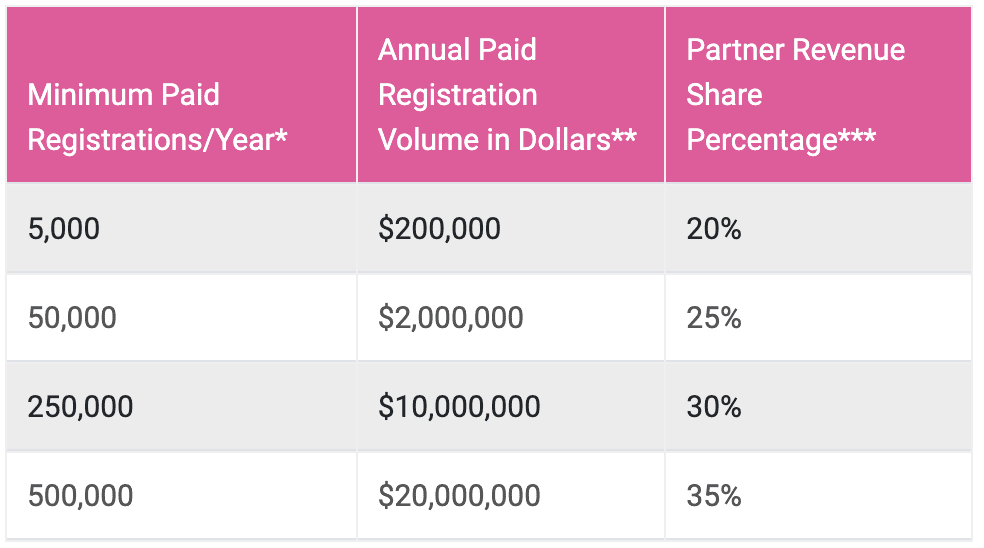 Low Total Cost including Credit Card Fees
If your events total 50,000 ticket per year, this drops the processing fee we charge considerably:
Set Your Own Price
We make it easy for events to set their own processing fee and keep the difference. We covered the details in this blog. We have some customers that generate thousands of dollars by having their processing fees be a bit higher. We are seeing this as a common strategy with customers moving from Eventbrite. They leave the fee the same and keep the difference (while also getting free email and a real website).
Donations are Only 4%
Finally, our donation processing fee is a flat 4%. No per transaction fee at all. This makes it great for nonprofit events, or events that are partnering with a nonprofit. Including some of our nonprofit friendly features like Donation Discounts, and TicketSignup is perfect if your event works with a nonprofit.