Fundraising events engage supporters, strengthen your organization's community, and build awareness about your mission. Sell more tickets and bring new supporters into your organization by incentivizing your existing supporters to bring their family and friends. TicketSignup's free and purpose-built ticket event platform has the technology you need to sell tickets with flexible tools for pricing strategies that work.
1. Price Increases
Time-based calls to action are one of the strongest strategies to encourage people to buy tickets. Our database of more than 7 million annual ticket purchases shows that 27% of attendees buy their tickets in the three days leading up to a price increase.
TicketSignup's simple ticket wizard makes it easy to add automated price increases to your ticket event. Your website and tickets automatically update to reflect the new pricing on the date of the price increase without you having to do anything.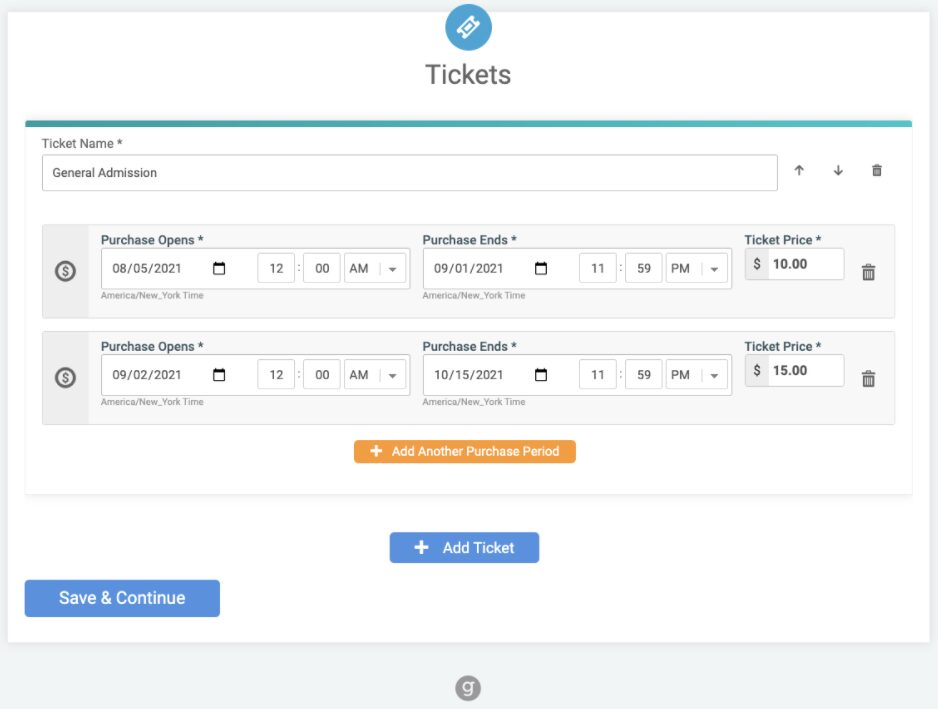 2. Ticket Tiers
If your event has General and VIP ticket options, you can easily add these tickets at different prices. For simple ticket events, setting up General and VIP tickets can accomplish this.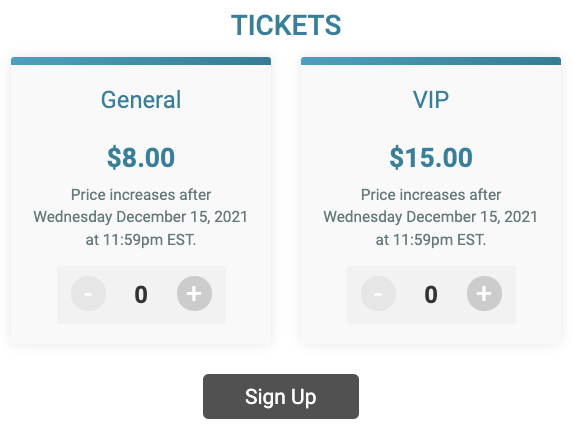 For complex and multi-day events, it's simple to add multiple ticket options at different prices to Ticket Groups.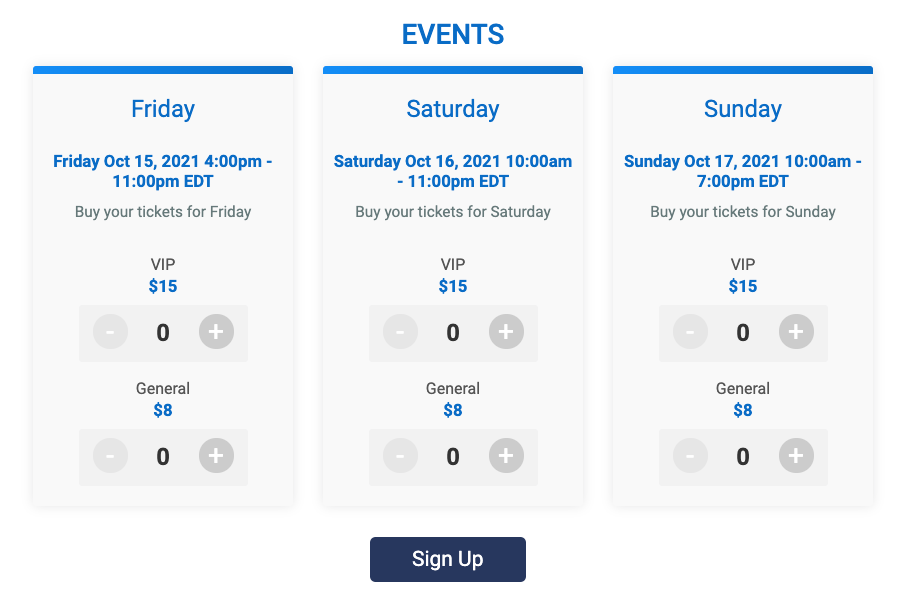 3. Tax-Deductible Ticket Amounts
For higher-priced ticket events, like a gala or dinner, you may want to offer tax deductions for the tax-deductible portion of the ticket. For example, if you price tickets to your gala at $250 for General and $500 for VIP, you can offer a tax deduction on the amount that doesn't go toward dinner and drinks. In this example, $50 is needed to cover dinner and drinks.

General ticket holders would get a $200 tax deduction automatically included in their confirmation email, and VIP ticket holders would get a $450 tax deduction automatically included in their confirmation email.
4. Time-limited and Quantity-Limited Coupons
Offering discounts can encourage supporters to sign up; putting a deadline or limit to that offer can incentivize people to sign up quickly.
TicketSignup | RunSignup's coupons make it simple to add one or thousands of unique coupon codes in minutes. We even make it easy to share with auto-generated URLs to automatically apply the coupon at checkout.
You can specify an expiration date to make your coupon time-limited.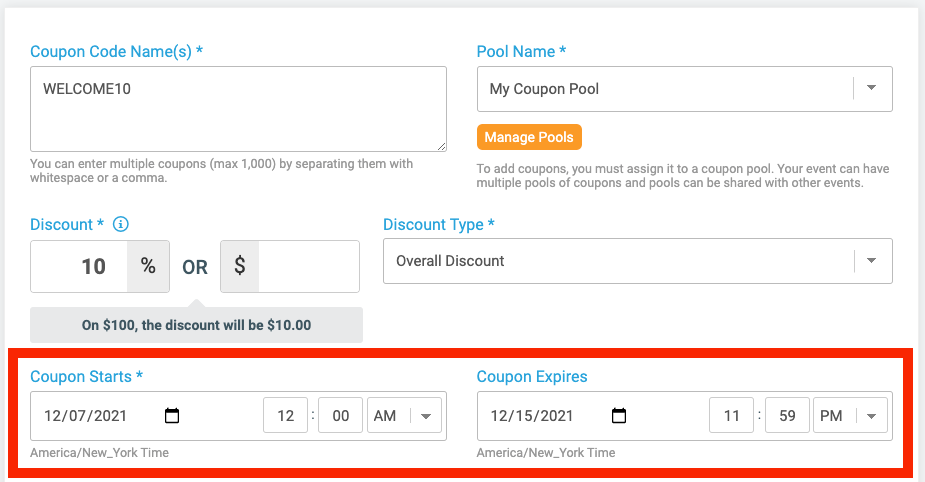 You can also restrict and specify the quantity of coupon uses available. In the example below, the coupon can be used 100 times to purchase 150 total tickets. It's also been limited to only apply to VIP tickets. Notes can be used for teams managing events to ensure that there is an internal audit trail on when, who, or why coupons were added to the event.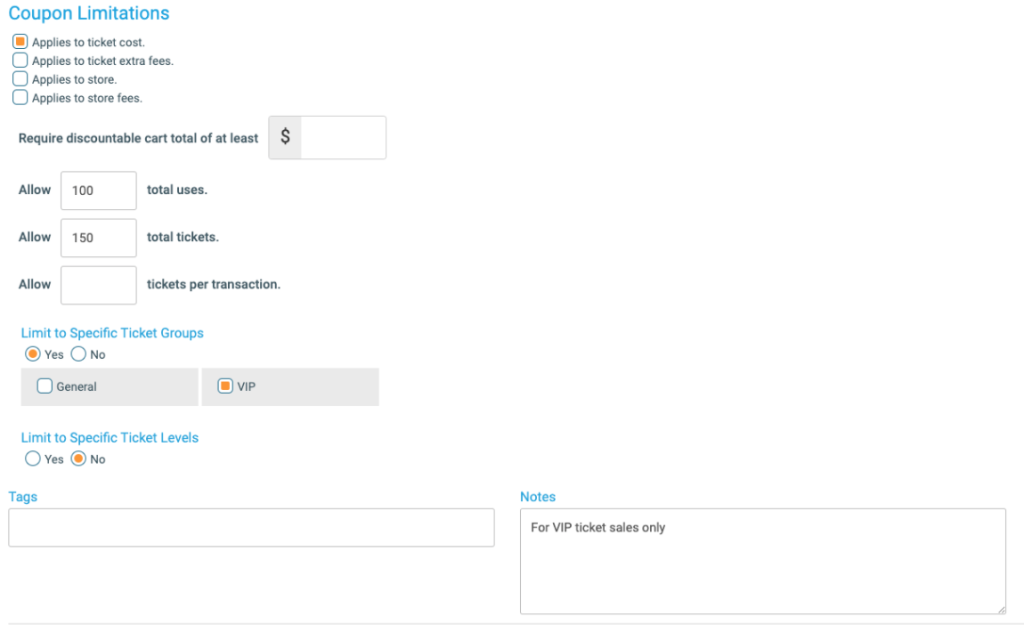 5. Bulk Ticket Purchase Discounts
Automatically apply discounts when multiple tickets are purchased at the same time. In the example below, the per ticket price is automatically discounted from $8 to $7 when five to 15 tickets are purchased. If 16 or more tickets are bought, the price is automatically discounted to $6.50 per ticket.

6. Referral Reward Refunds
Your digital marketing plan consists of social media posts, Facebook and Google ads, and email marketing that get people talking about and signing up for your fundraising event. How can you expand that funnel…. for free?
Our data shows that 50%+ of participants attend an event because a friend asked them to join. With TicketSignup | RunSignup's Referral Rewards, your organization can incentivize supporters to bring their family and friends to your fundraising events with automated refunds, swag, and recognition. Why does the referral program work so well? Because there is no better advocate for your fundraising events than your supporters.

In 2020, more than 436,000 referral codes were created on TicketSignup | RunSignup. When supporters shared those codes with their friends and family, they generated more than 12 million website visits and more than $12.1 million in ticket sales. Overall, when referral rewards are enabled, 17% of ticket sales come from referrals — that means you grow your event with no additional ad spend.
7. Donation Discounts
TicketSignup's ticket platform is purpose-built to easily allow donations for your events. One of the ways our platform can drive donations for your organization is with automated donation discounts. You can give your ticket purchasers an automated discount on their ticket purchase when they make a donation that hits a certain threshold. In the example below, anyone who donates $25 or more will receive a $5 discount on their tickets.

This discount is highlighted on your website and in the purchase path.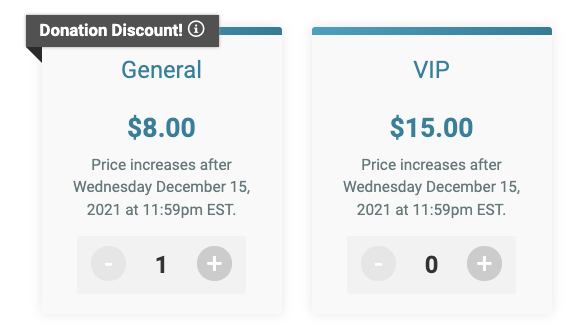 The discount is automatically applied as a line item discount at checkout.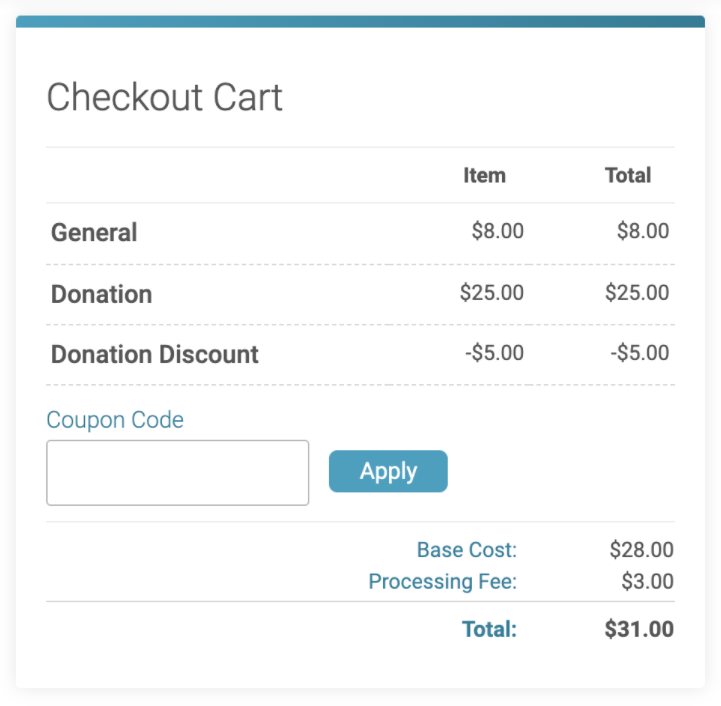 8. Combo Tickets
You can create combo tickets to offer special discounts. For example, if you are selling adult tickets for $20 and kid tickets for $5, you could create an offer such as "Buy two adult tickets, get two kid tickets for free."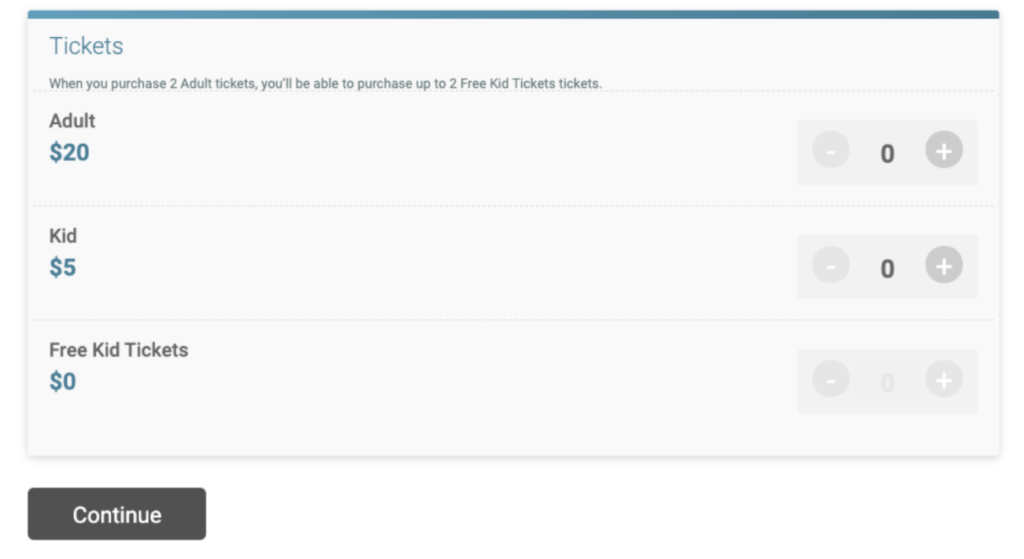 The two free kid tickets will only be available for selection once the two adult tickets are selected; once the maximum of two free kid tickets are selected, the user is unable to add additional free kid tickets.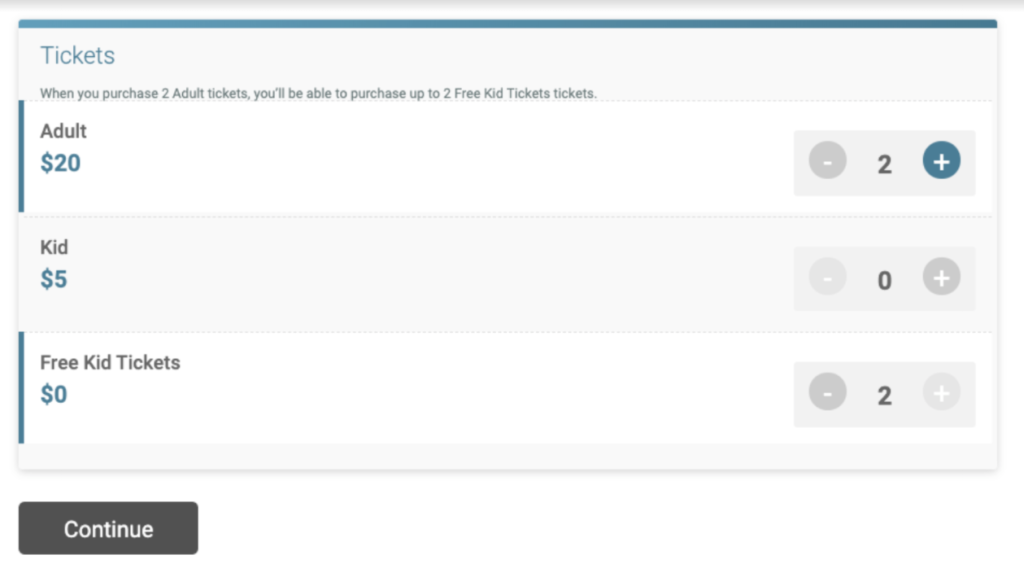 TicketSignup's free and purpose-built ticketing platform gives your organization the pricing tools to drive ticket sales and incentivize your supporters to donate and bring their friends and family to your event.