Fundraising events are an opportunity for nonprofits to raise money, increase brand awareness, and engage supporters. One of the most popular type of fundraising events we see on TicketSignup is the classic Fundraising Gala.
Supporters love galas because they get to learn about the impact of your organization on its community, socialize with like-minded people, and support a worthy cause. Plus, who doesn't like getting dressed up and networking over good food and drinks? Galas are a celebration of your organization's accomplishments and an opportunity to get your high-value donors in the same room for a magical experience.
As the leading event technology provider, TicketSignup's purpose-built technology can give your gala attendees extraordinary experiences.
Virtual Gala Experiences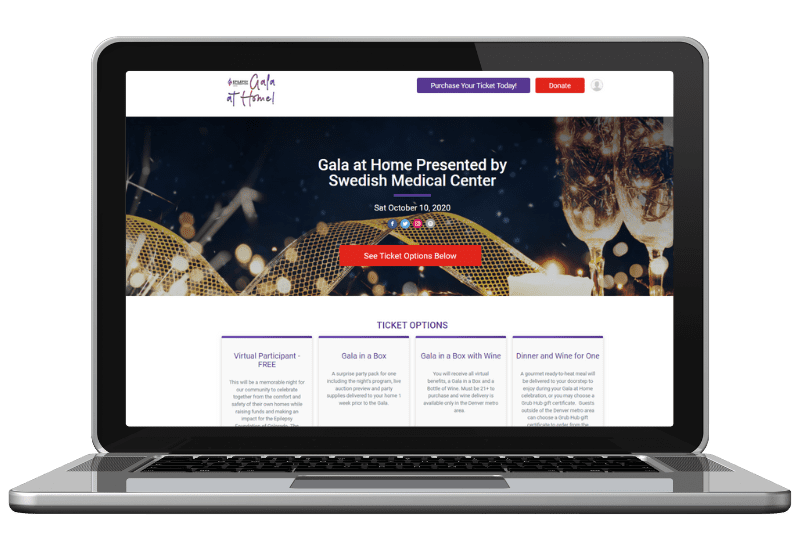 A gala is typically held once a year — it's the big fundraising event that a nonprofit hosts to share details about the impact the organization has made and raise funds from loyal donors along the way. As the pandemic halted these high-value events most of 2020 into 2021, nonprofits had to get creative about how to pull off these in-person fundraising events.
The Epilepsy Foundation of Colorado had to improvise its annual in-person gala due to the pandemic by selling free tickets and collecting donations for its Gala at Home, an event that was livestreamed. An extra level of creativity: The organization offered attendees the option to receive the "Gala in a Box" party pack that came with wine and a prepared dinner. With TicketSignup's free solution, the Epilepsy Foundation of Colorado gained access to our ticket platform and also received the benefit of collecting supporter information and making a soft ask for an optional donation.
While the pandemic is slowly moving past us, your supporters will continue to look for virtual options. That means while people are excited to participate face-to-face again, others will still look to participate in your gala virtually — especially if you've attracted supporters from all over the world. Offering virtual options with your in-person event doesn't have to feel intricate or time-consuming. It could be as simple as:
Livestreaming the event so those who can't be there can still participate virtually
Allowing supporters to donate or fundraise on your event website
Offering supporters the opportunity to participate in activities (e.g., raffles, auctions)
Sharing real-time event updates on social media and actively engaging with people
Custom Ticket Options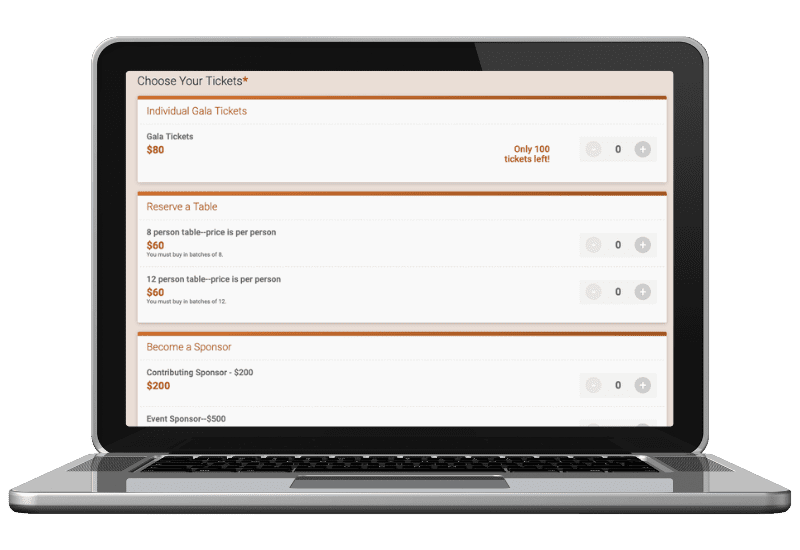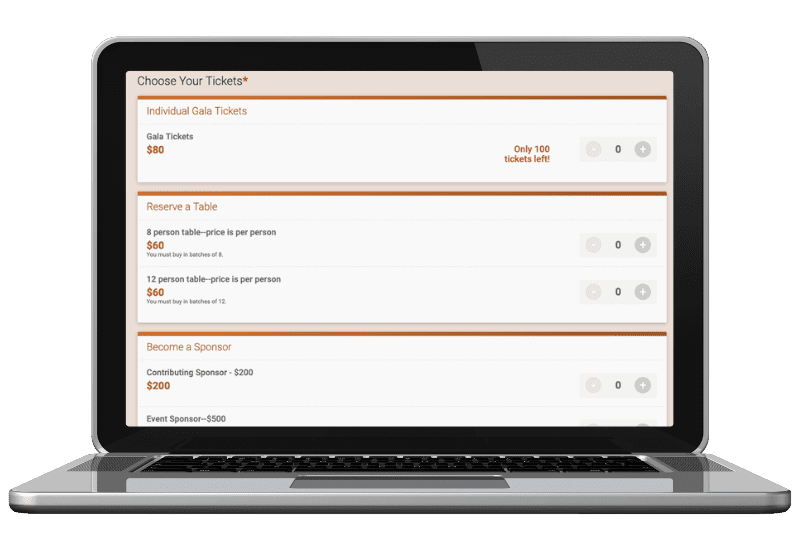 Nonprofits that host fundraising galas know that these events have the potential to bring in significant fundraising revenue, as gala tickets can be set at a much higher price compared to other fundraising events (e.g., run/walk/ride, festival fundraiser). On your event website, where people can go to learn more about your event and buy tickets, we recommend offering multiple ticket levels. On top of selling individual tickets, also give supporters the opportunity to reserve the entire table. For example, Patriot Award Gala offers two ticket options: individual seats for $150 or the entire table for $1,500. 
TicketSignup offers flexible ways to display the ticket options to potential gala attendees. One of the advantages of our flexible ticketing platform is that it allows you to create as many different price levels or purchase periods as you need for your event.
Social Sharing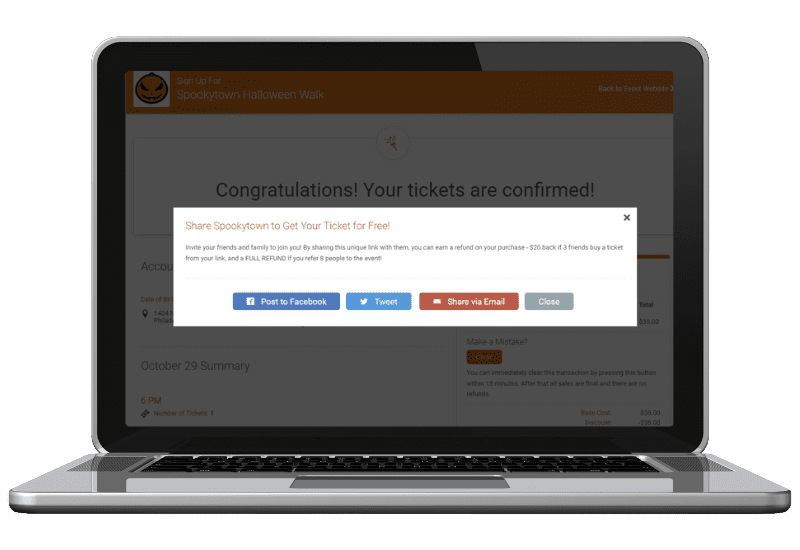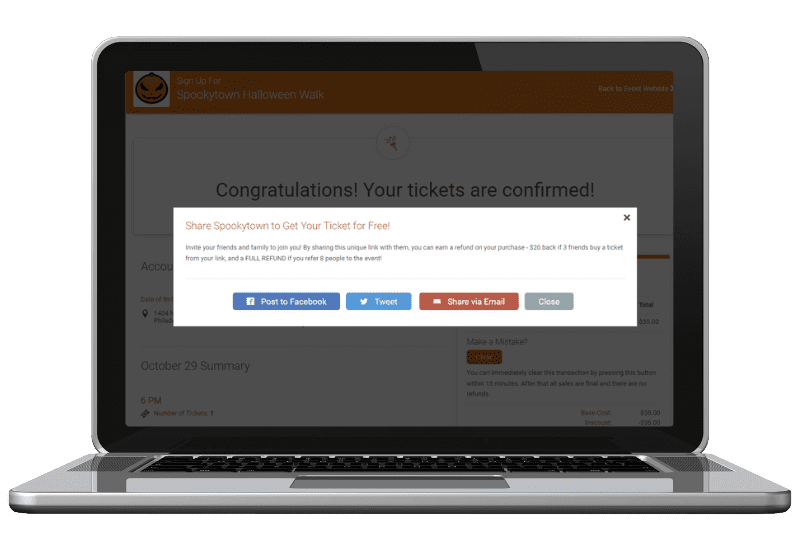 Leverage social sharing tools to get the word out about your upcoming fundraising gala. Supporters are excited that you're hosting a gala in their community, but they also want to learn more about your mission and why it's important. Showcase emotion-provoking stories of the people or animals you serve, share their heartfelt testimonials about how much the generosity of your donors has changed their lives and include photos and videos so that people can further relate to your mission.
Additionally, encourage social sharing with your registered attendees. With TicketSignup, once someone registers for your fundraising gala, they are prompted to share the event on their desired social channels through a pop-up window. Personalize the event description and images for better results!
TicketSignup also offers a referral rewards program that you can use for your ticket event, which allows you to give attendees money back if they hit a certain referral threshold (e.g., $20 back for getting five people registered for the event). It's a great way to incentivize your attendees to tell their friends and family about your upcoming gala and to sell tickets even faster.