Selling tickets online with TicketSignup can alleviate the burden of calculating, collecting, filing, and remitting sales tax payments for ticket events, as well as ensure compliance with complex sales tax laws. TicketSignup collects and makes payments for sales tax in all marketplace states, in compliance with marketplace facilitator laws. In addition to sales tax, some ticket events are required to collect additional admissions and amusement tax. Admissions and amusement taxes are not part of marketplace facilitator laws. Therefore, TicketSignup does not collect, calculate, or remit admissions or amusement tax on behalf of events. There is one exception. Chicago passed marketplace facilitator laws in Chicago that cover amusement tax. As a result, TicketSignup automatically collects, calculates, and remits amusement tax in Chicago.
If you're not sure whether you need to charge admissions and amusement tax for your ticket events, we encourage you to consult a tax professional to better understand your tax obligations. TicketSignup can't give you tax advice.
While your event is responsible for collecting, filing, and remitting admissions and amusement tax, TicketSignup has new setup and reporting options that make this simple and easy for events.
Set Up Admissions or Amusement Tax
If your event needs to collect admissions or amusement tax in addition to or in lieu of sales tax, navigate to Financial >> Sales Tax >> Amusement or Admission Tax. Click Add an Amusement or Admission Tax to get started. There are several fields to complete:
Tax Description: This shows as a line item on the purchasers' checkout carts.
Amount: Enter the % of the admissions or amusement tax.
Extended Description: This is an optional field that displays when a purchaser hovers over the admission or amusement tax line item in their checkout cart.
Applies To: You can apply the tax per ticket or per transaction. Note that since it's just a percentage, it will be the same either way (per transaction excludes additional items like store, donations, and extra fees).
Apply to Specific Tickets: If you only need to charge admissions or amusement tax on certain ticket types, you can select which tickets will get taxed.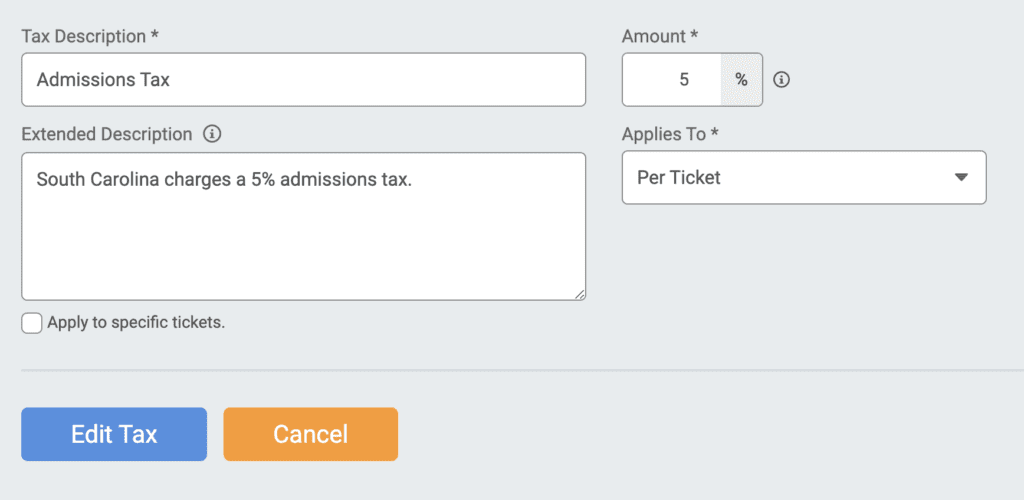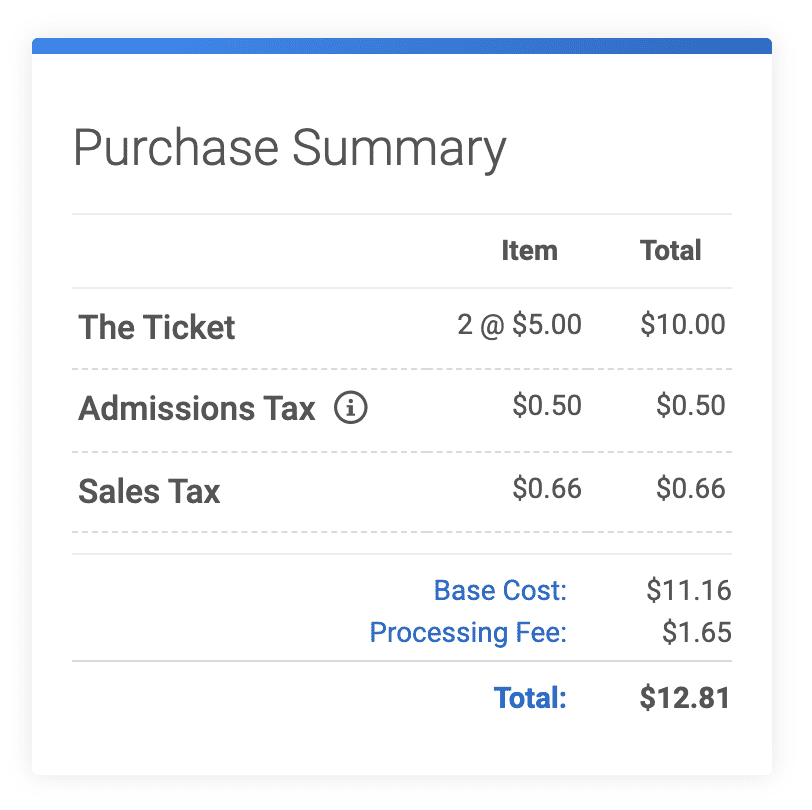 You can edit or delete the tax at any time. There is also the ability to add multiple admission or amusement taxes.

Reporting for Admission or Amusement Tax
TicketSignup makes it easy to view and pull reports on your event's collected admissions or amusement taxes. There are exportable summary and line item reports. Navigate to Financial >> Sales Tax >> Amusement or Admission Tax Reports.
The Transaction Summary Report provides a total of transactions and amusement tax collected.
Tax Description and Rate: These are your settings to easily identify the admission or amusement tax that you set up.
Total Number of Transactions: This is the number of purchases (not individual tickets) that collected admission or amusement tax.
Total Transaction Amount: The sum of the total amount of transactions, including tickets, add-ons, donations, and extra fees.
Total Taxed Amount: The total amount that the tax applied to
Total Not Taxed Amount: The sum of the amount that the tax did not apply to, which includes items like store, donations, and other extra fees.
Total Taxed Amount Collected: The total amount of admission or amusement tax collected. You can verify this amount by multiplying your rate by the total taxed amount. This is the amount that you should set aside to pay admission or amusement tax to the appropriate state or local authorities.
The line item report contains the same data but is broken down per transaction. You can easily download either report.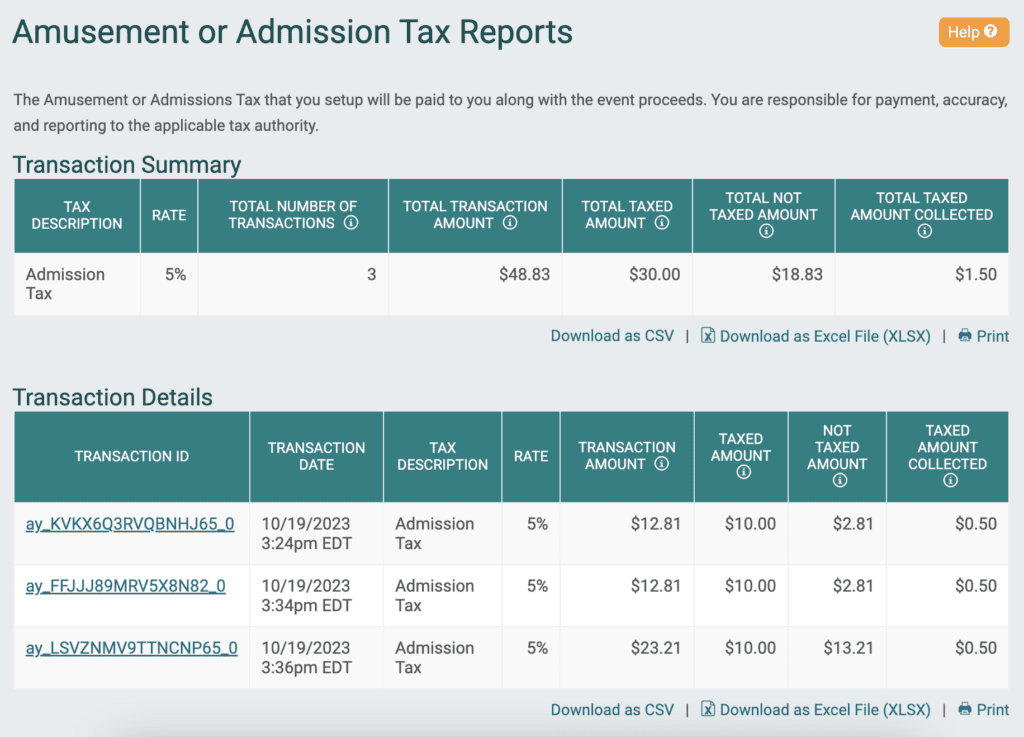 TicketSignup automatically calculates, collects, and remits sales tax for ticket events. We've now made it easy for events to collect and manage additional admissions and amusement taxes. Learn more about how TicketSignup makes ticket event taxes simpler for events: https://info.ticketsignup.io/about-us/sales-tax/.