Customer Snapshot

Years in Operation: 97
# of Major Annual Fundraisers: 3
Status of Annual Wine Tasting: Sold Out
About the Community House of Moorestown
The Community House of Moorestown, established in 1926, is an independent 501(c)3 nonprofit with a mission to serve as the hub for community activity and to nurture the growth of local nonprofit organizations. Receiving no funding through tax dollars, the organization fulfills its mission entirely on rental fees and community donations. While they also offer rentals, the house is a true community center for the area, hosting everything from a free tree lighting ceremony to packet pickup for the local 8k race.
18th Annual Wine Tasting
The largest fundraiser for the Community House is their annual wine tasting, with community members enjoying wine, beer, and bubbly from around the world alongside good, music, and a dance floor. The 18th Annual Wine Tasting was the first event they brought to TicketSignup. In making that decision, they were very focused on ease-of-use for both the staff and their ticket purchasers because they operate with a small, lean staff. Not only does a user-friendly platform save their team time setting up the event, but a simple ticket purchasing path reduces the time needed for customer service.
There are a few other features that stood out as they completed their first event on TicketSignup…
---
A Beautiful, Customizable Website
The Community House cited the TicketSignup's free event websites as a main driver for the decision to move their ticket sales to the platform. Specifically, they appreciated ability to customize the look and feel of the website to create an aesthetically pleasing website that matched the fun and social mood of their event.
They kept their page simple and focused on their main goals: selling tickets, and securing & thanking sponsors. To increase the sense of urgency for would-be purchasers, they included a countdown clock component on their cover page.
I really loved the look of it – the aesthetics of the site really sold us. It's clean, and pretty, which is important because everyone is so visual these days. It's very customizable, which was a little overwhelming at first, but was really nice once we got the hang of it. It's been a great move for us!

– Caryn Lynch, Community House of Moorestown Executive Director
---
Free Email
The Community House used TicketSignup's free and integrated email platform for two key types of emails throughout the event process.
Marketing Emails
To boost early registrations, the Community House sent marketing emails to both current ticket purchasers and a custom list with all Board Members. These emails were fun-forward, with enticing photos of previous events and a reminder that the event will be more fun if they invite more friends and family to join them.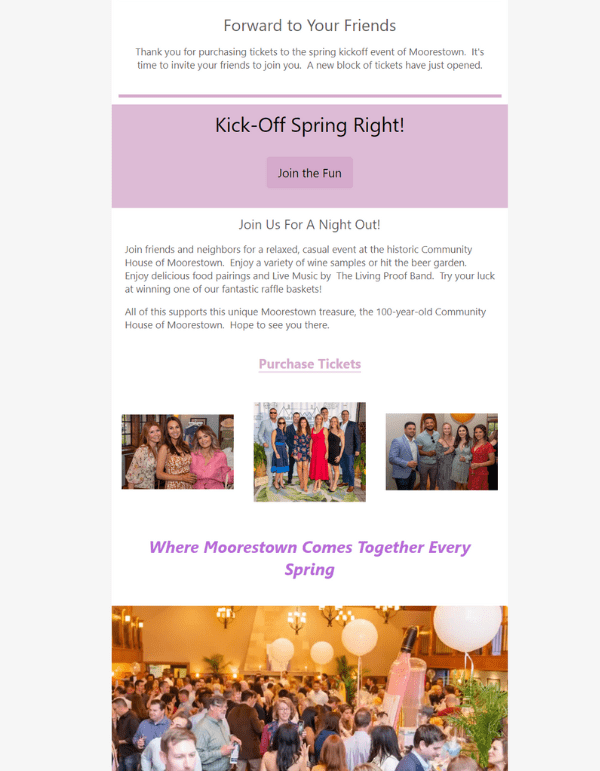 Logistics Emails
In advance of event day, the Community House sent out a textbook set of clear and concise reminder emails. To make check-in at the event run seamlessly, they included replacement tags with QR codes for their tickets, as well as a summary of the ticket purchase. Additionally, it includes easy instructions for attendees arriving separately.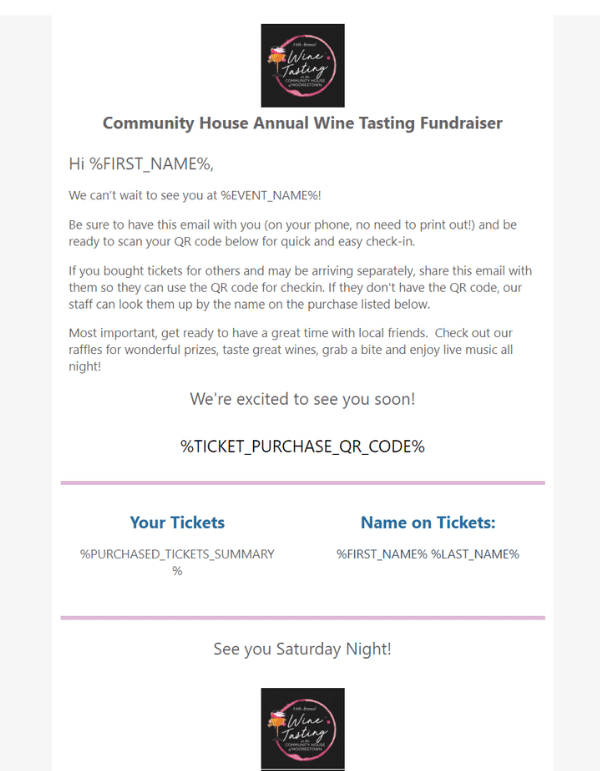 Post-Event Photo Email
In addition to pre-event emails, the Community House used the email system to follow up with attendees after the event and let them know that they could find and download photos for free from the event website. The ability to add those photos to the site easily was another perk for the Community House. Their photographer was able to give them a thumbdrive with photos the night of the event, and the staff stayed late getting them all up on Facebook and TicketSignup as quickly as possible, while enthusiasm for the event lingered.
---
Speedy Check-In With the Tickets App
In previous years, check-in at the event was done off paper lists, leading to delays and lines. With volunteers using the Tickets App for CheckIn, long lines were a thing of the past and attendees were able to proceed directly to a photo stop.

While the Tickets App was a success in 2023, the Community House team has a few learnings that they think will optimize the experience for everyone in 2024. These include:
The Tickets App needs a little training. Make sure volunteers really understand they need to be there well before the doors open to get up to speed.
Ensure the accuracy of the check-in data by stressing the importance of using the app every time, even when the volunteer knows the attendee entering.
Create a separate process for sponsor tickets because sponsors may decide last minute who is using their tickets.
---
Upcoming Events on TicketSignup
The Community House is looking forward to the consistency of using TicketSignup for all of their events, not just the high-end wine tasting.
First up, their golf tournament Giving and Greens for the House in July is sold out for golfers, but still has options for non-golf supporters and sponsorships. One little detail on their event site that makes a big difference? The customization of the event tile highlight to draw attention to the reduced per-golfer price when purchasing a ticket for a foursome.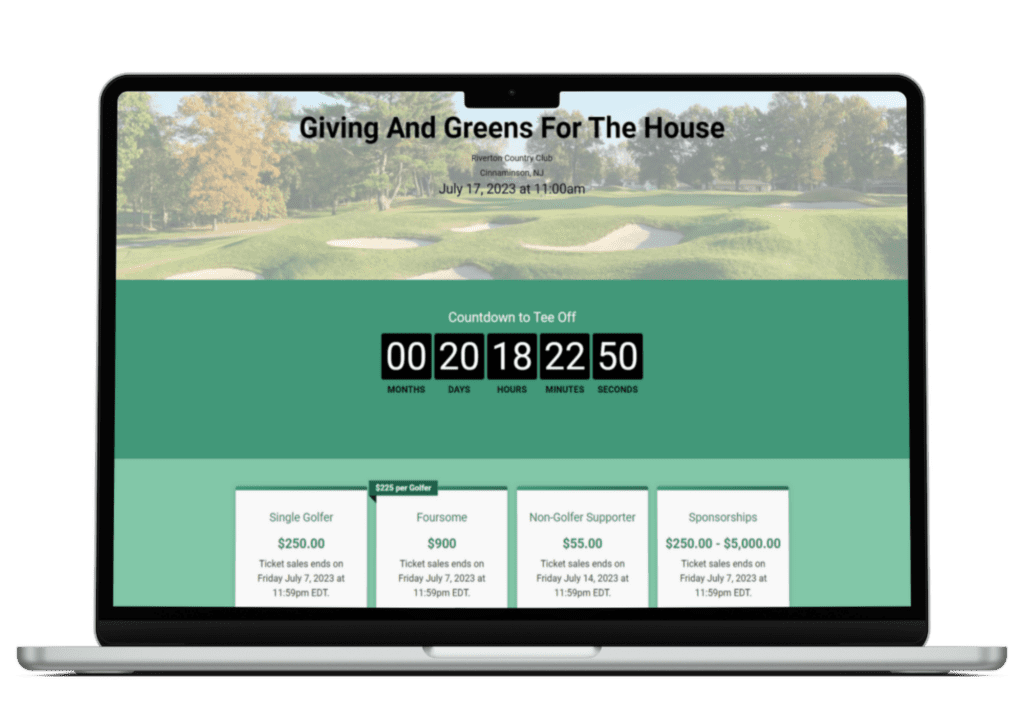 The Community House team is still tweaking the website for their third major fundraising event this September, the Annual House Party. That event will include General Admission and Designated Driver tickets, as well as an option to participate in a cornhole tournament or purchase a limited edition t-shirt.
---
Summary
The Community House of Moorestown relies heavily on events to raise money for their operational costs. With a small team, it's important that their technology for events is easy for them to use, reduces customer service, fits the brand and look of their organization, and speeds the event day processes. With one successful event behind them, the Community House is looking forward to making their online event experience consistent and efficient.
This case study has a little local significance to the TicketSignup team, with our headquarters located just blocks away in Moorestown, NJ. We've hosted many meetings at the Community House, and local employees have first-hand experience with their year-round event programming. We're always happy when organizations choose to use our technology, but it's a little extra special when our local institutions put their trust in us!