We are excited to introduce the Warehouse for ticket event directors to share and manage store items across all of their ticket events. This is a powerful tool for directors of multiple ticket events to streamline store sales and efficiently manage inventory.
This blog walks through how to create and use the Warehouse, as well as what is coming next for TicketSignup's store.
Create and access the Warehouse
To create a Warehouse, add a store item to a ticket event. When you create your first store item, a Warehouse will automatically be created for you. When you go to add your next store item, you'll see the option to either create a new item or add existing items.

If you previously added store items to a ticket event, your Warehouse already exists. You will see the option to create a new item or add existing items when you add a store item to an existing or new ticket event that share the same payment account.
You can access the Warehouse when you add existing items or at anytime from your profile dropdown. Note that only payment account owners can currently view and manage the Warehouse.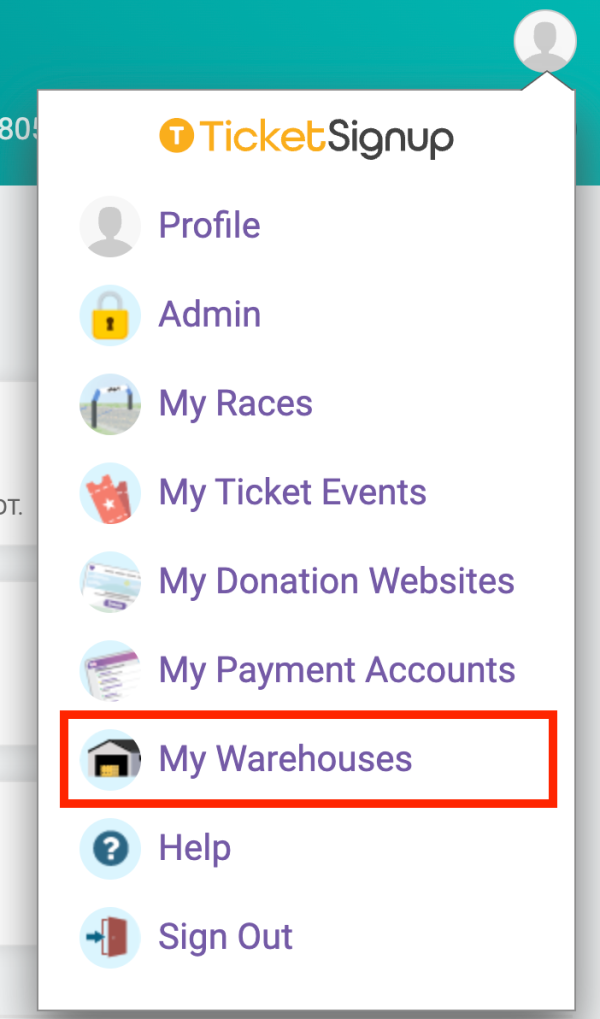 If you have ticket events that use different payment accounts, you will see a Warehouse created per payment account. Currently, the Warehouse is tied to a single payment account, meaning items can be shared across all ticket events using the same payment account. Learn how to add users to your payment account here.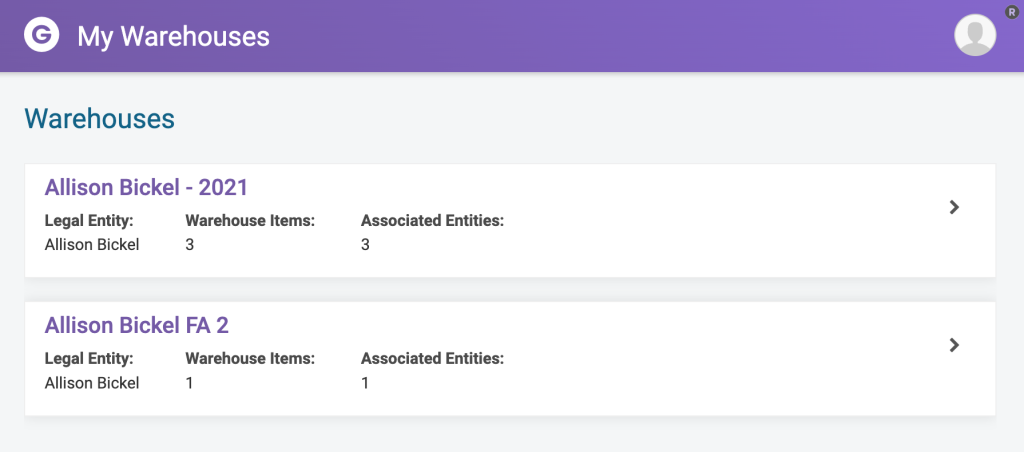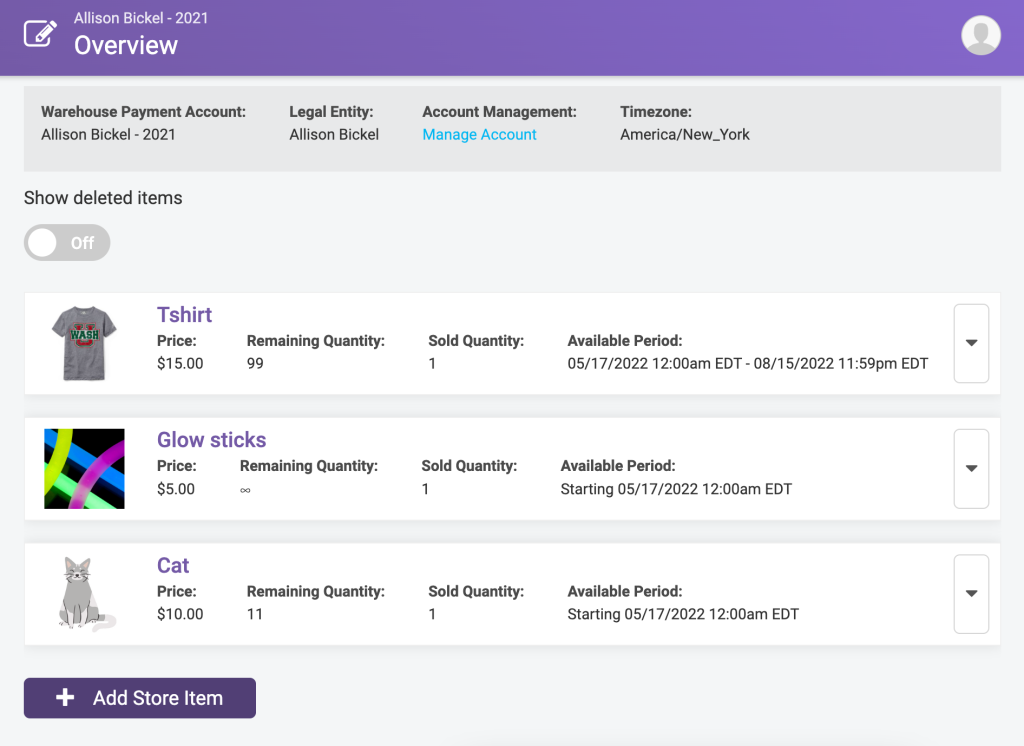 Add and manage Warehouse items
There are two ways you can add more store items to the Warehouse:
From a Ticket Event: When you add new store items to a ticket event, they will automatically get added to the Warehouse, becoming available to share with other events.
From the Warehouse: You can also create a store item directly from the Warehouse by clicking +Add Store Item at the bottom of the page.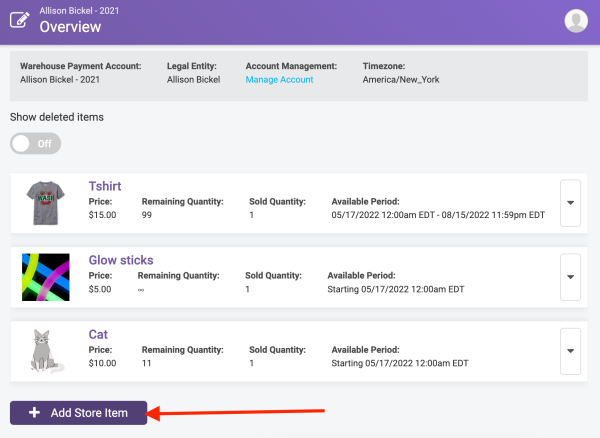 When you create a store item from the Warehouse or click Basic Info on an existing Warehouse item, you'll have the option to select which ticket event stores the item should appear in.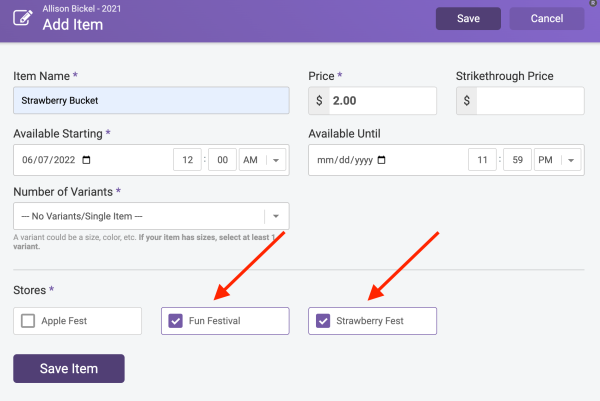 You can also manage inventory, display options, and pricing from the Warehouse as well as from the event dashboard where the item was originally created. Updating any of these parameters will automatically update the item across all ticket events where it is available. This makes it more efficient to create and update store items from a single place.
The Warehouse also gives you the power to manage inventory across all of your events so that you can maximize sales while efficiently ensuring that you don't oversell anything. The Warehouse displays quantities sold vs. Inventory for all of your items. If there is unlimited availability for an item, there will be an infinity symbol (
) in place of Remaining Quantity.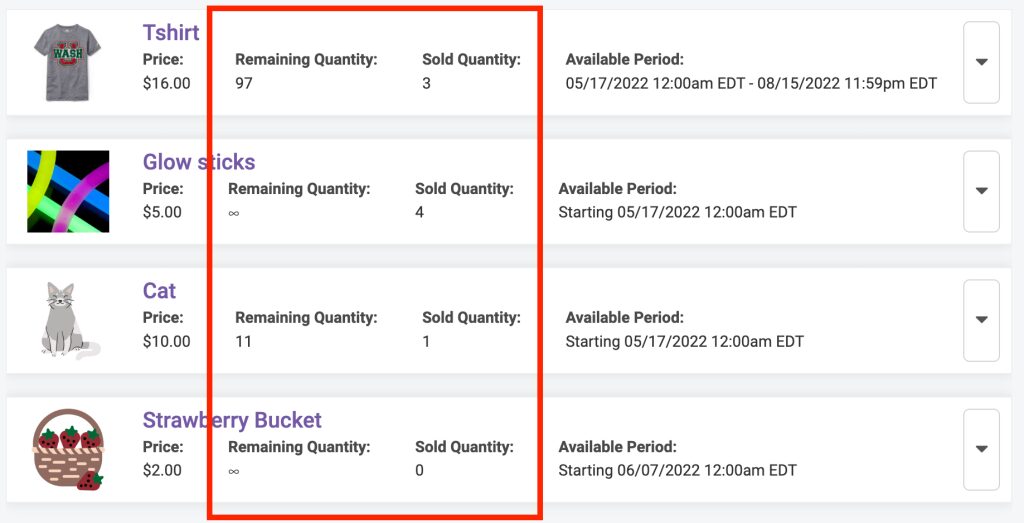 What's coming next
In the short-term, we have three main development priorities for the Store.
Bundles: We will allow store items to be bundled with tickets. For example, automatically include a shirt and 2 drink tickets with the VIP ticket.
CheckIn App: We will be adding the ability to check in store items to the Ticket CheckIn App, enabling directors to track whether attendees have received bundled and/or purchased store items on EventDay.
Standalone Store: This will allow events to sell items as part of a ticket purchase as well as standalone sales without a ticket purchase.
The Warehouse is a powerful tool for event directors with multiple ticket events, and we have multiple long-term priorities to expand and improve the use of the Warehouse over time:
Flexible options to add full and partial access to the Warehouse
Warehouse notifications (i.e. low inventory alerts)
Expand Warehouse to include store items in registration