Our free website builder is an important feature for designing, building, and maintaining your event website. Our goal is to provide a tool that is easy to use and has the features and options you need to customize your website to fit your brand.
We have a cyclical approach to developing our products. We repeatedly work in cycles of designing, prototyping, testing, and incorporating feedback from our customers. This product iteration allows us to consistently improve our products and bring you new and exciting features.
One of the features that customers love is the cover page, with the ability to add background images and colors. Now, we are bringing all those features (and more) to the website builder. Recently, we released new layout options for website builder that do just that! By expanding the options within website builder, customers can access the professional look of cover pages on every page, with increased flexibility.
New Layout Options for Website Builder
Here is a quick list of the new features for single column and two column sections in the website builder:
Layout Options:
Padding: Add padding (space) to the top and bottom of your section
Section Height: This adds a larger height to your section. It will scale accordingly with the browser width.
Rounded Corners: Just like it sounds, this option rounds the corners of your section.
Borders: Choose the border thickness around your section.
Background Options:
Solid Color Background: Allows you to adjust the color of the section background to another color from your theme.
Image Background (with or without overlay color): Spice up your layout with background images instead of colors. When using background images, use the overlay color for contrast when you have text.
These new features open up a lot of new layout options. You can get creative and combine these options with each other as well as the full width and restricted width options. This gives you the ability to create custom layouts and designs for your website.
Here are a few examples of the new layout options in action:
Single Column:
Two Column:
Single and Double Columns:
Accessing the New Layout Features
Currently, these features are located in the section settings pop-up: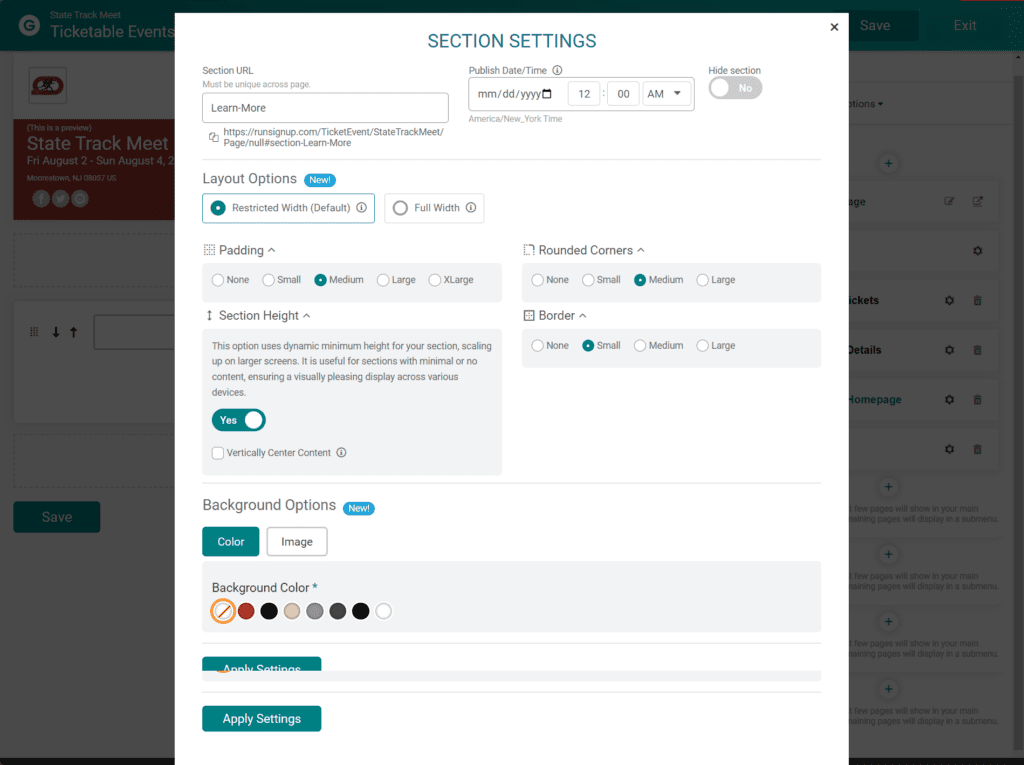 What's Coming
Our plan for the future is to create a curated gallery of pre-built layouts using these features. That will make it easier to choose a great design and apply it to your website. We hope you enjoy these new features and we can't wait to see what your create with them!