One of the core tenants of our business (all the way back to 2010) has been that we want your event listings to be about your event and will never take your attendee data to market someone else's event. We focus on building free tools to help you market your event, rather than charging you for advertising services that rely on data from other events.
Ticketing Platforms as an Event Marketplace
Other ticketing companies do promote their platforms as a market for consumers to find events. For example, Eventbrite:
Eventbrite advertises other events on event pages.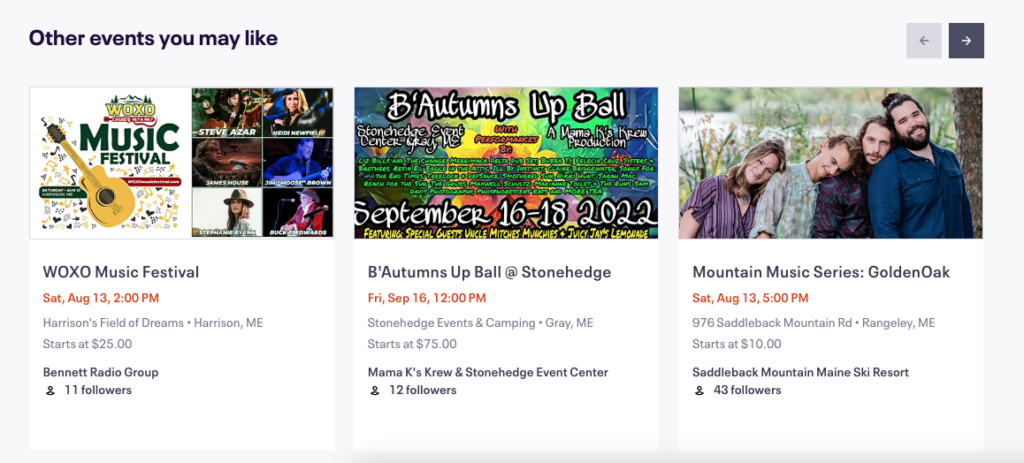 2. Eventbrite owns the attendee data to re-market other events to. So your attendees will begin getting emails from Eventbrite with suggestions on other events to go to. Again, distracting your customers.
3. Eventbrite Boost is their new way to collect more money from event creators by charging for things like email. As they move more into the advertising business, they will increasingly charge events for these "services".
4. Finally, Eventbrite has event creators locked into exclusive contracts, which creates complications for event organizers who might want to take advantage of other sources of attendees. This will become increasingly important as Facebook and Spotify and potentially others move into the market. Not to mention, it's frustrating when a better solution comes along (like TicketSignup) and you can not take advantage of it even as you curse Eventbrite's servers for going down or being slow.
The TicketSignup Approach
We take the opposite approach at TicketSignup.
Your (Free) Website
First, when you create an event on TicketSignup, you get your own website. You can bring your own branding to your website (and even your own domain), and you have the ability to add unlimited content pages to your website. You are creating true value that you own with branding and content that you control. And there are never any distractions (links to find more events, ads, etc) where you can potentially lose customers after getting them to all the way to your website.
Our belief is that there are many sources for attendees – Google, Facebook, Email, Referrals, etc. that are far more important than the marketplace of events that Eventbrite is trying to build. Eventbrite is a long way from being like Amazon as a place that many people go to when they are looking for an event.
Your (Secured) Data
We never share your attendee data, and we never will email them except on behalf of your event. You don't have to worry about your competitors gaining access to your customer list or getting emails directly from our company directing them to other events.
Your (Free) Email
We are successful when you are successful. That's why we give our customers free and unlimited email, with unlimited contact uploading and unlimited email sends. With email for organizations, you can even manage lists across all your events, cross-promote upcoming events, and build your reputation as an events company (for free).
Non-Exclusive Contract
Our contract is non-exclusive. That means if we do not do a good job for you, leave at any time. If you think different platforms are ideal for different types of events, use us for one and another platform for others. Regardless, you will still have access to all of your data from TicketSignup. More importantly, if you want to sell tickets on other platforms like Facebook and Spotify (Spotify is starting to target the music market), you're free to do so. As time goes on, there will be more platforms that you may want to sell tickets on – and that is fine with us!