Evaluating the pricing of various ticketing companies can be surprisingly confusing. There are typically two things to consider:
Up front or subscription fees. While TicketSignup is always free for the event director, some ticketing companies like Eventbrite charge a subscription fee to customers.
Processing fees. These are fees that vary based on the total charge for the tickets purchased. These are sometimes be called service fees, etc.
This blog is focused on the second bullet: processing fees. While an event can choose to cover the processing fees on TicketSignup, most events opt to pass them onto the purchasers. That doesn't mean processing fees don't matter, though: keeping your event low cost an boost ticket sales and improve your attendee experience. And one of the ways TicketSignup keeps your processing fees low is by charging per cart, not per ticket.
Per-Cart Processing Fees Versus Per-Ticket Processing Fees
Many processing fees are set up to include both a percentage of the cart and a flat processing fee. One piece that's often overlooked is whether the flat processing fee is per-ticket or per-cart.
TicketSignup's standard pricing is 6%+$1 per Cart*. This means that $1 is added to the cart total regardless of whether that cart includes one ticket or 50. On the other had, some companies charge a per ticket fee, meaning they add $1 (or more) for every ticket in the cart.
While $1 doesn't seem like much, it can add up quickly. The chart below shows what our per-cart processing fees are and how those compare to Eventbrite's standard per-ticket processing fees for US customers (6.6%+$1.79 per ticket).

As you can see, per-ticket processing fees add up fast, with TicketSignup's per-cart pricing saving your ticket buyers more than $20 on 10 low-cost tickets.
*For cart totals of more than $249.99, the processing fee charged drops to 5%+$1. Discounted volume pricing is also available for customers who sell more than 5,000 tickets. You can see a full breakdown of our pricing here: https://info.ticketsignup.io/pricing/
Per-Cart Processing Fees Increase Purchases
You may be asking, "if our attendees are paying the processing fee, why do we care what it costs?"
The answer is simple: per-cart pricing encourages attendees to bring people to your event instead of discouraging them. Per-cart pricing is family friendly and incentivizes inviting friends to join their purchase.
Additionally, TicketSignup has invested in tools that make it easy for you to promote multi-person purchases, such as flexible pricing options that allow you to discount transactions that include a higher number of tickets. Take advantage of these tools to encourage friend groups to purchase together, turning one or two potential tickets into ten or twenty.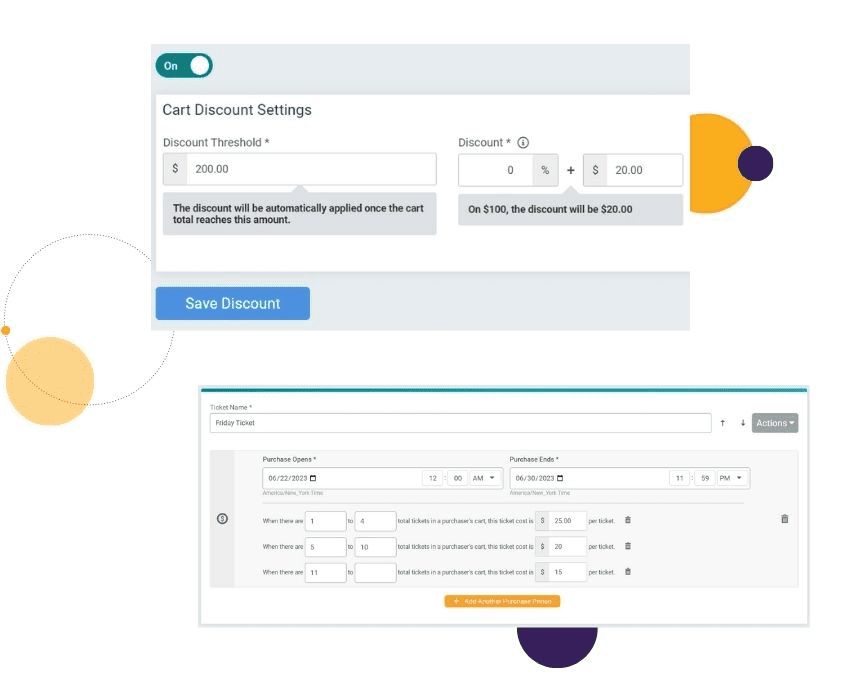 Per-Cart Processing Fees Improve the Event Experience
When people come to your event with their friends and family, it enhances their event experience. Group participation leads to:
Buzz-building: In the leadup to event day, having friends and family to talk about the upcoming event with builds excitement and anticipation.
Amplified fun: On event day, a group of attendees are likely to be more engaged and simply have more fun. Everything is more with friends!
Extended event experience: Post-event, a group of attendees will continue to share memories and photos, extending their event experience and creating enthusiasm to join again.
Repeat attendance: When people have a great experience, they are more likely to turn your event into an annual tradition and come back year after year.