This is an edited transcript of our webinar with Brian Garff and Geoff Huguely, the co-founders of The Haunted Forest at Panic Point. We discuss how they grew their haunt from several hundred attendees to selling more than 30,000 tickets per year. You can also listen to the full conversation here.
Q: Tell us about the history of The Haunted Forest at Panic Point.
Geoff: We are brothers in law and also business partners. We were doing real estate investing together. We started in Arizona, moved back to North Carolina in 2006, and things were going great. When 2008 happened, things kind of fell apart and the real estate investing business became tough. I have some friends up in Maryland who have been doing a haunted forest since 1993. I've always found it interesting and had kicked around the idea of doing one for some time. We went around to some local haunts in our area to understand what the market was like, including my friend's haunt near DC. It was one of their busiest nights and they did like 5 or 6 thousand people, so I decided we had to give it a try.
We spent 2010 working on developing our ideas and processes. Marketing was the big thing we had to think about. We opened in 2011 and the rest is history.
Q: How did you grow the haunt and establish a brand?
Geoff: One of our good friends was in the pest control industry and was competing against some big name competitors. They tried all these marketing things, and we learned more about SEO marketing through him, which wasn't a household term back in 2010 or at least not for haunts. He was instrumental in getting us established online. By the time we opened – and we had never been a haunt before – we were second in the searches for a lot of the key phrases in Raleigh and North Carolina for haunted houses. By season's end we were number one. He continues to work with us and handle our SEO. That is how we made Panic Point a brand name.
Q: Some haunts focus on scaring people, others less so. What part of the market are you focused on?
Geoff: We do ours a little differently. We have a midway area. We don't have one main attraction with one long queue line. We have 5 different main attractions, kind of like an amusement park where you come out of one attraction and go "Where am I going to go next?" It's like a rollercoaster – "What rollercoaster next?". The midway isn't super scary. It's an area where people can decompress and socialize. We have haunters there to interact with customers, they can also go to concessions, play carnival games, buy swag, and spend time by the bonfire. People may go through all the attractions in an hour and a half, but they end up staying for two and a half or three hours just because they like hanging around at our place.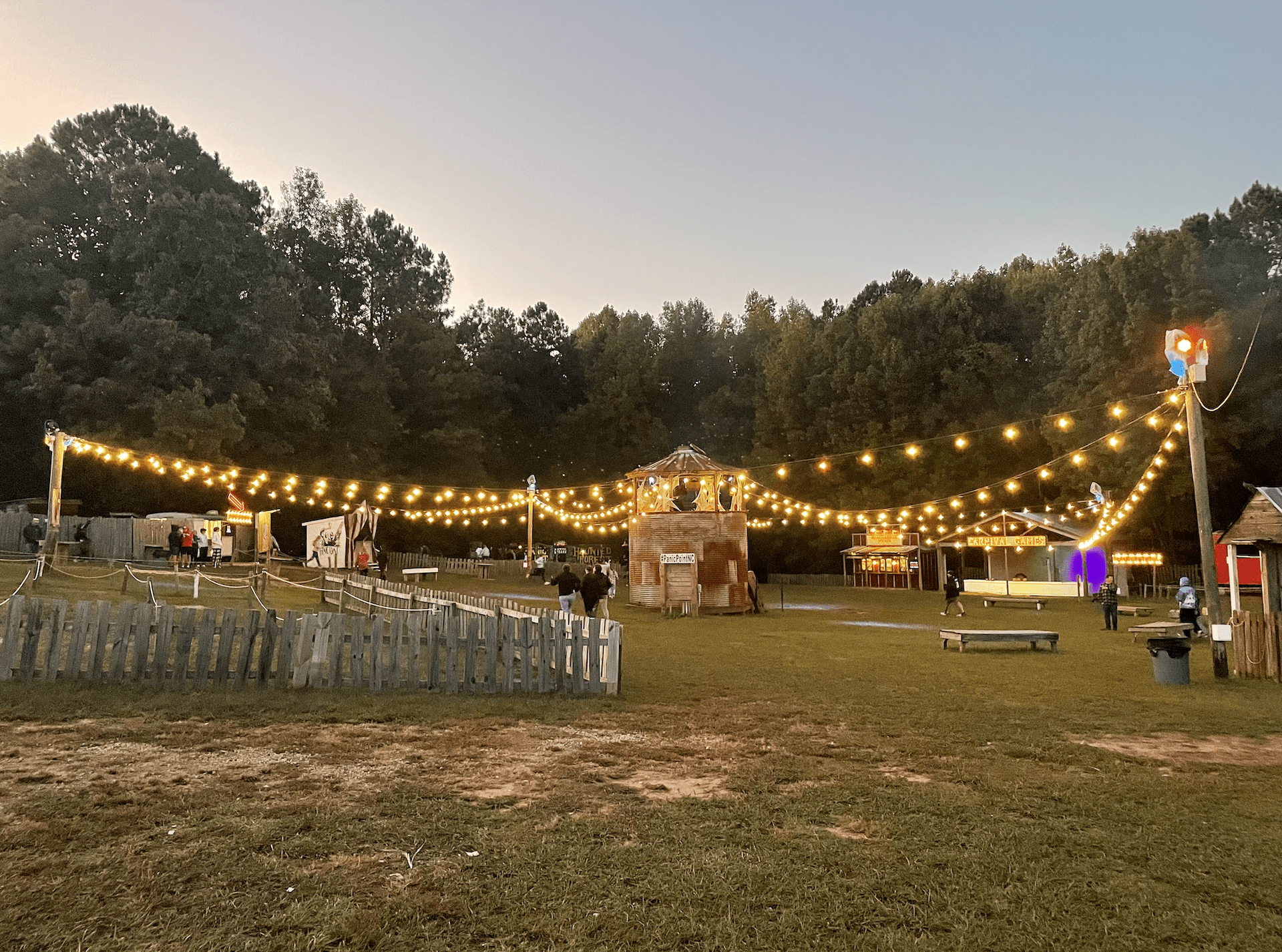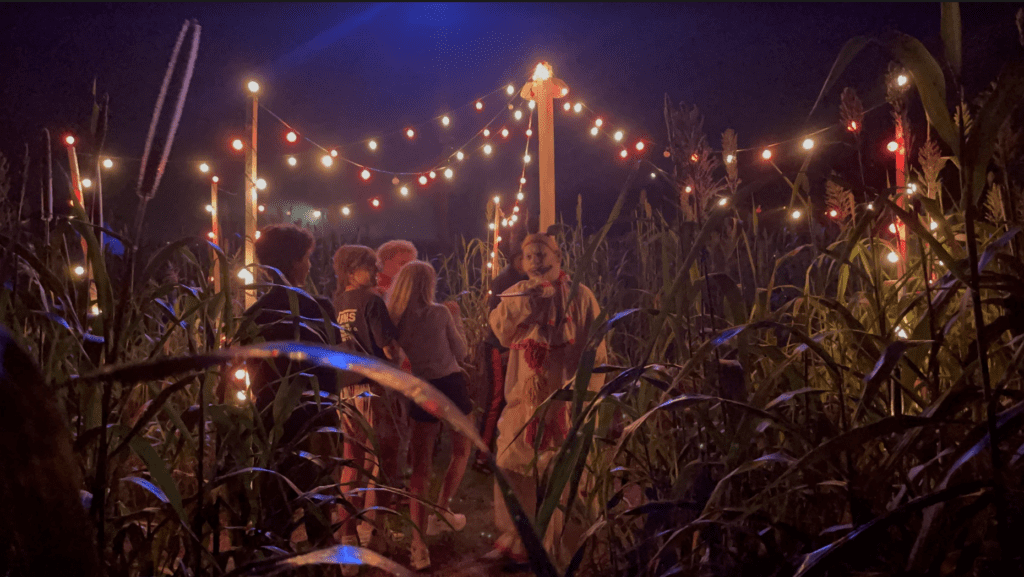 We're really fun, people love us. They have a great time when they're there. The scare factor – you're always trying different tactics to up your game for that part of the haunt, but the main thing that separates us from everyone else is the midway area and how much people love being in that area. The main haunt model where you go into the attraction, you come out, and it's over – it's fine and it can be really good. But at Panic Point, while we do have a closing time, people leave on their own terms.
People have a good time, and it's just continued to grow. We've had a lot of good people work for us and help us deliver a great product. Brian and I are really, really lucky.
Q: What were some of your goals and key metrics headed into this season's haunt?
Geoff: We do close to 30,000 people over the course of the year, this year we'll be over 30,000. Growing the number of attendees is something we're obviously really focused on. We try to beat the previous year each year. The only year we haven't was the Covid year because we had to put restrictions in place and limit the number of tickets. We do not just open the gate and have three or four thousand people come in. We have sellouts. One of the reasons we do that is we want to make sure people have a good experience and they aren't just waiting in lines. It also generates demand.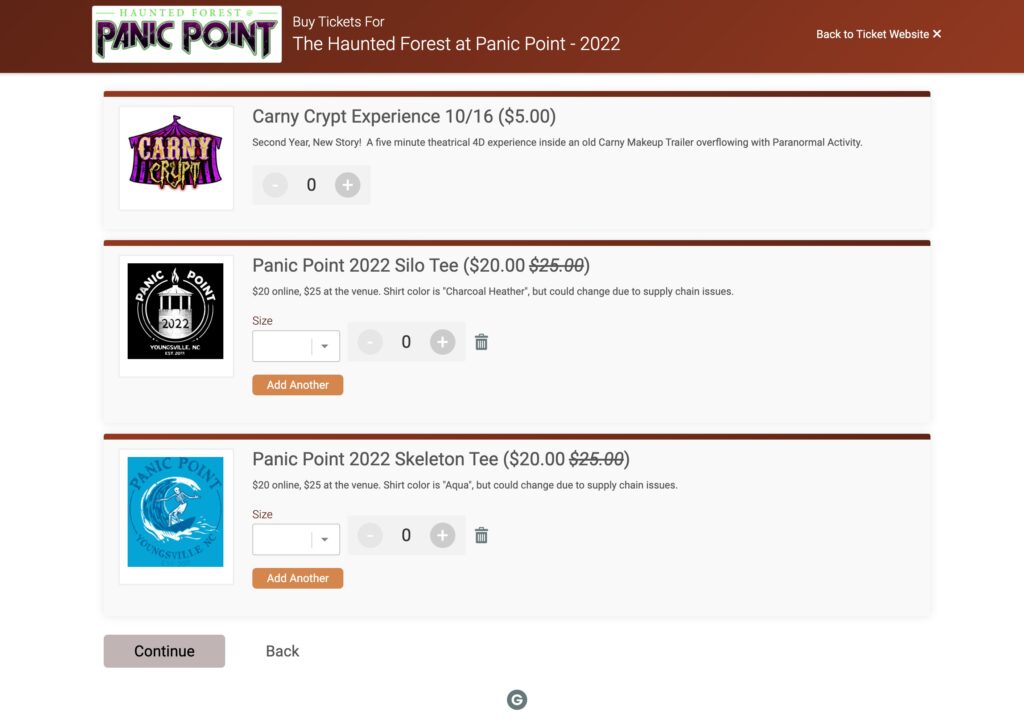 My other big focus is revenue per patron, and we want to balance a fair price with profitability. Revenue per patron isn't just the ticket sales. We have three other sources of revenue once attendees enter the haunt. One is concessions and that's quite big. We don't have elaborate food, just basic carnival style food and that does quite well. We also have an add-on experience, the Carny Crypt, that's $5 per ticket (Note: Panic Point pre-sold 2,675 Carny Crypt tickets using TicketSignup's store to allow attendees to add the experience to their purchase). We also sell t-shirts and sweatshirts. We always learn something new, and this year we had a college-style grey crewneck sweatshirt and we couldn't keep them on the shelves. We'd get new ones in each week and they'd be sold out in a night or two. We also have carnival games; we give away Panic Point t-shirts as prizes. You go to the local high schools and those t-shirts are everywhere, so it's also good marketing.
Q: You have a pretty large staff. Can you talk about hiring and employee referral codes?
Geoff: We employ about 130-140 staff a night. 90-100 actors, 45 support staff. I handle the support staff. The program that we do is give each employee a promo code and incentivize them to promote ticket sales to earn a bit more money – they get a 10% commission of all tickets that they sell. We also do fundraising for local charities, where we give them a code and they get a 15% commission on all tickets that they sell.
Brian: I would say that we always have enough actors. Training them and getting them to do everything they need to do is one of our biggest challenges. There are so many people and it's such a short time. We have to get them on board, show them our vision, and get them to buy into that. Our recruiting is just our website, we'll do a couple posts, and then referrals from people who already work with us.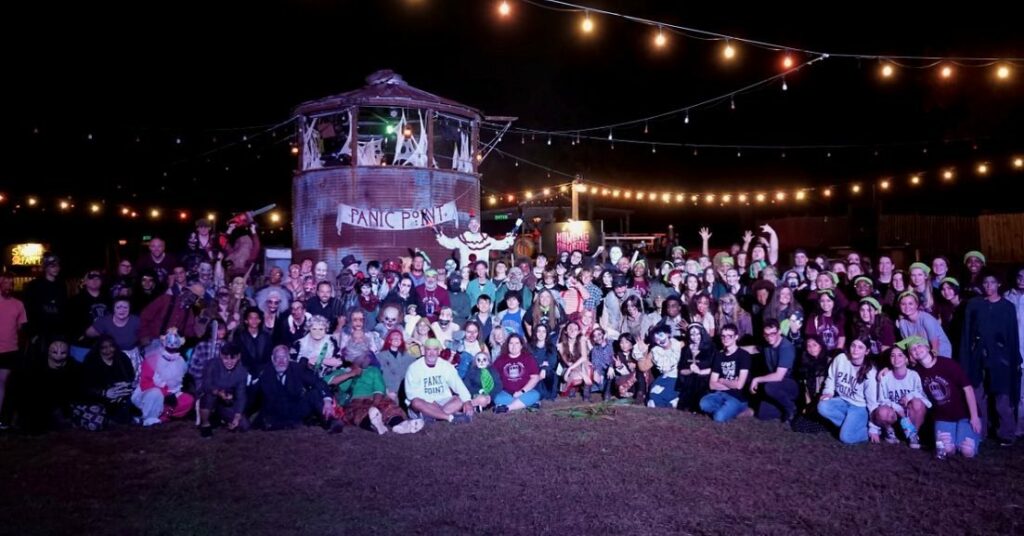 We probably have about half adults who are 18 and older. Half are young haunters including some of our volunteer haunters, which presents its own challenges of making sure they are always with another young haunter and not alone with an adult. But what we've had happen over the years is we get these fifteen year old kids who come in and they turn into absolute all stars, and they stay with us for years. It's good to get them early because once they go to college or get a job, they can't stick around anymore.
Like many haunts, it's one of the challenges we face – getting the staff to always be better.
Q: What are the most cost-effective, high return marketing strategies for growing Panic Point?
Brian: Digital, digital, digital. That's my line – we're a digital marketing company that owns a haunted house. Some of these directory listing sites that we're essentially forced to participate in aren't really palatable and we do it just to get the clicks. But we want to be at the top of search so we don't have to pay to play.
Adwords is a big part of our strategy and does well for us, especially as we build early in the season. We get a snowball effect where we get more people to buy tickets early, and it leads to better sales later on.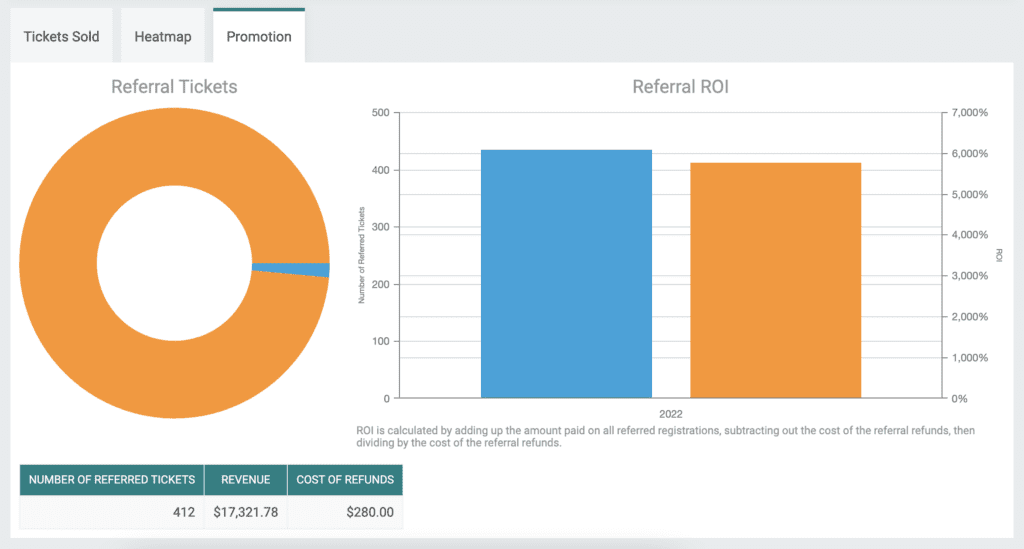 We were initially reluctant when we heard about TicketSignup's Referral Rewards because we weren't sure how much refunds would cost us. But we went ahead and did it and put the referral link in the confirmation email. We didn't promote it much outside of that. But doing a little math, we ended up getting about $50 in revenue for every $1 we refunded to a patron, which is a pretty good number. And even if some of those people were going to come any way, it's just another form of a discount when someone is able to sell 5 tickets using their referral link. So not only are we going to do the Referral Program next season, the plan is to offer some additional rewards to encourage people to share those referral codes even more. It ties in with our haunters, with our charities, and just getting as many people incentivized to share the link to buy tickets, which incrementally increases attendance. We'll continue to tweak that dial a little more here and there to drive demand in the most cost-effective way possible.
Q: How do you price tickets and offer discounts?
Geoff: We have three pricing levels that we do. It's been trial and error over the course of the twelve years we've been open. We know on Saturdays in October people are going to come – and other haunts know that too, that's your premium price. We make our years when we get people to come on the off nights. Our Friday and Saturday night prices are actually pretty close. It's $39 on Fridays and $45 on Saturdays. But Sundays are $30. Especially now with the way inflation has gone up, that's a significant difference. We pretty much sold out every Sunday night that we opened this year, and pretty early on too. It's a bargain for people. We sold out our Saturday nights too because people just want to come on Saturdays in October.
The discounts – we do a military discount that's year round. We do deeper discounts earlier in the year to drive interest. The earlier we get a sell out posted, the better it is for us because people feel like they have to be at Panic Point. So we are aggressive with our pricing and discounts in September and early October, and then we just let it play out from there.
Q: Could you talk about your VIP Tickets?
Brian: We had a bad experience a number of years ago when we put the VIP tickets out for sale and they weren't priced properly. So many people bought them that it ended up not being a VIP experience. It actually made some VIP ticket holders angry because they ended up waiting the same amount of time as the general admission patrons. So now we limit the VIP tickets to 10-12% of all tickets. The VIP tickets are priced lower on the lower nights and higher on the higher nights. We only added $20 to a VIP ticket price on a $30 night, but added $30 to a VIP ticket price on a $45 night, and that's now a $75 ticket. That pricing has worked out very well for us because the VIP tickets ended up selling out or just about sold out. Sometimes people want to come last minute and the only tickets left are VIP tickets, so that's what they end up paying for.
The whole pricing structure that we put together based on anticipated demand worked out very well this year. I don't think multiple computers and algorithms could have nailed it better. Of course you want to maximize revenue per patron, which is a big deal especially when you are selling out and don't have inventory beyond a certain point; we're not a widget company, we can't just make more. We have to meet demand with our pricing structure so that we sell the exact number of tickets that we have available on any given night, and the VIP tickets help us to do that.
Q: How do you declare a sell out and manage that ticket inventory?
Brian: We figured it out through twelve years of trial and error. That's a conversation we have a lot. Sometimes we look at sales and if we're close to a sell out, we try to figure out how much more can we do. That's a balance between keeping the customers happy and not having employees that can't come in the next day because it was too much for them. It's very delicate and sometimes we land on different sides as we discuss it, but we always end up in a good place. I think where we ended up this year was good, and we intend to keep [pricing and inventory] this way especially if we see any negative economic impacts in 2023. We'll likely reserve price hikes for future years.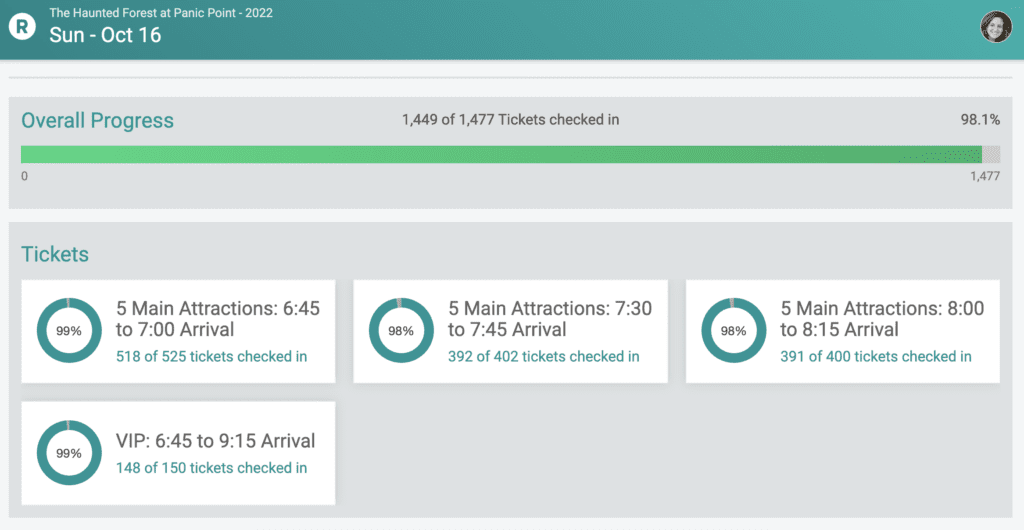 Q: How do you manage patron flow?
Geoff: The way we do our patron flow has become pretty tricky. We have a small parking lot that limits us so we have to optimize that the best way we can. We get full capacity into the haunt within the first hour and a half. About 9 o'clock is when people with the early tickets start heading for the exits. Then we limit the tickets coming in for about a half hour. Then we slowly build back up again around 9 o'clock. Our maximum is about 3,000 and we did 3,000 this year. You just learn the trends of customer behavior and how to do things over time. We've learned to announce that lines are closing early so that attendees spending a lot of time in the midway can get through all of the attractions before close.
It's ultimately different for each haunt. We have the unique situation of the midway and people stay there longer. It's a bit of a double-edged sword. People love it and that's why they say they had a blast, but then when you're trying to get people out and manage crowds so it's a balance.
Brian: Our parking has always been free. We'd thought about charging for it since most competitors do. But free parking can soften the blow of paying for tickets, fees, add-ons. We put "FREE PARKING" in the confirmation email this year even though no one gets charged for parking. It cuts back on patron questions. Plus they've already spent money on tickets, they'll come in and spend more money on concessions and games with a little bit of goodwill from the free parking.
Q: You and many of the east coast haunts were affected by Hurricane Ian. How do you handle weather-related cancellations?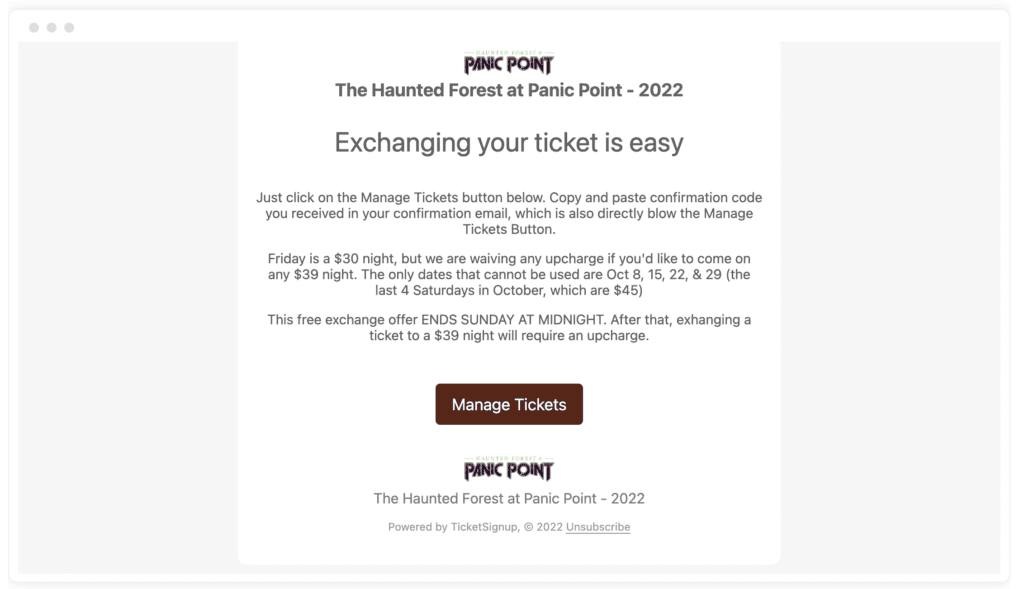 Brian: That went very well for us this year. In previous years we offered credits for weather-related cancellations. The TicketSignup system was extremely beneficial. Hurricane Ian closed us on September 30th. It rained 4.5 inches that day and we knew pretty early on so we called it around 2pm. We sent an email out to everyone that had a ticket allowing them to switch to a different night. We were able to remove the setting to pay the difference between this and every other night – and the 30th was a $30 night. We gave them 48 hours to switch to any other night, including peak nights, for no additional cost. A lot of them did and a lot of them didn't. But after those initial 48 hours, they paid the up-charge and they all did it gladly because they had been given the opportunity. They used the self-serve transfer and it went amazing.
99% of people who used the self-serve option didn't have any questions. When we did get a call, we just told them "Click on the Manage Tickets button and you'll be good to go." Even the most technologically challenged people could do it. We finished the season, and just 15 of the September 30th tickets remain un-transferred. Everyone else transferred their own tickets using TicketSignup's self-serve option. Very, very seamless and easy. If that had happened last year it would have been at least 10 hours of customer service work even though we'd given them a credit. Self-serve transfers took a lot off our plates.
Q: Could you talk about the change to how you did CheckIn this year?
Geoff: It was a great change. The TicketSignup CheckIn App is great. Of course there are some little things that we're going to talk to you guys about in the off-season that we think could help a bit but nothing major. The check-in was way more streamlined then it had been.
The best improvement is when someone shows up without their confirmation email. Previously we had to look it up on a computer. In the TicketSignup App, our staff can look up purchases by name and check them in right away. That was the best change for us.
The process became so streamlined that we'll probably be able to do the whole process with one less person next year. One night we did 600 people in half an hour, that's great for us. The TicketSignup App is a great way to streamline that check-in process.
We communicate everywhere that people have to buy tickets online. We don't get a ton of walkups – maybe just 5% of our sales. We charge a premium for taxes and fees when they come so it's more than online, but we don't actively promote it. People that are buying cash tickets tend to come at the end of the night. Our parking lot staff will tell them that they need to have confirmation to prevent them from coming down to the haunt.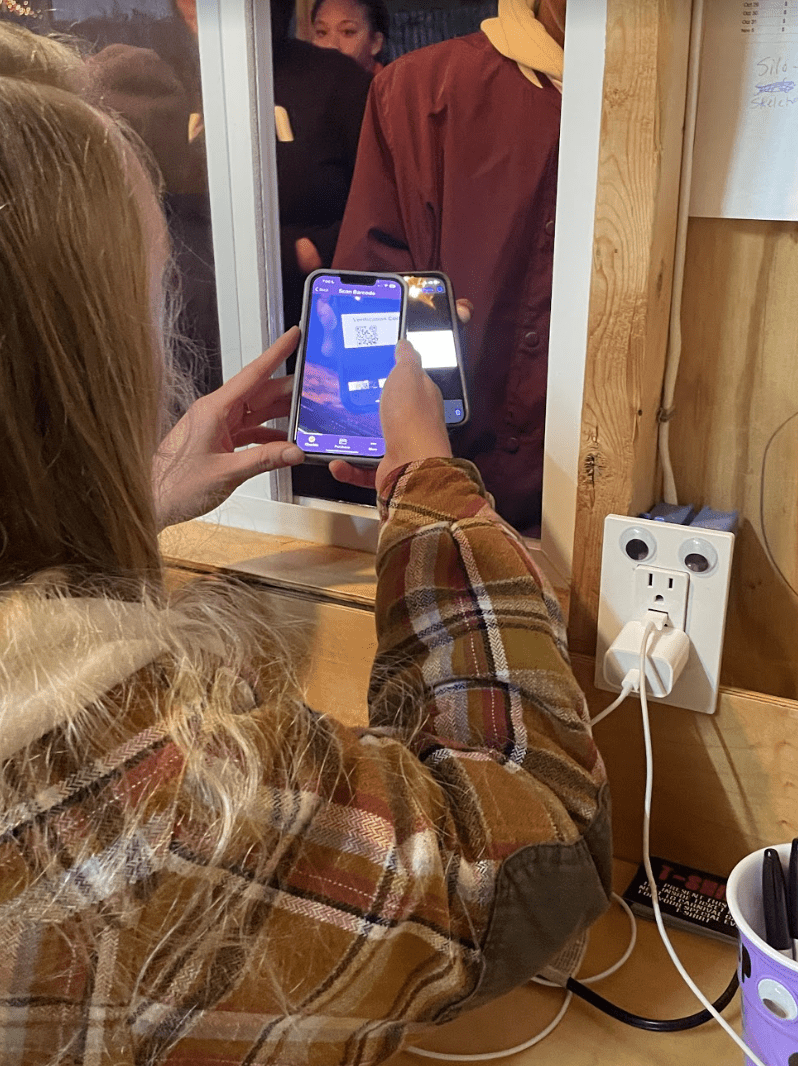 Q: Do you have any goals for next year's haunt or long-term?
Brian: I'd say the number one goal is growth. We want to service as many people as we possibly can with a unique, fun, and scary experience. Tweaking the dial is what we're trying to do. We spend time in the off-seasons thinking about how we're going to turn the dial. We have a ton of data at our disposal, and we want to find the actionable data that's going to have the biggest impact on revenue. We want to provide a great experience and make it a better each year, while having our pricing, patron flow, and inventory structure in a way that will continue to allow us to grow despite the fact that we cannot just have unlimited tickets.
Q: What was your favorite TicketSignup feature and what's the number one feature request?
Geoff: My favorite feature – well it's two. The self-serve ticket transfer and the TicketSignup CheckIn App. Those two things were definite benefits for us. The one thing I want – and we'll talk to you about this in the offseason – is text notifications (Note: This is on our product roadmap for 2023 and will be available to all haunts next year).
Brian: I would echo those two favorite features. I would add that one of the things I really appreciate is the attention to speed and reliability that TicketSignup has. As we've been approached over the years by different ticketing companies they would all say "We can do better for you. We can sell more tickets, we can do this, we can do that." We'd ask questions and you'd get two or three questions in and there'd be a big disqualifier. Our relationship with our previous vendor was very sticky and I didn't know if we'd ever change. When it came to TicketSignup, we started talking to Bryan and asking him those questions I kept waiting for the non-starter. And it never happened. We slowly came to the realization that we were going to do something we didn't really want to do, and that was divorce our previous ticketing partner. And you delivered on every promise.
In terms of things we want in the future and our wishlist, it's reports like what you have in registration. We'd like a more intuitive interface for us because it's not designed specifically for us (Note: We are investing in a major upgrade for multi-day, timed entry events like haunts in 2023 that will enable easier setup, management, and better reporting).
Q: To wrap this up, are there any fun or memorable stories from this year's haunt?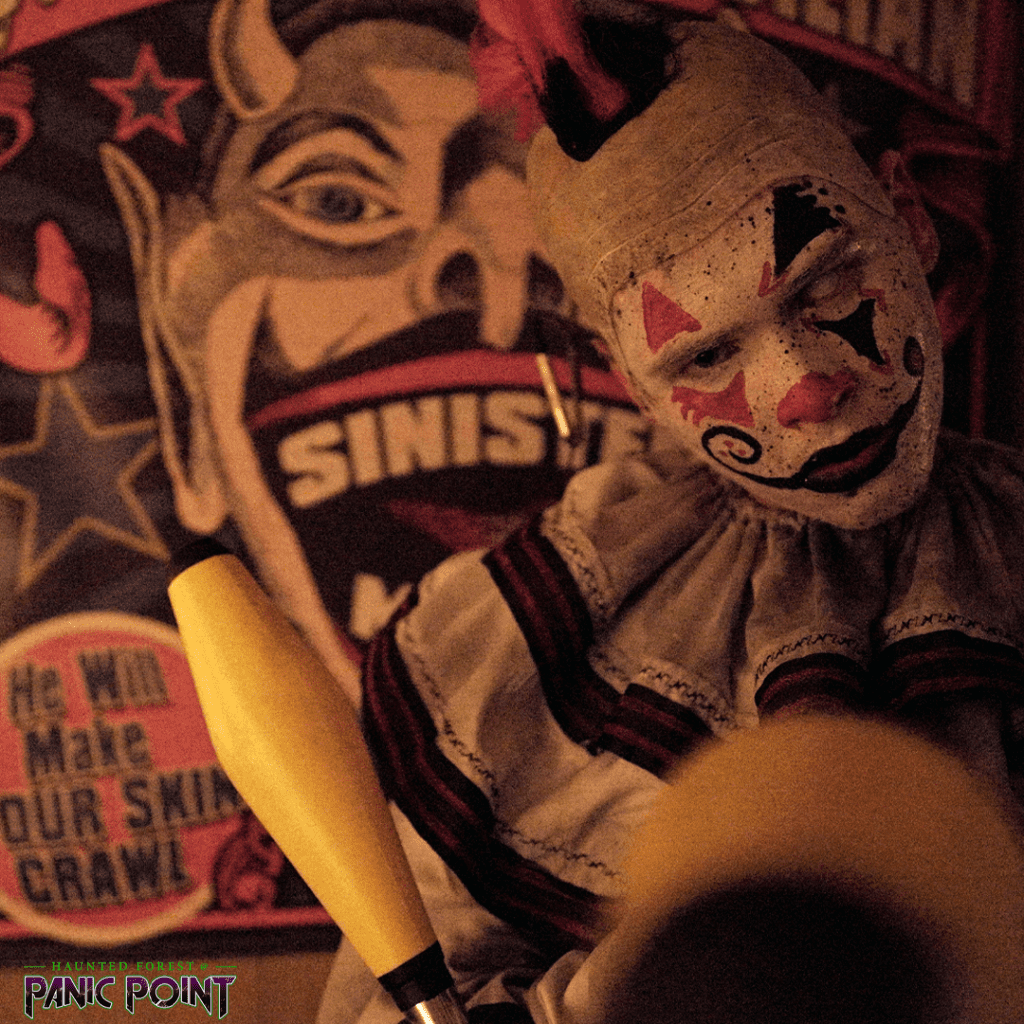 Geoff: This was a first but it wasn't fun. We had an accident right in front of our driveway on one of our busiest Saturdays. Luckily no one was hurt, but it's a two lane road and the state police blocked it all off. We were trying to figure out what to do and we actually remade our parking lot in about 15 minutes. We took down ropes and had people drive over the drainage ditches. We only ended up about 15 minutes behind schedule. It was a unique experience, it wasn't fun but definitely memorable.
Brian: My favorite moments all center around working in the attractions with the actors that we have. I'm responsible for hiring and training them, I'm responsible for managing them. Every single one of us is addicted to the responses that happen when you get the perfect scare. One moment was when we had a good scare and I heard a voice coming from the darkness. She was like "Jim, Jim. I think I peed my pants." For haunters, those are the moments you take a lot of pride in and it gives you a lot of energy.
Bryan: My favorite was when you called and had a haunter who drove over 400 ticket sales for you. I was trying to figure out if it was legitimate or not (Note: They did technically sell over 400 with their link, but it had ended up on a coupon distribution site).
Allison: My favorite was when I visited and went through the Haunted Forest with Brian's daughter. When we got to the Doll House she told me it was her least favorite scene because it featured all of her massacred childhood dolls and stuffed animals on the walls.
Brian: Traumatizing for her! Barney's got big burn marks all over his belly and his legs are cut off.