Golf events are one of the most outdoor event types. TicketSignup has the free tools that your organization needs to market your events, sell tickets, raise more donations, and have a successful Event Day. With free Email Marketing and free Websites for every event, hundreds of organizations use TicketSignup's free ticket platform to manage and grow their golf events.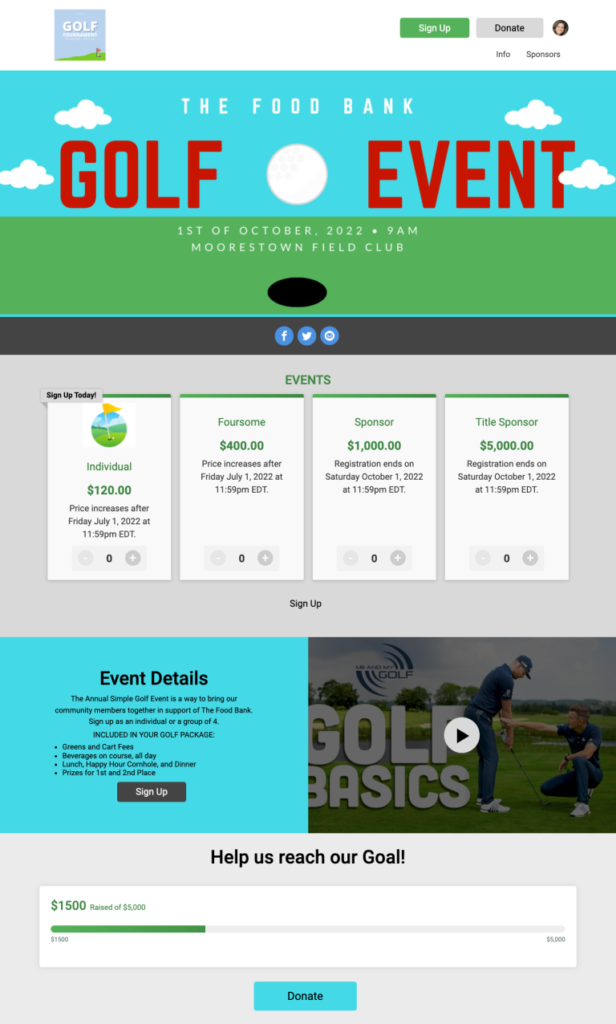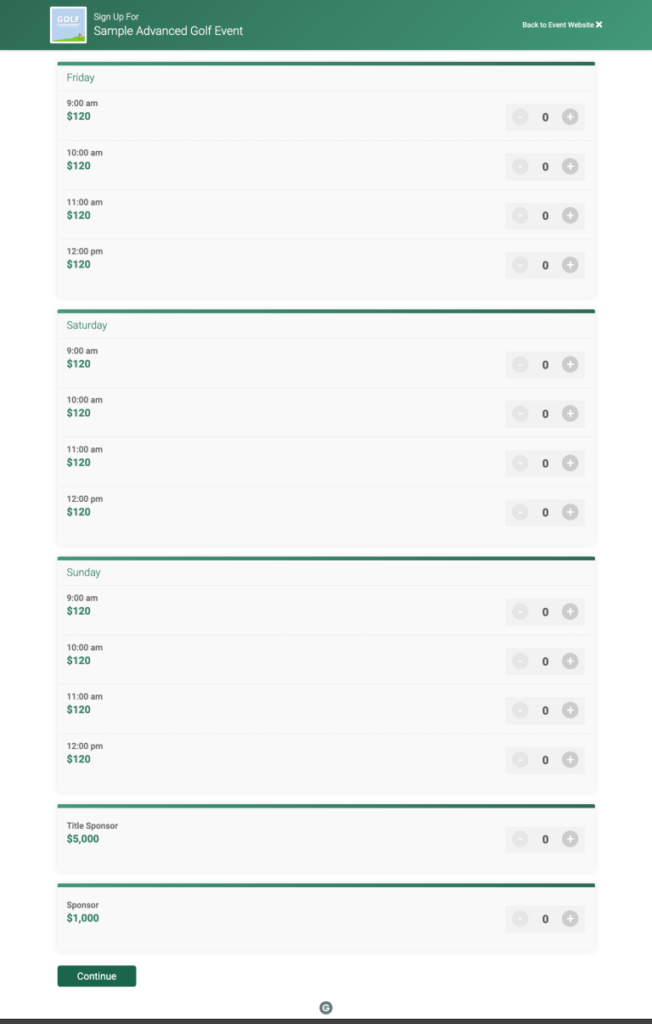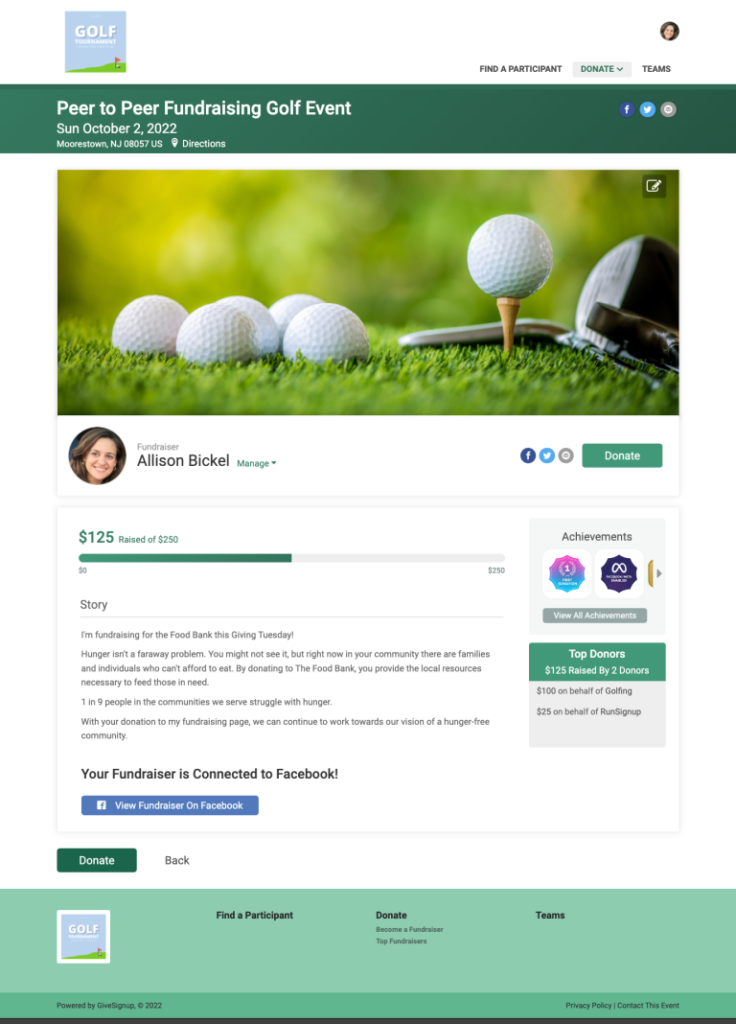 There are many ways to set up your golf event on TicketSignup. This quick start guide covers three primary set ups that our customers typically use for their golf events:
Golf Event

Sell tickets and sponsorships
Collect information
Sell additional items
Integrated and standalone donations
Photos
Ticket Management for attendees and directors
No logins/passwords required!
Advanced Golf Event: All of the above, plus

Time slots
VIP/General pricing for multiple ticket options
Golf Event
It's easy and free to create your golf event on TicketSignup. Set up your basic event information in the Ticket Event Wizard and we'll automatically create a website for you! Check out a sample golf event here: https://www.ticketsignup.io/TicketEvent/SampleSimpleGolfEvent. In this section, we'll walk through five steps to set up your golf event. While you can start selling tickets and accepting donations after step 1, the additional steps give you even more options to customize your event:
Ticket Event Wizard
In the first step of the Wizard, fill in the basic information about your event including Event Name, dates, description, and whether or not you want to accept donations. You'll be able to edit all of this information later!

In the next step of the Ticket Event Wizard, you'll set up your tickets and pricing. In the example below, there are 4 ticket options:
Individual tickets, with a price increase on July 2nd
Foursome tickets, with a price increase on July 2nd
Sponsor
Title Sponsor
You can set up more or less ticket options for your golf event! You'll also be able to add more and edit these ticket options at anytime from your Dashboard.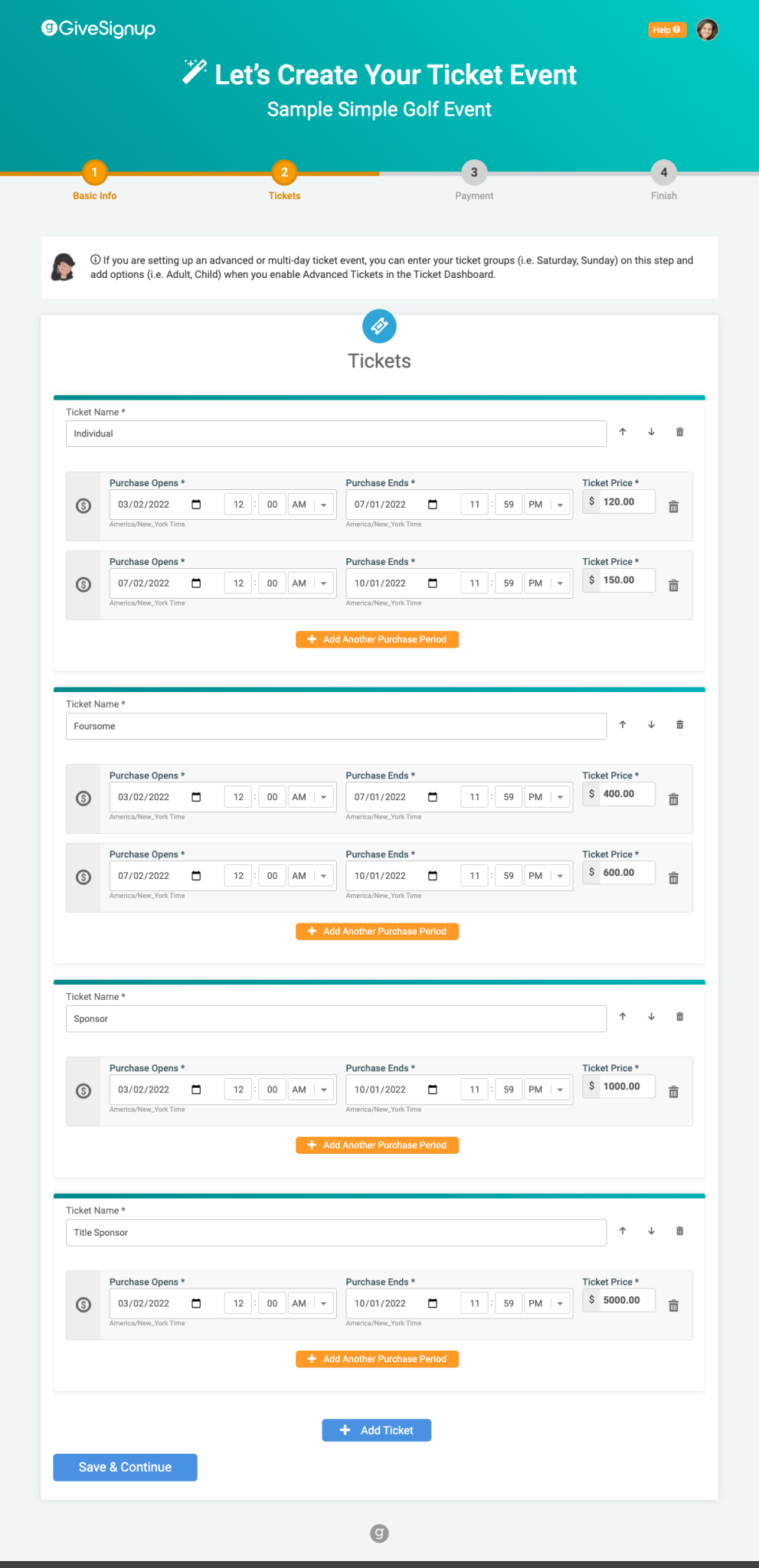 The last step to set up your Ticket Event is to link or create your Payment Account.
Current customers: You can either directly link or request to link the payment account that you use for other events on TicketSignup and RunSignup.
New customers: Setting up a payment account is required because this is how we pay you! TicketSignup is a PCI Level 1 Payment Facilitator that has helped more than 26,000 events raise more than $1.4 Billion. We collect information about the organization and/or person setting up the payment account as well as details about how you would like to be paid. Learn more about setting up your payment account here.
After finishing the Ticket Event Wizard, you're ready to start selling tickets! You'll have a pre-built website based on the information that you filled in and a Dashboard where you can make more customizations, view & export reports, send emails, and more!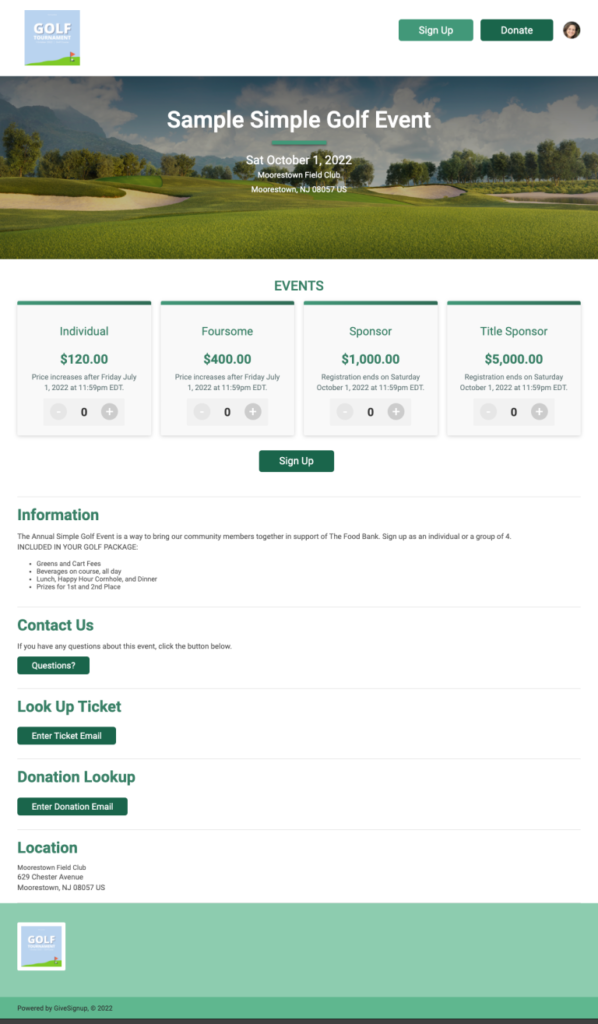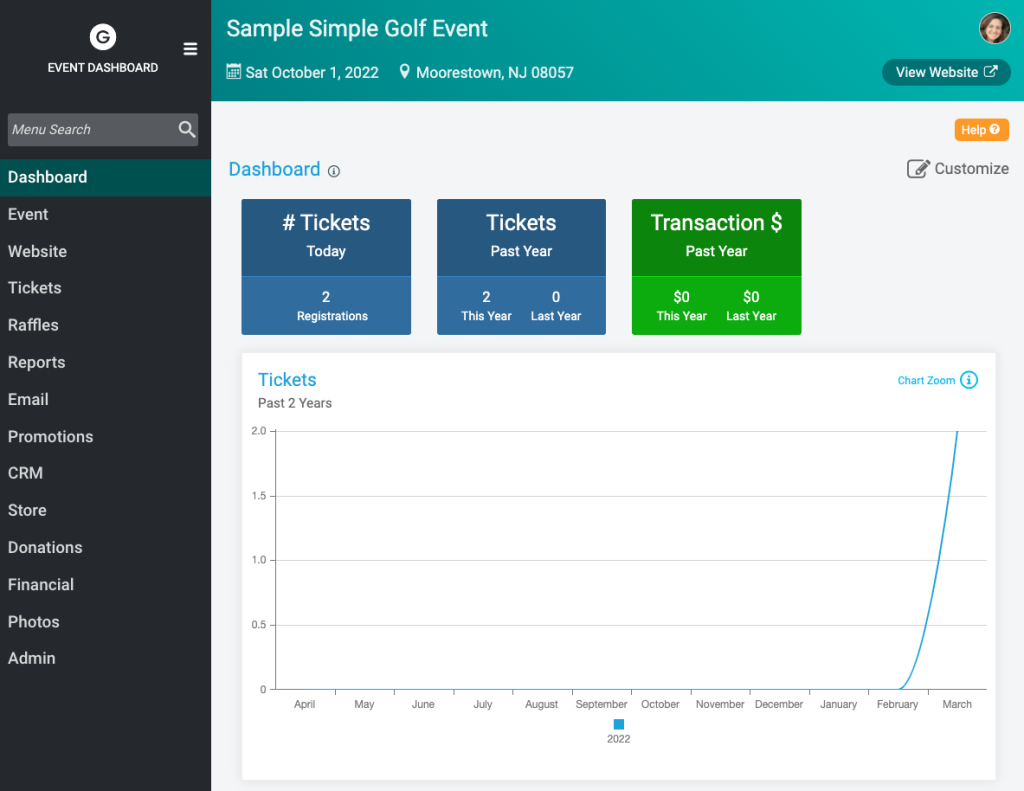 Information Collection
We recommend customizing the information that you want to collect from your attendees. To begin, navigate to Tickets >> Information Collection. You can edit the information that you collect per ticket type or across all tickets.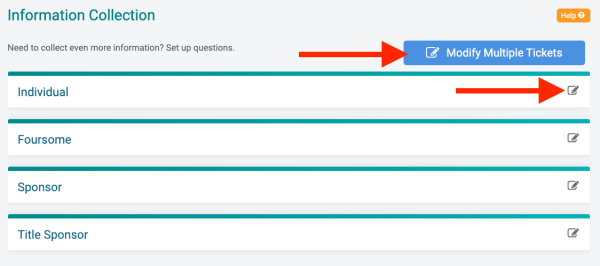 You can choose to collect information for both the ticket purchaser and/or the ticket holder(s).
If you want to collect information for each member of the Foursome, navigate to Tickets >> Setup. Click the dropdown arrow for the Foursome ticket type and select More Settings.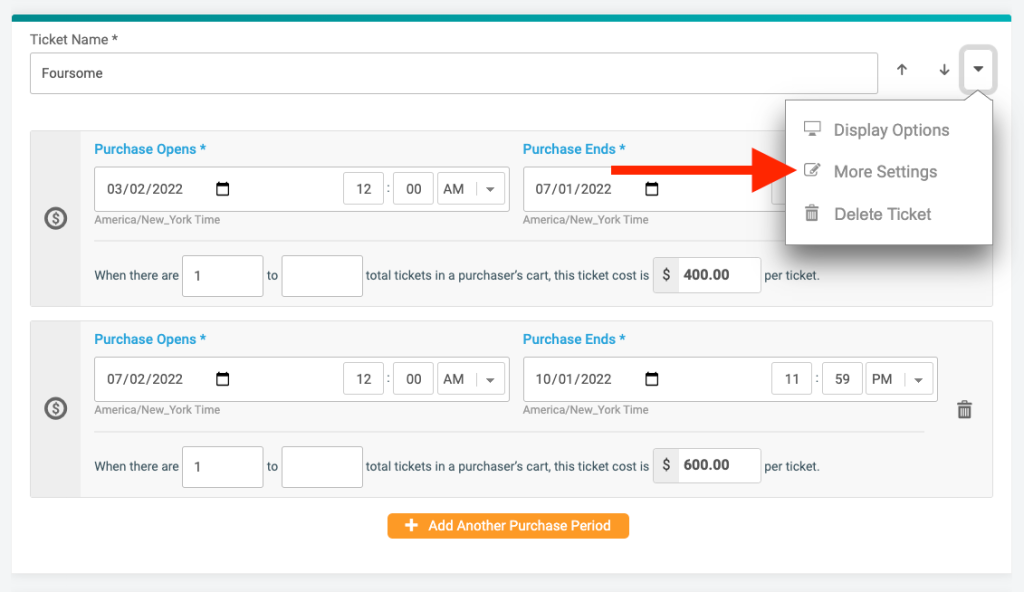 Set the Multiple Ticket Requirement to 4.

Then go to Tickets >> Information Collection. Enable per-ticket information collection for the Foursome, and choose which fields should be required, optional, and not shown.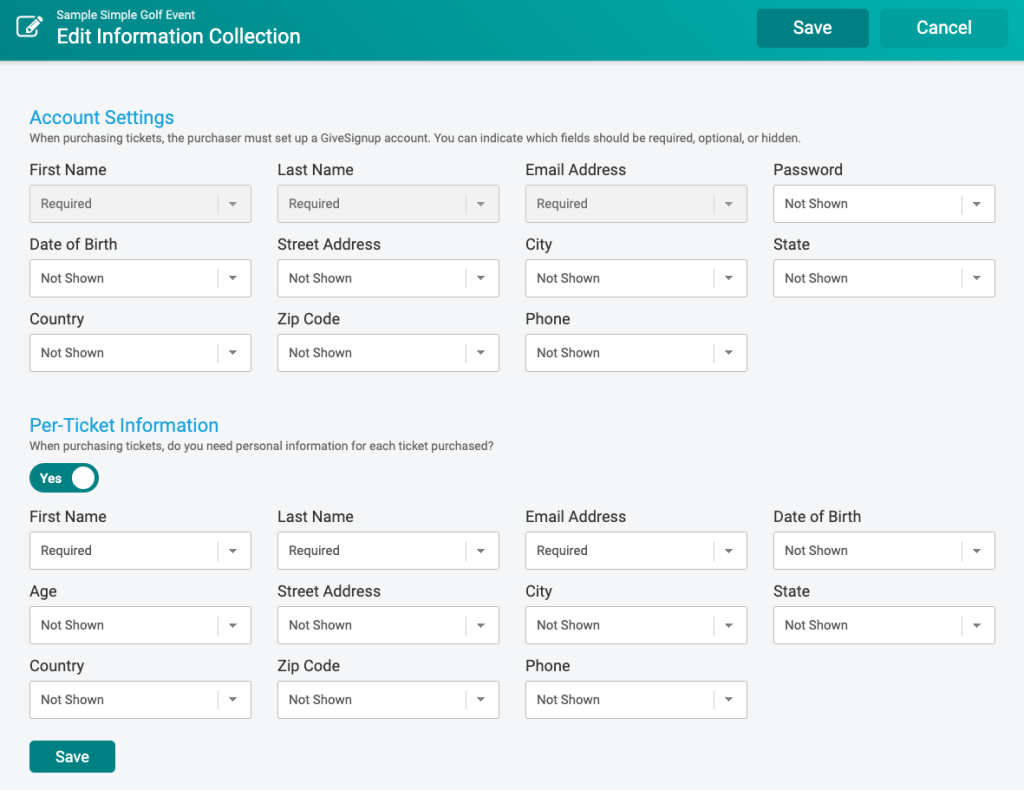 This enables information collection for each member of the foursome when purchasing tickets.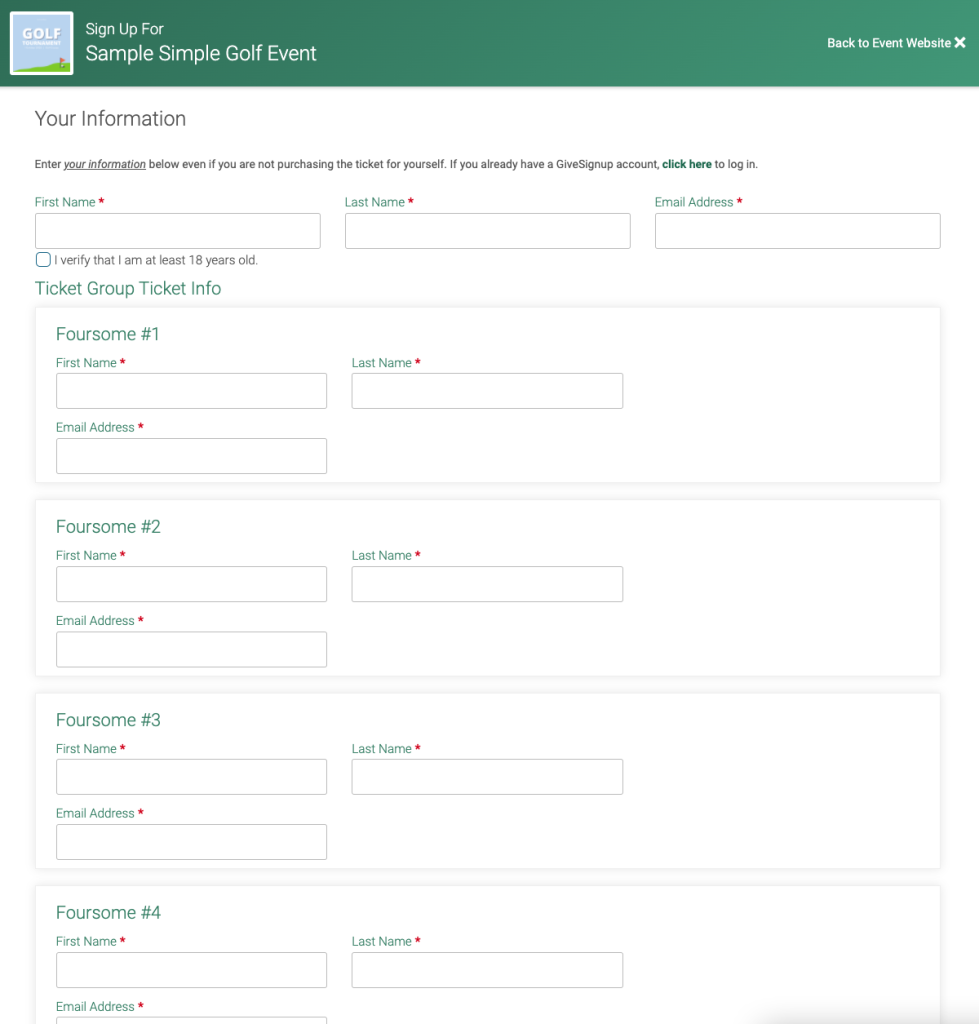 Need to collect additional information like lunch orders? Add additional Event Questions to the ticket purchase path by going to Event >> Questions. You can ask questions across all or per ticket type, to ticket purchasers and/or ticketholders, make responses required or optional, and more.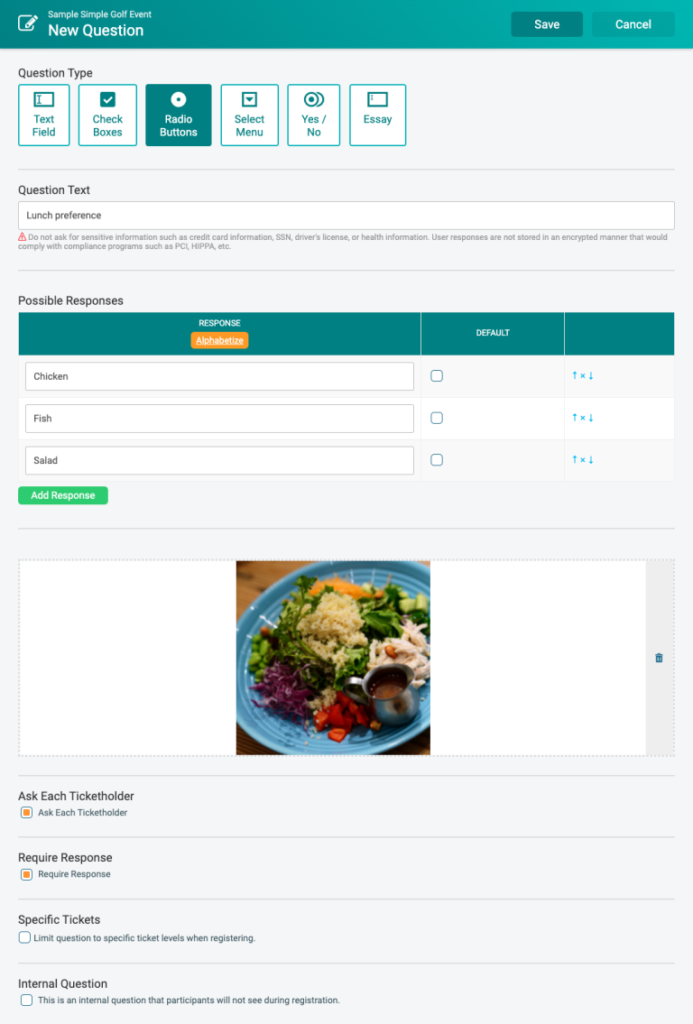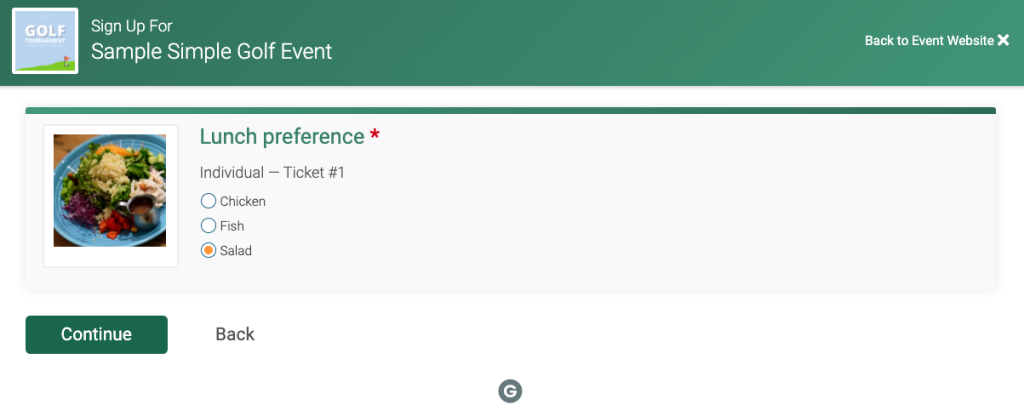 Store Items
You can also add additional items to sell when attendees purchase tickets. To sell additional items to attendees, navigate to Store >> Store Setup. For each item, you can also add variants to make it easy for attendees to select options like size and color. Like adding questions, you have flexible options to sell items per ticket or per purchase, as well as upload images.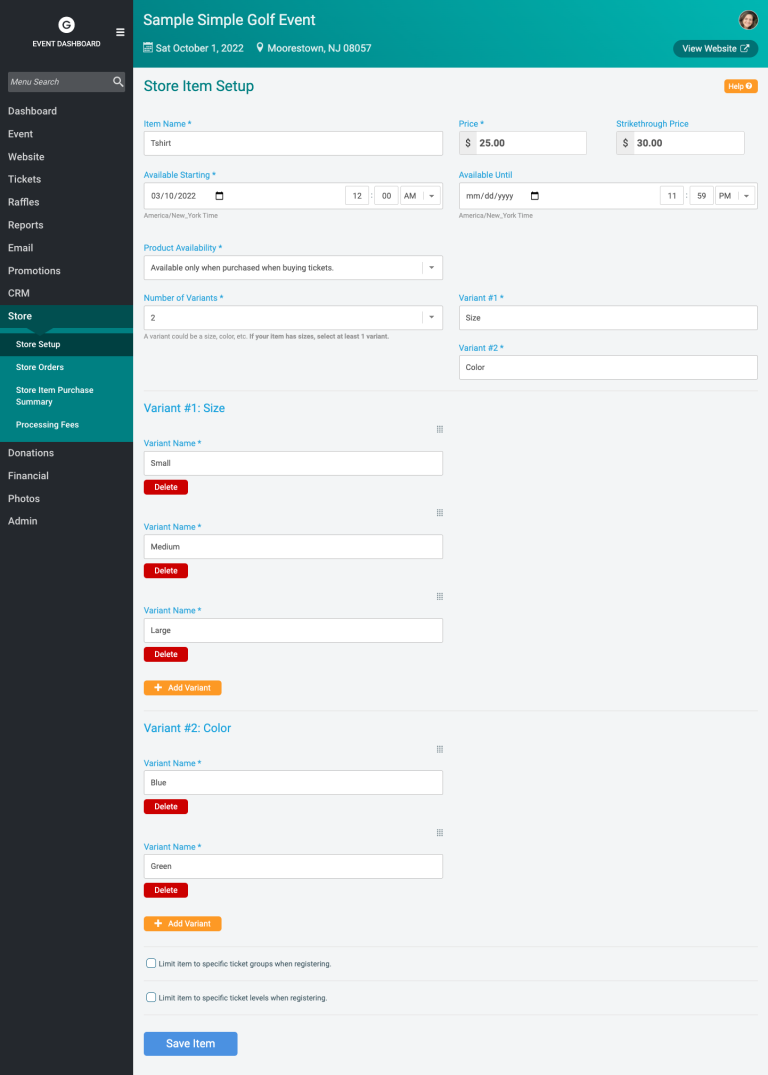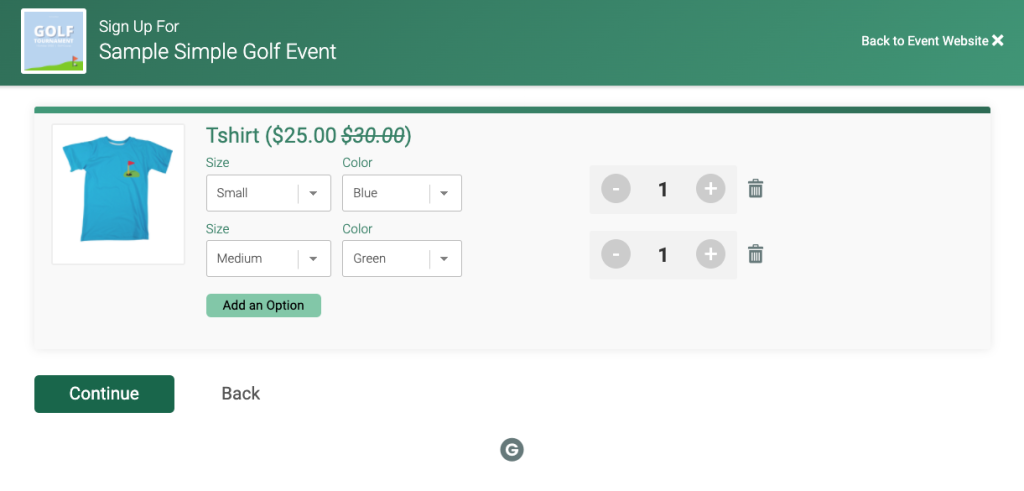 Website Customization
TicketSignup automatically creates a website for your event based on the information you enter in the wizard. Every website is mobile and SEO-optimized – no coding required. We make it easy to further customize your website and add additional content like Sponsors, video, and photos!
Cover Page: Add a cover page to feature more images, videos, calls to action, data components, and text.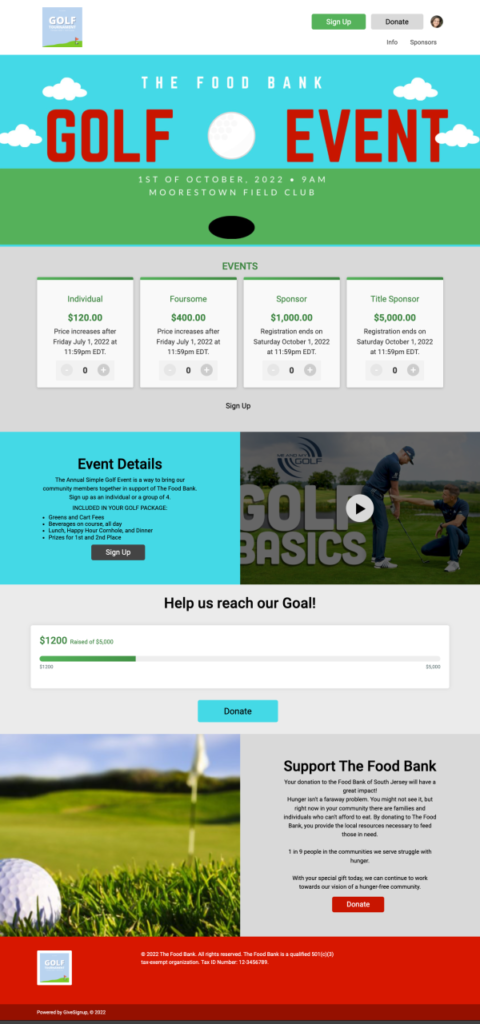 Domain: Bring your own domain (https://mygolfevent.org) or subdomain (https://golfevent.thefoodbank.org), and we'll host it for free!
Website Builder: Add menus and pages to your website to host additional information! Golf events usually want to feature sponsors. The below examples demonstrate how to add a photo slideshow and a Sponsors page.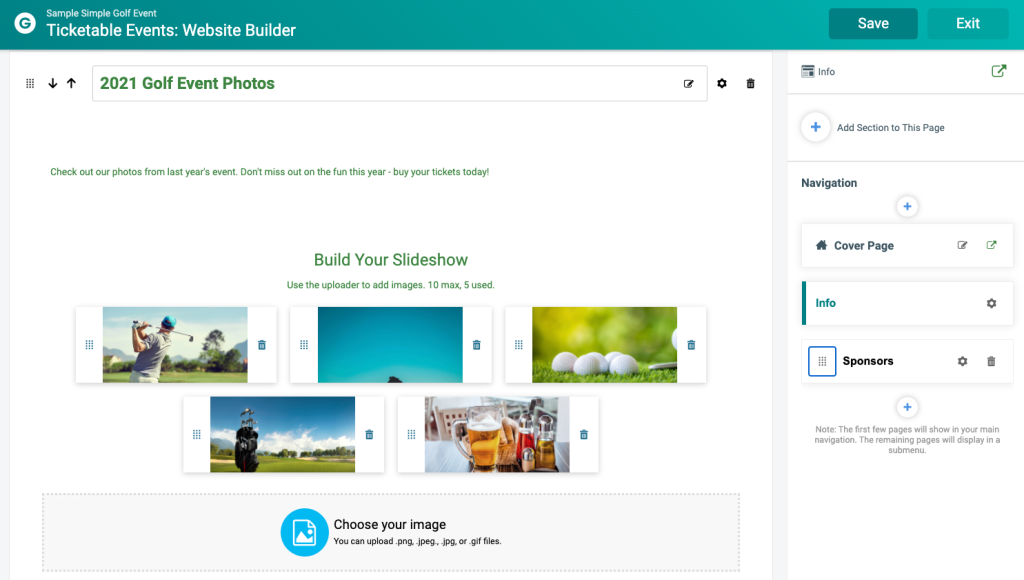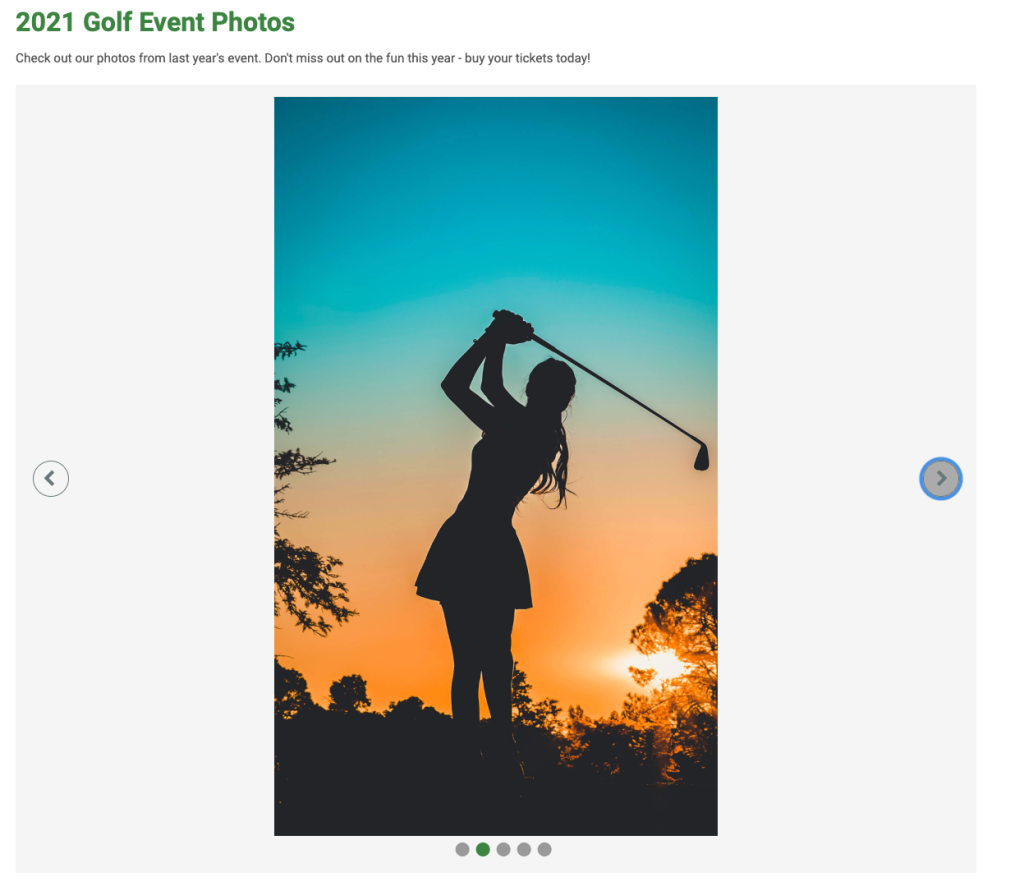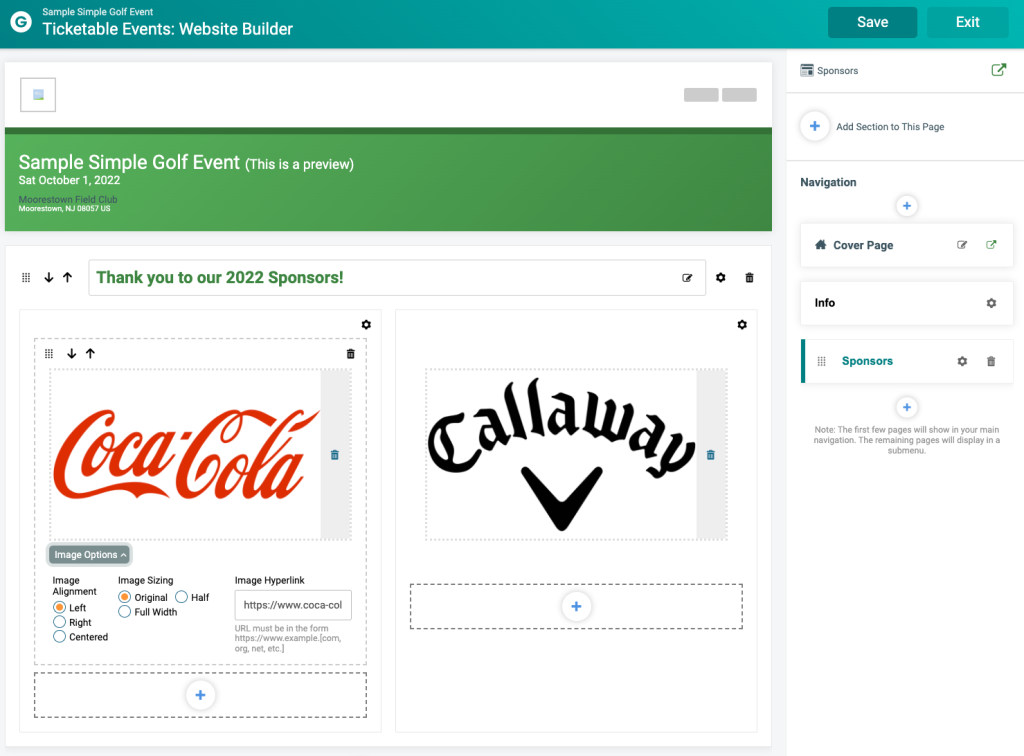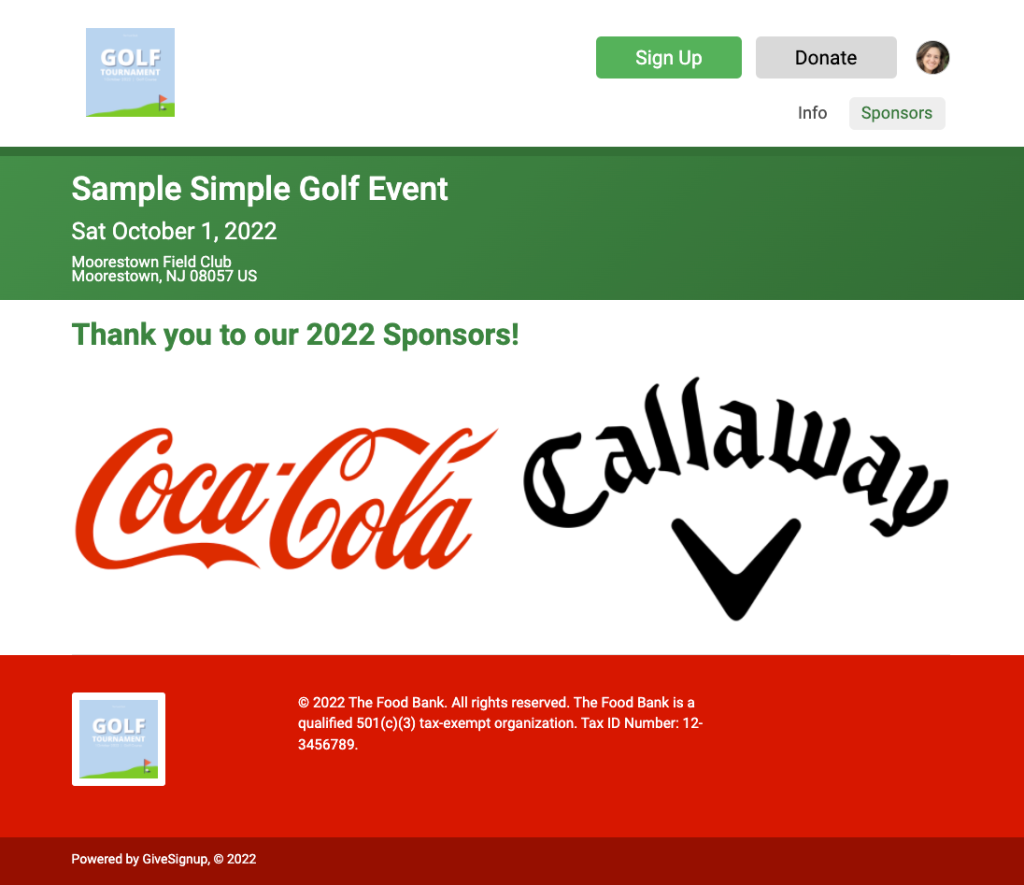 More Key Features
TicketSignup's ticket event platform has hundreds of options to set up and manage your golf event. Some of the other key features used by golf events include:
Ticket Management: You can allow attendees to manage their tickets after their purchase. Right now, we have the options for attendees to resend their confirmation emails and transfer their tickets based on the parameters (i.e. date range, fees, etc.) that you set. We will be adding more options soon, including options for attendees to edit information and question responses!
Donations: You already enabled donations when you created your event, but you can add more customizations like attribution settings, display settings, and recurring donations by going to Donations >> Donations Setup.
Caps: Navigate to Tickets >> Caps to set up limits on how many people can sign up. Flexible caps ensure that you control how many attendees are at the event, whether it's overall, per ticket type, or more.
Ticket Display: You can customize the way that tickets appear on your website and in the ticket purchase path, including adding an image, text, and/or a ticket banner. Navigate to Tickets >> Setup and click Display Settings from the dropdown arrow.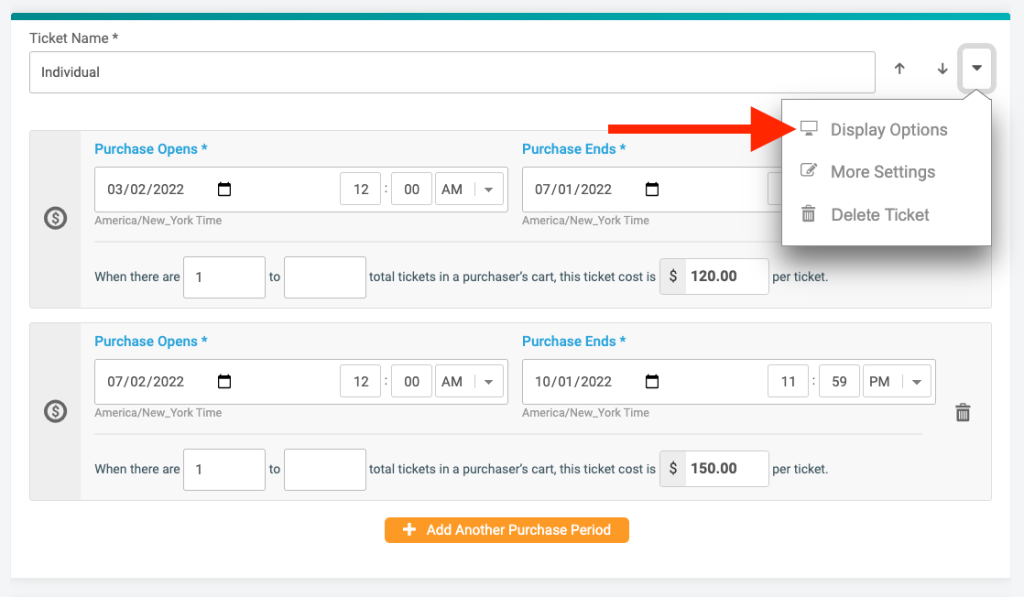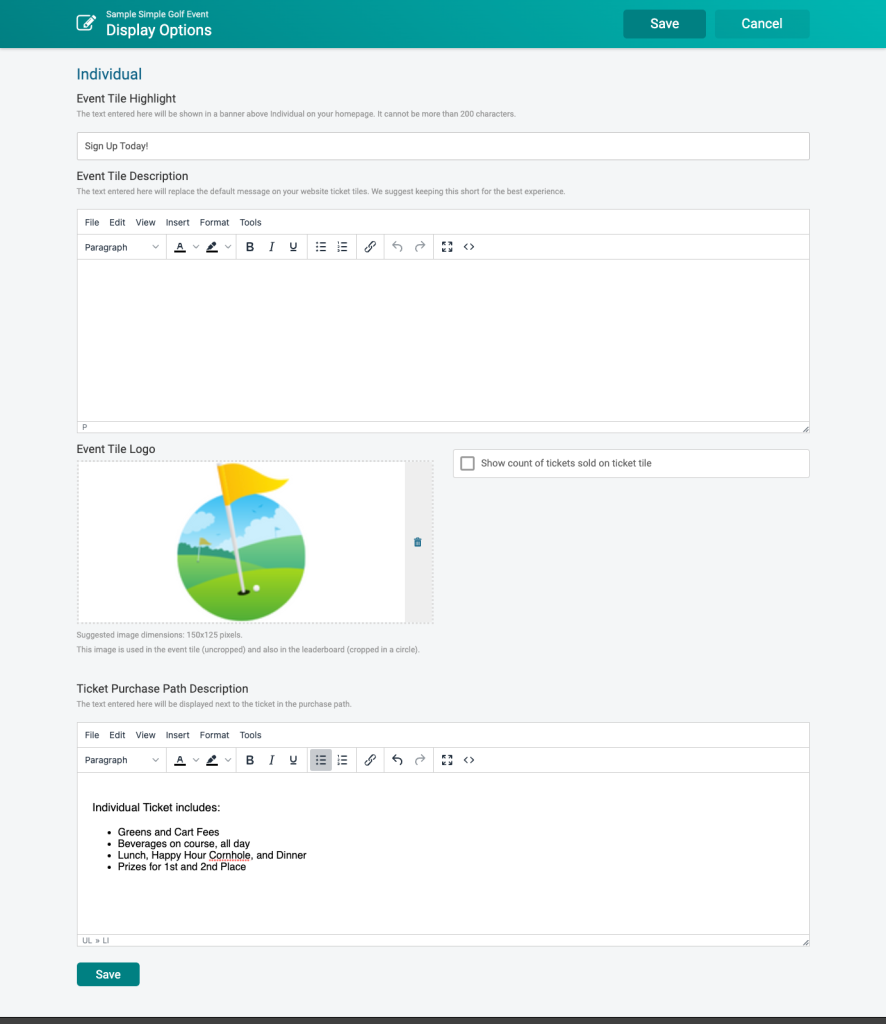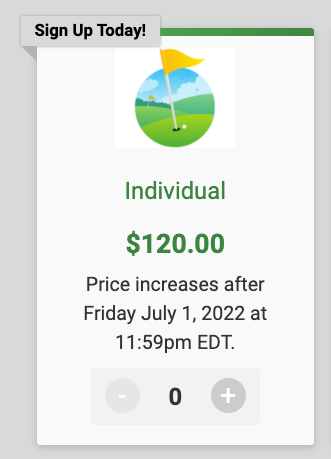 Advanced Golf Event
If your golf event has many ticket options such as time slots or different pricing for general/VIP/member admission, you can use Advanced Tickets. Check out a sample advanced golf event here: https://www.ticketsignup.io/TicketEvent/SampleAdvancedGolfEvent. You will still follow the above steps but with several modifications:
Ticket Event Wizard
The first step of the Ticket Event Wizard is the same as setting up a Simple Ticket Event. However, in the second step of the wizard, you can just set up a single generic ticket. You'll set up the rest of your tickets, time slots, and options in the dashboard!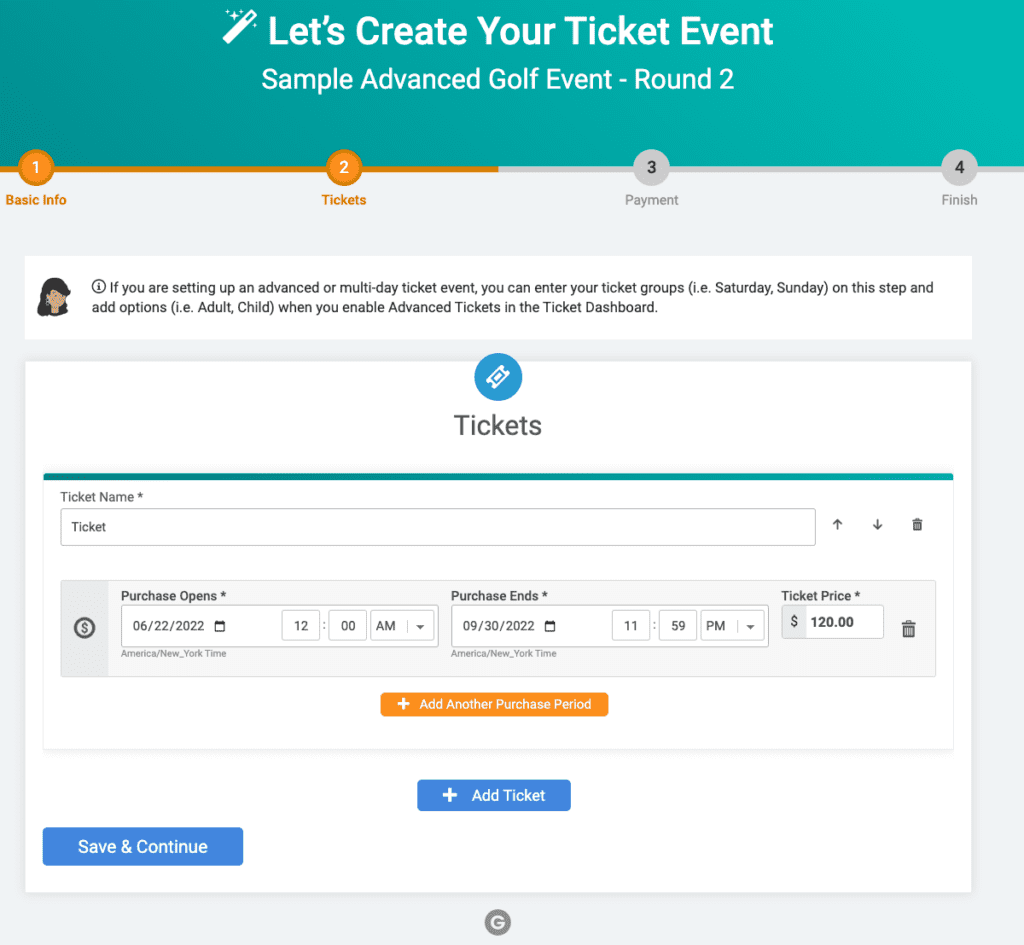 Advanced Tickets
After completing the Wizard, navigate to Tickets >> Advanced Tickets on your dashboard. Advanced Tickets will let you add different ticket options to each group you created in the Wizard. Click Enable Advanced Tickets.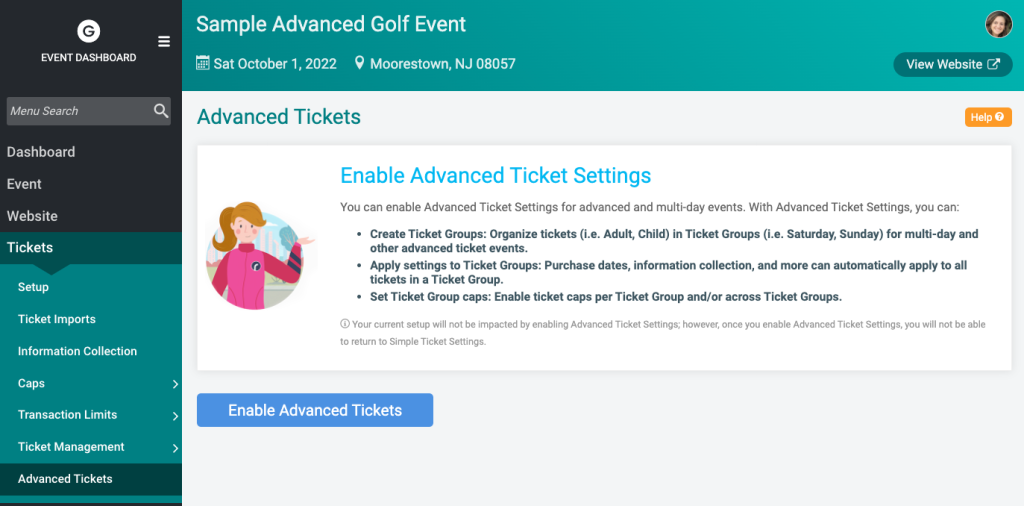 For your Ticket Group click on the dropdown arrow. First Edit Ticket Group to add a name (i.e. "Friday" or "Individual") and then edit Display Settings.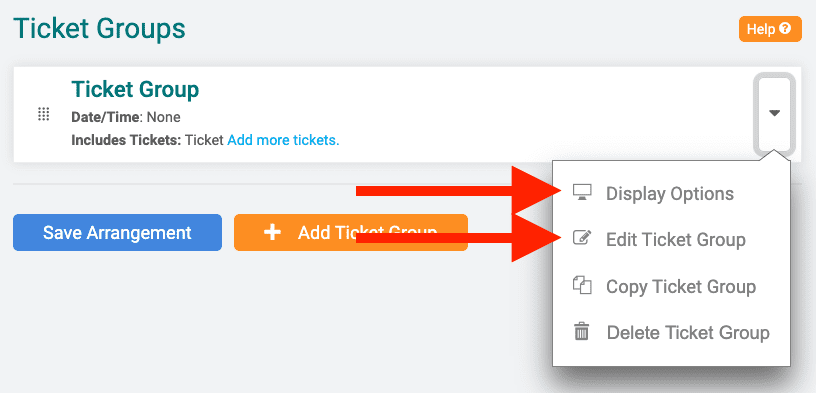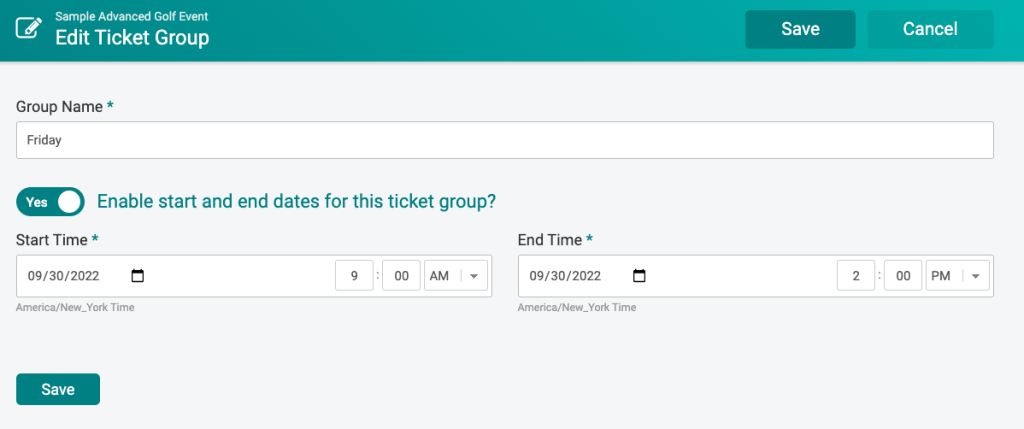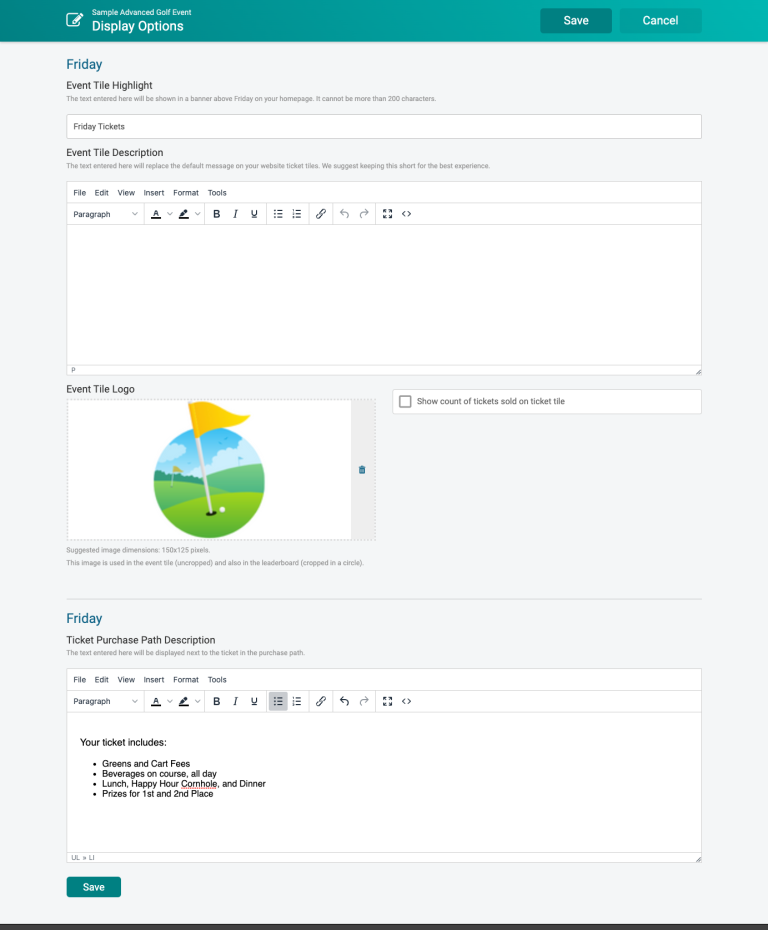 Then add tickets to each group. These tickets can be time slots like the example below, General/VIP options, Member/Non-member options, etc.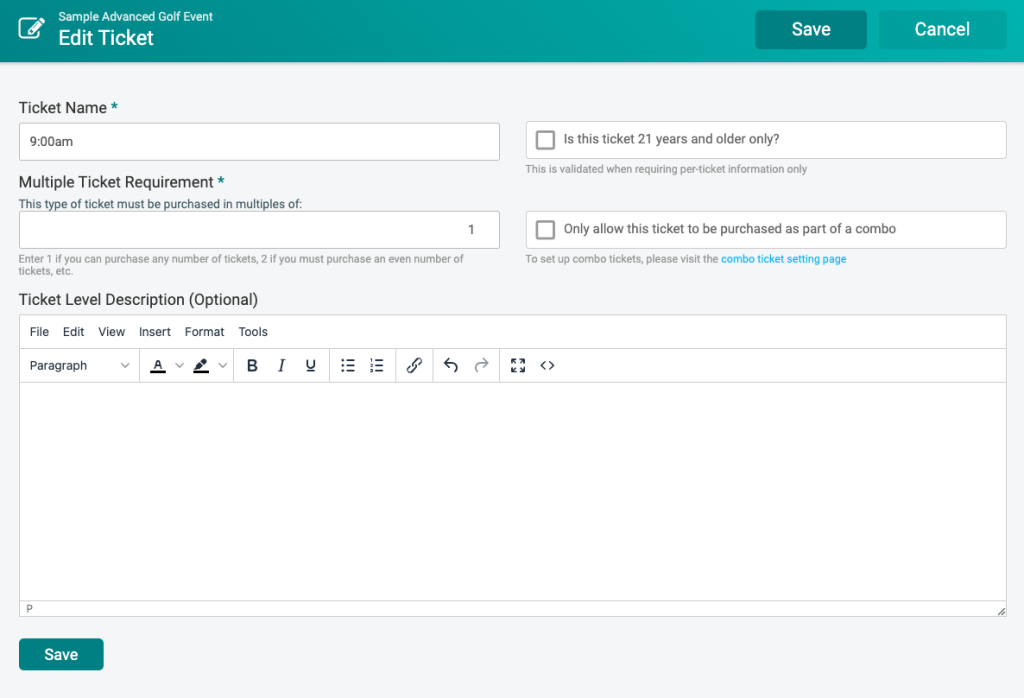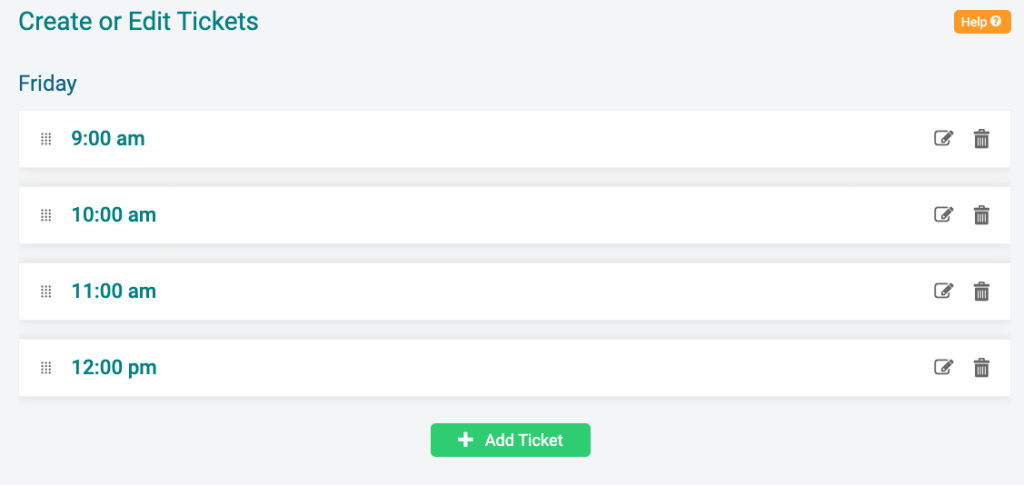 Finally, navigate to Tickets >> Pricing to set up pricing for each option. The pricing periods are automatically the same for each ticket within a group, making it easy to control pricing across all of your options.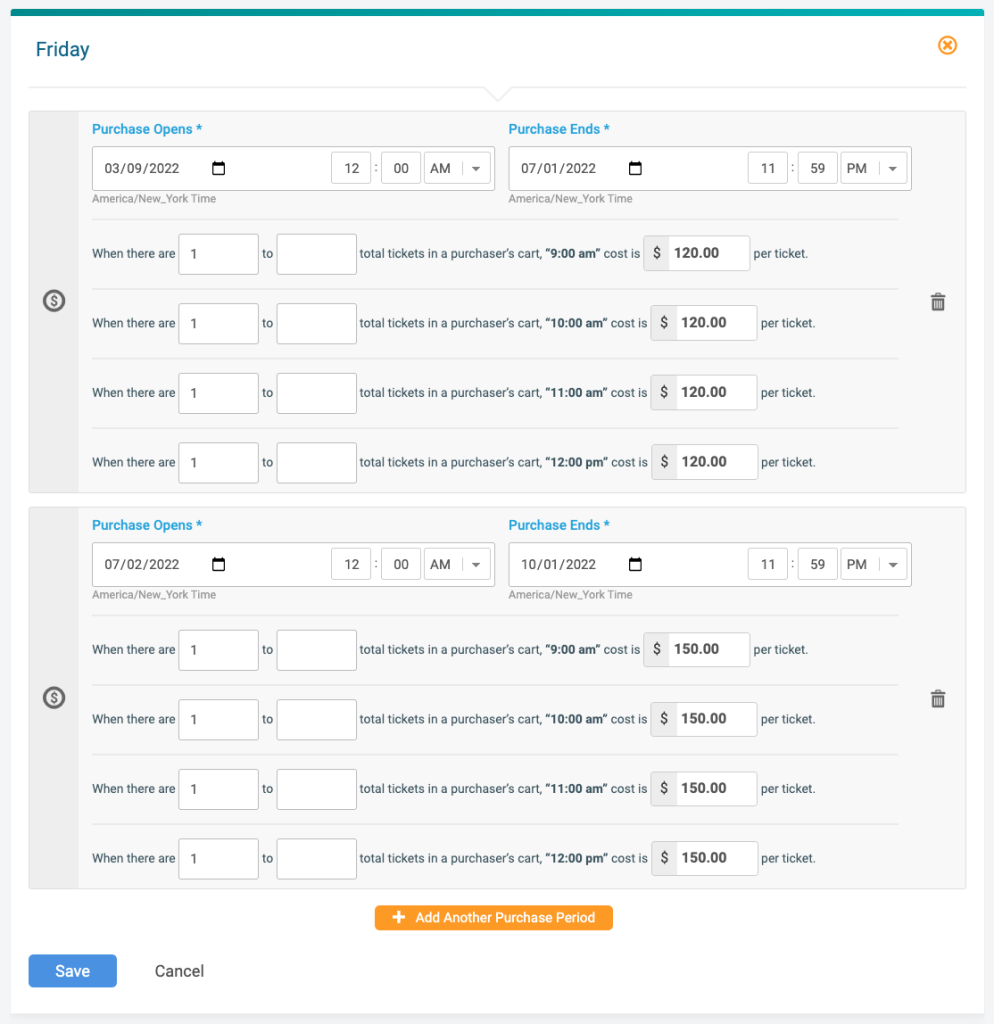 This gives your attendees the option to choose a ticket within a group.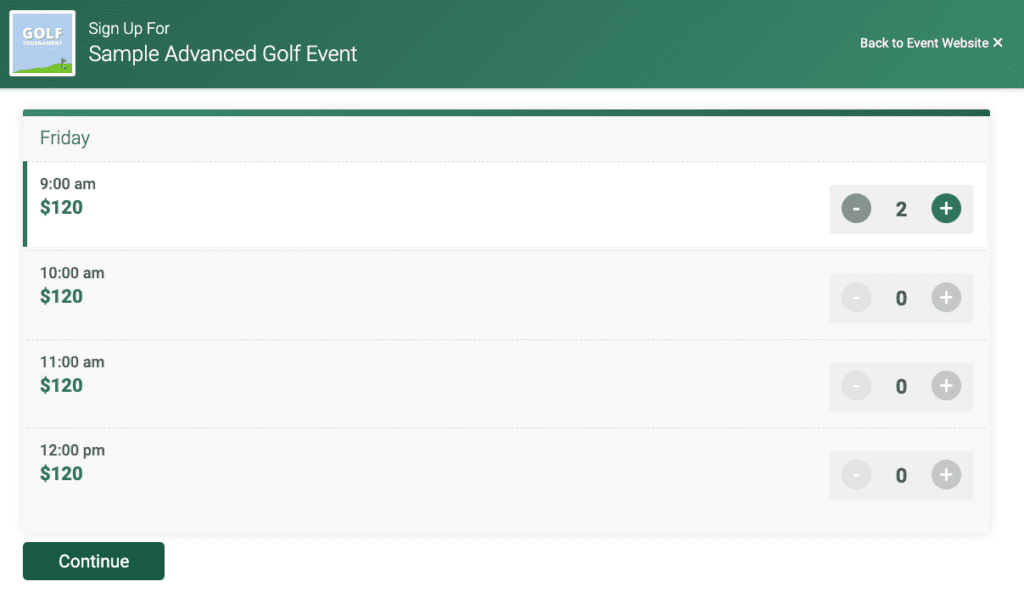 To add your additional days and options to your event, click Copy Ticket Group from the dropdown menu of your first Ticket Group.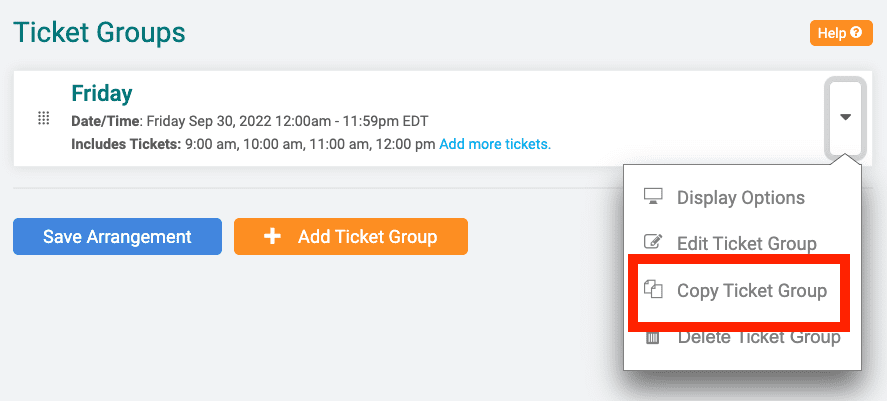 You should update the Group name, the Group dates, and the Purchase end date (assuming you are selling tickets through the event; if not, your purchase end date may be the same across all of your tickets). This enables you to quickly set up the same ticket options for a multiday event, or an advanced event with many options.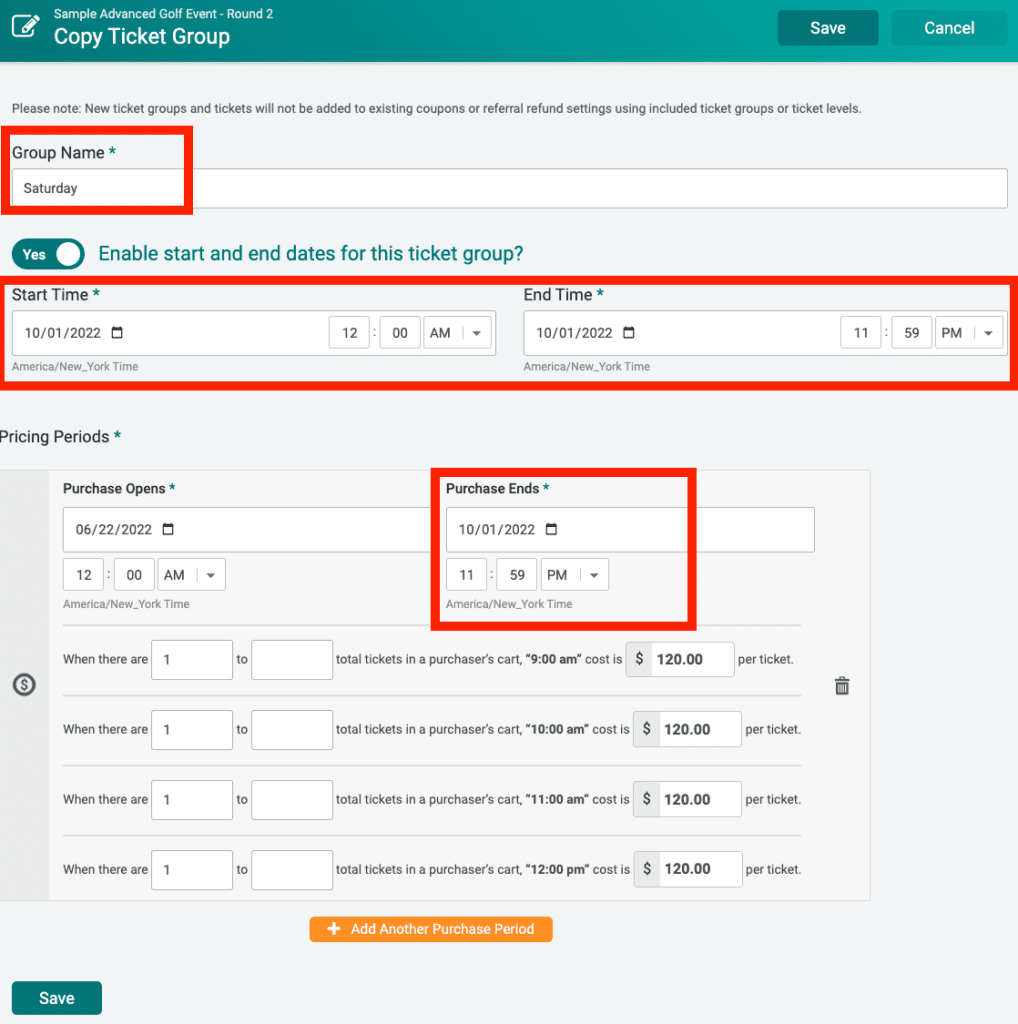 Peer-to-Peer Fundraising Golf Event
For golf events that want to offer integrated peer to peer fundraising platform and/or have complex team and team management requirements, we recommend using our free peer-to-peer fundraising event platform to set up your event! You can check out a sample peer-to-peer fundraising golf event here: https://www.givesignup.org/golfevent. We'll walk through the 4 key steps to set up your fundraising golf event:
Step 1: Event Wizard
Step 2: Fundraising
Step 3: Teams
Step 4: Additional Customizations
Step 1: Event Wizard
It's easy to set up your golf event in the Wizard. In the example below, there are two options: Individual and Foursome, but you can add as many options as you would like. You'll complete the additional steps to set up pricing and add your funding account.

Step 2: Fundraising
You can allow some or all of your golf event attendees to have beautiful fundraising pages. Check out a sample fundraising page here: https://www.givesignup.org/allisonfoodbank.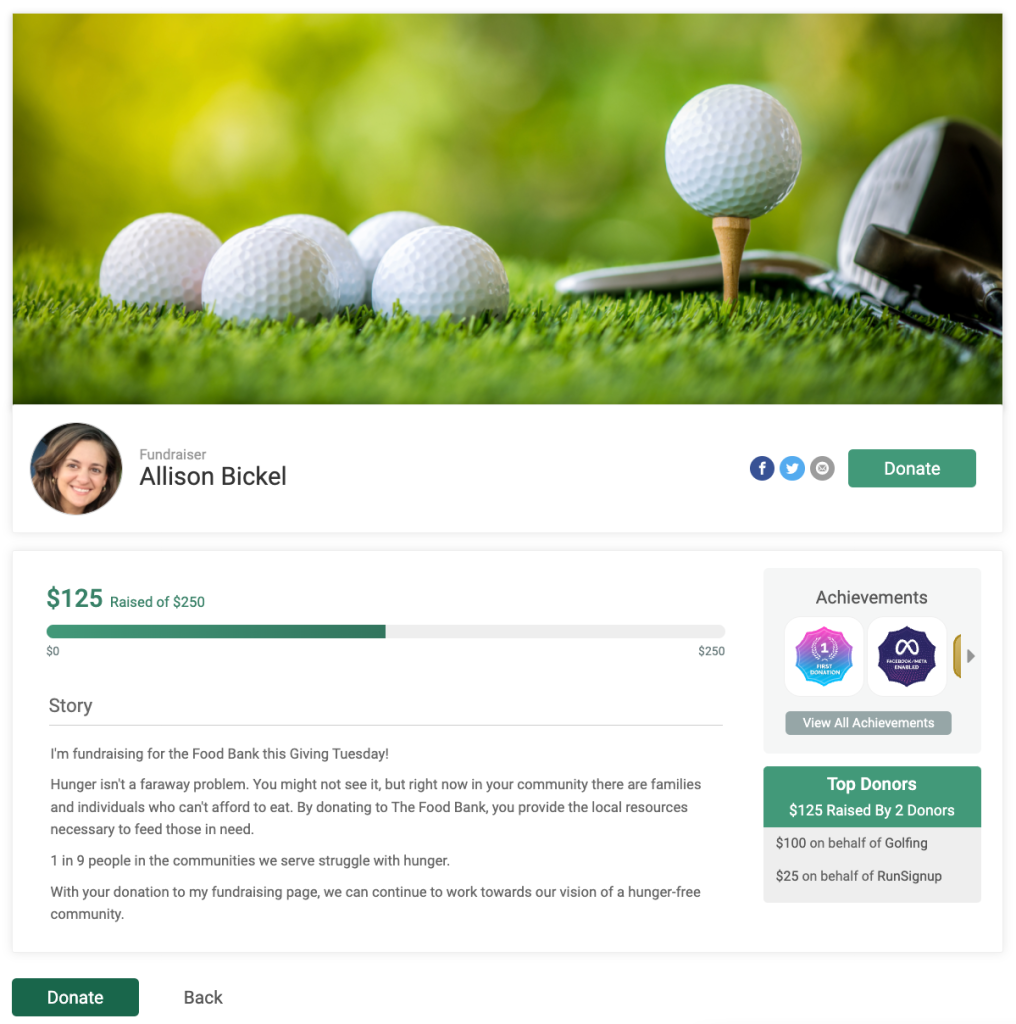 Navigate to Fundraising >> Individual Fundraisers and click Enable Individual Fundraisers.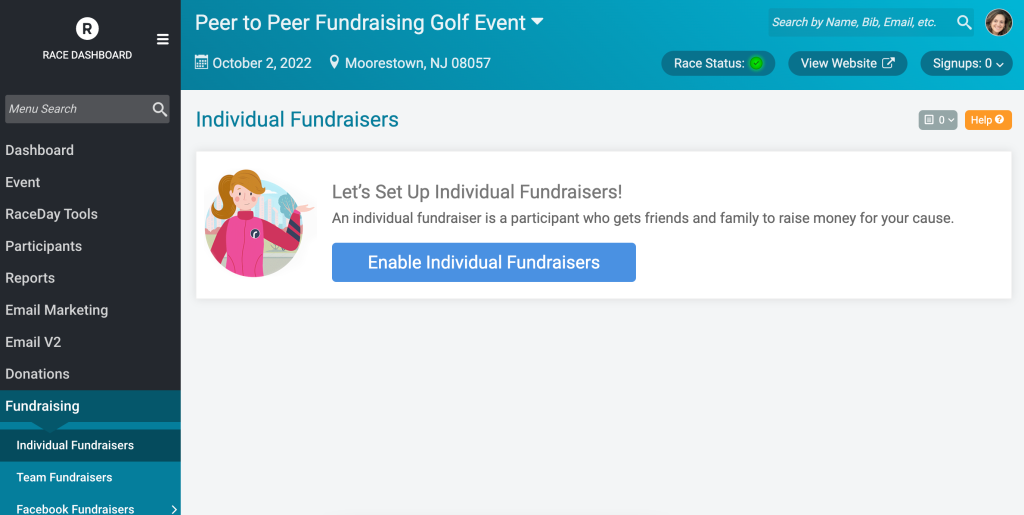 Now you can customize fundraising! First navigate to General Settings. Here you can enter a default message that will pre-populate a fundraiser's page. While fundraisers will be able to edit the text and enter their own story/message, providing this text ensures your fundraisers' pages have content that features your mission. You can also enter required or optional fundraising pages, required or optional fundraising minimums, choose to save credit cards to auto-charge for minimums not met, and more. In the example below, I've entered a default fundraising goal that fundraisers can edit to be higher or lower.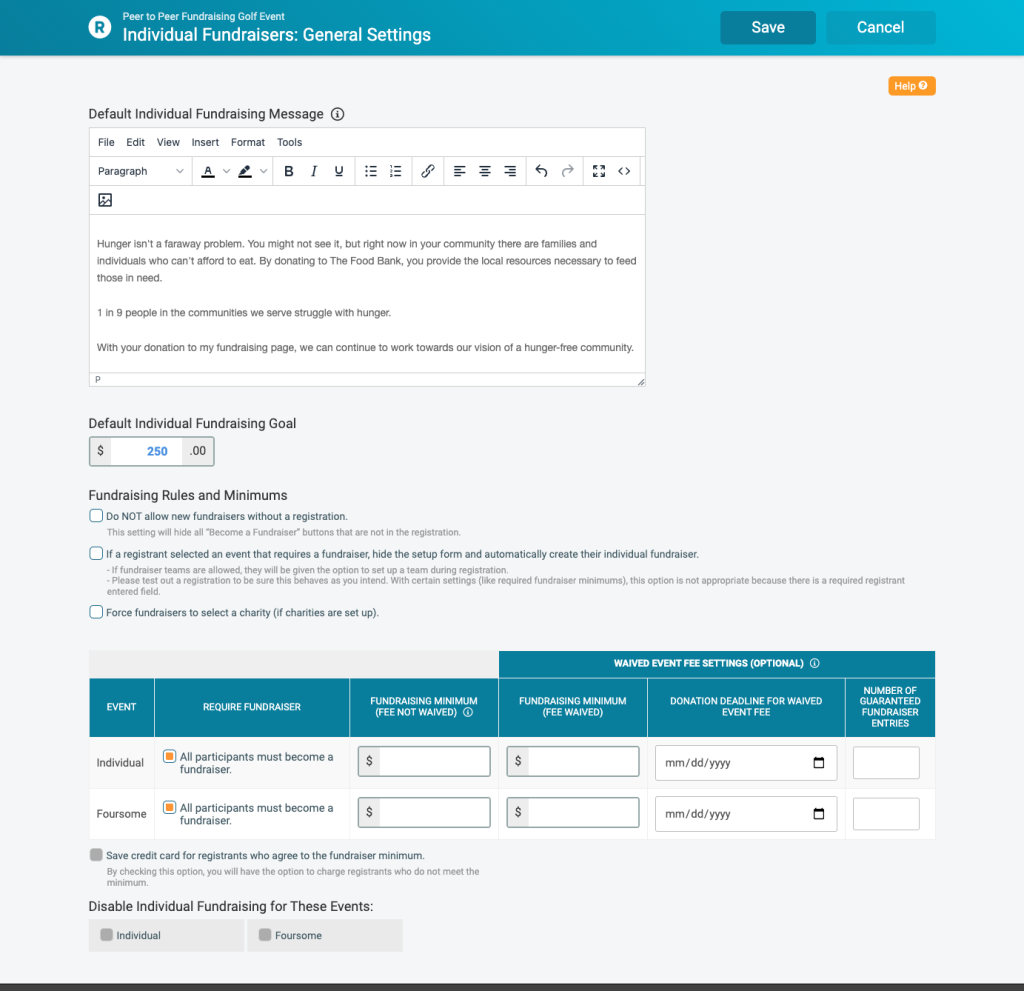 Next go to Fundraiser Rewards. You can add milestones and badges to reward your fundraisers for achieving different milestones like amount raised, first donation, team member, and more!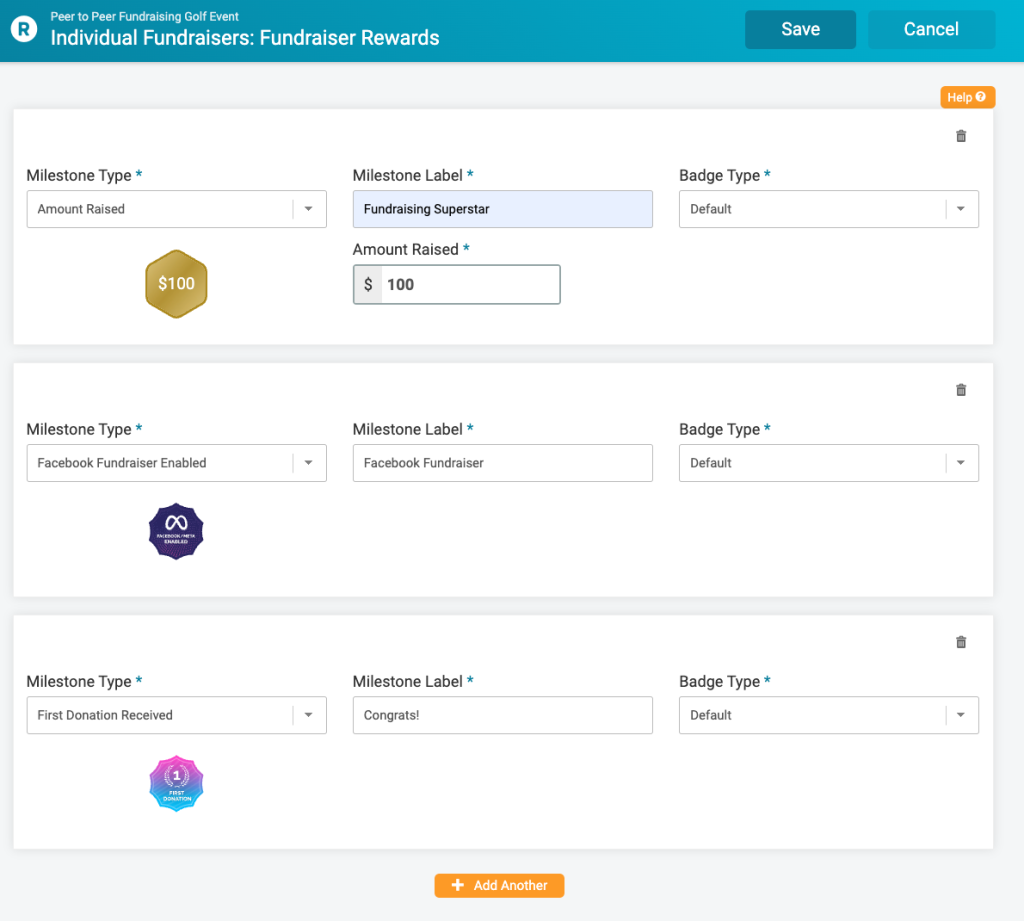 You event can enable more fundraiser settings like fundraising teams, free Facebook Fundraiser integration, automated fundraiser rewards, custom display settings, custom notifications, and more!
Step 3: Teams
In addition to fundraising teams, GiveSignup has the option for social and competitive teams that offer complex team management capabilities. This is a perfect solution for foursomes and other golf event teams where you want more team management and reporting capabilities than tickets offer.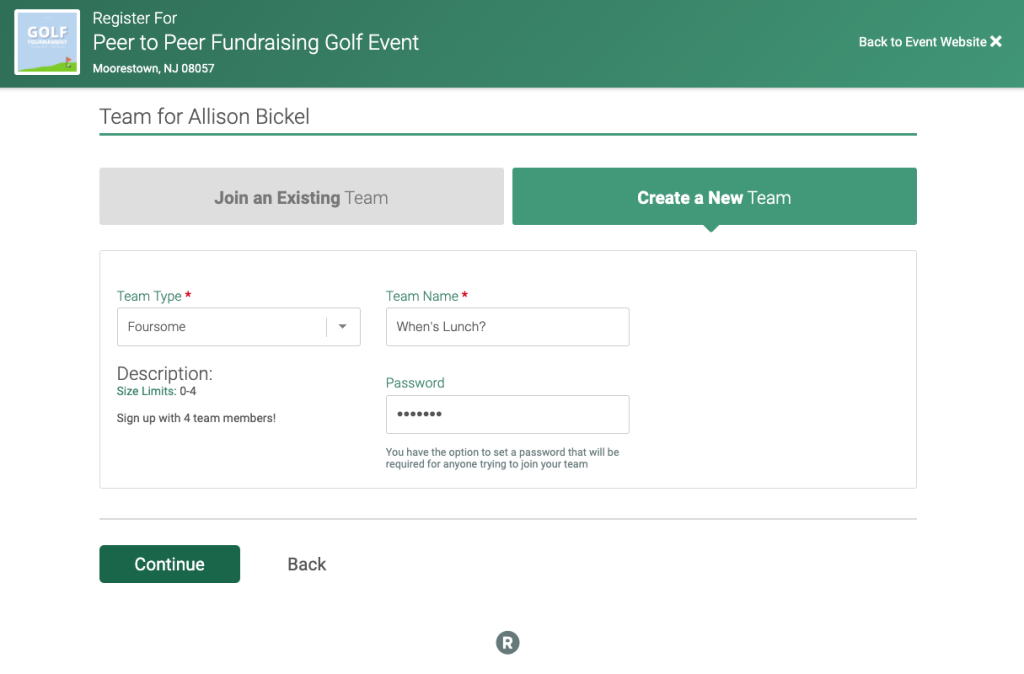 Navigate to Participants >> Groups/Teams >> Setup. In the example below, teams are required for individuals and groups signing up for the Foursome event option only. There is a maximum of 4 members allowed and teams have the option to set a password that other members must enter in order to join.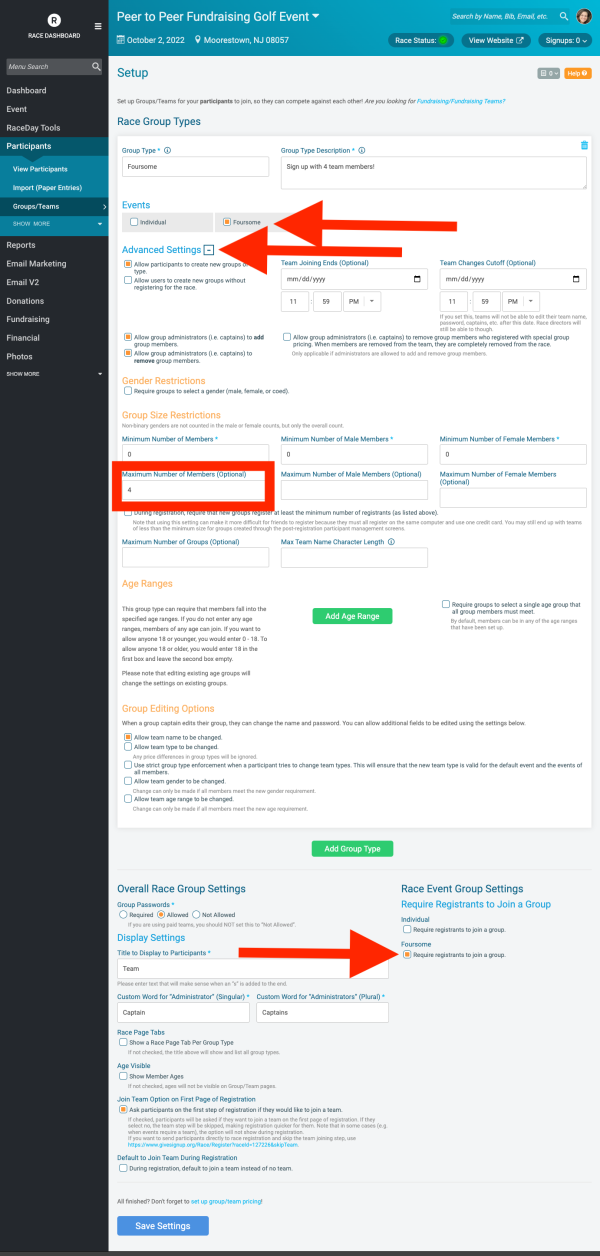 Step 4: Additional Customizations
GiveSignup's peer-to-peer fundraising event platform has hundreds of options from volunteers and photos to to set up and manage your golf event. Some of the other key features used by golf events include:
URL: Golf events can bring their own domains and subdomains – GiveSignup will host for free, SSL certificate included! Check out an example here: https://golfeagleoaks.t2t.org/. If you don't want to bring your own domain, you can create a short URL for your event by navigating to Event >> Race Website >> Race URL. Add up to 5 short URLs like https://www.givesignup.org/golfevent to easily share your event.
Sponsors: GiveSignup provides a full Sponsor management platform that's integrated with your peer-to-peer fundraising event, making it easy to track payments, invoice sponsors (with credit card and offline payment options), provide stats on sponsor views, and more. Sponsor logos are automatically featured on website pages, all notifications, Email Marketing, and other key touch points with participants and fundraisers like results notifications, photos, and more.
Volunteers: GiveSignup's integrated volunteer platform enables you to host volunteer registration on the same website as your event! Allow volunteers to sign up for specific tasks & time slots, set minimum and maximum numbers of volunteers needed, and send free emails with volunteer-specific data replacement tags.
Store: Sell additional items like shirts, hats, golf balls, and more using the integrated and standalone store capability. With real-time shipping address confirmation, GiveSignup's store works for both in-person and hybrid/virtual events!
TicketSignup's free platform offers flexible solutions to golf events, from simple ticketed to peer-to-peer fundraising events. Learn more about our free golf event platform and how customers are using it here: https://www.ticketsignup.io/golf.