Festivals are great events to bring a community together and feature its very best food, drink, music, artists, and local businesses. Schools, neighborhood organizations, merchants associations, and other nonprofit organizations have benefitted from the multiple ways to sell and raise money at a festival event. TicketSignup has the free tools that your organization needs to market your events, sell tickets, and have a successful Event Day. With free Email Marketing and free Websites for every event, hundreds of organizations use TicketSignup's free ticket platform to manage and grow their festival events.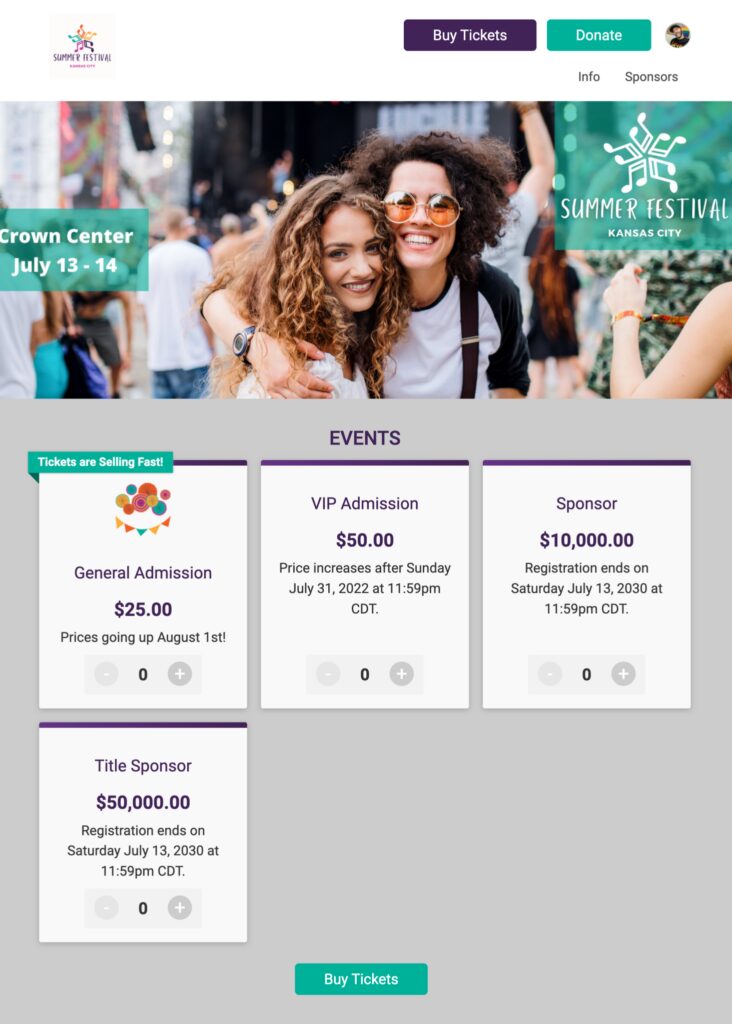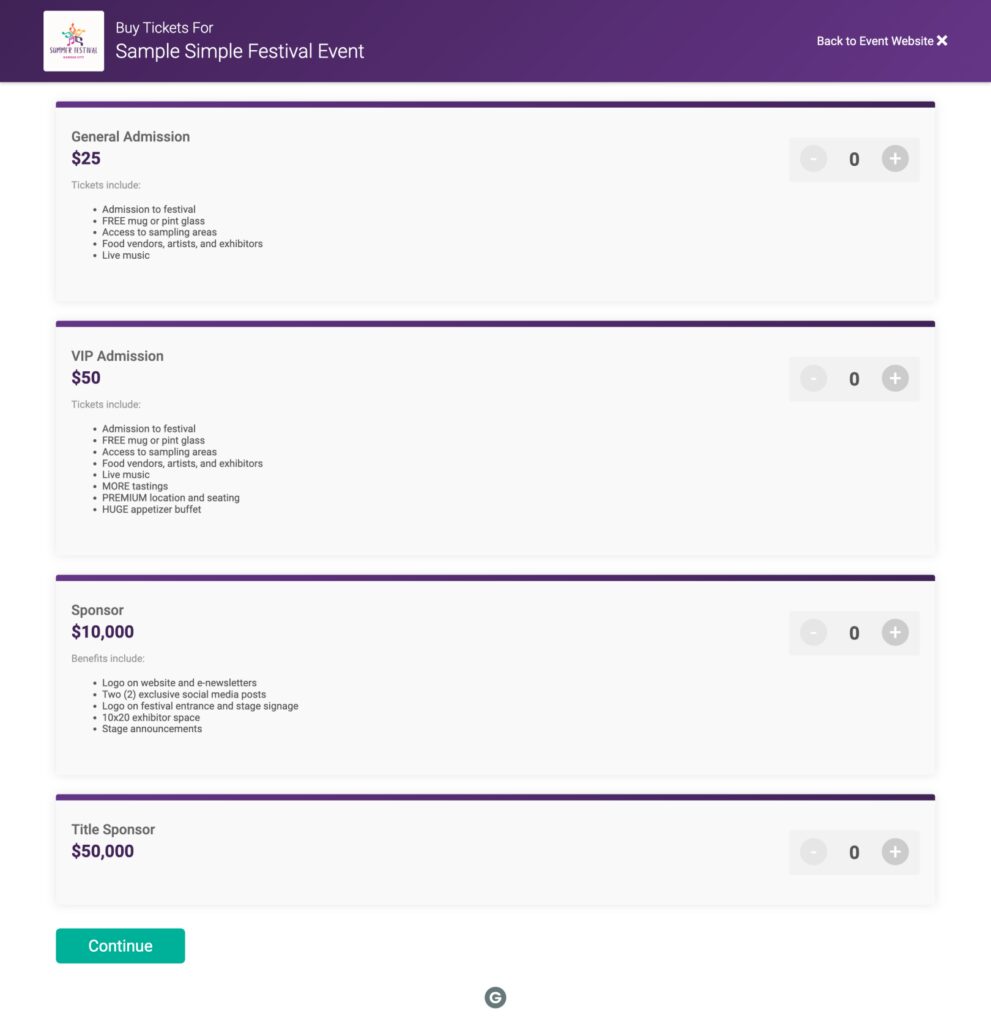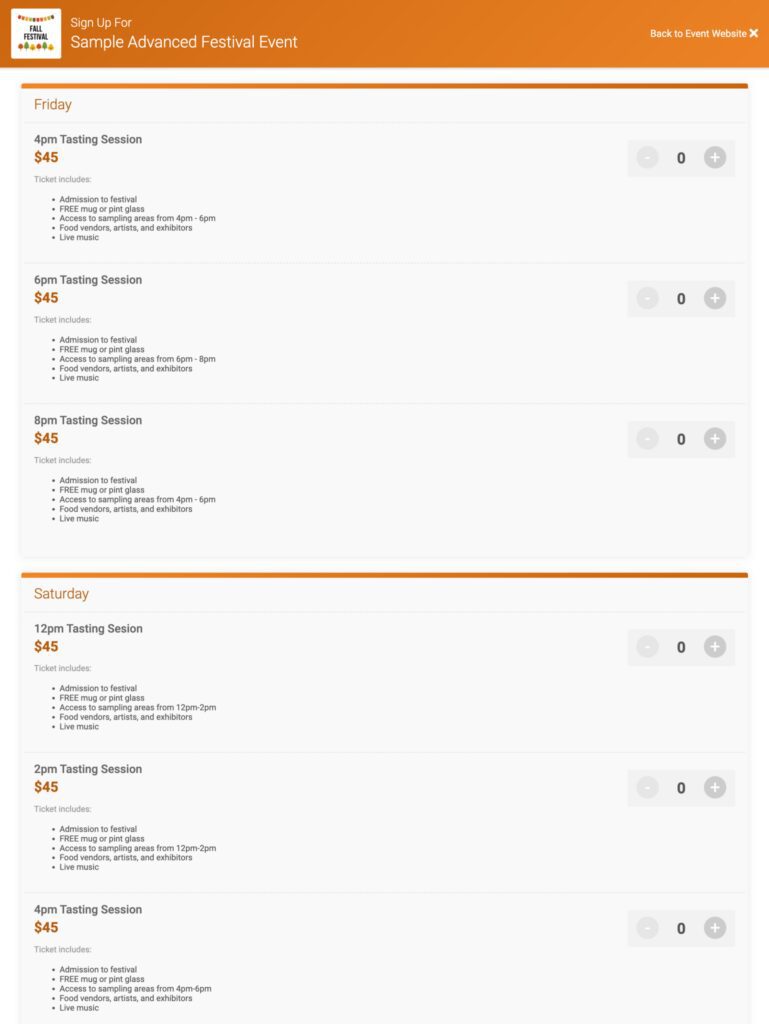 There are many ways to set up your festival event on TicketSignup. This quick start guide covers two primary setups that our customers typically use for their festival events:
Festival Event

Sell tickets and sponsorships
Collect information
Sell additional items
Integrated and standalone donations
Photos
Ticket Management for attendees and directors
No logins/passwords required!
Advanced Festival Event: All of the above, plus

Time slots / sessions / arrival times
VIP/General pricing for multiple ticket options
Festival Event
It's easy and free to create your festival event on TicketSignup. Set up your basic event information in the Ticket Event Wizard and we'll automatically create a website for you! Check out a sample festival event here: https://ticketsignup.io/TicketEvent/SampleSimpleFestEvent. In this section, we'll walk through five steps to set up your festival event. While you can start selling tickets and accepting donations after step 1, the additional steps give you even more options to customize your event:
Ticket Event Wizard
In the first step of the Wizard, fill in the basic information about your event including Event Name, dates, description, and whether or not you want to accept donations. You'll be able to edit all of this information later!

In the next step of the Ticket Event Wizard, you'll set up your tickets and pricing. In the example below, there are 4 ticket options:
Individual tickets, with a price increase on August 1st
VIP tickets, with a price increase on August 1st
Sponsor
Title Sponsor
You can set up more or less ticket options for your festival event! You'll also be able to add more and edit these ticket options at anytime from your Dashboard.
The last step to set up your Ticket Event is to link or create your Payment Account.
Current customers: You can either directly link or request to link the payment account that you use for other events on TicketSignup and RunSignup.
New customers: Setting up a payment account is required because this is how we pay you! TicketSignup is a PCI Level 1 Payment Facilitator that has helped more than 26,000 events raise more than $1.4 Billion. We collect information about the organization and/or person setting up the payment account as well as details about how you would like to be paid. Learn more about setting up your payment account here.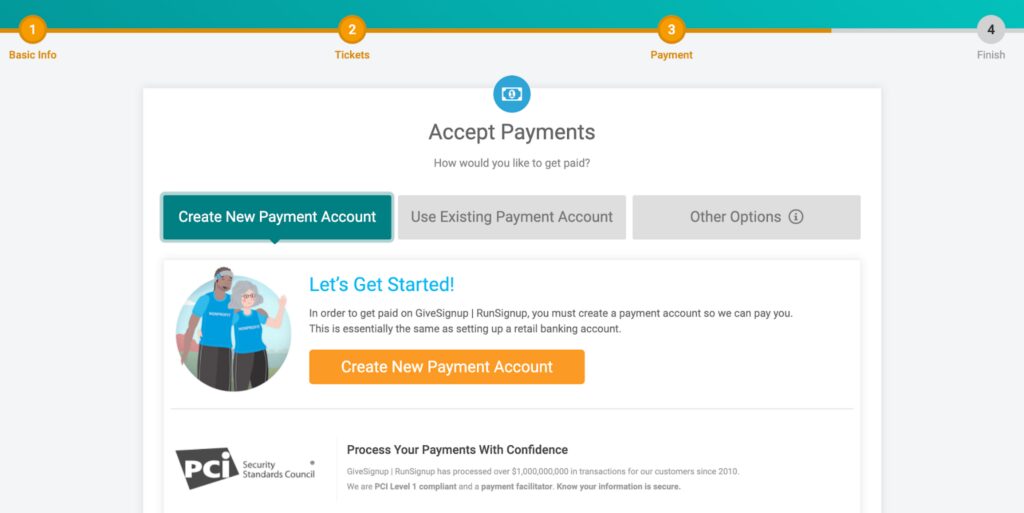 After finishing the Ticket Event Wizard, you're ready to start selling tickets!
You'll have a pre-built website based on the information that you filled in and a Dashboard where you can make more customizations, view & export reports, send emails, and more!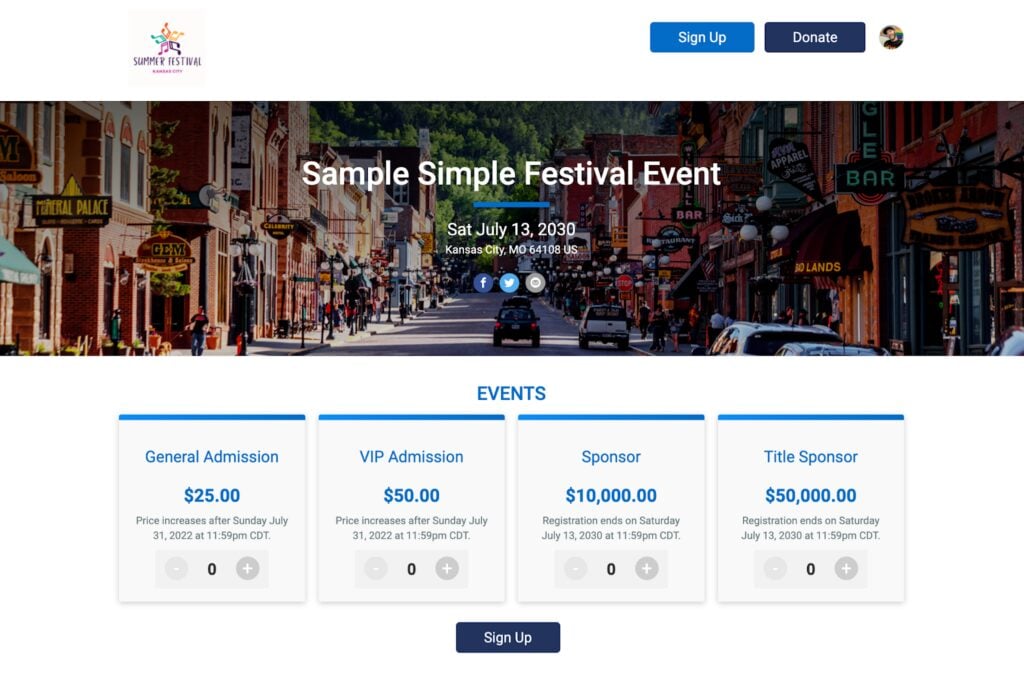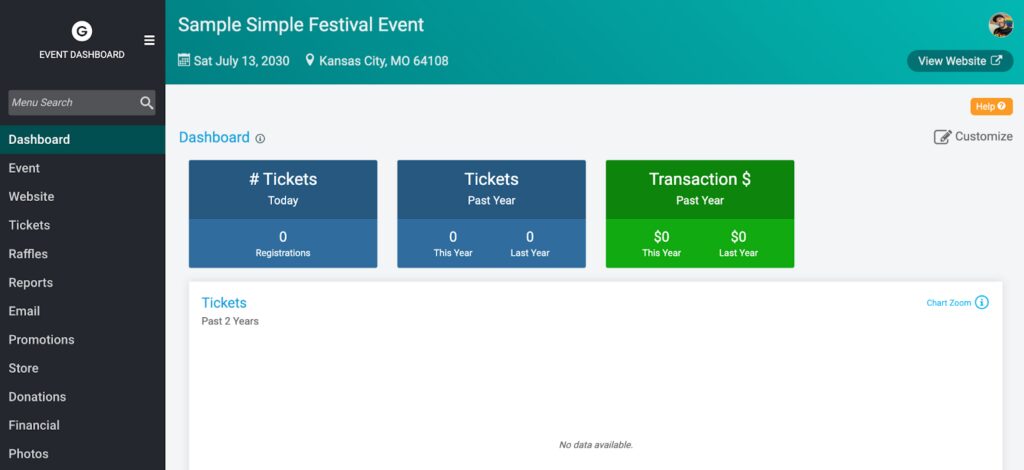 Information Collection
We recommend customizing the information that you want to collect from your attendees. To begin, navigate to Tickets >> Information Collection. You can edit the information that you collect per ticket type or across all tickets.
You can choose to collect information for both the ticket purchaser and/or the ticket holder(s).
If you want to collect information for each person attending the festival, navigate to Tickets >> Information Collection. Enable per-ticket information collection for the Foursome, and choose which fields should be required, optional, and not show.
This enables information collection for each ticket holder when purchasing multiple tickets.
21+ Age Requirement
If you want to require that attendees are over the age of 21, navigate to Tickets >> Setup. Click the dropdown arrow for the General Admission ticket type and select More Settings.
Click the checkbox for "Is this ticket 21 years and older only?"
This will require the age entered for each ticket holder to be over 21. The registration purchase path will stop for any age entered under 21.
Custom Questions
Need to collect additional information like which giveaway swag they prefer? Add additional Event Questions to the ticket purchase path by going to Event >> Questions. You can ask questions across all or per ticket type, to ticket purchasers and/or ticketholders, make responses required or optional, and more.
Store Items
You can also add additional items to sell when attendees purchase tickets. To sell additional items to attendees, navigate to Store >> Store Setup. For each item, you can also add variants to make it easy for attendees to select options like size and color. Like adding questions, you have flexible options to sell items per ticket or per purchase, as well as upload images.
Website Customization
TicketSignup automatically creates a website for your event based on the information you enter in the wizard. Every website is mobile and SEO-optimized – no coding required. We make it easy to further customize your website and add additional content like Sponsors, video, and photos!
Cover Page: Add a cover page to feature more images, videos, calls to action, data components, and text.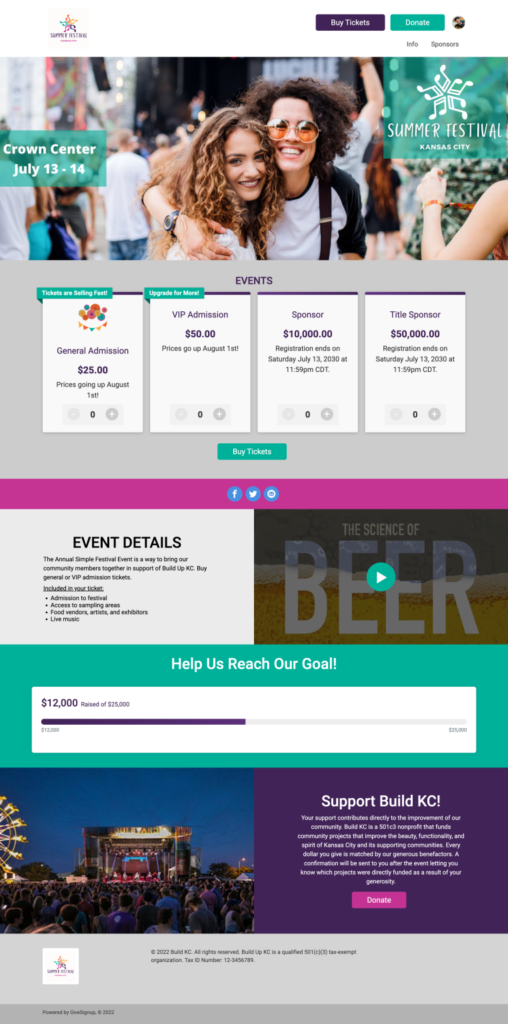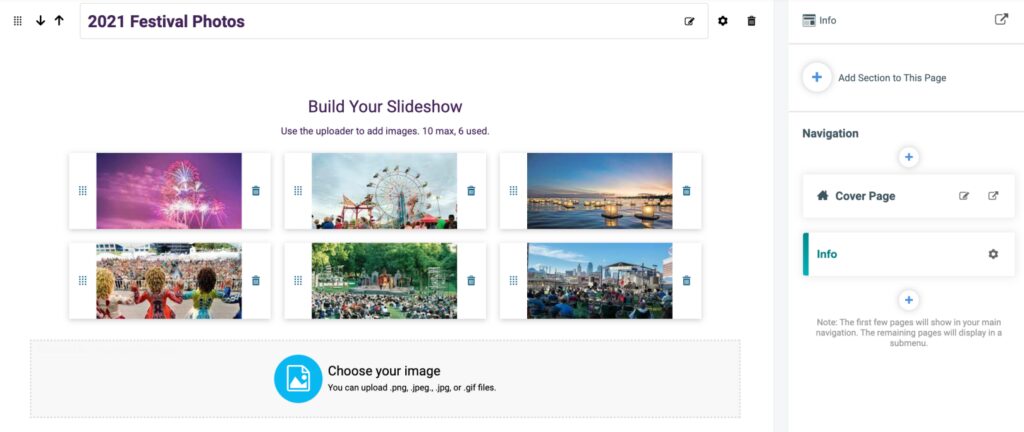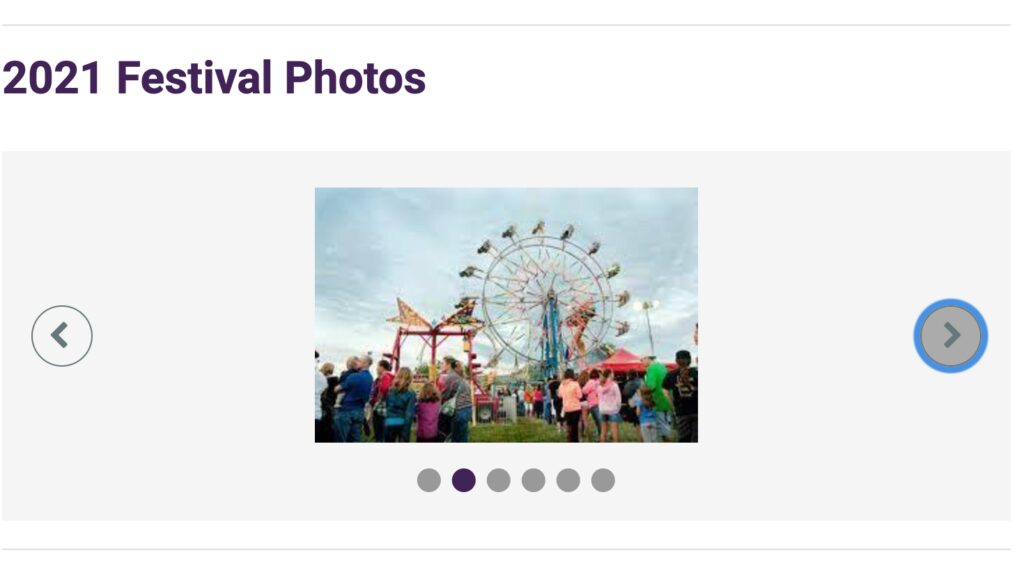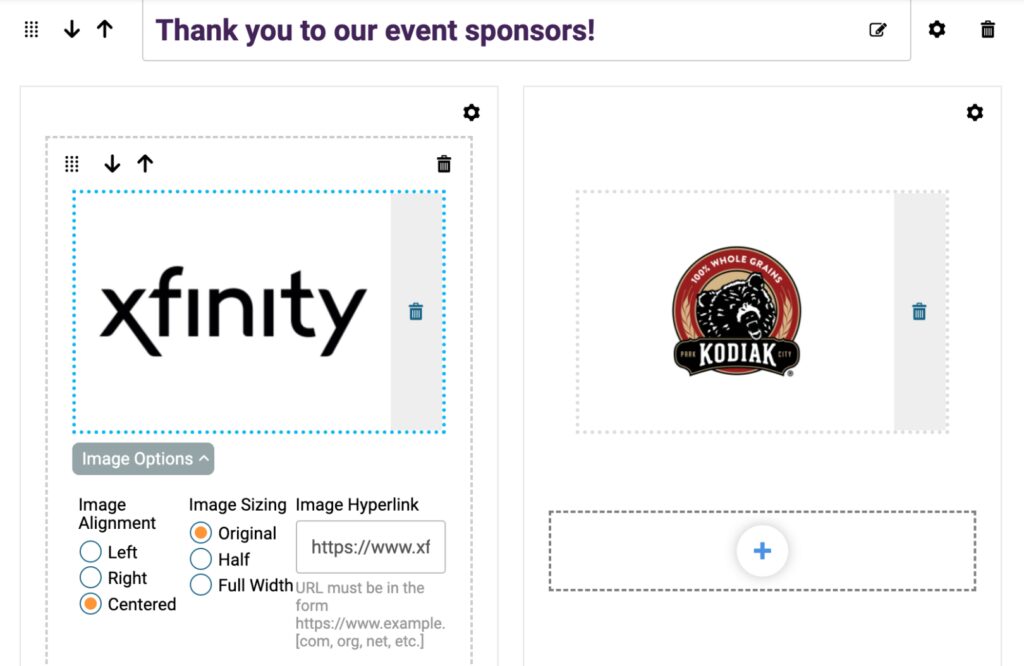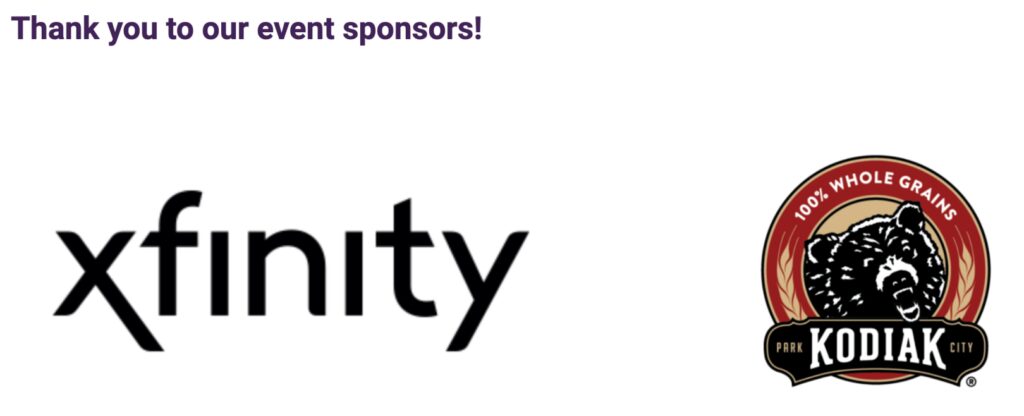 More Key Features
TicketSignup's ticket event platform has hundreds of options to set up and manage your golf event. Some of the other key features used by golf events include:
Ticket Management
You can allow attendees to manage their tickets after their purchase. Right now, we have the options for attendees to resend their confirmation emails and transfer their tickets based on the parameters (i.e. date range, fees, etc.) that you set. We will be adding more options soon, including options for attendees to edit information and question responses!
Donations
You already enabled donations when you created your event, but you can add more customizations like attribution settings, display settings, and recurring donations by going to Donations >> Donations Setup.
Navigate to Tickets >> Caps to set up limits on how many people can sign up. Flexible caps ensure that you control how many attendees are at the event, whether it's overall, per ticket type, or more.
Ticket Display
You can customize the way that tickets appear on your website and in the ticket purchase path, including adding an image, text, and/or a ticket banner. Navigate to Tickets >> Setup and click Display Settings from the dropdown arrow.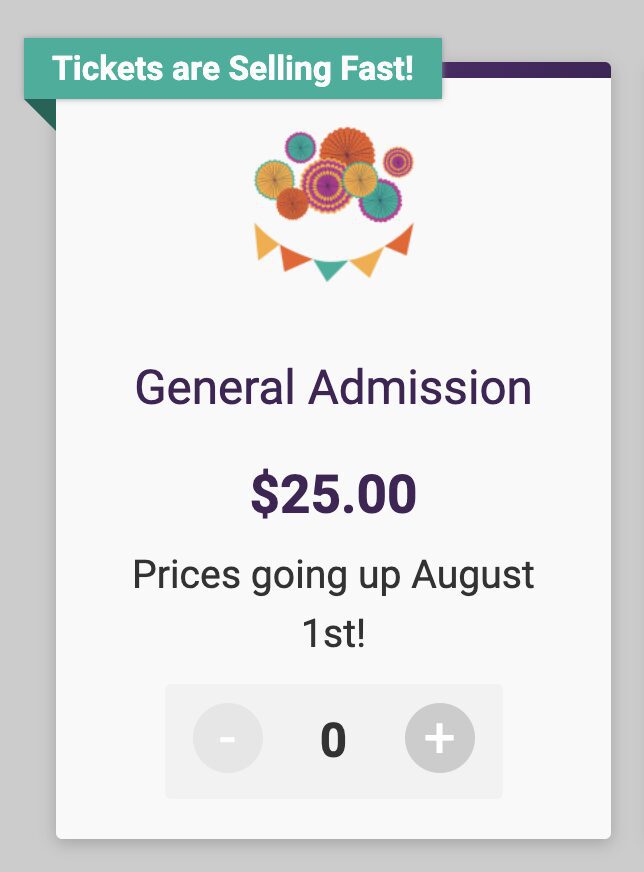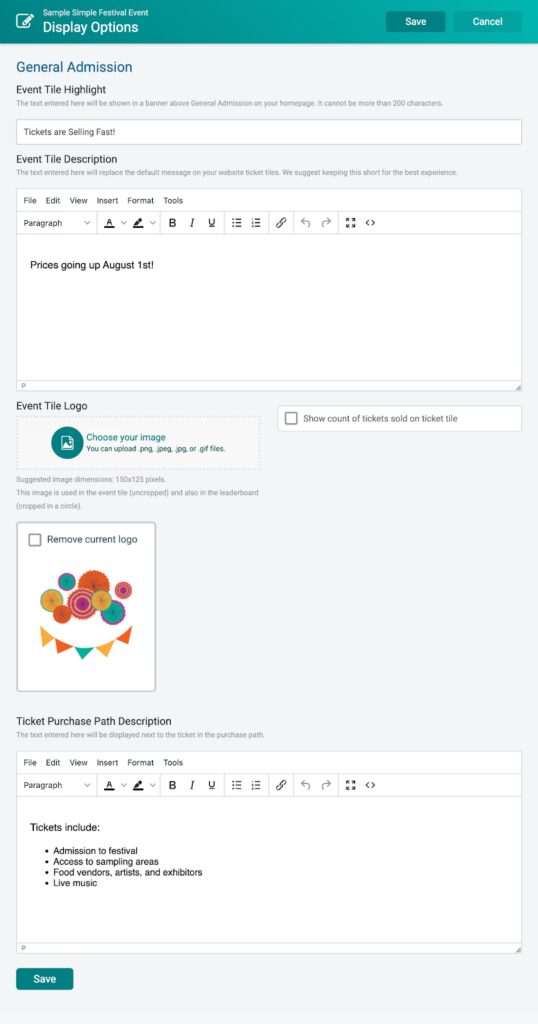 Advanced Festival Event
If your festival event has many ticket options such as tasting sessions or different pricing for general/VIP/member admission, you can use Advanced Tickets. Check out a sample advanced golf event here: https://ticketsignup.io/TicketEvent/SampleAdvancedFestivalEvent. You will still follow the above steps but with several modifications:
Ticket Event Wizard
The first step of the Ticket Event Wizard is the same as setting up a Simple Ticket Event. In the second step of the wizard, you can just set up the overall groups of tickets that you plan to sell. For example, "Friday", "Saturday", and "Sunday" like the example below. Or "Individual" and "Squad Pack" if you plan to offer different pricing tiers for each (i.e. "Member", "Non-Member" or "General", "VIP").
Advanced Tickets
After completing the Wizard, navigate to Tickets >> Advanced Tickets on your dashboard. Advanced Tickets will let you add different ticket options to each group you created in the Wizard. Click Enable Advanced Tickets.
For each Ticket Group click on the dropdown arrow. First Edit Ticket Group to add a name (i.e. "Friday" or "Individual") and then edit Display Settings.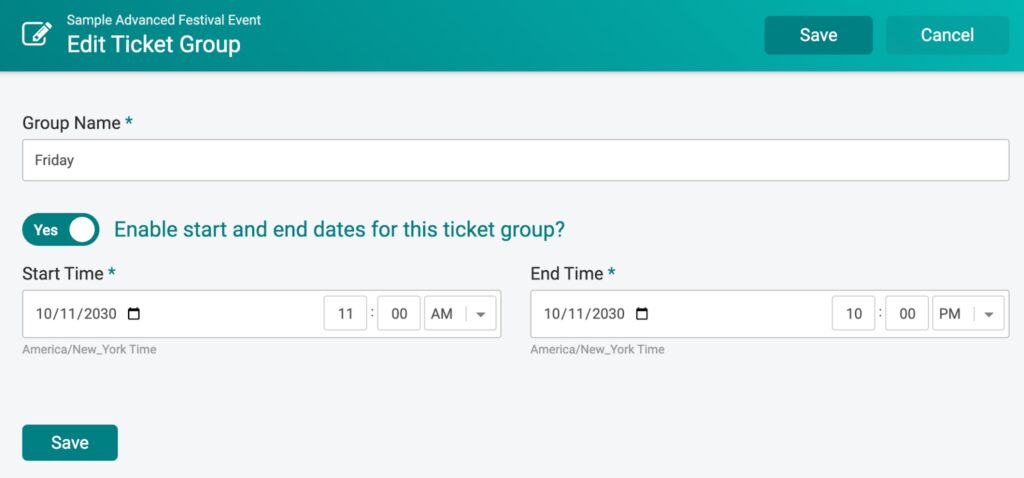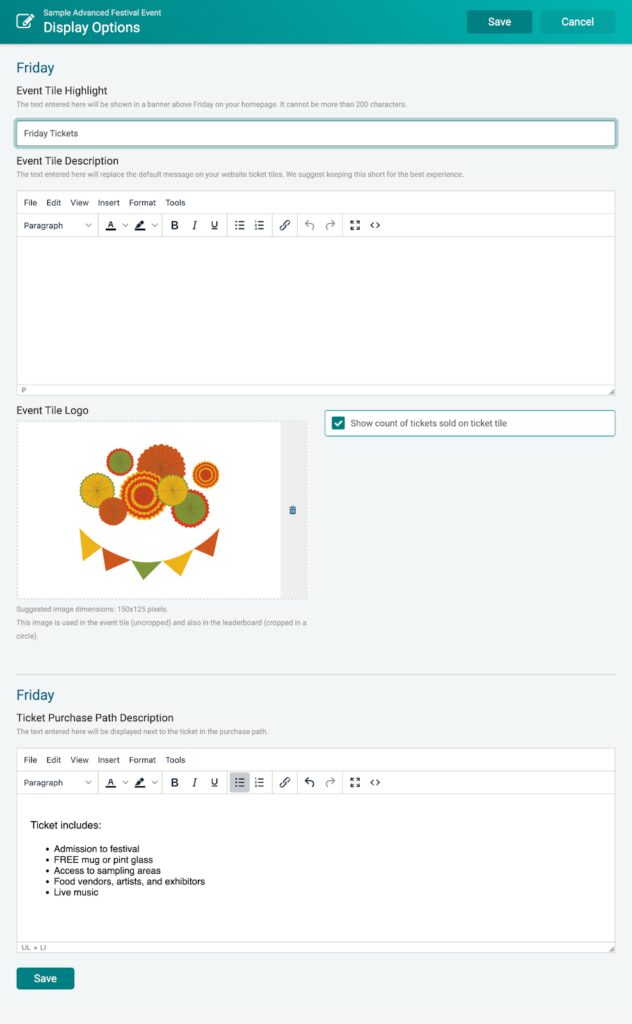 Then add tickets to each group. These tickets can be time slots like the example below, General/VIP options, Member/Non-member options, etc.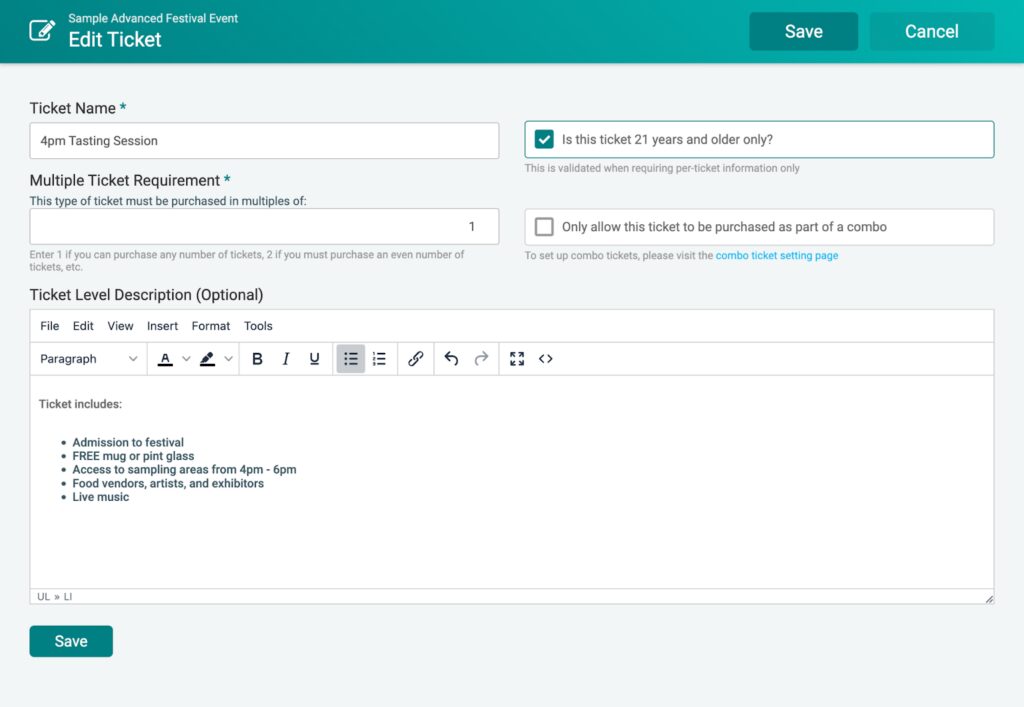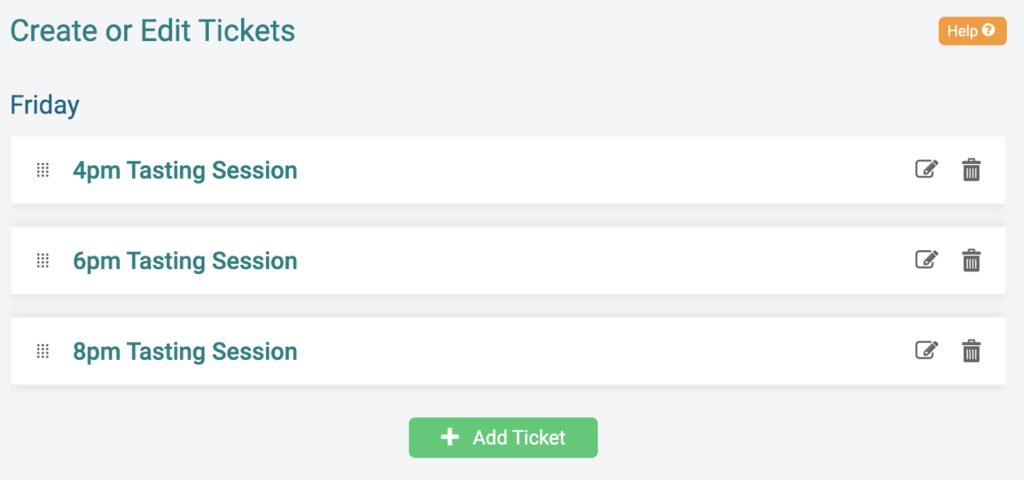 Finally, navigate to Tickets >> Pricing to set up pricing for each option. The pricing periods are automatically the same for each ticket within a group, making it easy to control pricing across all of your options.
This gives your attendees the option to choose a ticket within a group.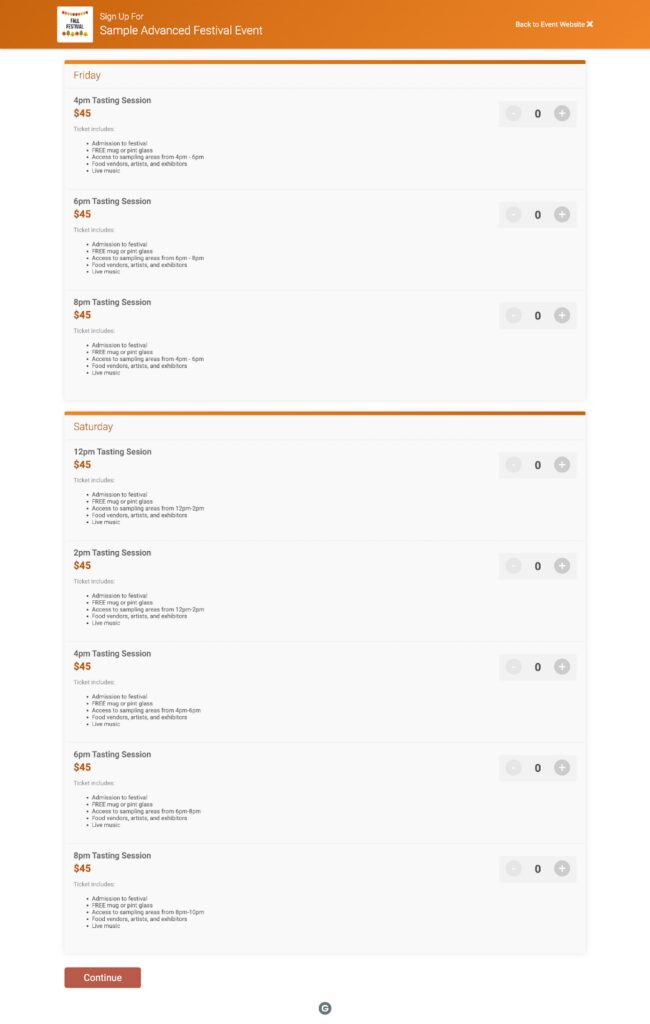 TicketSignup ticketing is designed to meet your needs.
TicketSignup's free platform offers flexible solutions to festival events, from simple to advanced ticketed events. Powerful tools like Website Builder, Email Builder, and Store help to maximize opportunities to sell and raise more at festival events.