Customer Snapshot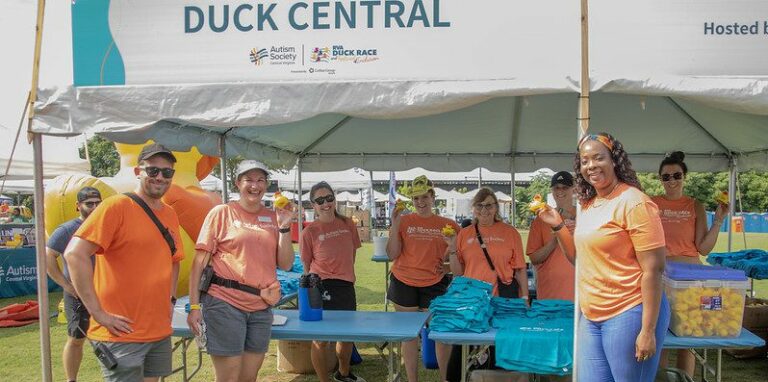 Ducks Sold: 17,000
Amount Raised: $225,000
Location: Richmond, VA
Organized By & Supporting: Autism Society of Central Virginia
About the RVA Duck Race & Festival of Inclusion
The Autism Society of Central Virginia (ASCV) hosted the RVA Duck Race & Festival of Inclusion for the second year, selling out 17,000 ducks and raising $225,000.
The Duck Race was an annual event in Richmond, VA for 20 years. It previously benefitted the Boys and Girls Club of Richmond. ASCV had the opportunity to bring the event back after a ten year pause. They turned it into a successful fundraiser that draws crowds to purchase and cheer on the ducks.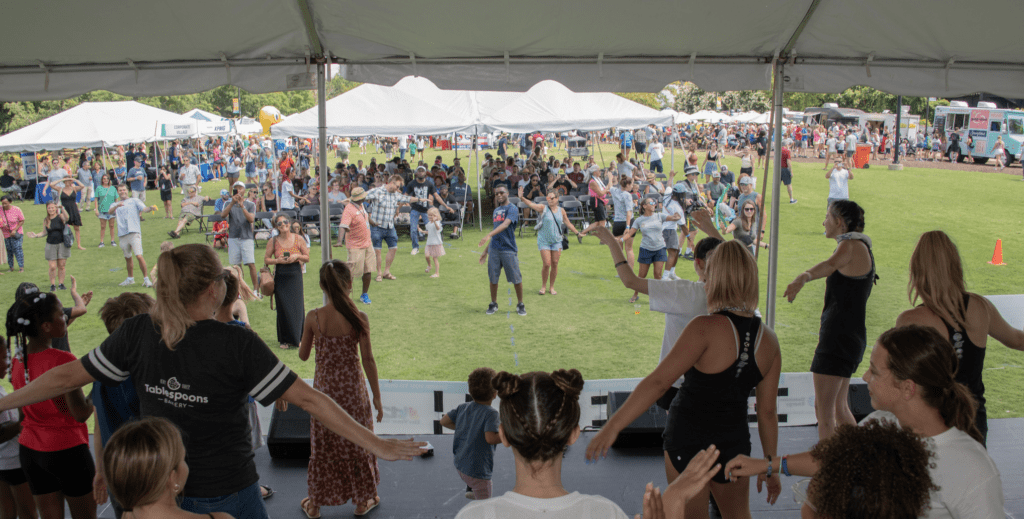 In addition to the Duck Race, there is the sensory-friendly Festival of Inclusion designed to accommodate individuals with autism and other developmental disabilities. The festival honors the local Richmond autism community and highlights the works that ASCV and other local organizations do to make Richmond an inclusive city. There were over 50 vendors, as well as music, food, and more.
Using TicketSignup to Sell Out 17,000 Ducks
ASCV already uses RunSignup for their annual peer-to-peer fundraising event, the ASCV 5K & Family Fun Day. They decided to set up the Duck Race on TicketSignup after using Auctria last year. There were two primary problems that TicketSignup solved:
1. Purchasing ducks
Last year, people were confused when purchasing ducks online. The way the duck entries were sold triggered "guest tickets," and many guests were confused about how to assign tickets, and if they needed to provide information for each ticket. ASCV had to answer a lot of questions and a confusing purchase path slows down duck sales.
TicketSignup made the purchase path easy. Custom tile display options let ASCV clearly communicate different options, eliminating customer support questions. ASCV then used TicketSignup to assign entries based on the option purchased. Each entry was sequentially assigned a number from 1 to 17,000 (the number of available ducks). Purchasers received their duck numbers in their confirmation emails.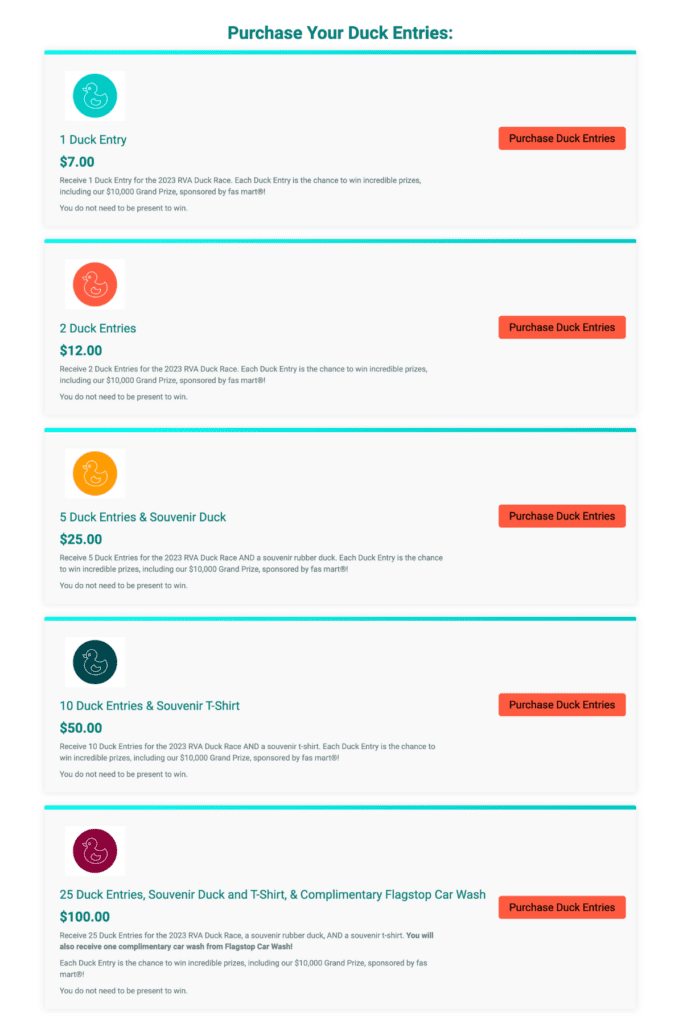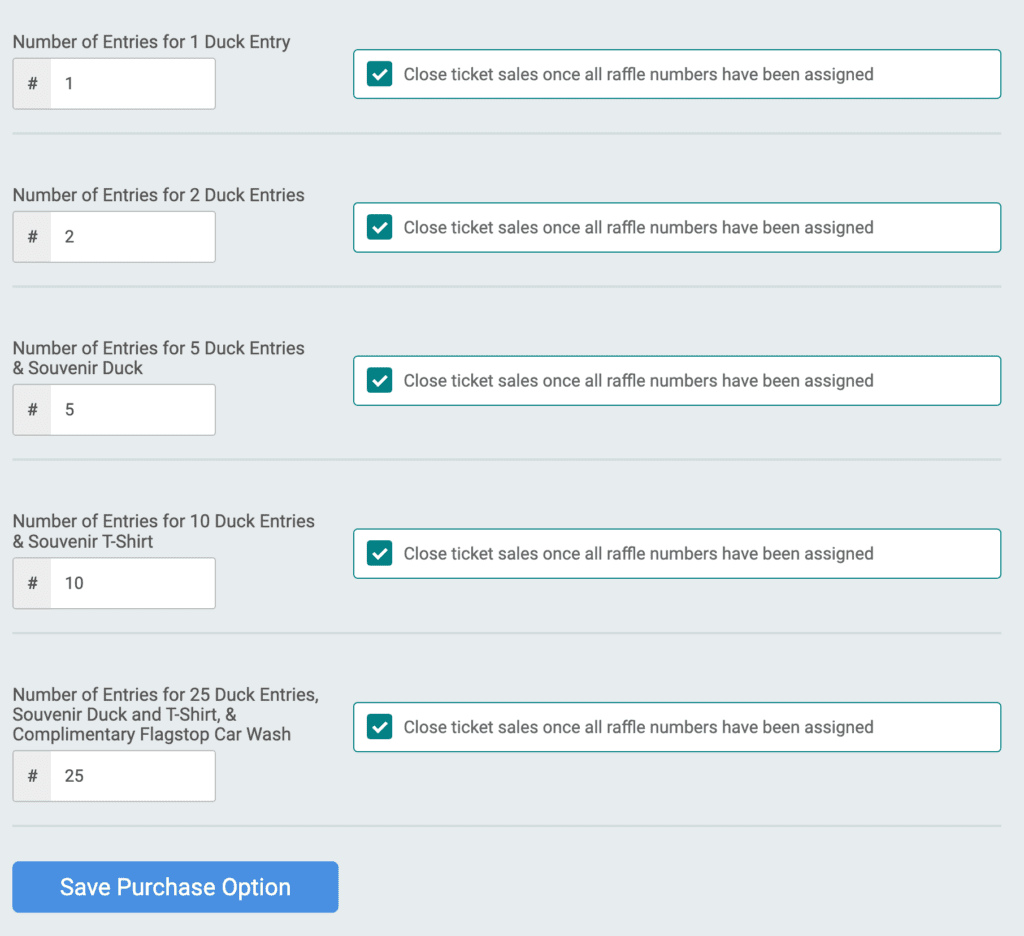 2. Distributing Souvenir Ducks & Shirts
""The Ticket App absolutely streamlined everything."
TicketSignup's free mobile CheckIn App made the event run smoothly. While there is no formal check-in process for the event, people who purchased packages that include a souvenir duck and/or shirt need to pick up their items on site. Without an app, they had to search the back end of the Auctria website to figure out what people bought. Limited internet connectivity and a more involved search and check-in process in the software made this more challenging.
This year, volunteers used the Ticket App to find purchases, confirm which items were bought, and mark as fulfilled. Kathleen Petroziello, Events and Operations Director at ASCV, said the Ticket App is their team's favorite TicketSignup feature. Since the Ticket App works offline, volunteers had no trouble accessing purchase information this year.
Obtaining a Gaming License
"It is a lot of hoops to jump through, but the state wants to make sure that not just anyone hosts a raffle pretending it's for a good cause."
Duck Races require a gaming license, and rules vary state by state. Kathleen provided a run down of some of the requirements to obtain a gaming license for the Duck Race:
Background checks on key officers
Organization information
501c3 tax exempt status and federal tax returns
Description of the charitable gaming activities, time, date, location, and leases
House Rules or Rules of Play
Ticket sales information and process
Equipment Used
Use of Proceeds information to show where the funds will go
Sample raffle tickets to conform to requirements of Charitable Gaming Regulations
Raffle Narrative and Description
Post-event requirements, including quarterly financial reports and an annual audit, as well as retaining the winners' information and ducks for 3 years
Kathleen worked with TicketSignup Senior Account Manager, Elisabeth DellaRova, to submit parts of the application. TicketSignup specifically helped the RVA Duck Race with the sequential assignment of numbers for each duck purchased (a state requirement). Additionally, TicketSignup's automated confirmation emails for both the purchaser and the event were customized to meet gaming license requirements for what information needed to be on the receipts.
Next year, ASCV will also be able to ask for donations when people buy tickets. The gaming license has strict rules that prevent commingling of funds from a raffle and other donations and sales. However, TicketSignup allows separate payment accounts for ticket sales and donations so that funds are kept separate and ASCV can leverage a single platform to sell ducks and ask for donations.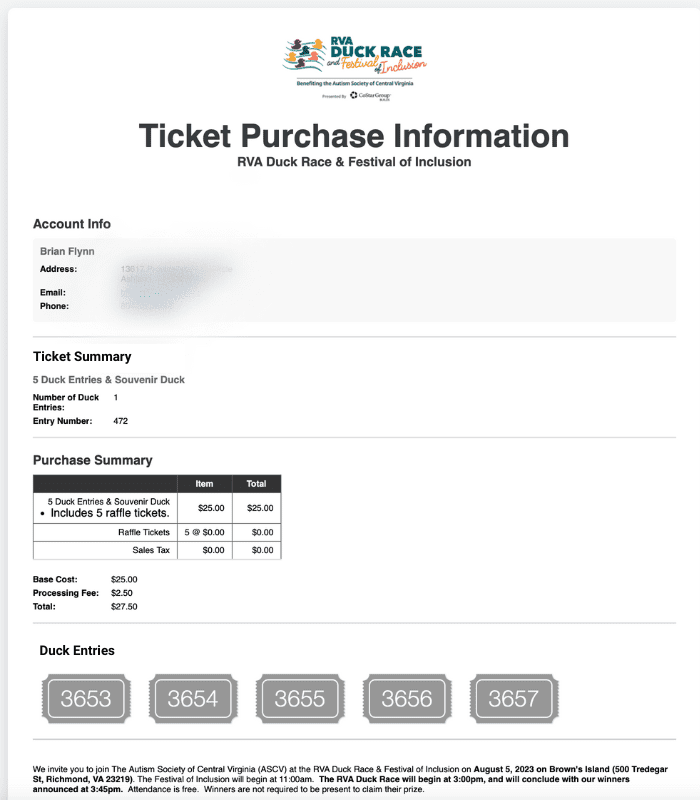 The RVA Duck Race Website
The Duck Race website is hosted on TicketSignup: https://rvaduckrace.org/. In addition to redirecting a domain to a TicketSignup website, events can also add a domain or custom domain for free so that attendees and website visitors never see TicketSignup's brand.
ASCV used many of TicketSignup's free website features to build out a complete event website that went beyond selling tickets:
Content, images, and video featured throughout
Branding that matches ASCV's main website, as well as all of their touch points with supporters.
Sponsor logos, with the ability to group and order by level. Also options to add hyperlinks to go to the sponsor sites.

The RVA Duck Race and Festival of Inclusion is a major event for ASCV and the greater Richmond community. We can't wait for next year when they add even more ducks; they will be aiming to sell and drop 19,000!