The YMCA is one of the nation's leading nonprofits strengthening communities through youth development, healthy living, and social responsibility. More than 100 YMCA across the country use technology from TicketSignup and RunSignup to host events and engage their members and broader communities.
We wrote about how YMCA Turkey Trots raised more than $2.4 Million in 2021 using the RunSignup registration platform. Our free and purpose-built solutions for registration (RunSignup) and ticket event (TicketSignup) help all types of YMCA events beyond Thanksgiving weekend. This case study highlights some of the creative events YMCA organizations are currently hosting on our platforms.
---
YMCA Ticket Events on TicketSignup
These creative events utilized TicketSignup's purpose-built platform for easy ticket sales.
The YMCA of Metuchen, Woodbridge & South Amboy is hosting a virtual wine tasting with a wine connoisseur and flexible wine package and sponsorship offerings. Wine tasting packages include bottles of wine and a surprise gift.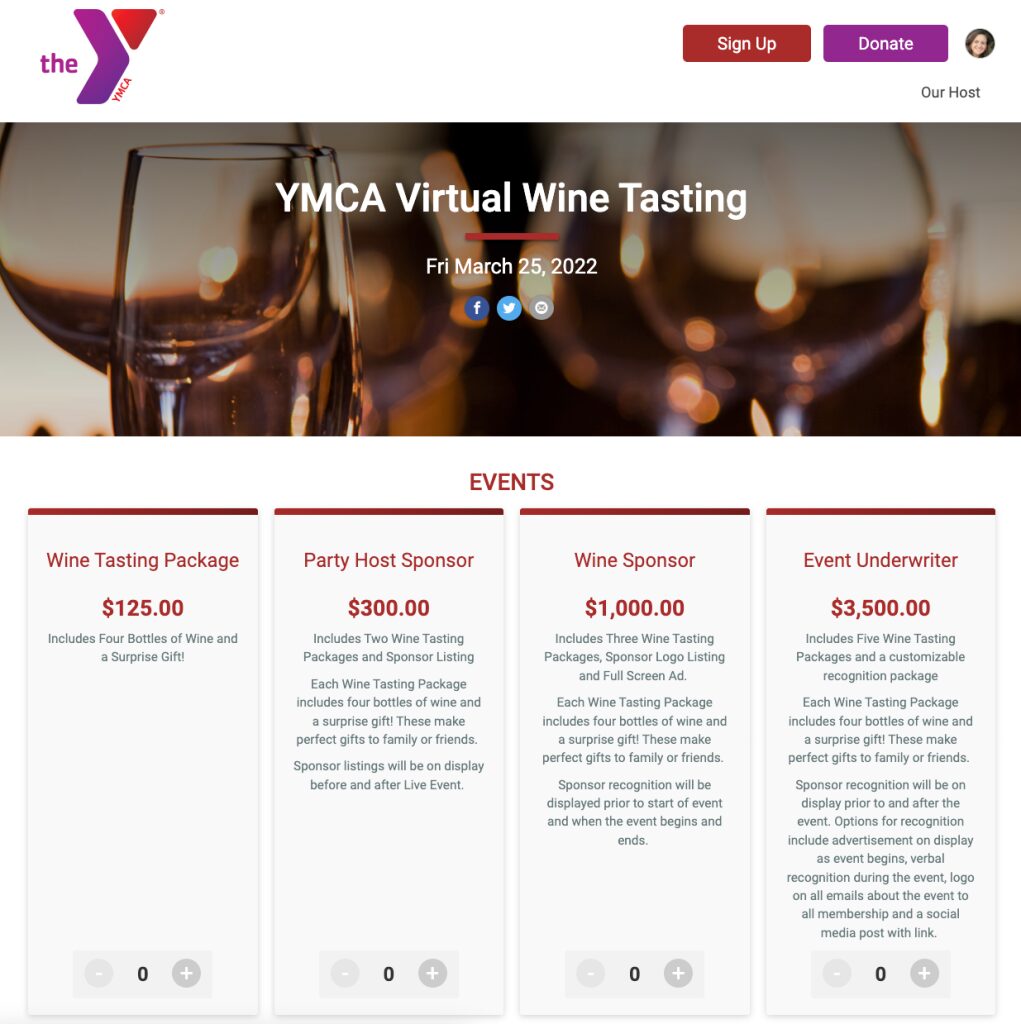 Rather than shipping wine packages, which can be complex due to laws and regulations, the YMCA of MEWSA will have attendees pick up their packages of one of their three YMCA locations. They use questions to ask attendees which location they plan to pick up so they can ensure the correct number of packages are at each location:

TicketSignup helps organizations like the YMCA of MEWSA that host wine tastings, beer festivals, and other events that are only open to attendees over 21. You can specify that tickets are only available for 21+ attendees. When age is required for each ticket purchased, the system will only allow attendees to proceed with their purchase if they are 21 or older.
Of course, if your organization is hosting an event with alcohol, you are ultimately responsible for checking ID's at the event

---
The YMCA of Greater Michiana will host a combined gala and voting fundraiser on TicketSignup this year. Their voting competition uses TicketSignup's new Voting Contest features and engages both in-person gala attendees as well as people who can't make the event but still want to vote! Supporters can cast their vote for greatest chef. Each vote costs $50.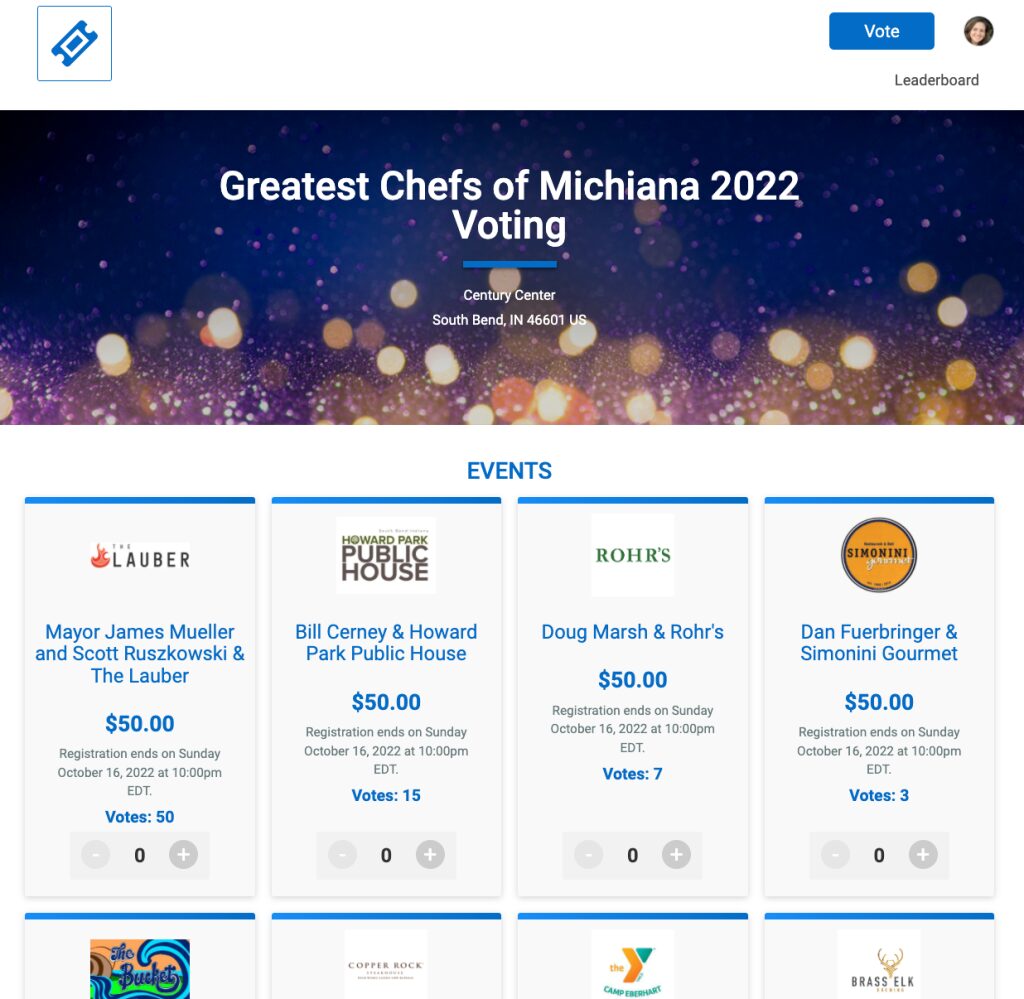 Each "ticket" is fully customizable. You can show the total count of votes on the website, as well as add an image and custom description for how each option displays on the website and in the ticket purchase path.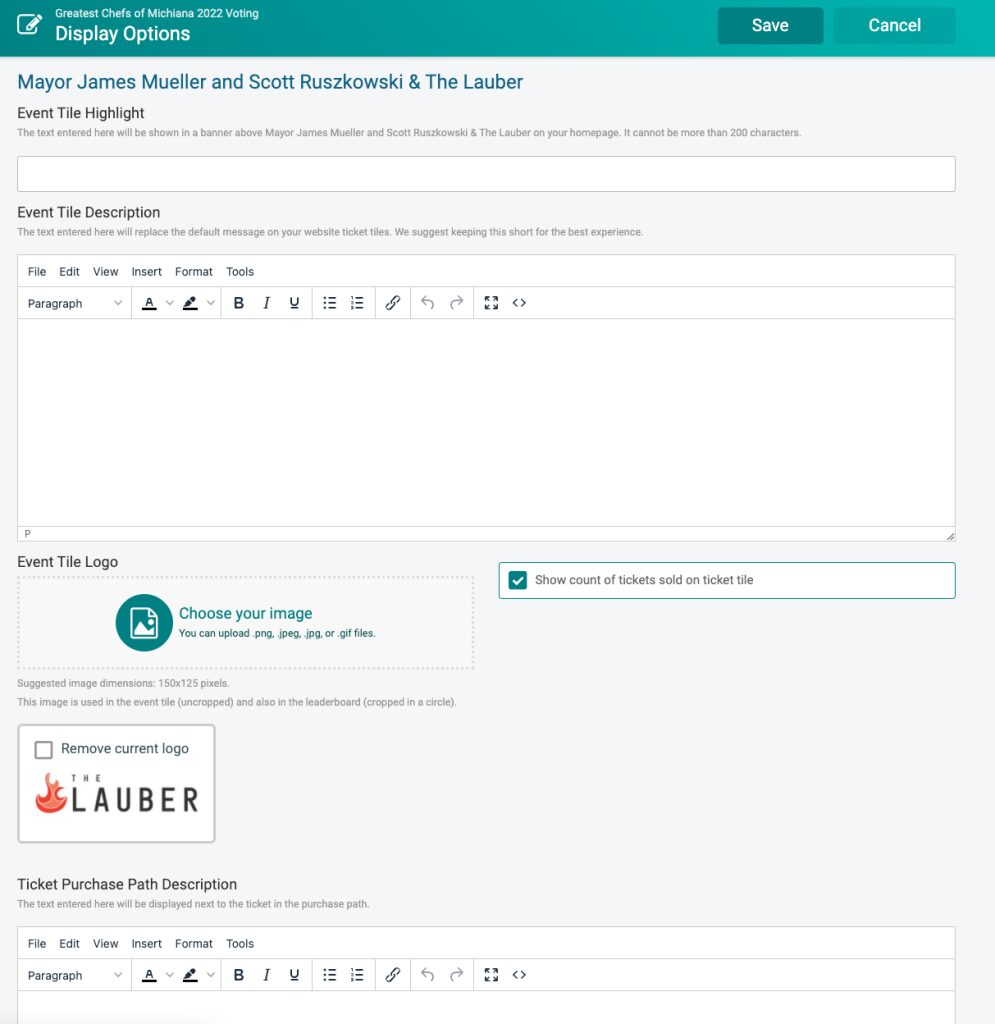 The number of votes shows on each option's tile. There is also a dynamic leaderboard that can be added to the website to show total vote count.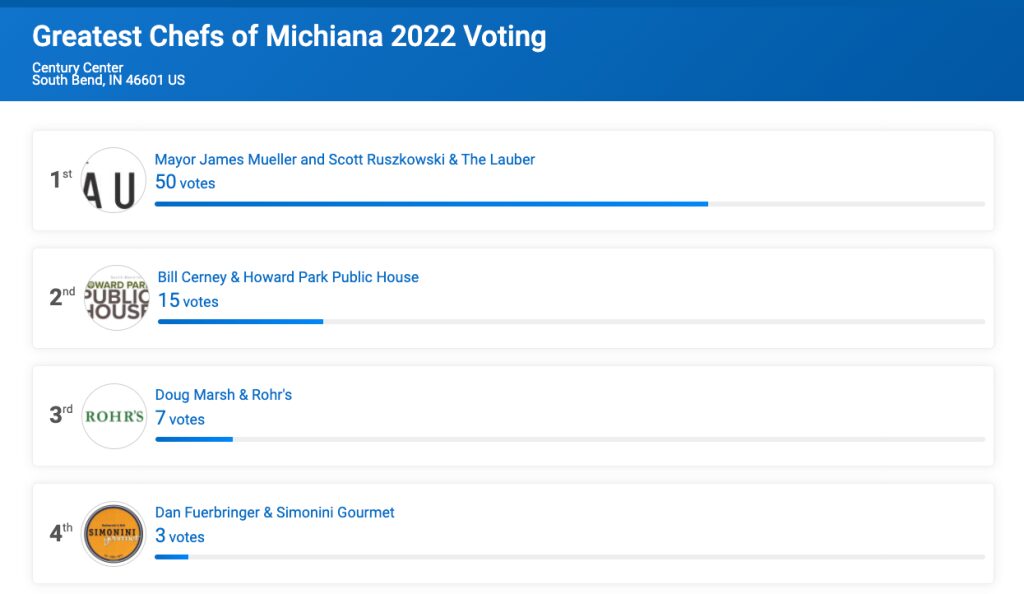 ---
The YMCA Camp of Maine hosts a Fall Harvest Breakfast with an all-you-can-eat breakfast, fall arts & crafts, photo opportunities with changing leaves, and more! In 2021 they used TicketSignup's Ticket Event time slot capability to allow attendees to pick a time when they would get breakfast, ensuring that the event would be safe and socially distanced.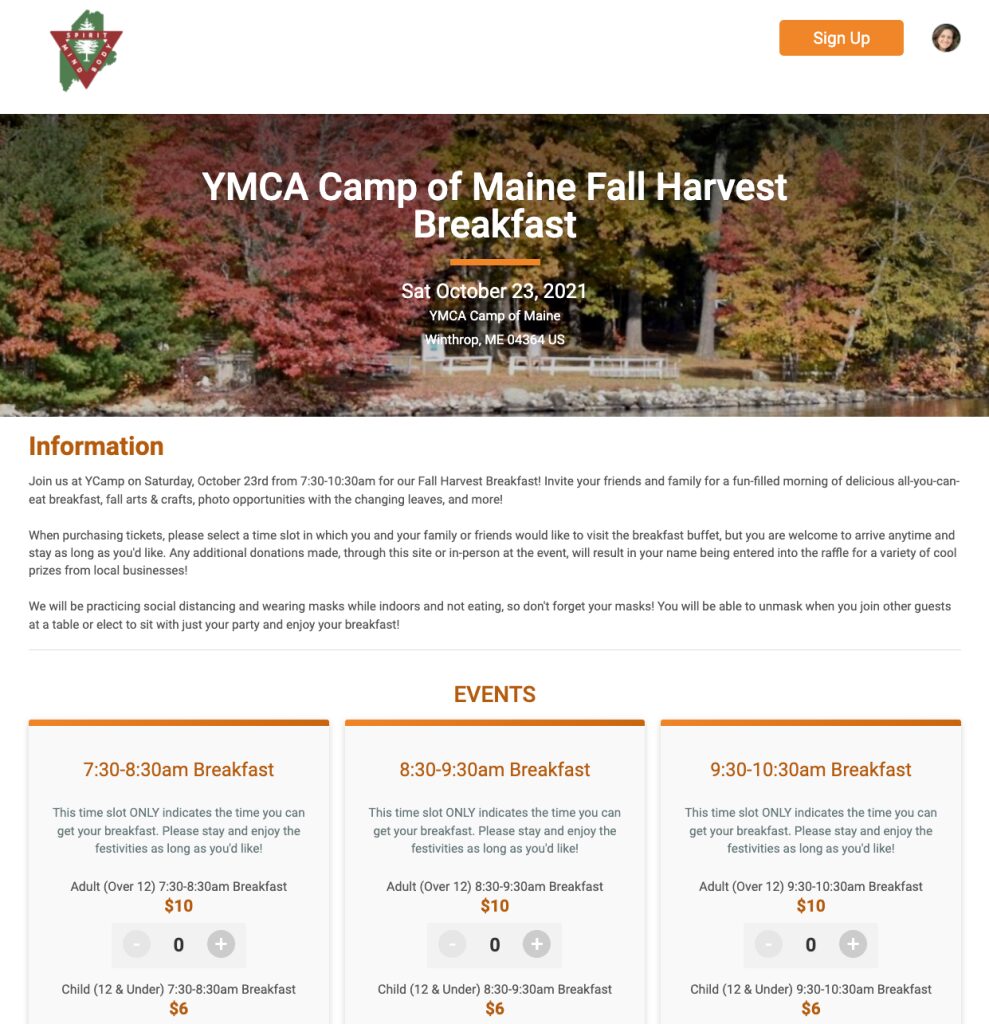 Each time has options for Adult and Child pricing, making it easy for families to sign up together, as well as caps to limit the total number of tickets sold per time slot.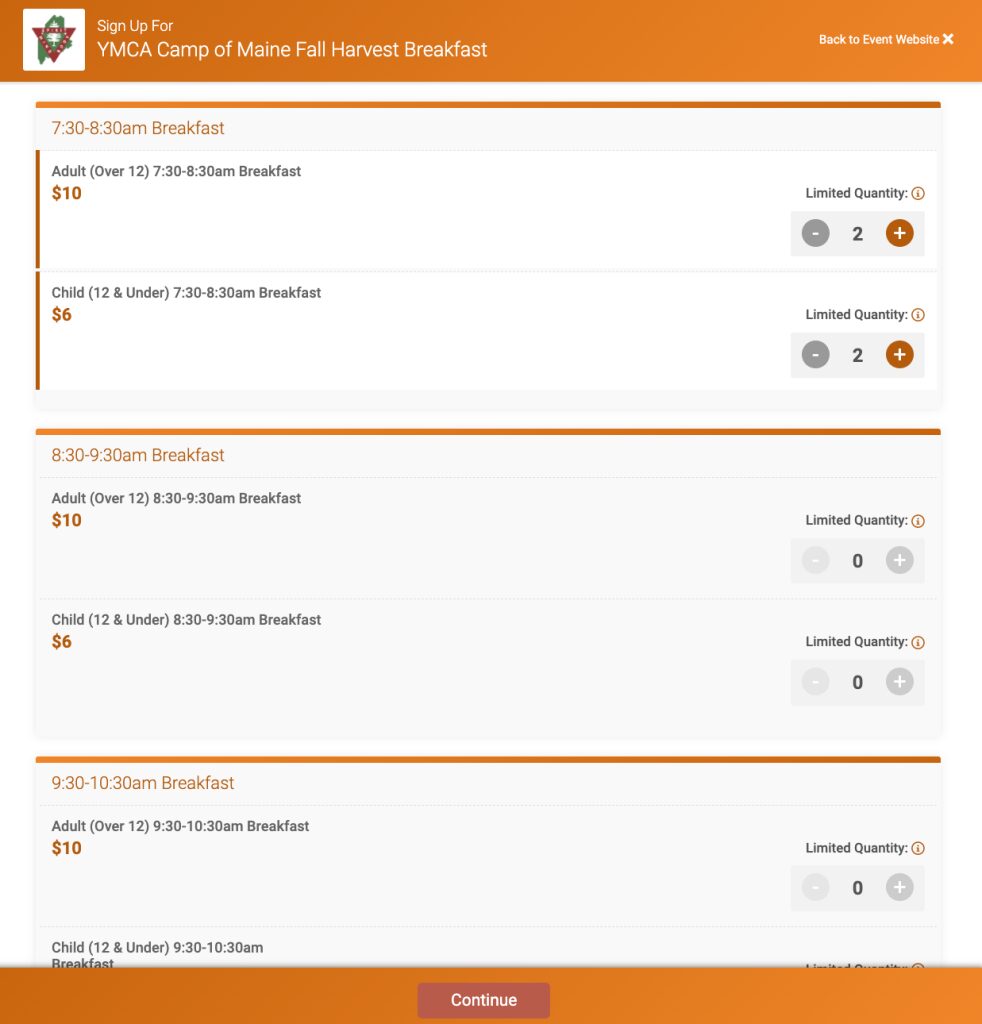 ---
YMCA Registration Events on RunSignup
These creative events utilized RunSignup's purpose-built platform for easy registration. Because the two platforms are connected, the data for events can choose the best solution for their event (registration events or ticket events) while keeping all data accessible within a single source.
The Treasure Valley Family YMCA hosts the uniquely themed Famous Idaho Potato Marathon & Fun Runs. There are participation options for everyone in terms of distance as well as location with both in-person and virtual options available for each option. The Virtual Marathon is a challenge, giving participants 20 days to complete the 26.22 miles.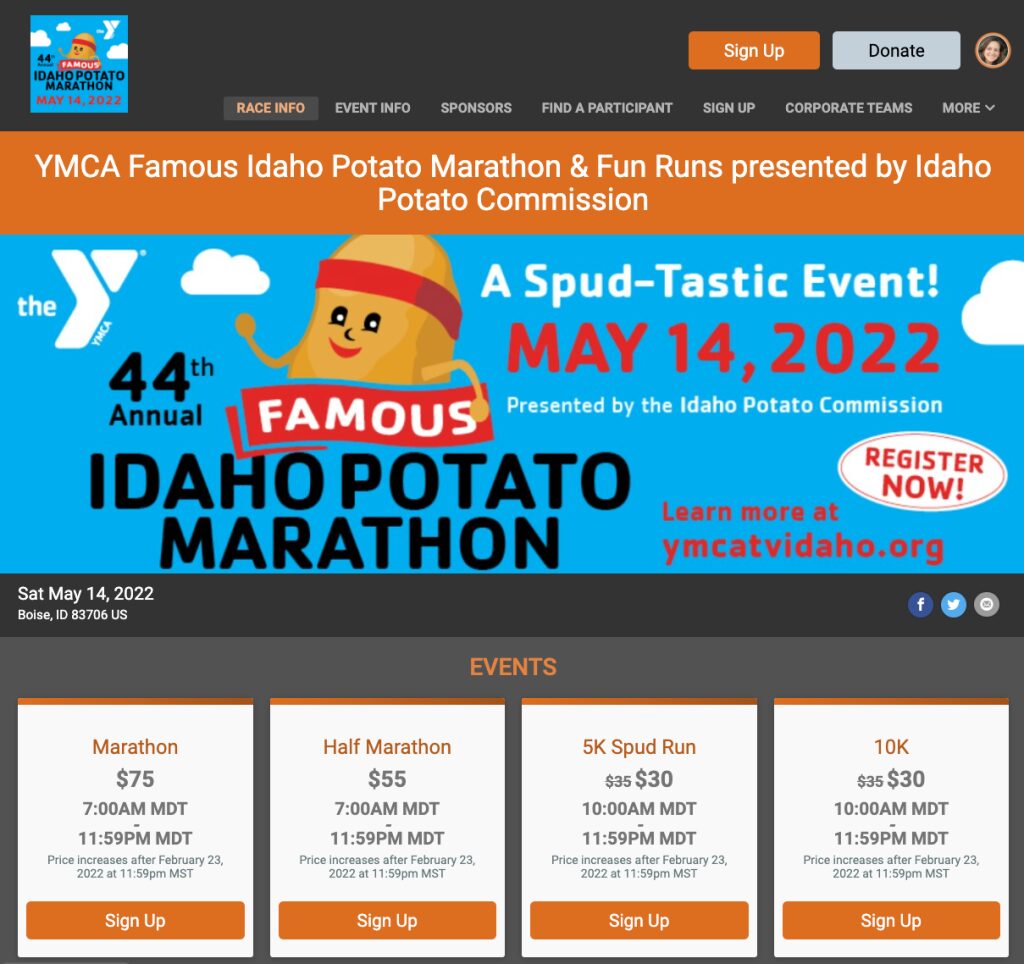 Teams make events more fun. Runsignup's registration platform makes it easy for participants to create and join teams. Each team has its own page, as seen in the image below for Team Idahomies, with additional information available for Team Captains. For example, your event can choose to show team captains shirt size for each member so that they can easily coordinate team shirts for the event. Teams can allow anyone to join or limit who can join with a password.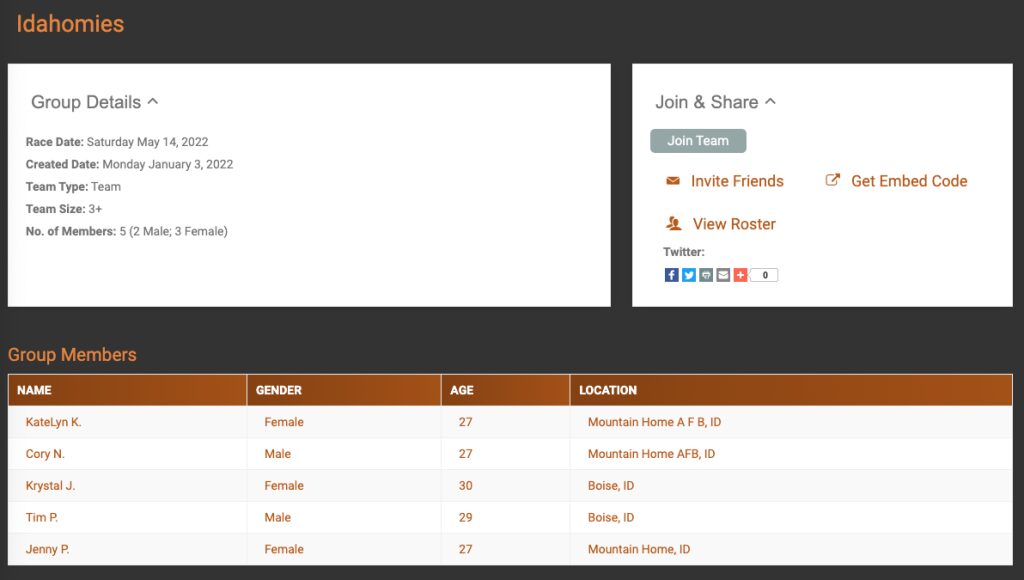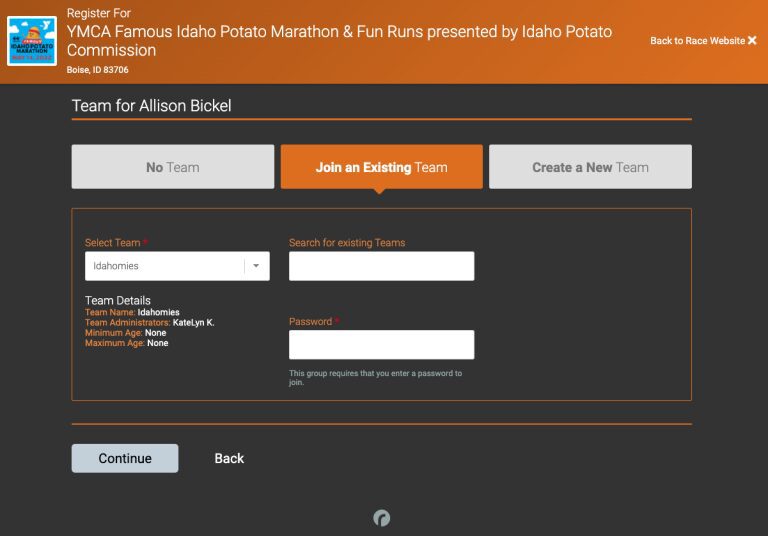 Integrated donations make it easy for participants to donate when they sign up. Although the run isn't until May, the Treasure Family YMCA has already surpassed their $1,000 donation goal because it is so simple for supporters to donate! RunSignup makes it easy to update donation goals so that our customers can continue to raise even more.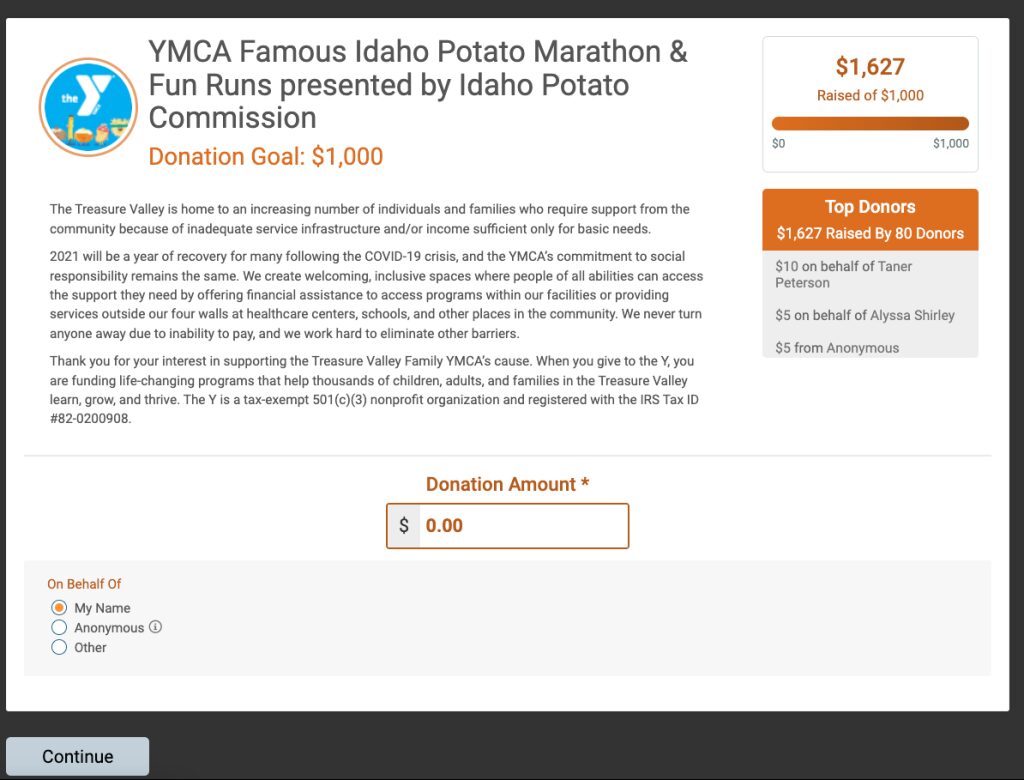 ---
The YMCA of Metro North hosts 4 5K events throughout the year. Participants in the four unique 5k races run or walk to support the YMCA of Metro North Annual Fund and raise money to provide access to YMCA child care, camp, and health and wellness programs for everyone. In 2021, the YMCA of Metro North provided more than one million dollars in financial aid providing all children, adults and families with opportunities to develop a healthy spirit, mind and body regardless of income.
Each event has its own website with options to sign up for one 5k or all 4 5Ks. When signing up for all 4 events, a discount is automatically applied.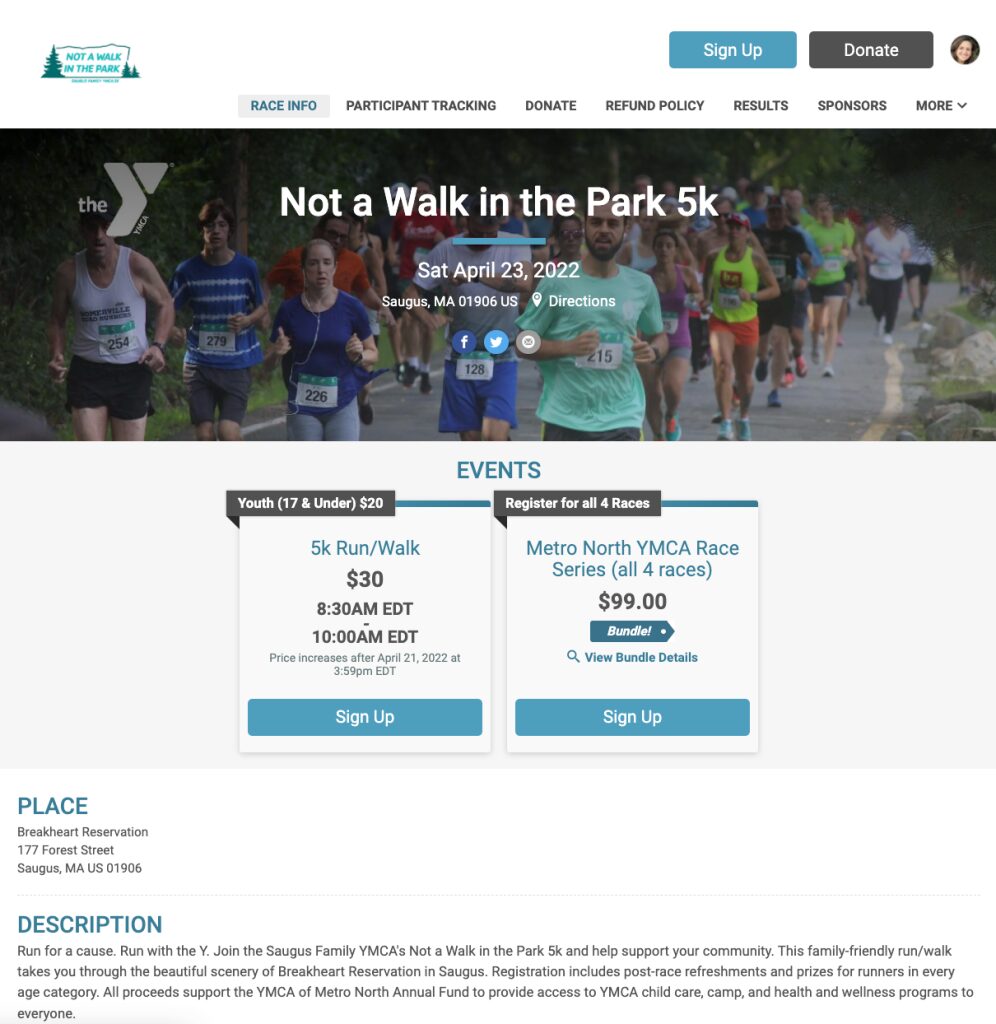 The bundle makes it simple to automatically register participants for all 4 events. Participant information is automatically populated for each event.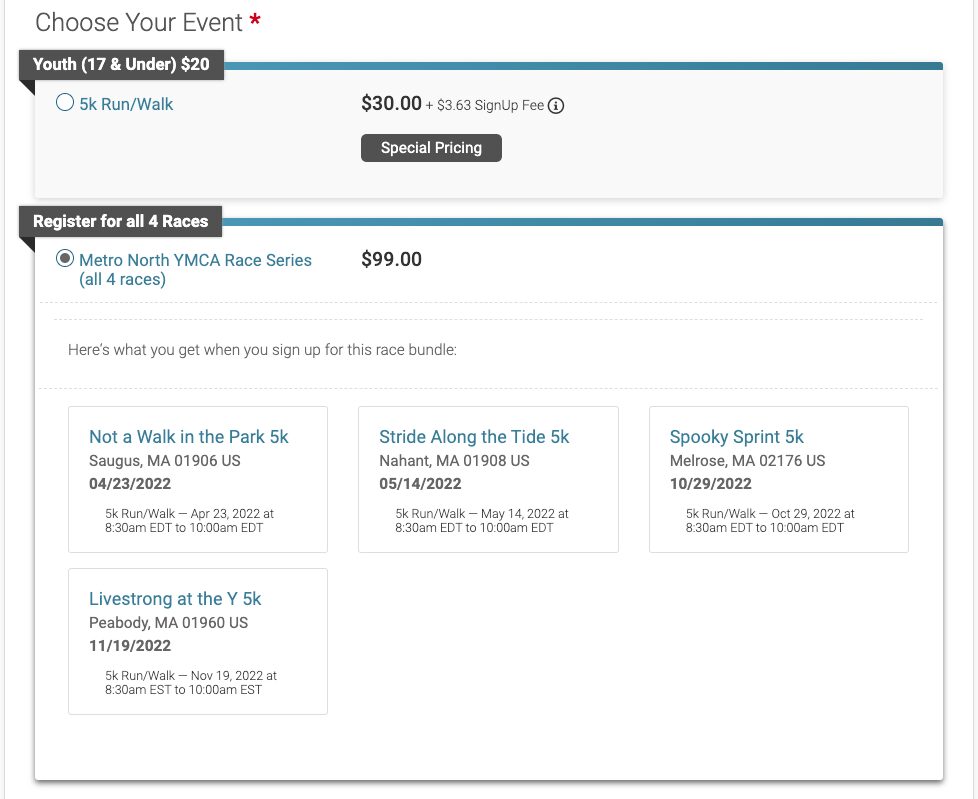 Participants are also able to select swag and answer questions for all events. For example, series participants are able to get a shirt for each event. Again, the t-shirt data will show in each event's reporting so that fulfillment and EventDay go smoothly!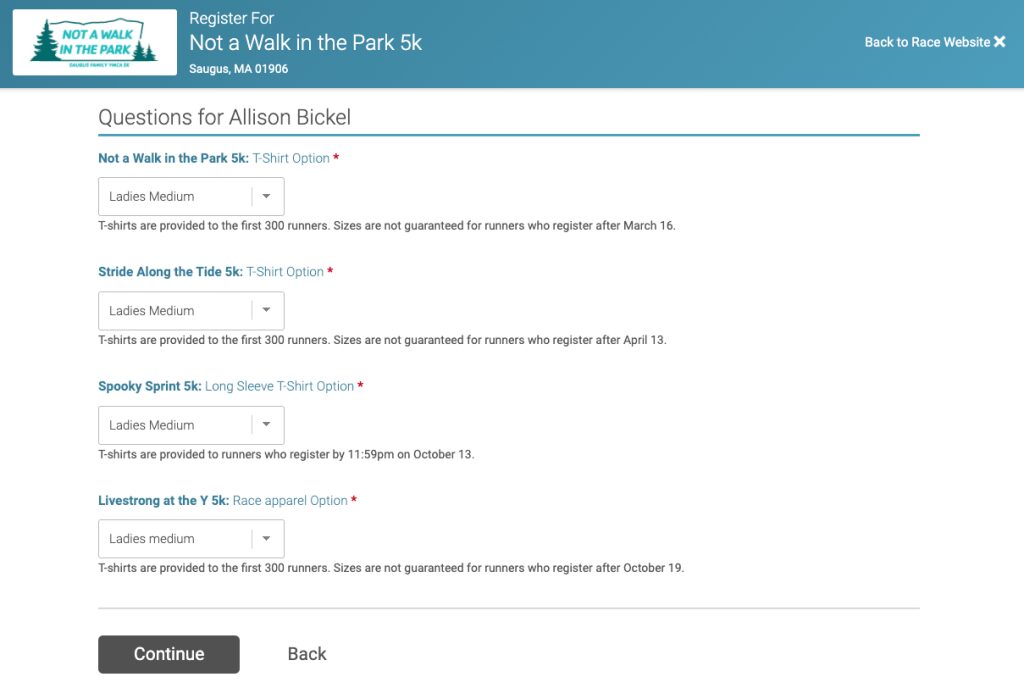 ---
Summary
Combining the powerful capabilities of TicketSignup's Ticket Events and RunSignup's Registration events allows YMCA's to access the best solution for each type of event, all from within a single, shared hub. Whatever your YMCA's event needs, we have a product for you.