Sip & Savor is being held on April 27, 2022 at Park 31 in Spring Branch, Texas. It is a tasting event with entertainment and local vendors put on by Kendall County Women's Shelter as one of their annual fundraising events. KCWS is an emergency shelter in Boerne, Texas that provides housing, food, and other support services for domestic violence victims and their children in the Texas Hill Country. This is their first year using TicketSignup's ticket platform for Sip & Savor.
Sip & Savor used TicketSignup's free website features to build a beautiful website featuring their event sponsors, with information both about their organization and the event itself. In addition, the Sip & Savor sponsorships were listed for sale on the site in addition to the event tickets, making it an all-in-one website for sponsorships, ticket sales, and donations to KCWS.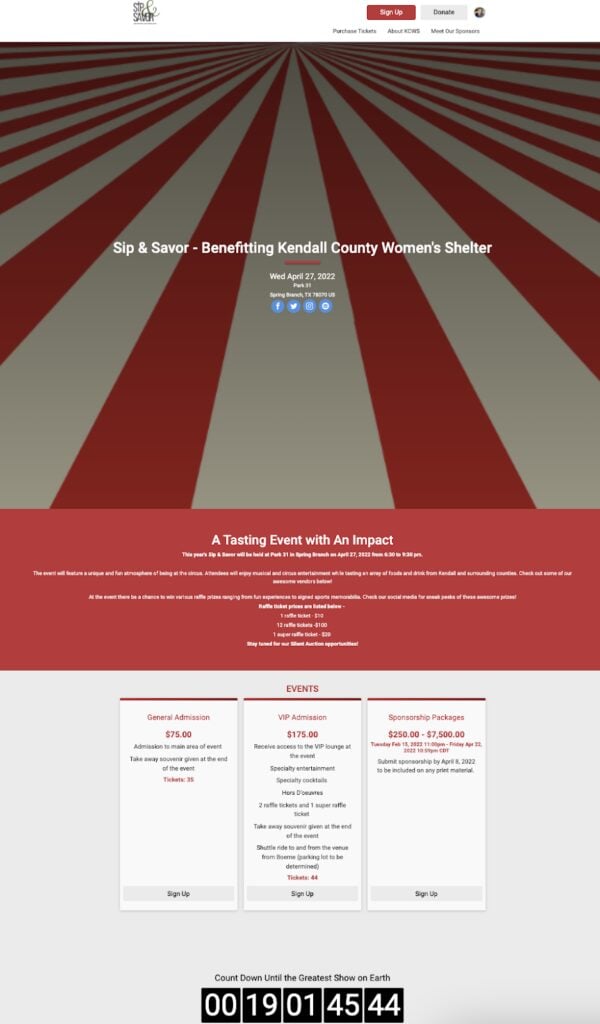 Using Tickets to Sell Sponsorships
It's easy for events like Sip & Savor to take advantage of the simple ticket purchase process to sell sponsorships in addition to event tickets. This has several benefits, including displaying sponsorship information on the same website as ticket sales, using custom questions to collect additional information about sponsors, and using TicketSignup's reports to track sponsorship payments and reports.
Sip & Savor's event sponsorships range in price from $250 to $7000. They used TicketSignup to list all of them on the event page for purchase by setting them up as tickets in a ticket group called Sponsorships. Sponsors were able to see information about what was included in each package and pay for their sponsorship all in one place. Sip & Savor also used ticket caps to limit the number of each sponsorship that was available.
Sip & Savor could sort their reports on the ticket type for each sponsorship in order to see what had been sold so far.
They also used ticket imports to enter any offline or in-kind sponsorship payments.
Ticket Display Options
Sip & Savor used Ticket Display Options to configure the way that each of their ticket options showed on the page.
They had two ticket types for the event tickets, General Admission and VIP, at different price points. They set up a ticket group for each of these. Using the Display Options on the ticket group, they added the details about each ticket to the ticket tile on their website, as well as the purchase path: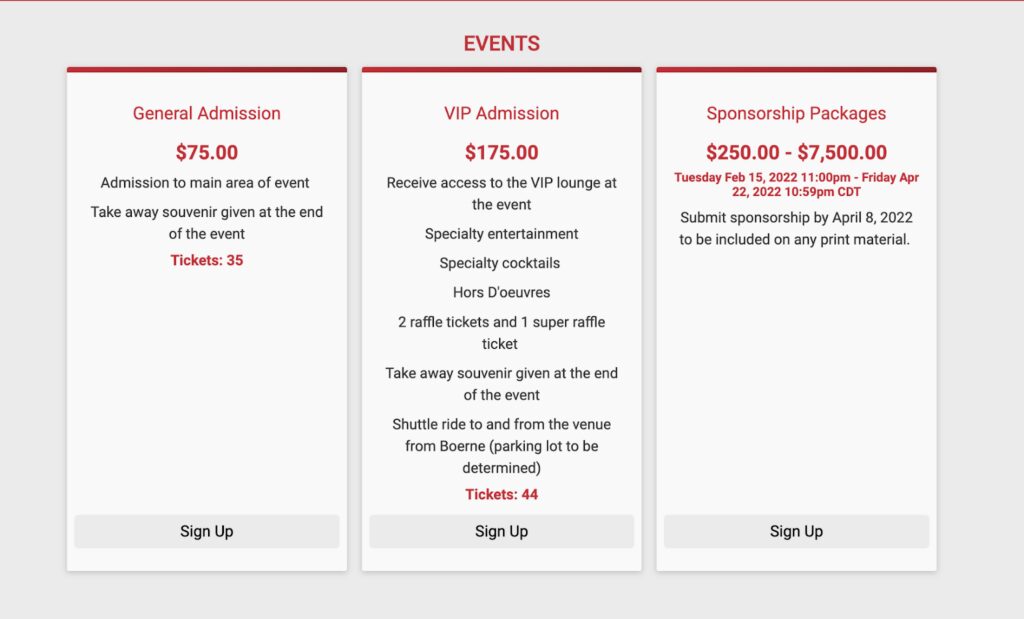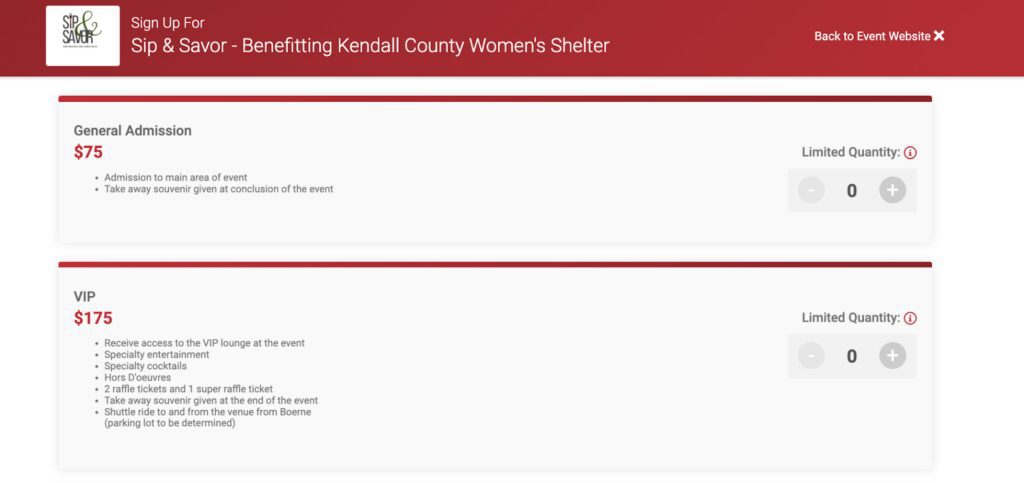 Adding this information to the ticket tiles helped with the upsell from the General Admission ticket to the VIP ticket, because it allowed Sip & Savor to describe the additional benefits of attending as a VIP.
Since Sip & Savor also used the TicketSignup ticket website to advertise and sell their sponsorships, they used the same feature to highlight exactly what was included in each sponsorship package.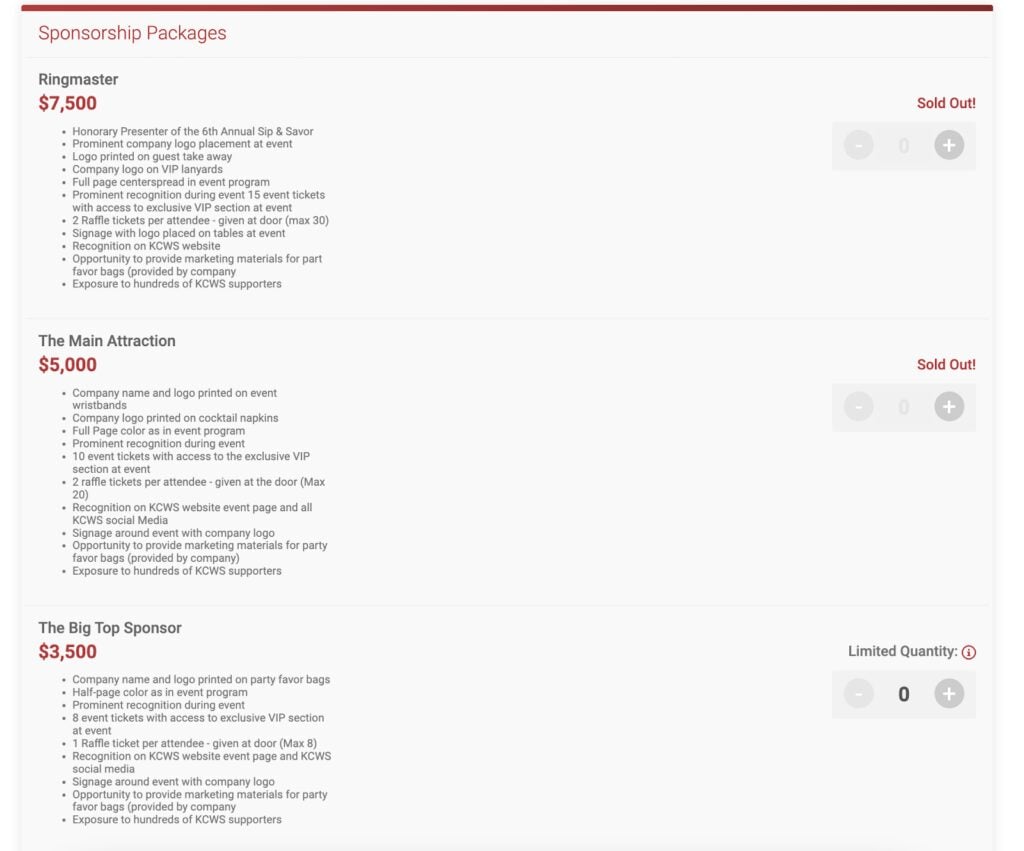 All-in-One Website
Sip & Savor used the cover page and website builder to build a full event website for their event. Their event has a circus theme, and they customized the color scheme in their event dashboard to match the theme. On their cover page, they used content sections to highlight important information about the event and about their organization. One content section highlights the impact of Kendall County Women's Shelter in 2021. Another features a graphic with the logos of all their event sponsors.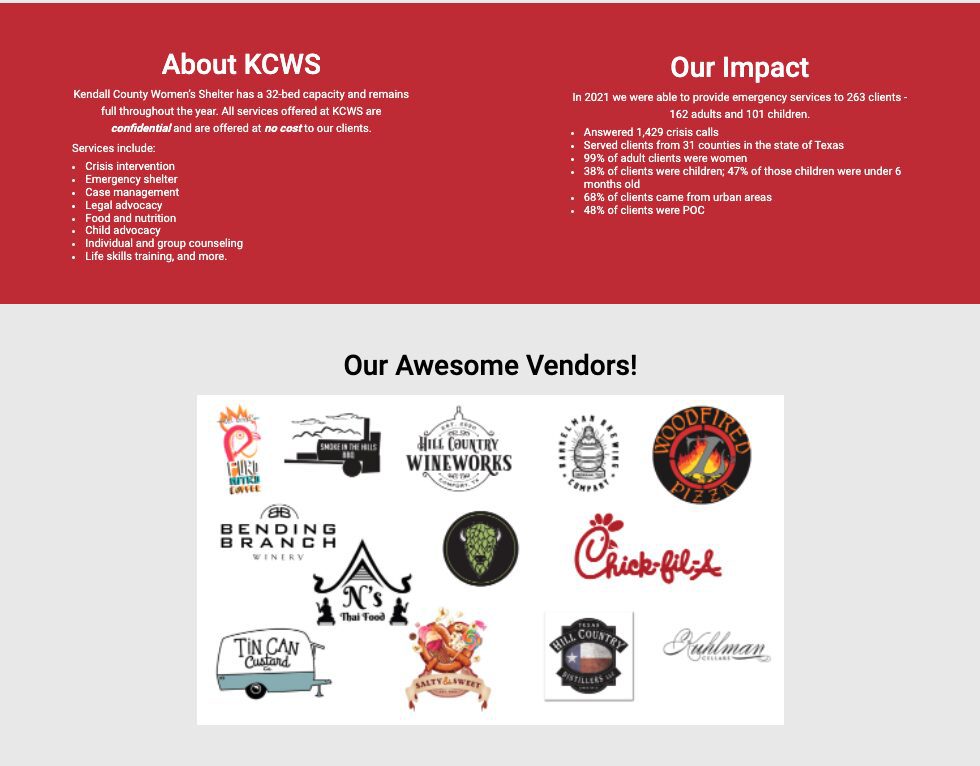 These content sections were easy to create using the intuitive point-and-click cover page tool, and can be instantly updated if needed.
Sip & Savor also used the website builder to feature information about KCWS and the event. Recognizing the power of having an all-in-one website for ticket sales, sponsorships, donations, and event messaging, they created a page that describes the mission, impact, and services offered by the women's shelter. They also created another page with links to all of the Sip & Savor sponsors. The free website builder that TicketSignup offers allowed them to host all this content in one place, rather than through a separate website and ticket form.
Sip & Savor is an example of a successful and established tasting event using the ticket platform to sell tickets, sponsorships, and take donations on a beautiful and fully built out website. Now it's time to upgrade your ticket event website, too!