The DONNA Marathon used a combination of TicketSignup's free ticketing and event day technology and RunSignup's registration and peer-to-peer fundraising platform for their 2023 DONNA Marathon Weekend event in Jacksonville, Florida. The DONNA Marathon Weekend spanned three days in early February. The marathon benefits breast cancer research through the DONNA Foundation. In addition to the marathon, they offer shorter race distances throughout the weekend, and a Health and Wellness Expo. The DONNA Marathon used RunSignup for registration, and TicketSignup for their ticketed events and on-site merchandise sales.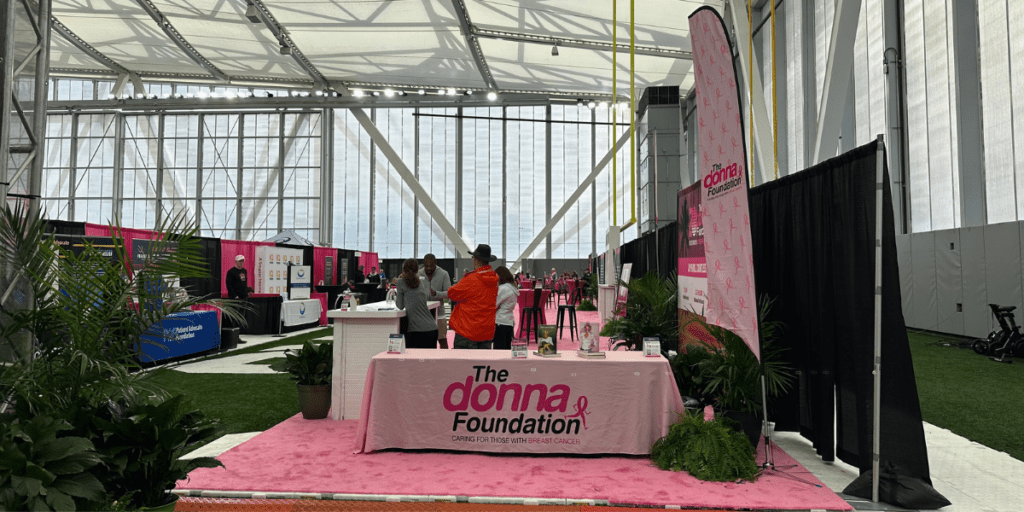 Pre- and Post- Party Ticket Sales
In addition to the running events, DONNA Marathon Weekend includes a few exclusive smaller events throughout the weekend: the Welcome Reception on Friday night, and the Finish Line Party after the race. The DONNA Foundation uses these events to honor top fundraisers, donors, sponsors, and special guests. Both of the events are invitation-only, so they created a private ticket event on TicketSignup and shared that link with their invited guests.
They customized the event pages to match the pink and purple branding they used on their main DONNA Marathon registration website, and used the cover page feature to design beautiful landing pages for each of the event. TicketSignup allows events to customize what information is collected, and DONNA Marathon used the option to collect per-ticket information for each guest, so they had a name and email address for every single person attending the event, which allowed them to personalize their check-in process and communications.
At the events, DONNA Marathon staff and volunteers used the free and easy-to-use Ticket CheckIn app to check in their guests. The Tickets app allowed staff to quickly scan the QR codes that come in the confirmation email that each attendee receives, and pull up their tickets. Alternatively, the attendee could provide their name, and the staff member would search it in the app. With the tap of a button, the guests were checked in, and their checkins were recorded in the checkin report available in the event dashboard.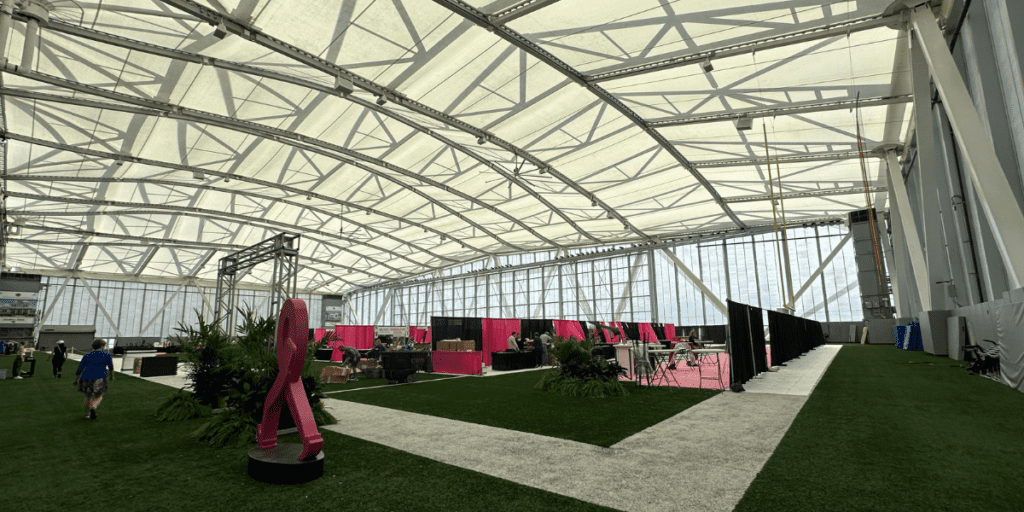 On-Site Merchandise Sales with the Tickets App
Another challenge that the DONNA Marathon solved with TicketSignup's flexible technology was their onsite merchandise sales. They wanted to sell a number of different branded clothing items, like hoodies, beanies, and T-shirts, at expo. They decided to use TicketSignup's integration with Square for a point of sale system at their packet pickup.
To accomplish this, they created a ticket event specifically for DONNA Marathon merchandise sales. Within this event, they set up store items for each item they had to sell. TicketSignup's store feature allows events to enter up to three variants, like size or color, and also to set the quantities available for each of them, down to how many shirts are available in a given size. This prevents overselling an item in a certain size.
After they entered all the items, the DONNA Marathon enabled the Square integration in the Ticket Checkin App and configured their app to allow for onsite store sales. They set up a merchandise table at the Health and Wellness Expo with dedicated devices and Square readers. During the expo, their volunteers and staff did over $20,000 in merchandise sales through the Tickets app. According to race director Amanda Napolitano, "The app was easy for the volunteers to navigate."
The reporting for transactions made through the TicketSignup/Square integration is clean and easy to read. DONNA Marathon's ticket event dashboard showed them exactly what merchandise they had sold and how much money they had processed, even though the payments went through Square and not through TicketSignup. Because DONNA Marathon used a setting in TicketSignup that will automatically calculate and add on sales tax to Square transactions, they were even able to pull a report at the end of the event that showed exactly how much money in sales tax they had collected and now owed to the state and county. (For regular online transactions processed directly on TicketSignup, sales tax is automatically calculated and remitted to states on behalf of events.)
Bringing It All Together
DONNA Marathon's success with using both TicketSignup and RunSignup for their 2023 event is a testament to the cohesiveness of the platform. Their event is a great example of a large event that leveraged our entire suite of free and flexible event tools: RunSignup's registration and fundraising tools, TicketSignup's open-ended ticket sites, and the EventDay checkin apps; and used them to produce an excellent and memorable event.