Apple Pay is now available for all TicketSignup events, making checkout even faster and simpler.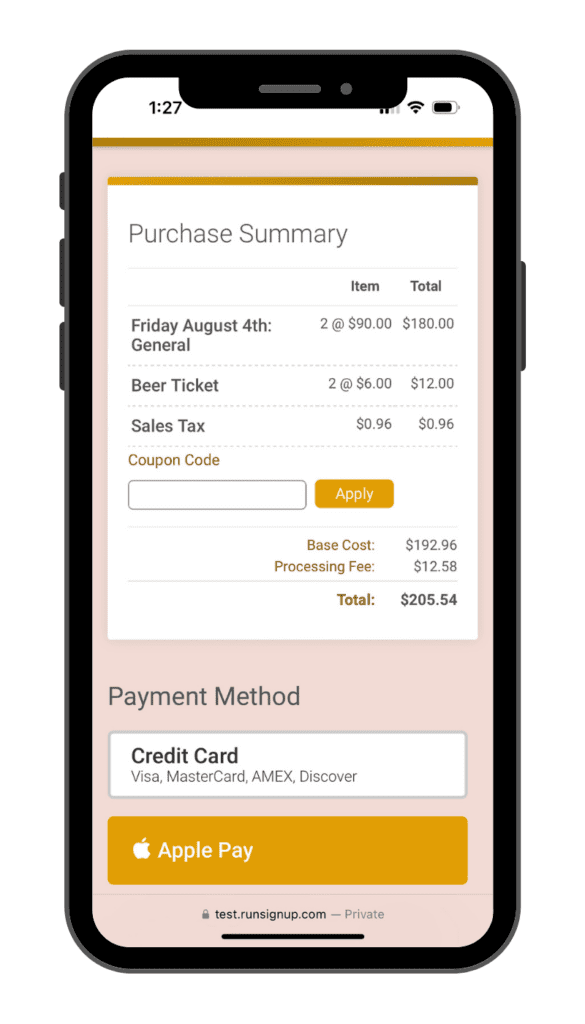 TicketSignup's Fast Checkout with Apple Pay
TicketSignup has the fastest and easiest ticket purchase experience:
Apple Pay on TicketSignup enables attendees to checkout in seconds.
No Typing, No Keyboard needed. No need to manually enter a credit card or type information that Apple Pay automatically populates, like name and email.
Fast credit card entry means no billing address required, making purchase fast even when paying with a credit card. In addition, most browsers auto-fill credit card details, including when people purchase from a desktop.
No logins or passwords – and no prompts to login via Facebook or Google, like on other ticketing platforms. TicketSignup only requires a first name, last name, and email address when someone buys a ticket (although you can choose to collect more information). Attendees manage their ticket purchases through unique verification codes tied to their email. That means events get the best of both worlds – the highest conversion rates from a fast purchase path plus best in class ticket management options.
Apple Wallet makes it seamless for attendees to add their tickets to Apple Wallet from the confirmation page, confirmation email, or any pre-event emails you send from TicketSignup's free Email Marketing that use the Apple Wallet replacement tag.
Mobile first design means our purchase path is optimized for mobile purchases. Over 60% of transactions on TicketSignup happen on mobile, and we expect that number to continue to increase significantly. From easy-to-click quantity selectors to mobile layouts, TicketSignup spends development resources to make TicketSignup's mobile experience best in class.
Why is a Fast and Easy Purchase Path Important for Events?
TicketSignup makes purchasing a ticket fast and simple because it is very important for all ticket events:
Reduce cart abandonments. With TicketSignup, attendees don't need to create an account or grab their credit cards to buy tickets. Fewer inputs means higher conversion rates. Whether you are spending money on ads or looking to promote on site sales via QR code, TicketSignup means more successful purchases and more revenue.
Mitigate customer questions before and after ticket purchase. From ease of purchase to making tickets accessible via Apple Wallet and customizable confirmation emails, TicketSignup's purchase experience is user-friendly.
Make on-site purchase easy. Eliminate lines for on site sales by posting QR Codes so people can buy from their phones. Why wait in a line for 10+ minutes to buy a ticket when you can checkout in under 30 seconds from your phone?
TicketSignup continues to invest in features that help events sell more tickets. Apple Pay on TicketSignup is a powerful checkout option that make buying tickets fast and easy. Combined with all of our other ticket sale features like Apple Wallet, no accounts required, and mobile-first design, TicketSignup is the easiest platform for attendees to buy tickets.