Customer Snapshot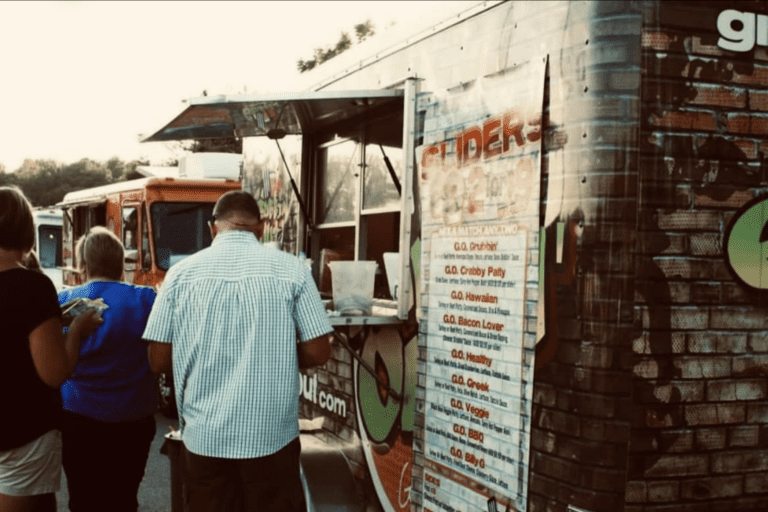 Location: Gainesville, GA
% Tickets Bought 48 Hours Before Event: 65%
About the Midland Music Fest
The Midland Music Fest is a highly anticipated annual ticket event that combines live music performances, food trucks, and a lively beer garden. With the goal of attracting music lovers and fostering community engagement, the Rotary Club of Gainesville takes on the challenge of organizing a memorable music festival. To ensure a smooth ticketing and event management process, they turned to TicketSignup.
The festival provided two ticket types: general admission and VIP. General admission tickets were priced at $25, granting access to the festival grounds. VIP tickets, priced at $150, offered additional perks such as a t-shirt, access to a VIP tent, a catered meal, and an open bar.
A Full Event Website – For Free!
Every event created on TicketSignup gets a free event website that is fully customizable. The Midland Music Festival leveraged TicketSignup's drag and drop website builder to create a permanent event website. Then they took their website to the next level with a custom domain, which TicketSignup hosts for free: https://www.midlandmusicfest.com/.
TicketSignup automatically optimizes each website to maximize ticket sales. The Midland Music Fest took their website to the next level:
Pages and Menu: The Music Fest highlighted key event information including FAQs and Sponsorship Packages by adding pages to their website.
Images, CTA buttons, and Video: In addition to a variety of design and photo images, the Music Fest prominently featured event Sponsor logos.
Event Details: Most importantly, the website clearly communicates event details, including date, location, schedule, and ticket options.
Dynamic Data: Adding ticket tiles and a countdown clock on the homepage drives a sense of urgency to purchase tickets.
In addition to easy and flexible design options, TicketSignup makes all event websites discoverable. Google and other search engines crawl our sitemaps that list all event websites on a regular basis. We automatically format website code to ensure that data is structured to make events found by search engines like Google.
TicketSignup sends data to Google with the correct Event Schema Markup. Leading up to the event, the Midland Music Fest was the top result when searching "Events in Gainesville GA". Moreover, there is a quick link to buy tickets on TicketSignup.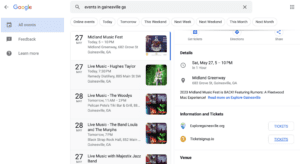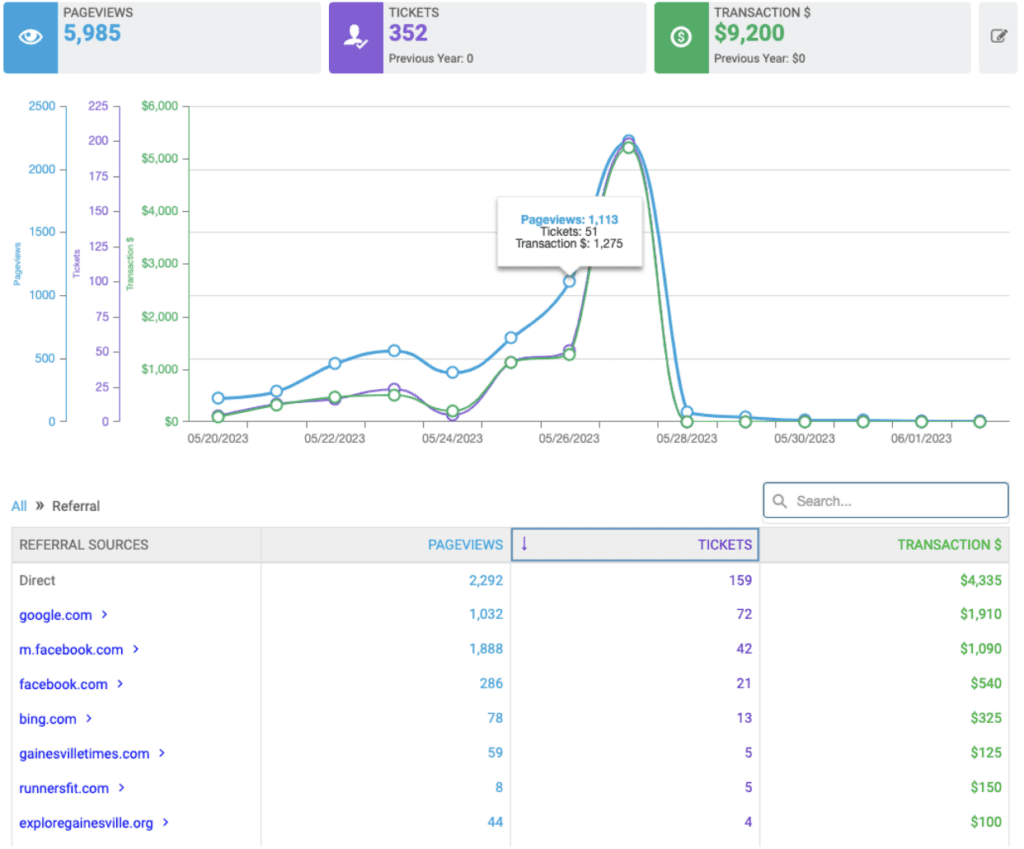 TicketInsights makes it easy to track ticket sales. Midland Music Fest can see that most ticket sales come from direct traffic (via its custom domain!) and Google. For events that spend money on digital ads, this data informs where to deploy ad dollars.
Free Email Marketing
Last year, the Midland Music Fest sold tickets on TicketSignup. As a result, they captured a lot of new email addresses. This year, they used TicketSignup's free Email Marketing to promote ticket sales to last year's attendees.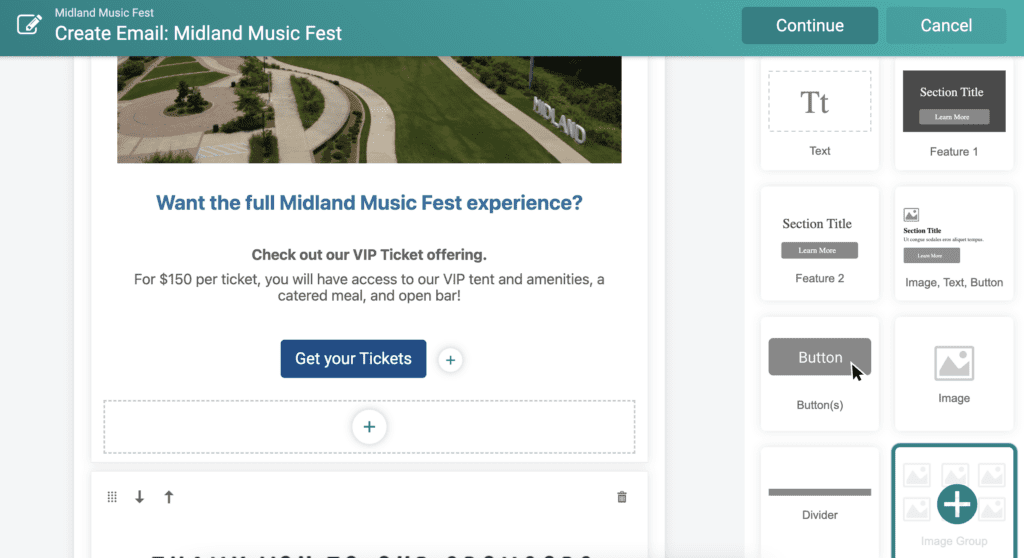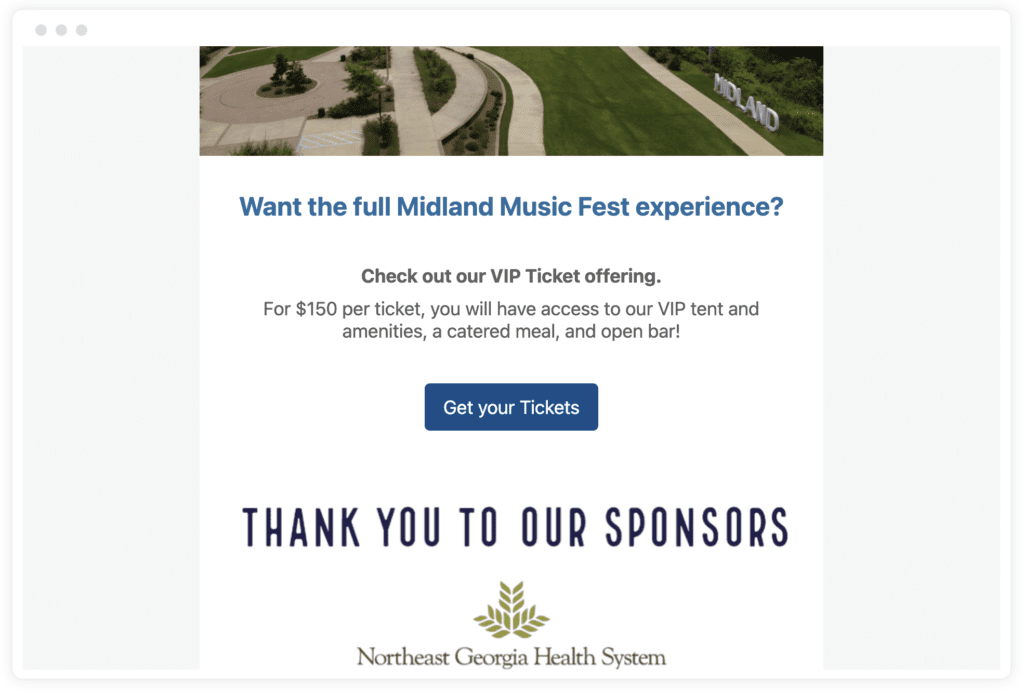 TicketSignup's Email Marketing is fully integrated with TicketInsights to see how emails performed. The data is not just in terms of opens & clicks, but also ticket purchases and transactions $s.

Fast & Easy Ticket Purchase
From simple to timed entry events, TicketSignup makes it fast and easy for attendees to select their tickets and checkout. Events are able to customize the ticket purchase experience, including the information they collect about attendees. For general tickets, the Midland Music only collected ticket purchaser name and email. However, the event needed more information for VIP ticket holders. They were able to collect name and email for each individual VIP ticket holder using TicketSignup's flexible information collection options.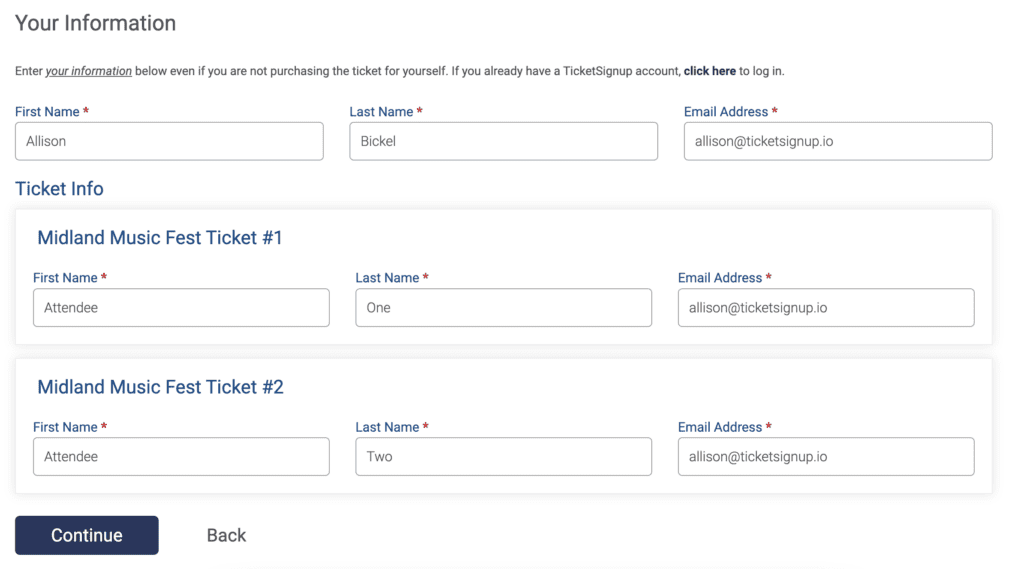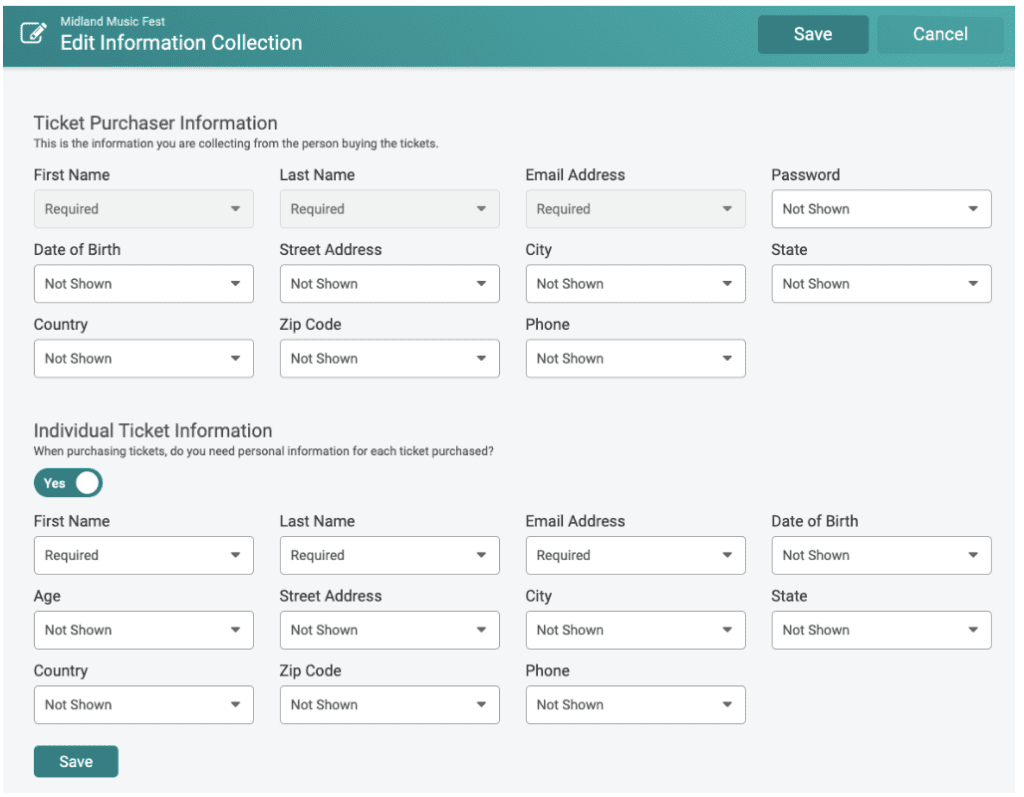 In addition, they added a custom question to track how people found out about the event.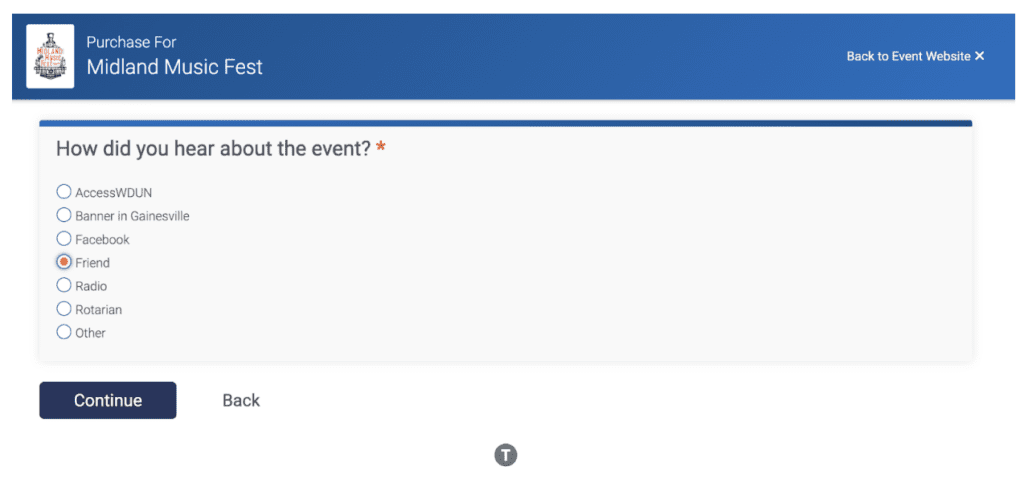 TicketSignup's checkout page makes it easy to complete a purchase. Unlike other ticketing platforms, we don't require a billing address which makes it fast for customers to buy tickets, even from their phones. TicketSignup also automatically calculates, collects, and remits sales tax when tickets and/or merchandise are taxable, which saves Midland Music Fest a lot of time and paperwork.
Attendees can add their tickets to Apple Wallet, making it easy to show & scan on site. Ticket purchases will get even faster later this summer with the introduction of Apple Pay as an alternative to checking out with a credit card.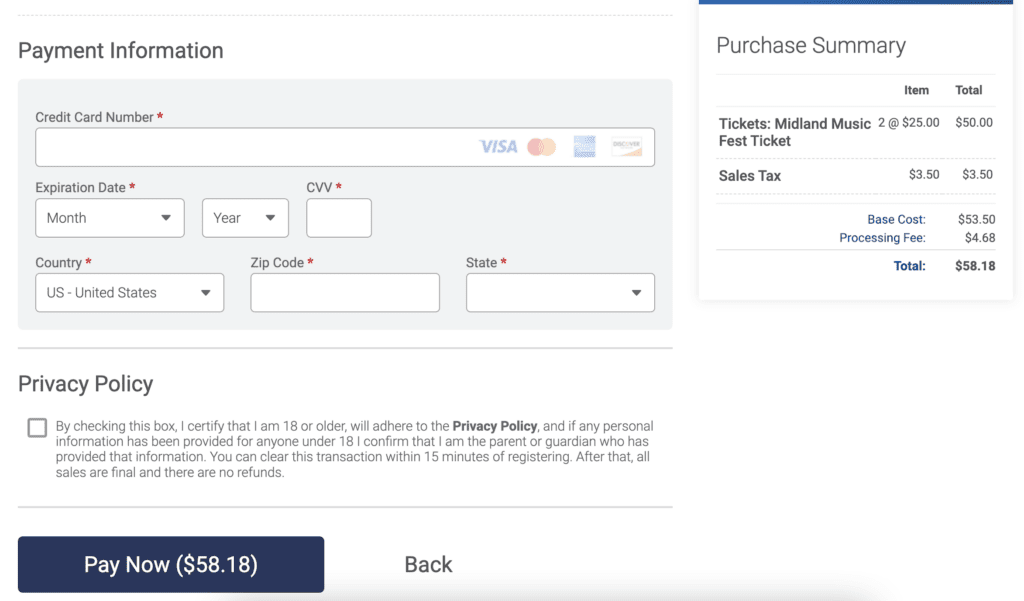 TicketSignup's CheckIn App Makes the Event Easy
The Midland Music Fest used TicketSignup's free and mobile CheckIn App to scan tickets on site. If attendees did not add tickets to Apple Wallet or have their confirmation email, it was easy for volunteers to search their name in the app and check them in, eliminating lines at the event entrance. People without tickets were able to scan a QR code and purchase from their phones at the door.
"The TicketSignup App made our check-in process really easy. Volunteers picked up on how to scan tickets and hand out the correct bands to attendees in minutes."

– Zack Loggins, Midland Music Fest Operations Director