Interested in learning more about this topic? Catch our on-demand webinar.
Events can increase revenue per ticket sold with TicketSignup's powerful integrated merchandise and add-on capabilities. Upsell items and experiences to attendees when they purchase tickets in a single checkout experience. Feature items in a standalone store, making them available for purchase without tickets on your event website. Use the Ticket App to fulfill and sell more add-ons on site. Best of all? TicketSignup's per cart processing fees (not per ticket/item) save money.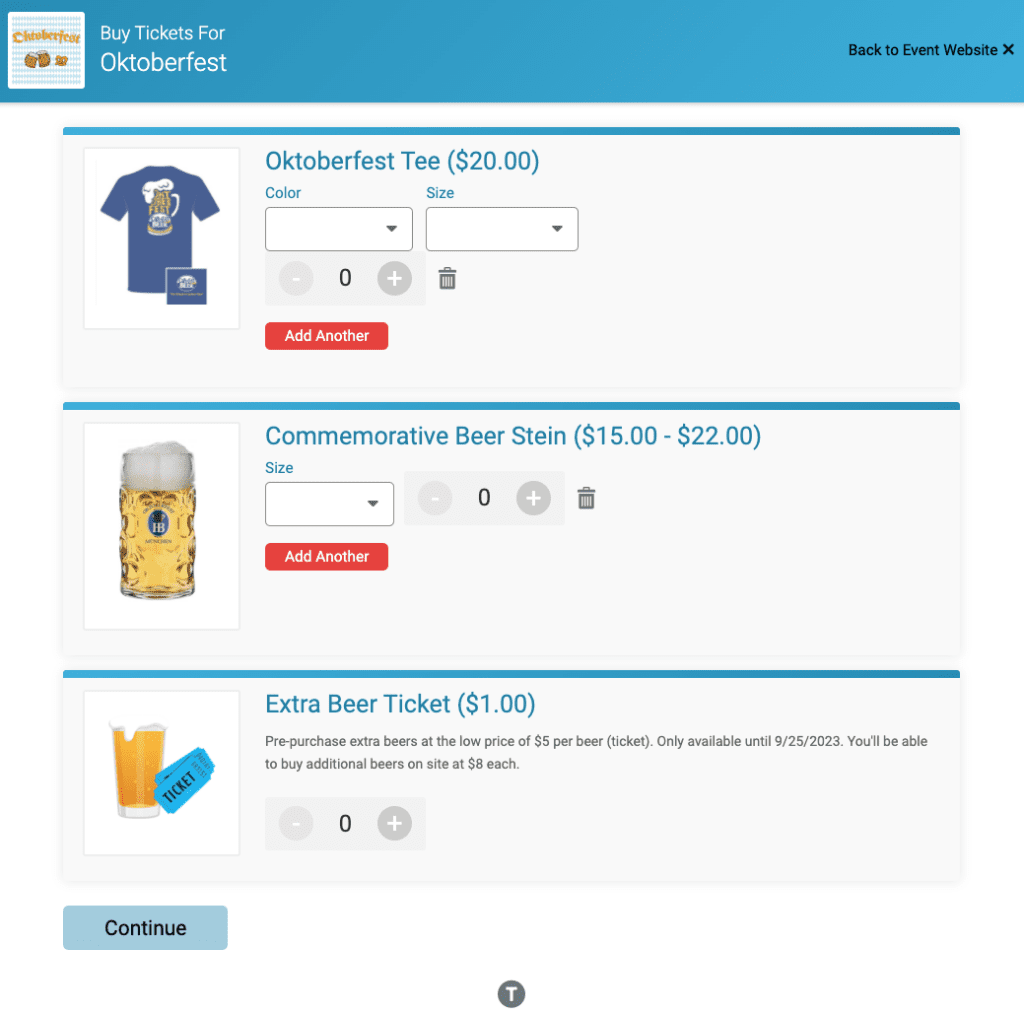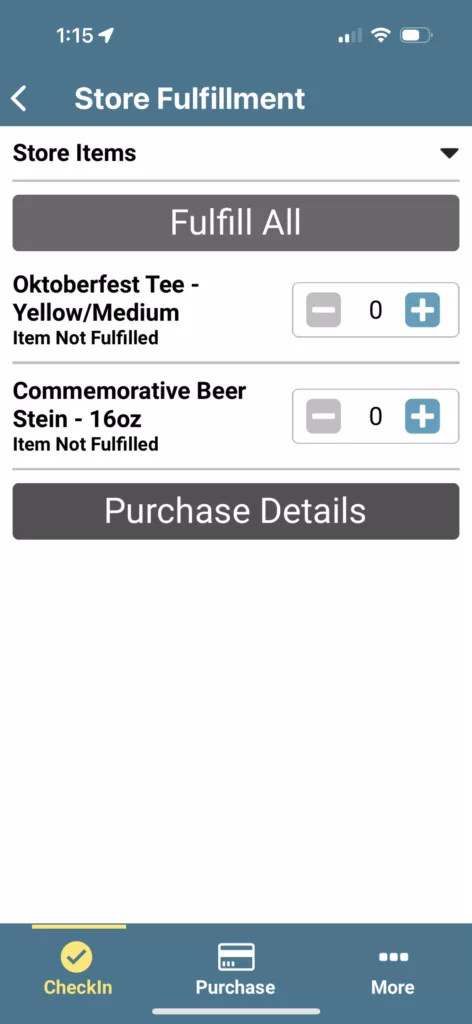 TicketSignup's powerful Store has the features your events need to sell and manage add-ons:
Customer Use Cases
Events use TicketSignup's Store in different ways to drive revenue and manage on site operations. Here are a few quick examples to better understand how events upsell and fulfill merch and add-ons – and beyond.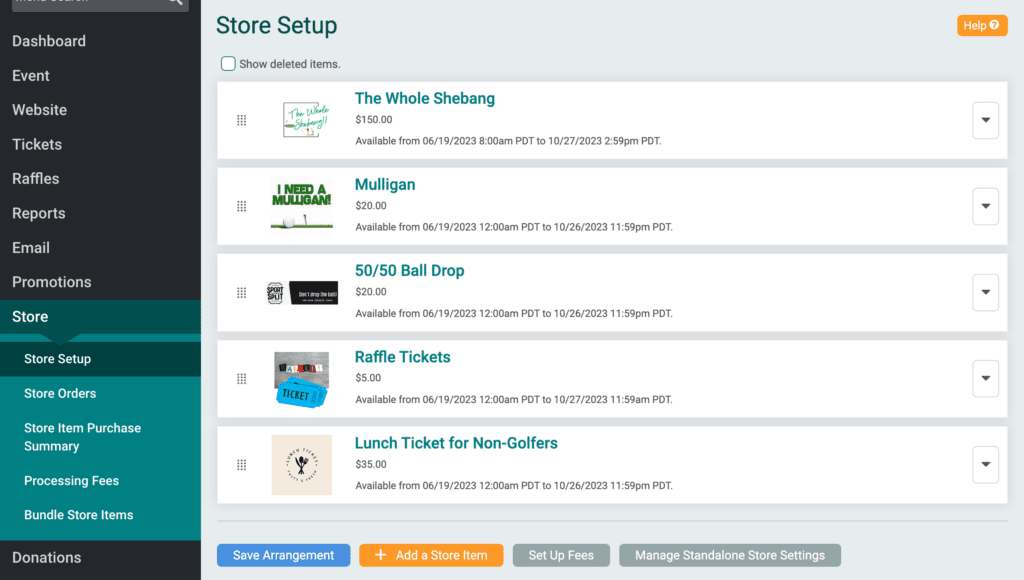 Megan's Wings Charity Golf Tournament offers golfers the chance to purchase mulligans, ball drops, and lunch tickets for non-golfers when they buy tickets or from the website's store.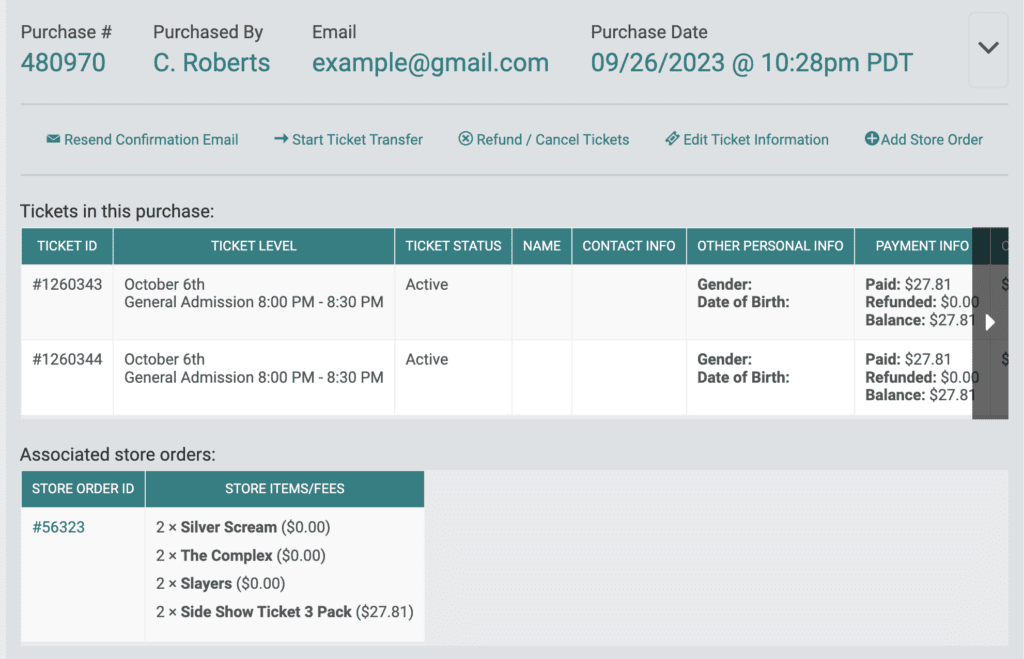 Scaregrounds automatically includes entry to 3 haunt attractions with each ticket, using the Ticket App to track usage. They also sell sideshows.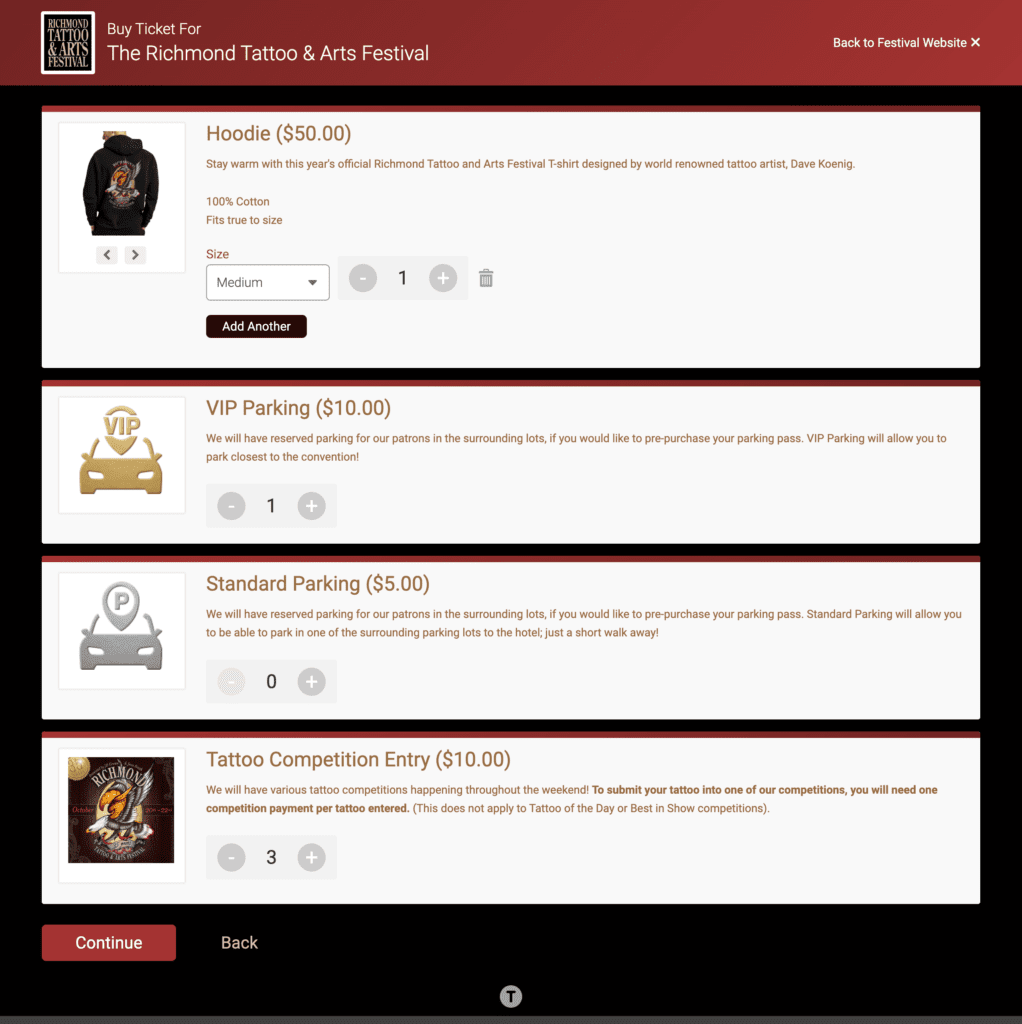 The Richmond Tattoo & Arts Festival upsells merch, tattoo competition entries, and parking.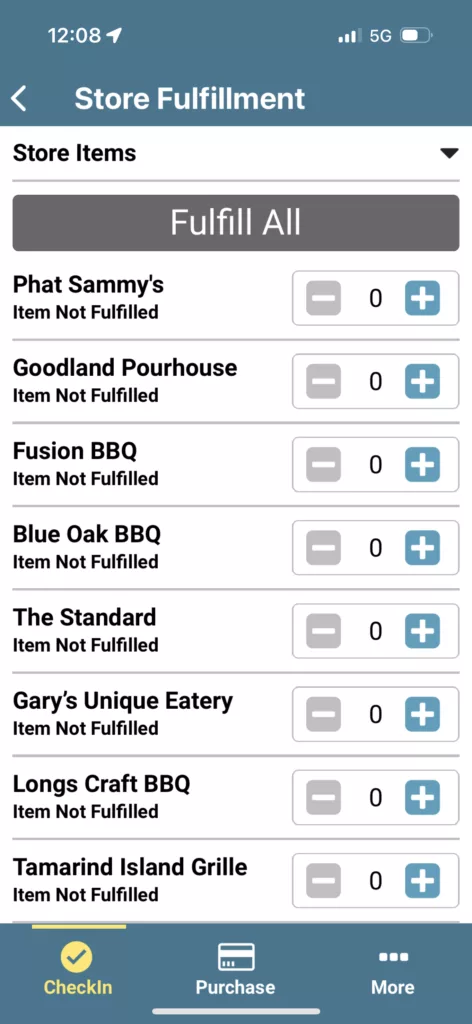 Whistlestop BBQ Fest includes 10 tastings with each Taste of Whistlestop ticket to be redeemed on site.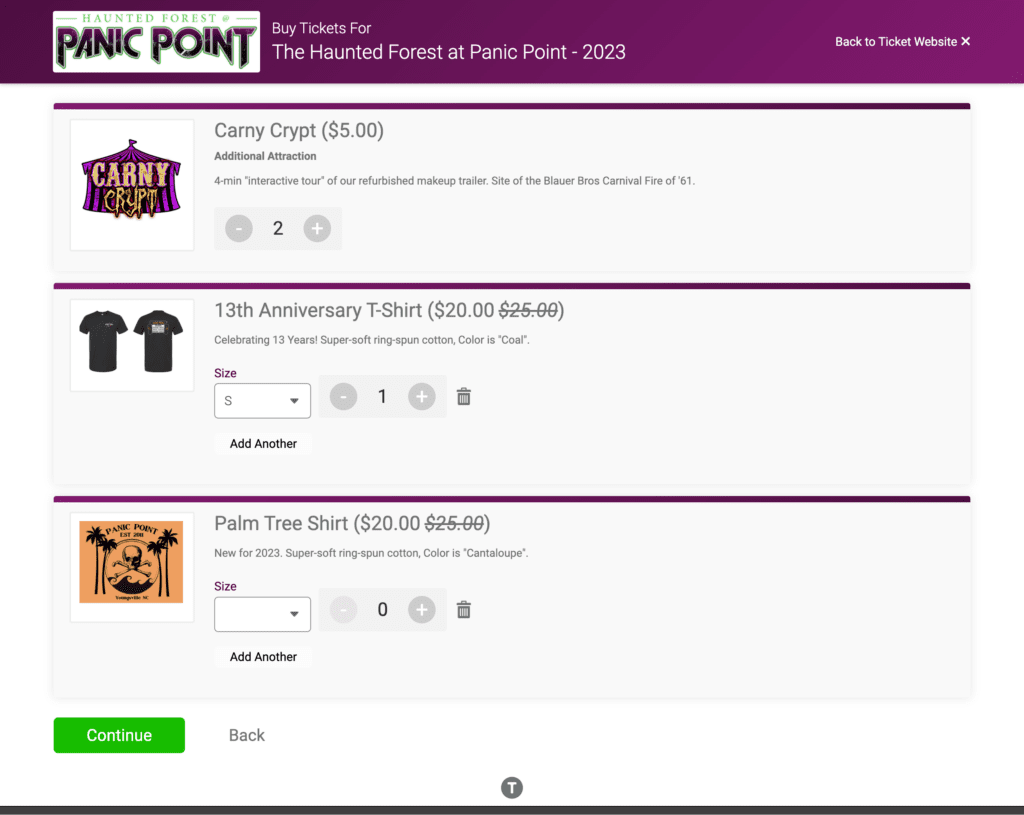 The Haunted Forest at Panic Point upsells the Carny Crypt experience and merch to ticket holders. They also post QR Codes for attendees to scan & buy add-ons on site.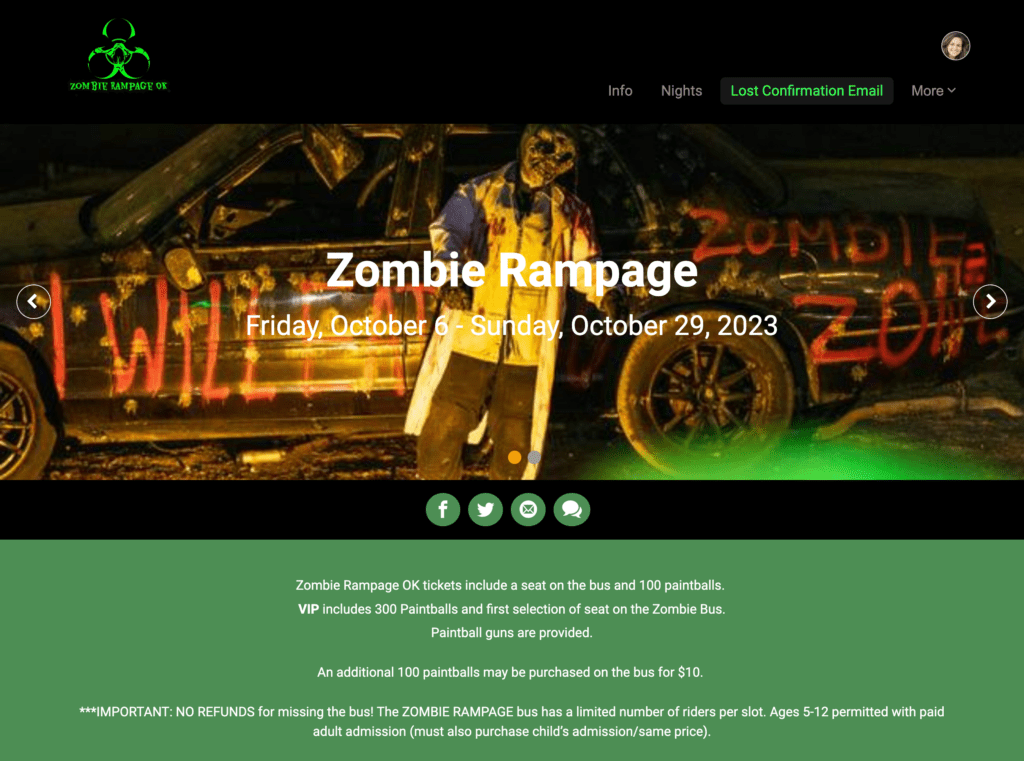 The Zombie Rampage lets attendees pre-purchase additional paintballs in addition to those included with their tickets.
Set Up Items and Add-Ons
When you add store items, TicketSignup gives you advanced capabilities to set variants, pricing, and inventory. In addition, you have control over how items display and who can purchase them. For example, only VIPs get access to premiere swag.
TicketSignup's store is purpose-built to drive revenue. Add-ons are a featured step when buying tickets. This makes it more effective to upsell add-ons to attendees. Last year, 55% of haunt ticket purchasers added a store item or upgrade when available.
In addition, TicketSignup's bundles allow you to automatically include items and other add-ons with tickets. Combined with the Ticket App, bundles enable easy on site fulfillment. Some haunts use this to include attractions with each ticket, and use the Ticket App to limit the number of times attendees can go through an attraction.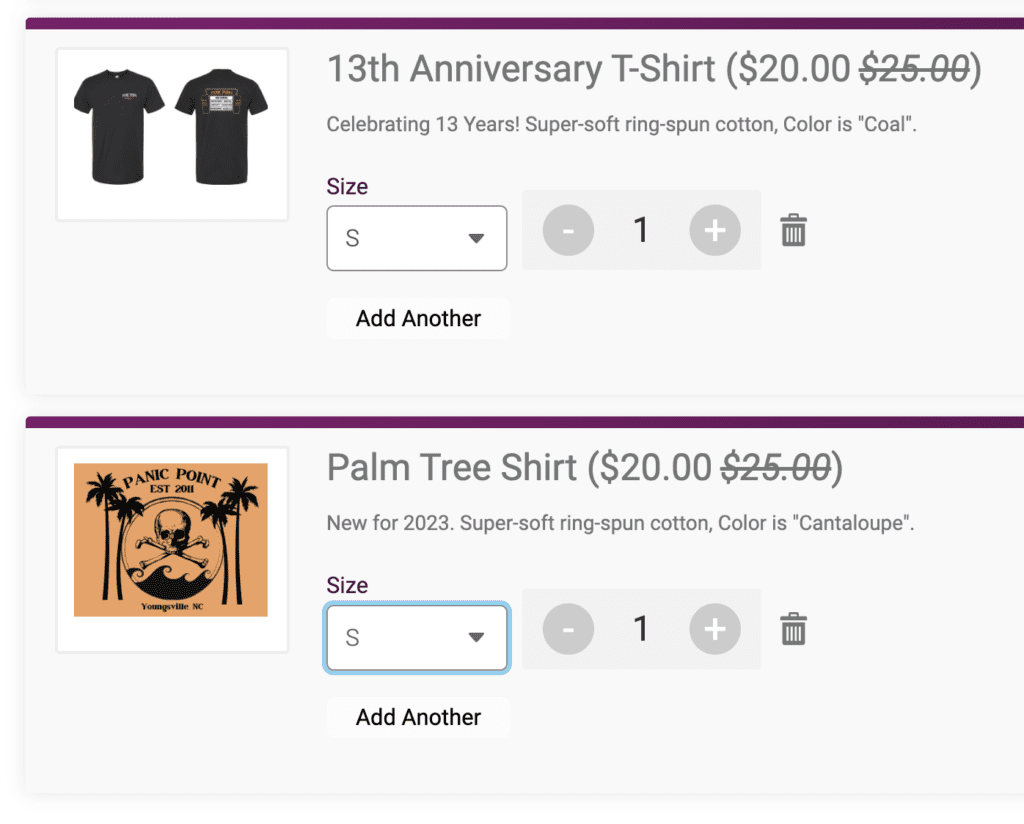 Flexible display options to make a strong call to action, including images, strike-through pricing, and descriptions.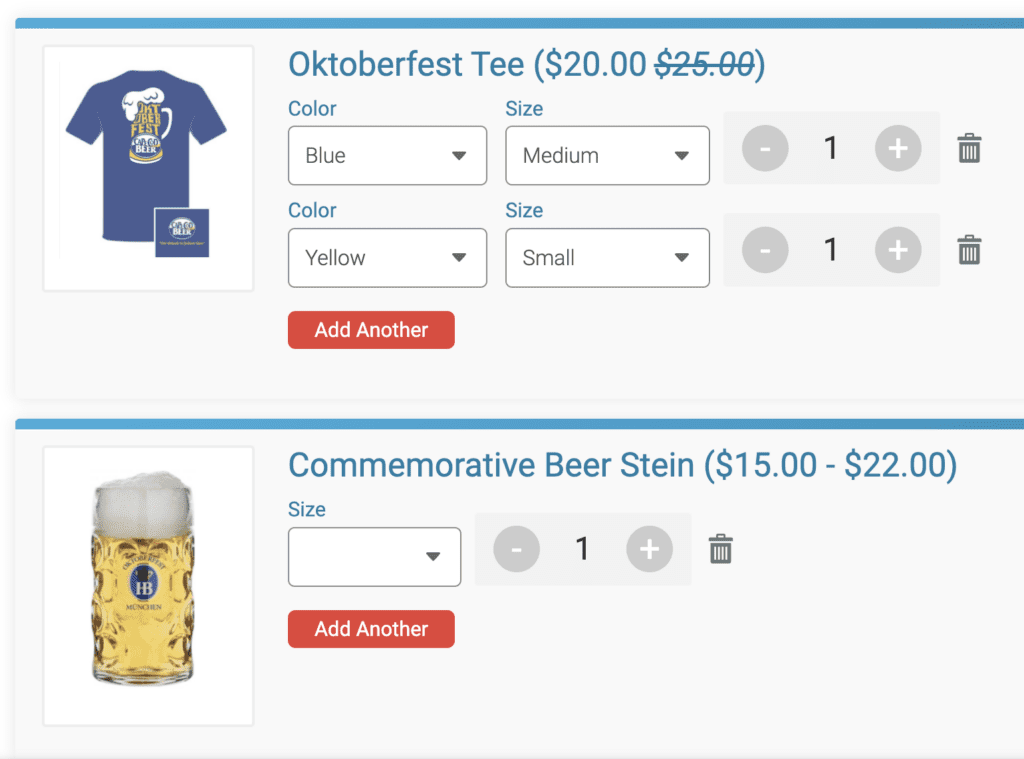 Set multiple variants to make purchasing items easy. For example, size and color for t-shirts.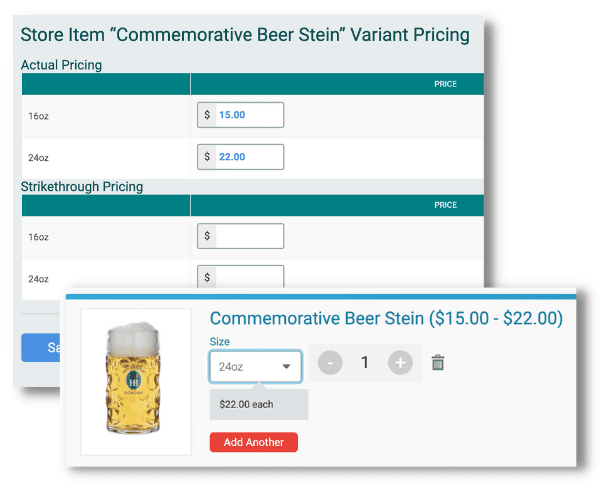 Set pricing by variant. For example, the larger beer stein costs $7 more.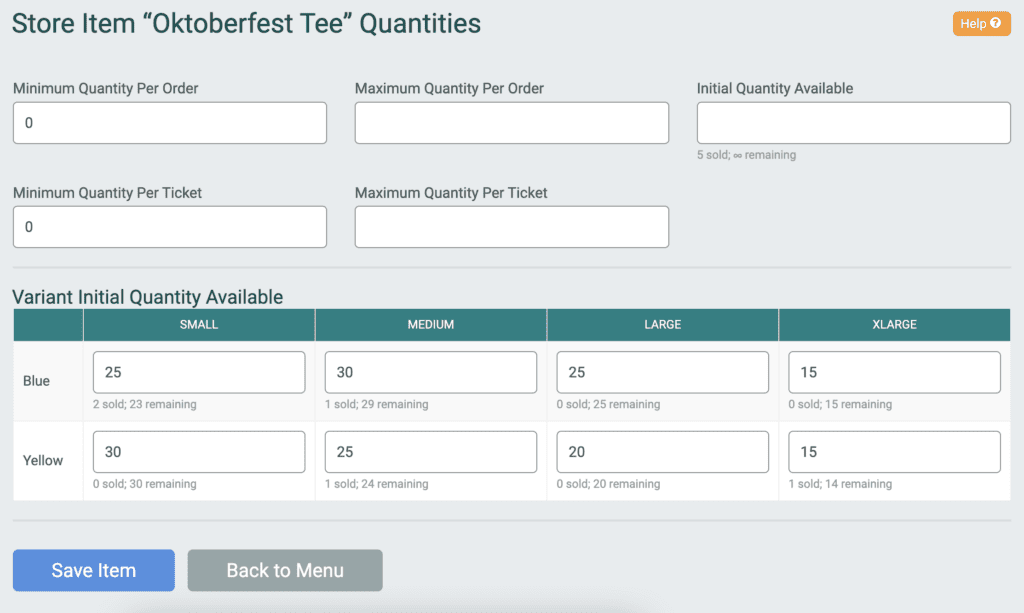 Set overall inventory, or by variant. Prevent overselling items.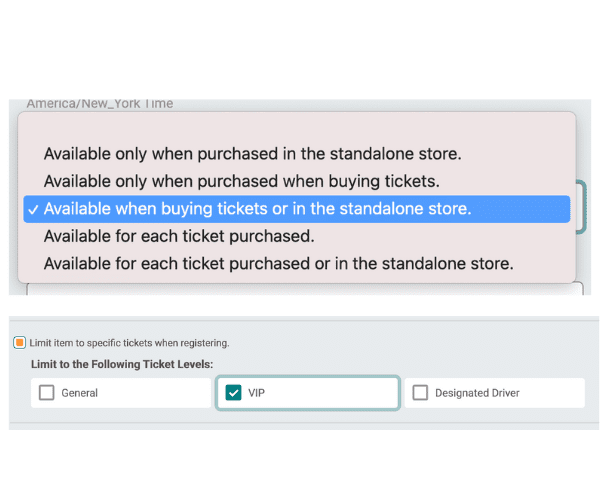 Offer items by ticket type, per cart, per ticket, and/or in the standalone store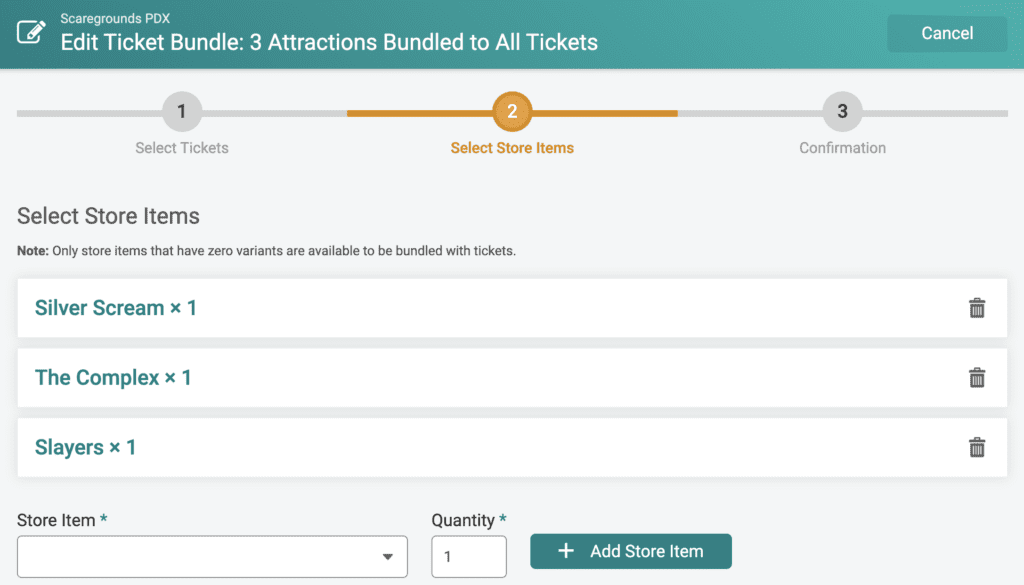 Automatically bundle items with tickets.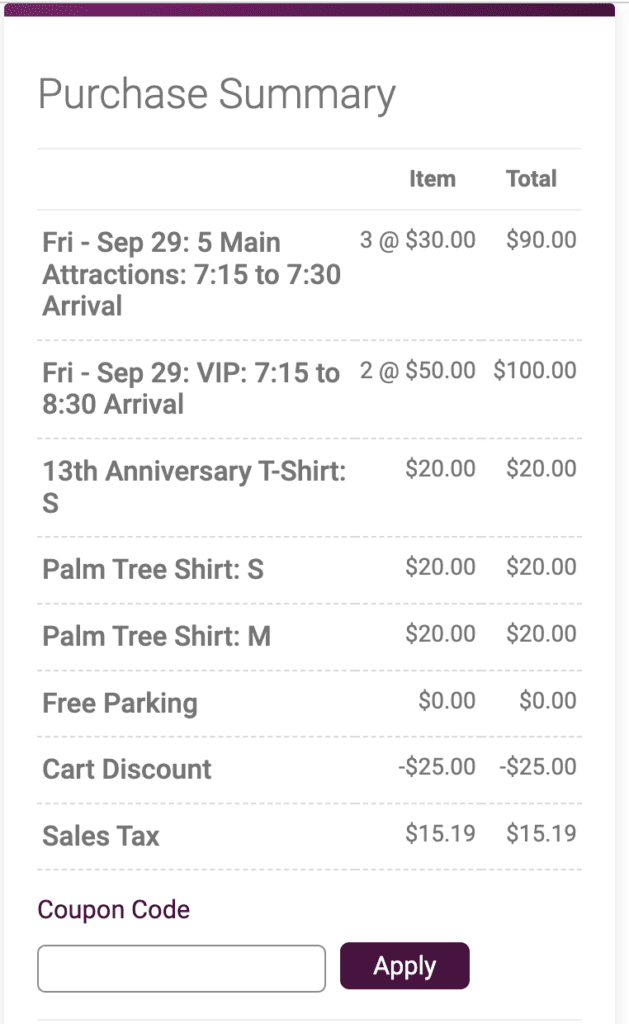 Offer coupon codes for store items only. Or use cart discounts to incentivize more purchases.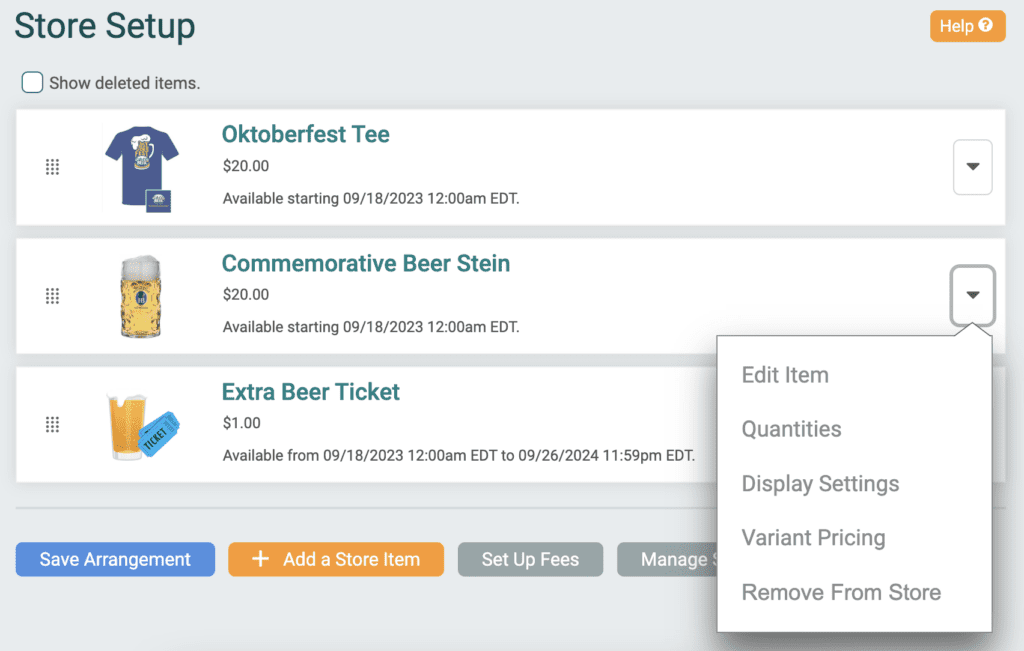 Easily update as you go. Rearrange, edit, and remove items.
Warehouse
TicketSignup's Warehouse is a powerful tool for directors with multiple ticket events to streamline store sales and efficiently manage inventory in a single place. Cross-event inventory management saves time and ensures you don't oversell any items.

Choose to create new items or add existing ones from the Warehouse.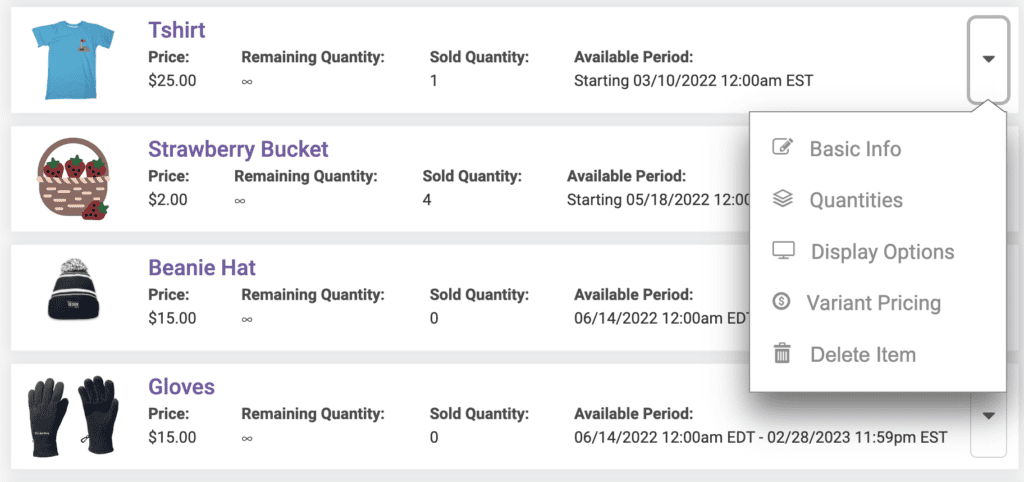 Manage Warehouse items and track inventory vs. items sold.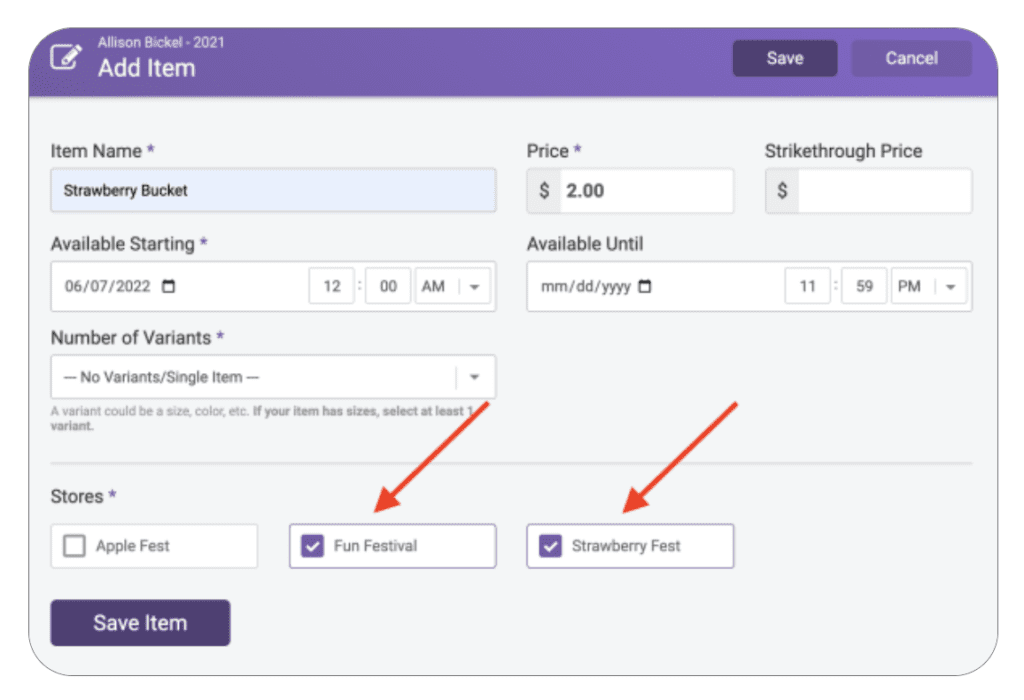 Set item availability by event.
On Site
One of the most important parts of upselling merchandise is making sure attendees receive their items and redeem add-ons. The Ticket App makes it easy to fulfill and sell more add-ons on site.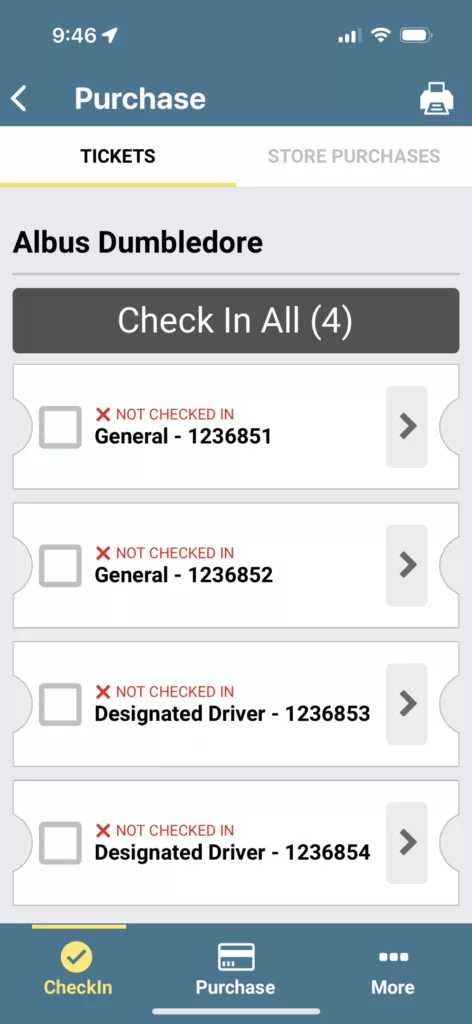 View Tickets and Add-ons for each purchase, with toggle display (as shown above) or all on one screen.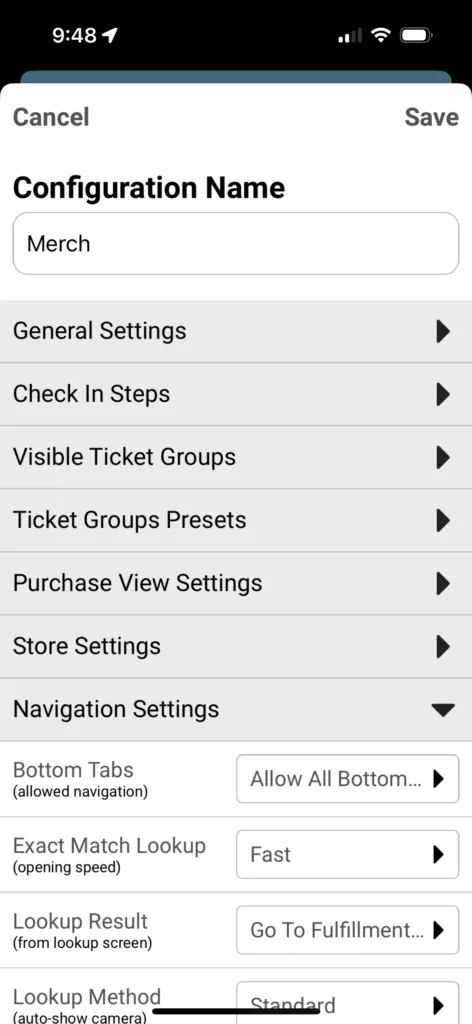 Have a merch table? Configure the app to only show add-ons, not tickets.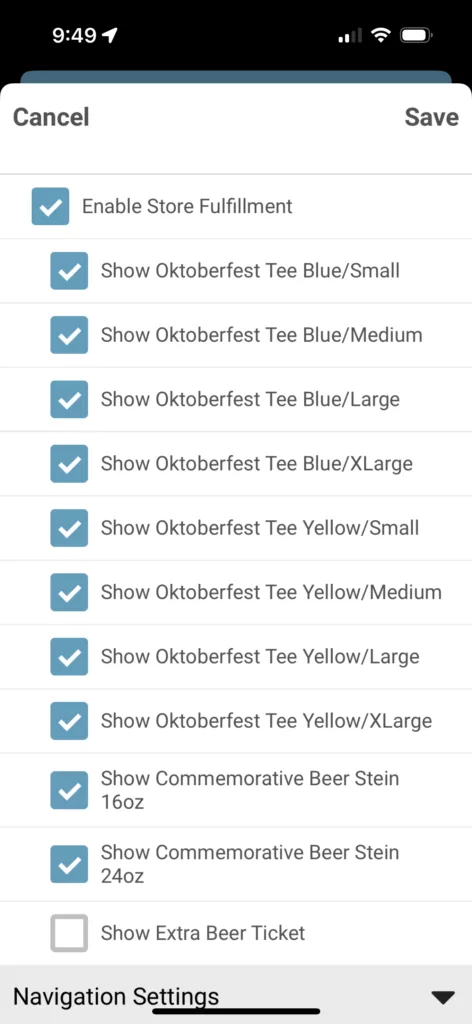 Choose which items show for each staff member or volunteer. For example, shirts & beer steins at the merch table. Beer tickets at the beer tent.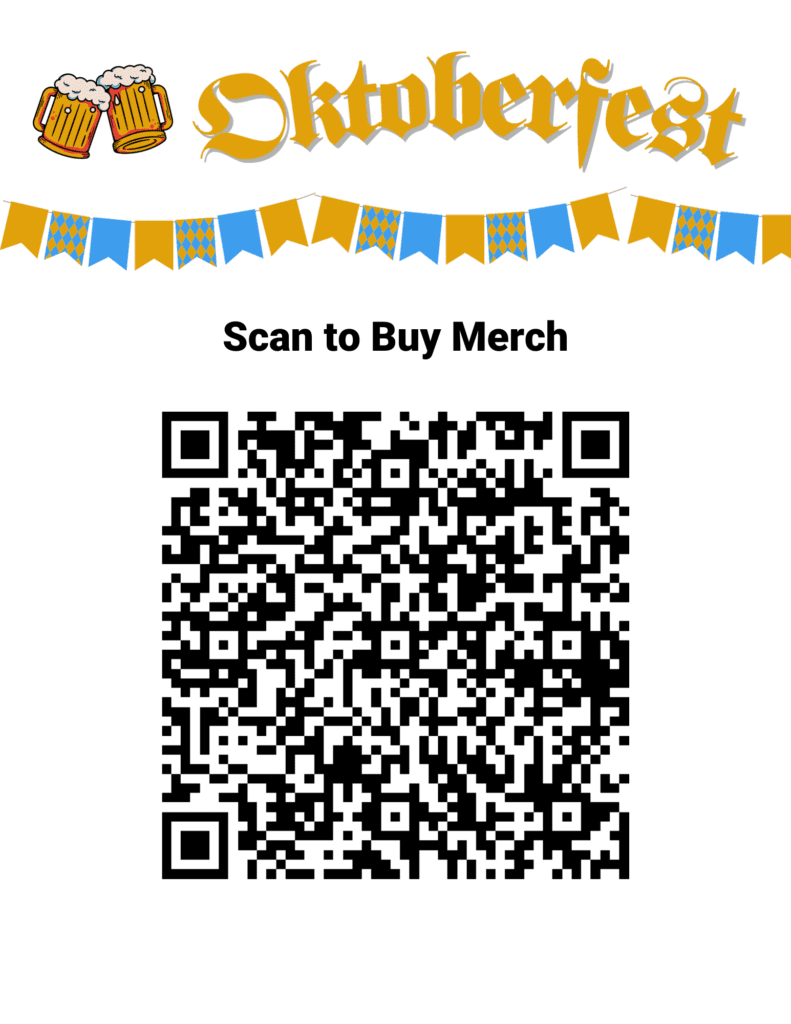 Post signs with QR Codes to the standalone Store, and allow attendees to scan and buy add-ons from their own phones.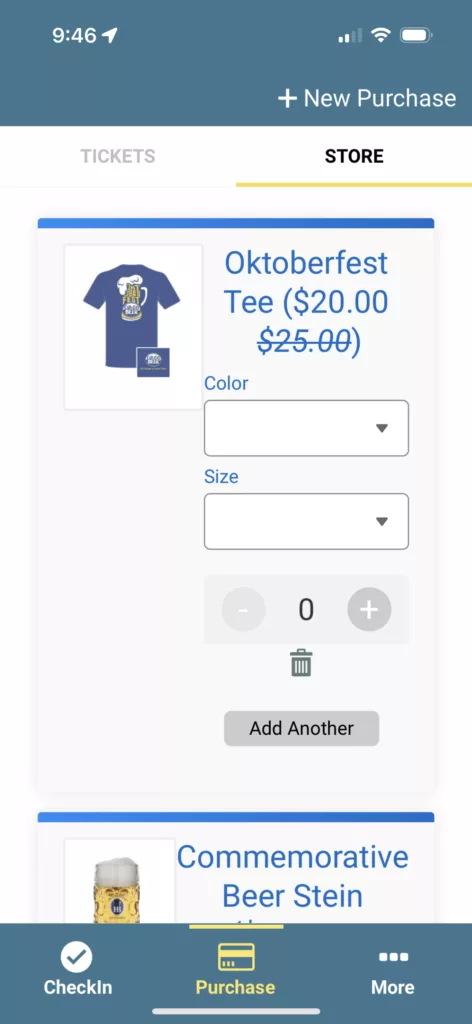 Sell add-ons on site with TicketSignup's Point of Sale. Accept card or cash, and keep reports & inventory in sync with online sales.
Report and Manage
TicketSignup makes it easy to view and mange summary and individual add-on sales. There are different summary report views. Most importantly, TicketSignup always makes it easy to deliver best-in-class customer service. Add more items to existing ticket purchases, refund store purchases only, and update orders.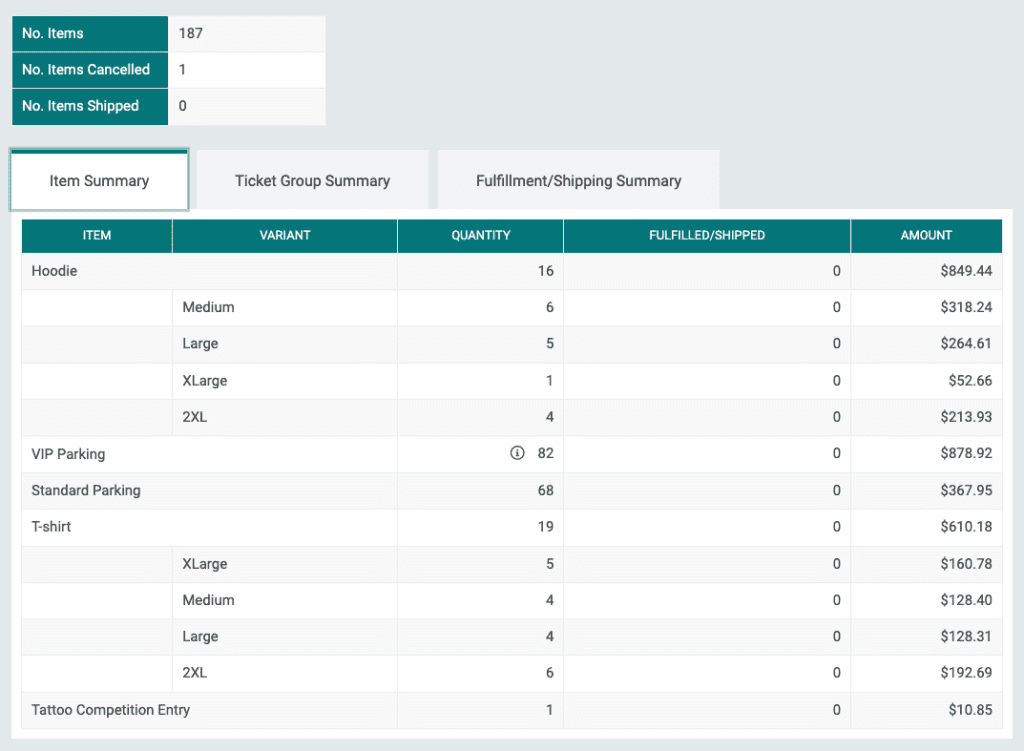 View summary add-on order reports, with options to filter by date purchased, item type, and/or ticket type.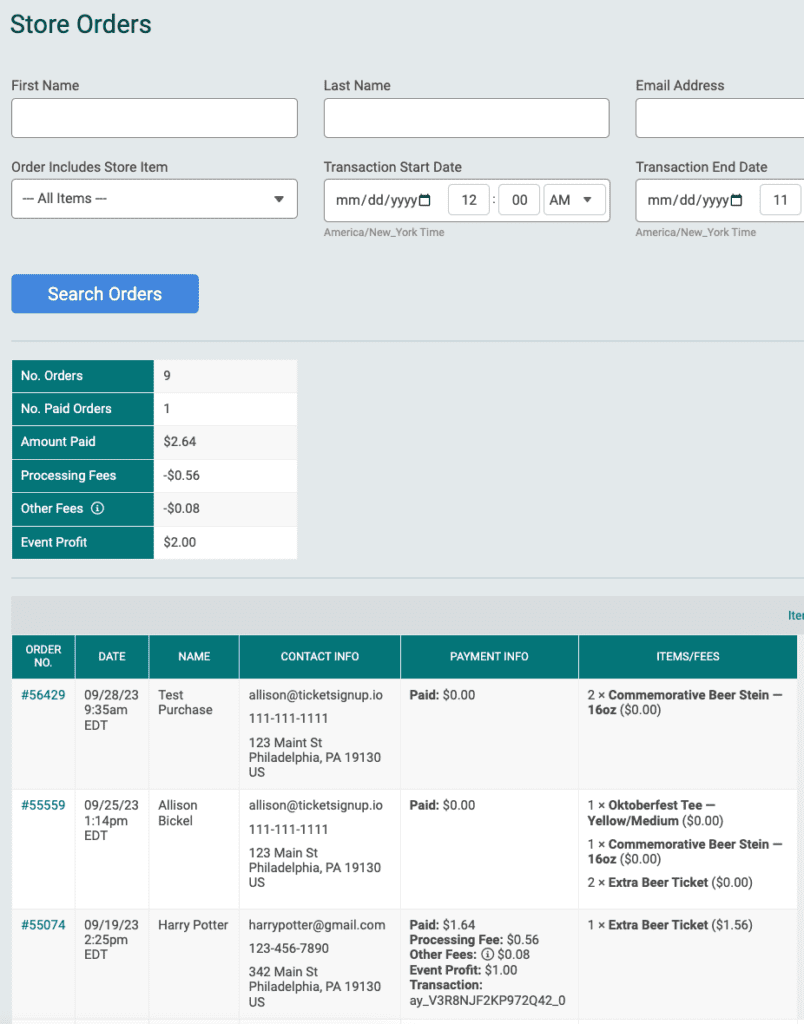 View, search, and export individual store orders.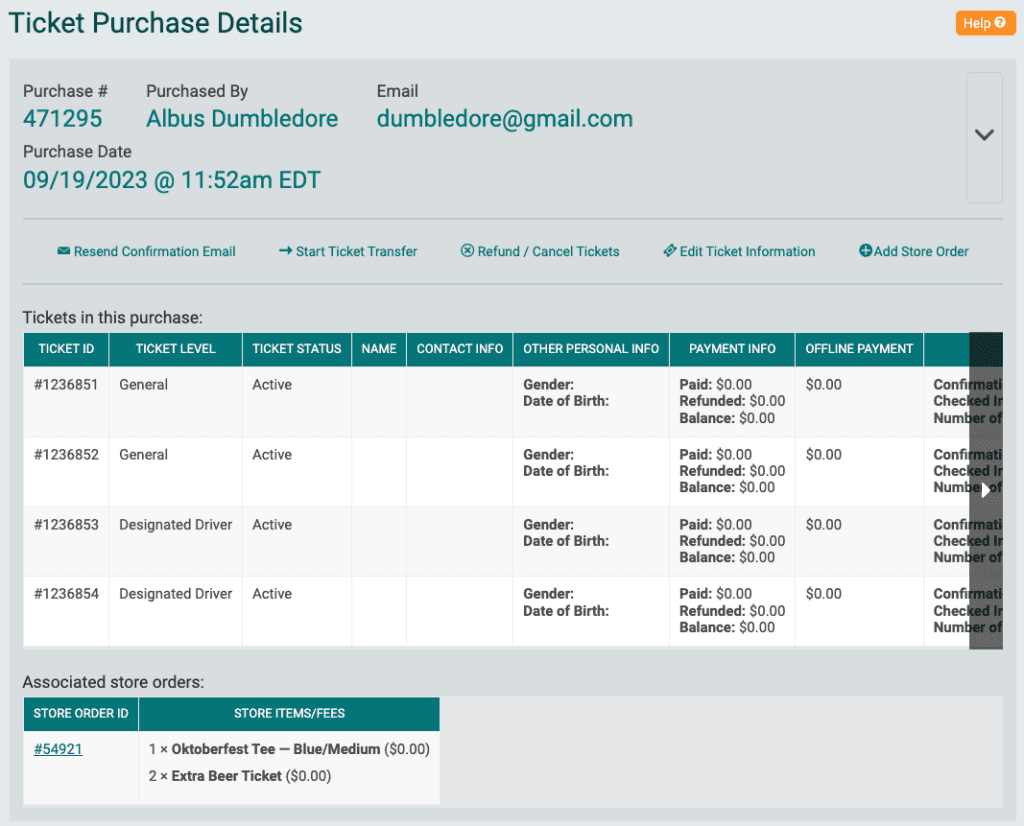 Easily access existing store orders when managing tickets. Or add additional add-ons to a purchase.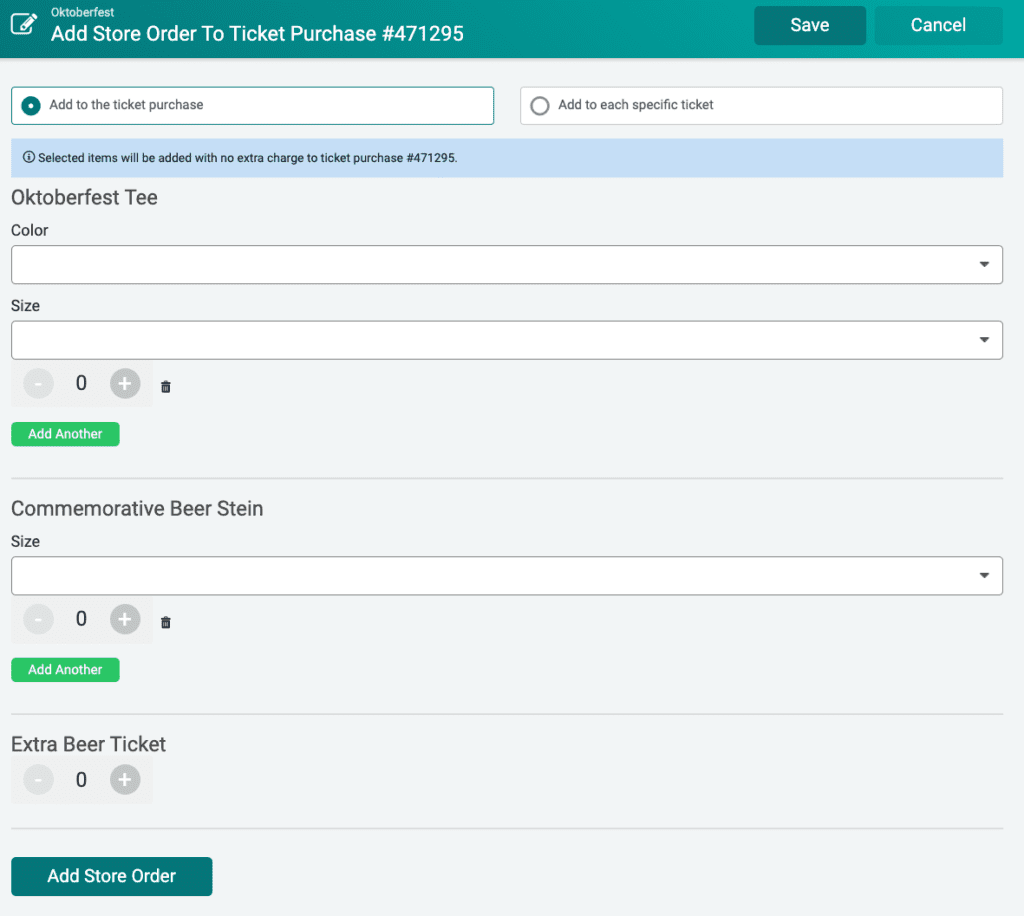 Deliver best-in-class customer service with options to add items to existing purchases (or individual tickets).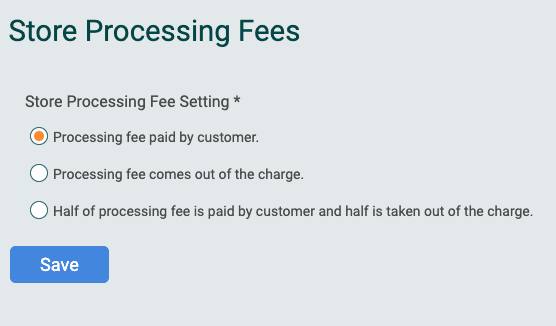 Set processing fees for store orders.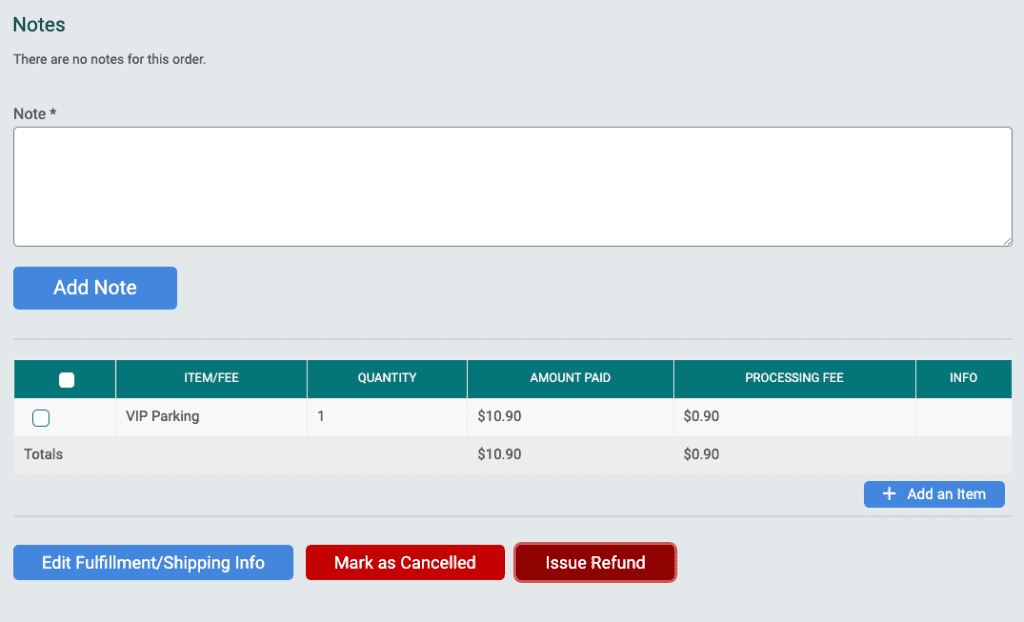 Issue full or partial refunds, or mark items as cancelled. Notes are internal, and enable event teams to easily communicate and track why items were refunded/cancelled.
TicketSignup's Pricing: Not Per Item
TicketSignup is free for events – we don't charge for any features, including Store, Websites, and Email Marketing. We only charge a processing fee on transactions, which can get passed to attendees.
Per Cart, NOT per Ticket or Add-On. Other ticketing platforms like Eventbrite charge a per ticket fee. In addition, they charge the same per ticket fee for each add-on! This makes fees on Eventbrite and other platforms prohibitively high. With TicketSignup, our processing fees are per cart. This saves a lot of money when checking out with multiple tickets (the average is ~3 per purchase) and add-ons in a cart!

See this example of 2 $20 tickets and a $20 t-shirt. The fees are $9.54 on Eventbrite. Compare to processing fees of $4.70 on TicketSignup ($3.76 with our first tier of volume pricing). Per cart pricing always saves money, and even more when selling add-ons.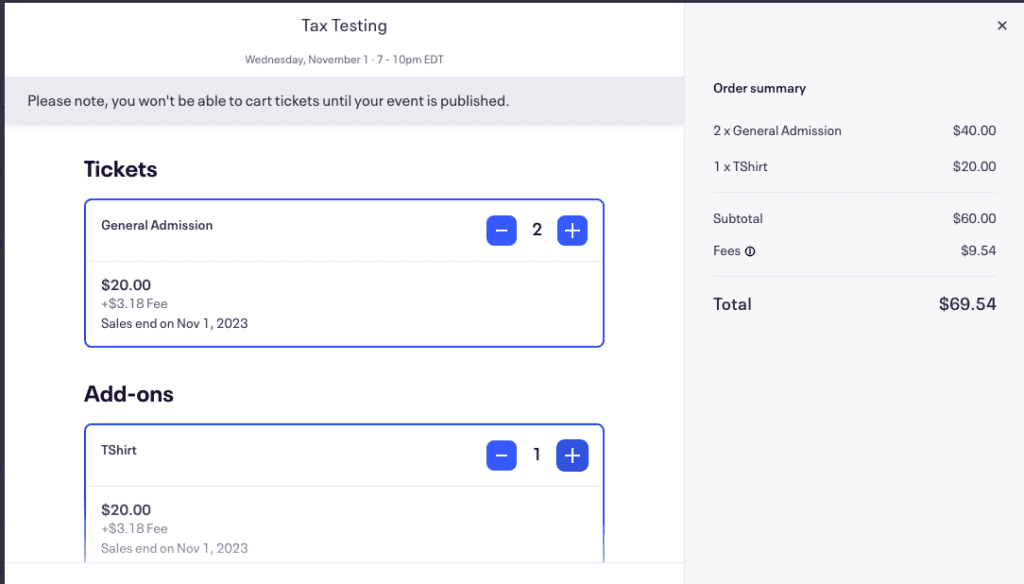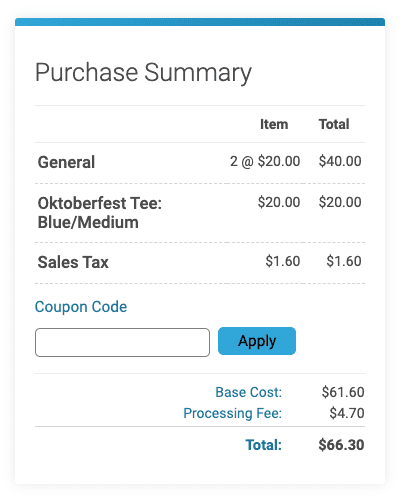 ALL Credit Card Fees Included. Easy Financial Reconciliation – No Separate Merchant Accounts.
Volume Pricing available starting at 5,000 tickets.
Since fees are very inelastic and customers are used to paying fees per ticket and add-on, events can grow profits even more by increasing the TicketSignup processing fee and keeping the difference.
The other really big benefit to TicketSignup customers is automated sales tax collection and remittance. You can set sales tax codes per item to ensure compliance based on the add-ons you are selling.
TicketSignup makes it easy for events to increase revenue per ticket sold with our powerful integrated merchandise and add-on capabilities. We will continue to add even more powerful add-on capabilities in 2024.
Interested in learning more about this topic? Join Catch our on-demand webinar!