This blog covers our TicketSignup product roadmap for 2023. We've also written a 2022 Product Recap, Company 2022 Review, and 2022 Availability and Infrastructure report. Also, here's our 2023 Roadmap Webinar.
Our 2023 Product Roadmap continues to focus on the 3 core technologies for ticket events, in addition to a bunch of behind the scenes improvements to infrastructure and our devops processes:
Marketing
Next Generation Websites
The Website Builder will continue to expand capabilities in 2023 as we add system pages for attendees to more easily manage their tickets, more components to design free event websites, and advanced SEO options. Building on the first version of Ticket Analytics released last year, we will add more analytics functionality to ticket dashboards to track the number and sources of website views, ticket purchases, and donations. You'll be able to see which websites, external links and emails drove the traffic, which helps your event optimize marketing communications and ad spend to increase ticket sales. We will also add custom source tracking so that you can track the ROI on specific campaigns via unique & easy to manage links.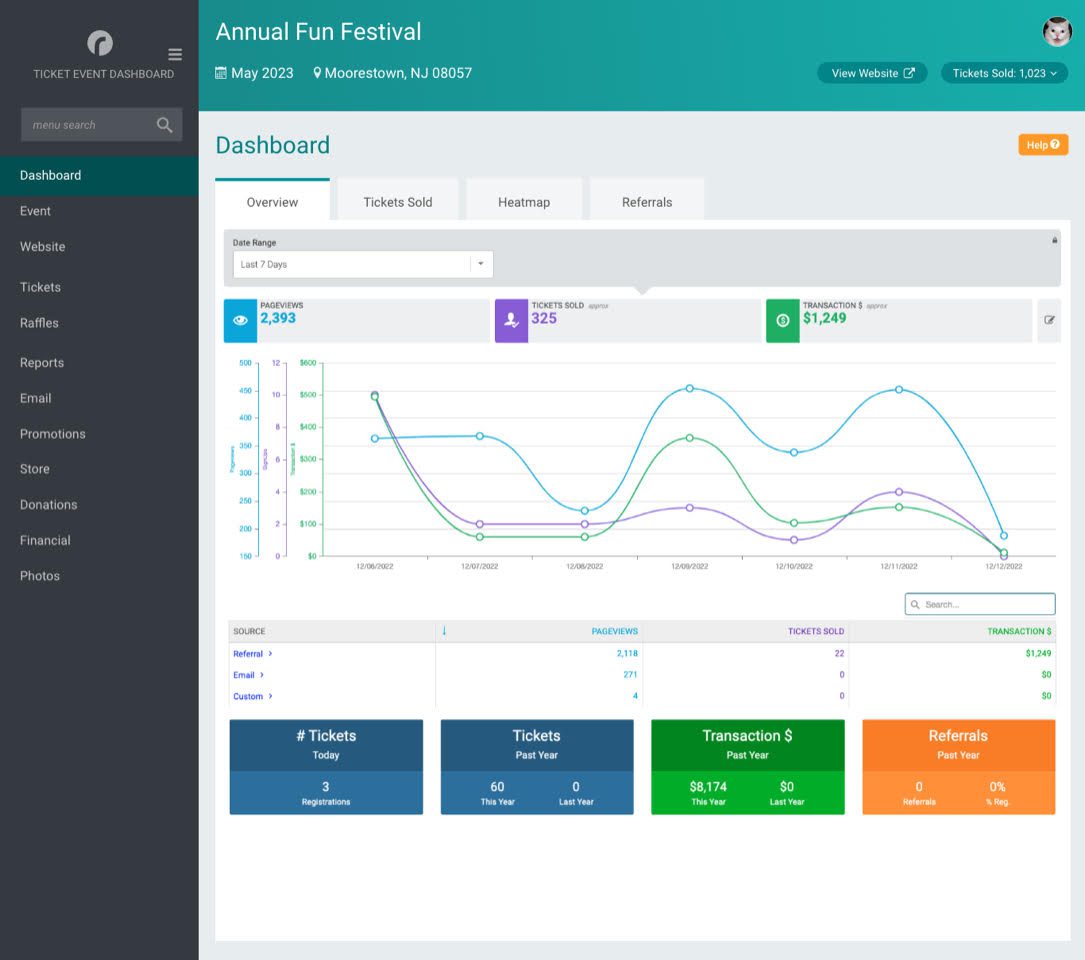 Image Gallery
Images are a key part of both Websites and Email. Last year we released the first version of Image Gallery, which enables events to choose from stock images across a variety of event categories. This year we will extend the Image Gallery to TicketSignup's Email Builder.
One of the key investments we are making in Images in 2023 is the ability to automatically save users' uploaded images to a gallery. For example, when an event uploads a custom image to a page of their website, they would be able to use that same image to add to their emails. We will also add sharing permissions so that a customer with 300 events would be able to upload an image to one event and make that same image available to all 300 events. We will offer advanced functionality, such as image search (title, date uploaded, etc.), pixel size, image cropping, and saved image folders.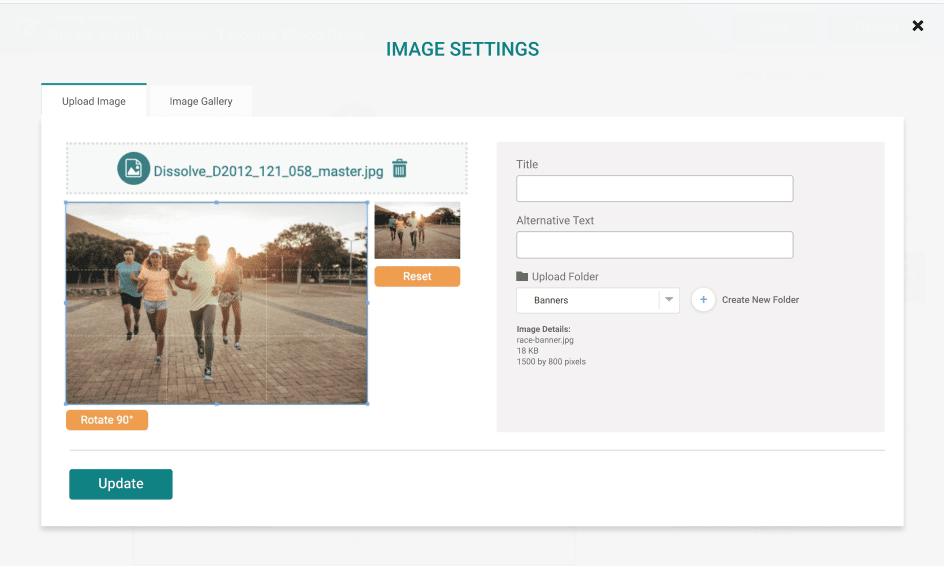 Email Marketing
TicketSignup's free Email Marketing already helps customers send more than 20 million emails a month. In 2023, we will be adding more components to design emails and replacement tags to personalize communications. There are several key advanced email functionalities that we will be adding, including:
Pre-Built Emails that provide a library of emails from announcing that ticket sales are open to pre-event communications, with recommended text and layout that you can easily tweak and send to make your promotions and event management even more efficient.
Advanced Contact Lists that enable list building across all of your events and uploaded contacts with advanced filters; for example, attendees who went to three events and donated more than $25 or all ticket purchasers within 50 miles of a zip code.
Customer Journeys that allow for multi-step sets of emails to be sent depending on outcomes. For example, you might send an email to everyone in your contact database to tell them to sign up for a race when it opens, and then wait for a week and send an email to everyone who did signup to remind them to refer friends for rewards, and remind those who did not signup yet they still have time.
Tickets
In addition to customer-driven requests and continuous improvements, we have several major projects for our 2023 TicketSignup Product roadmap.
Apple Pay and Google Pay
Following the release of fast checkout, we will be adding payment options with Apple Pay and Google Pay. This will make it even faster for attendees to purchase tickets from their phones.
Multi-day, Timed Ticketing
Our major product investment in 2023 will be in extending our database structure and set of features to better accommodate event setup, ticket purchase, management, and reporting for multi-day, timed entry events like haunts, holiday light shows, festivals, and more. At a very high level, we will be adding data driven date and time slot fields to our existing ticketing platform. This will result in new calendar-driven event set up, dashboard pages for managing tickets & generating reports, and ticket purchase options.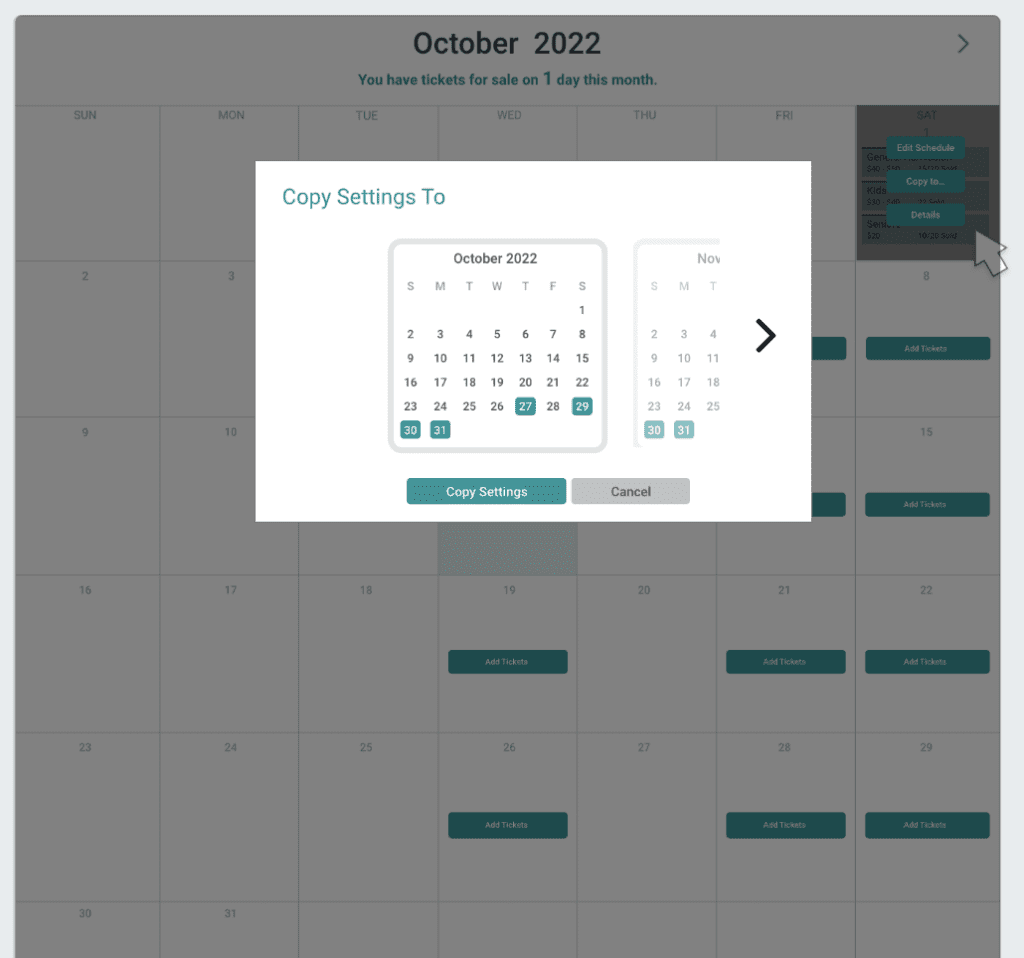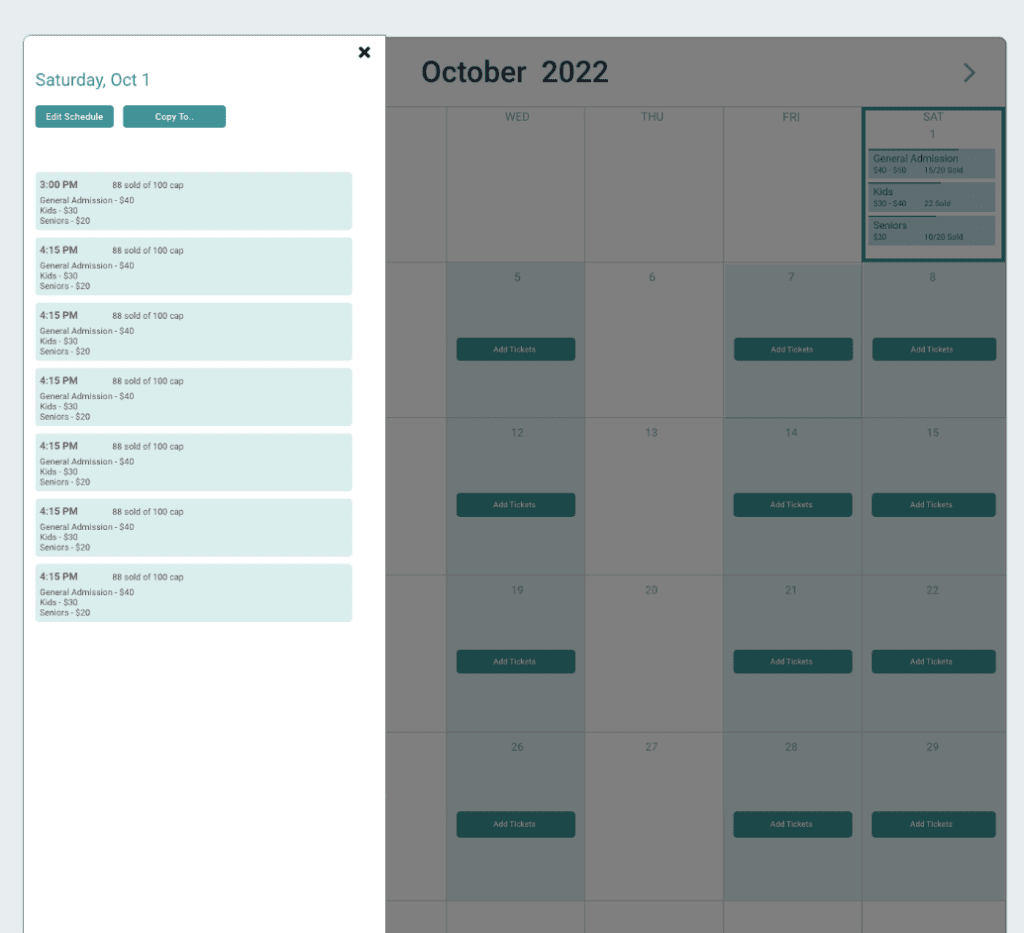 More Ticket Management Options
Self-serve ticket management is one of the most powerful ways that we make events easier on TicketSignup. In 2022, we had many outdoor events use self-serve transfers so that thousands of attendees could move their own tickets from a rained out date to a new date & time that works for them. In 2023, we will add more self-serve options to drive additional revenue, including options to add more tickets and more store items to an existing purchase.
Reports
In 2022 we released our next generation of reporting for ticket events. In 2023 we will add more power to reports as we roll out multi-day, timed entry ticketing.
The other big report investment we plan to make in 2023 is allowing directors to easily save and access custom reports. With column editing and search/filter functionality we rolled out in 2022, this becomes a powerful tool for events to easily view the data they need without re-building reports. We will also add advanced access options to easily invite team members who are not directors of the event to view one or multiple saved reports.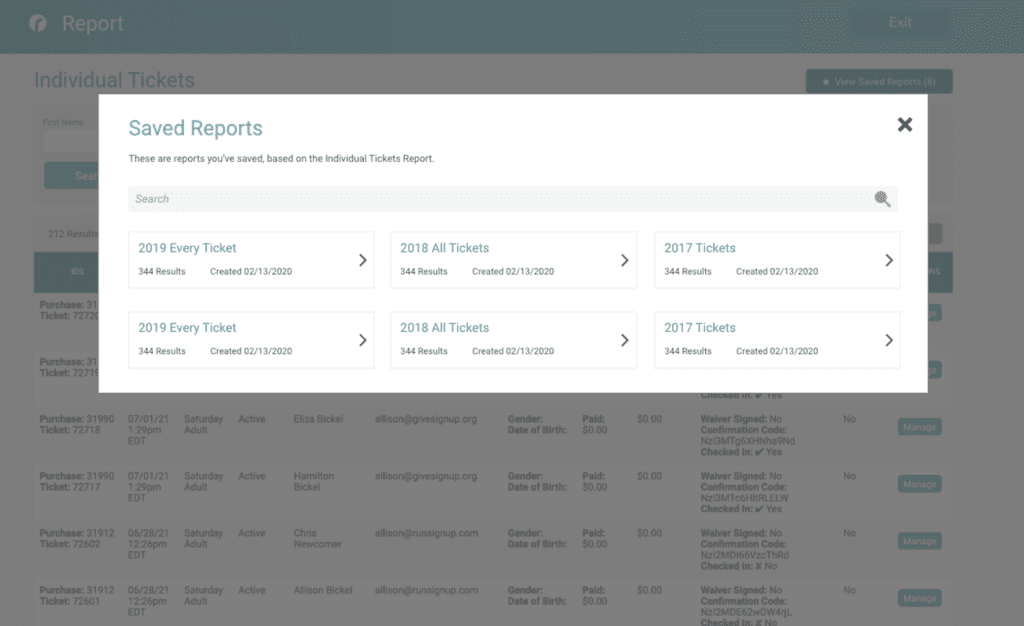 EventDay
Texting
Later this year, we will add a setting for events to enable text opt-in. This will allow ticket purchasers to opt-in for texts and enter their cell number. We will provide a dashboard page where your event can send text notifications to some or all attendees. For example, if your event is canceled by rain you can send a text in addition to an email. Note that text will only be available for event communications and not for marketing purposes.
Ticket App
We had hundreds of events use our Ticket App to manage check-ins, store fulfillment, and on site ticket sales this year. In 2023 we will continue to add more features to the Ticket App:
Continuous improvements to stay up to date with OS updates and incremental user experience improvements
Point of Sale extended to store so that events can sell additional items like drink tickets, shirts, and/or experiences/attractions on site
CheckIn extended to standalone store purchases that were bought in a separate transaction from the ticket purchase.
Add additional fees to on site sales to easily charge higher prices to net out Square's processing fees (or earn more money through on site sales!)
Enhanced CheckIn and fulfillment reports in the ticket dashboard