We launched TicketSignup as a business and a product in February 2022. This blog reviews our TicketSignup product strategy and key releases in 2022. We've also written a Company 2022 Review and our 2022 Availability and Infrastructure report, along with our published Roadmap Webinar. We will also publish a TicketSignup 2023 Product Roadmap blog in the coming days to give our customers insight into our product priorities and plans for 2023.
In 2022, we did 1,865 platform software releases with 0 downtime. That's an average of 5.1 software releases per day – not including the extensive releases done by our EventDay team for the Ticket App. Each release is a new deployment to our entire system so that every nonprofit customer benefits from new features and technology upgrades — for free!
Our TicketSignup product investments focus on the three key areas for ticket events:
Across our core product focuses, we spend a lot of time ensuring that our platform is available with major and ongoing investments in infrastructure, and that our existing code is continuously improved.
Marketing
Websites
Websites are how attendees discover and sign up for events, and our 2022 development efforts focused on making it easy for all events to create and maintain a professional, modern, and up-to-date website that's fully integrated with event data. Every event created on TicketSignup gets a free website that's automatically created, populated with event information, and optimized for mobile devices and SEO. In 2022, we added a lot of powerful functionality to ticket event websites:
Pages and Menus: We introduced an easy-to-use content management system to ticket websites so that unlimited pages can be added to a site and organized into modern menu and sub-menu items, as well as an option to hide pages from menus to create embedded content. Menus and sub-menus can also be leveraged for external links.
Event List: Data-driven ticket websites became more powerful with the release of the dynamic Event List. For organizations and directors with multiple events (ticket and registration), the Event List displays all upcoming and past events. When an event occurs, it automatically moves from Upcoming to Past so that your website is always up to date. Customization enables different Event List displays and include/exclude rules.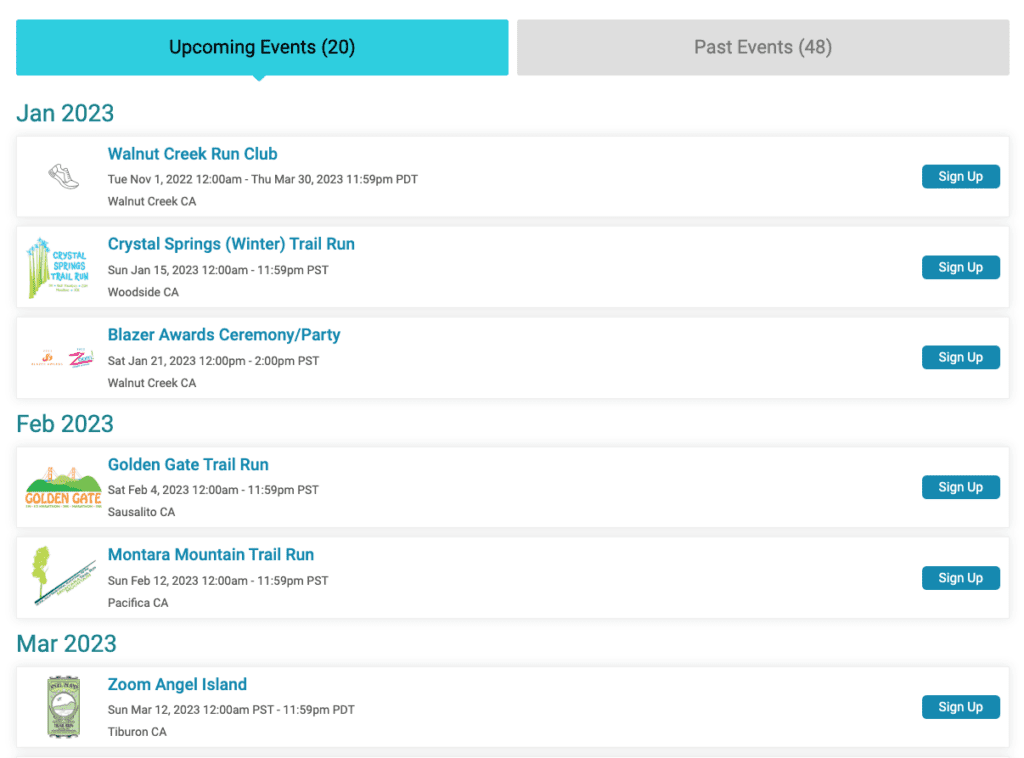 Powerful Image Display options: There are more ways to display images on ticket websites, which are easy to add from the content block library. The photo slideshow features images in an automated display. Cards give flexible display options to feature 2, 3, 4, or 5 images with optional links and text – perfect for highlighting sponsors across website pages. The image gallery provides a robust library of images to add to ticket websites, making it even faster and easier to customize content. With options to hyperlink images to redirect visitors to a different page or website, TicketSignup websites continue to expand image customization options.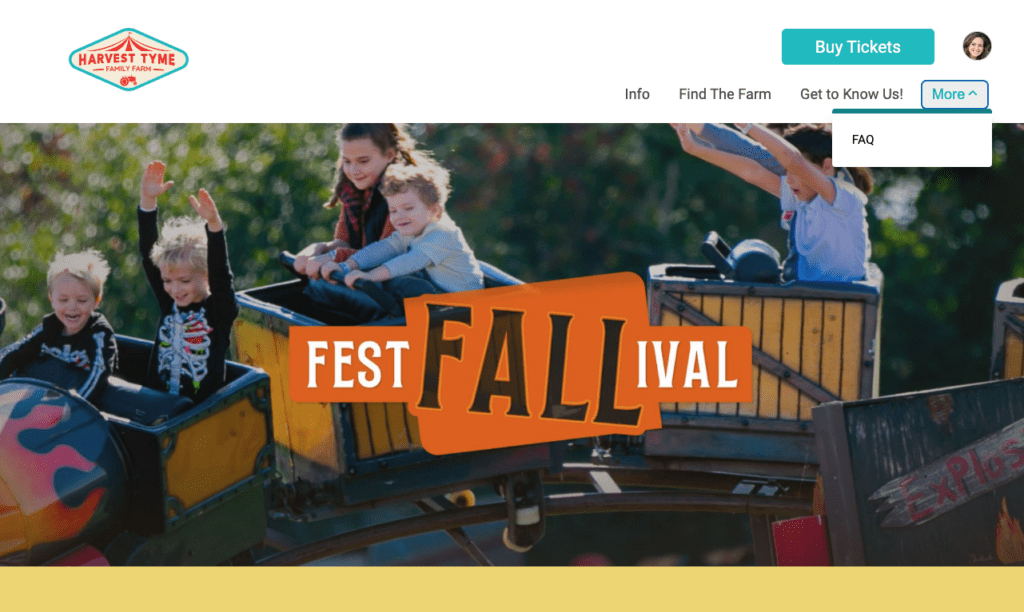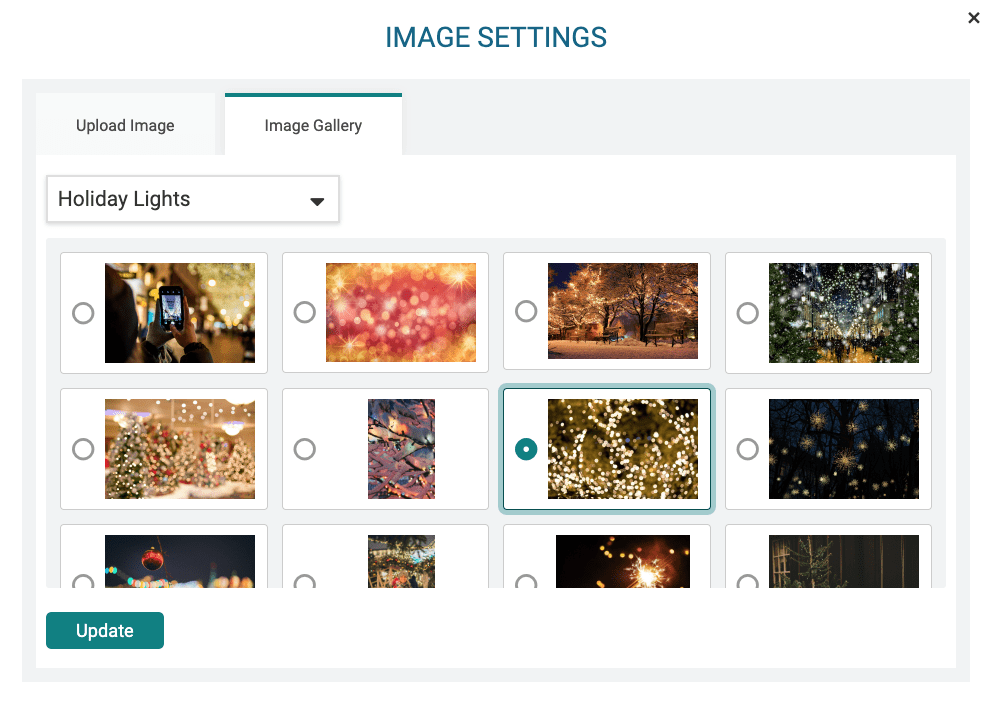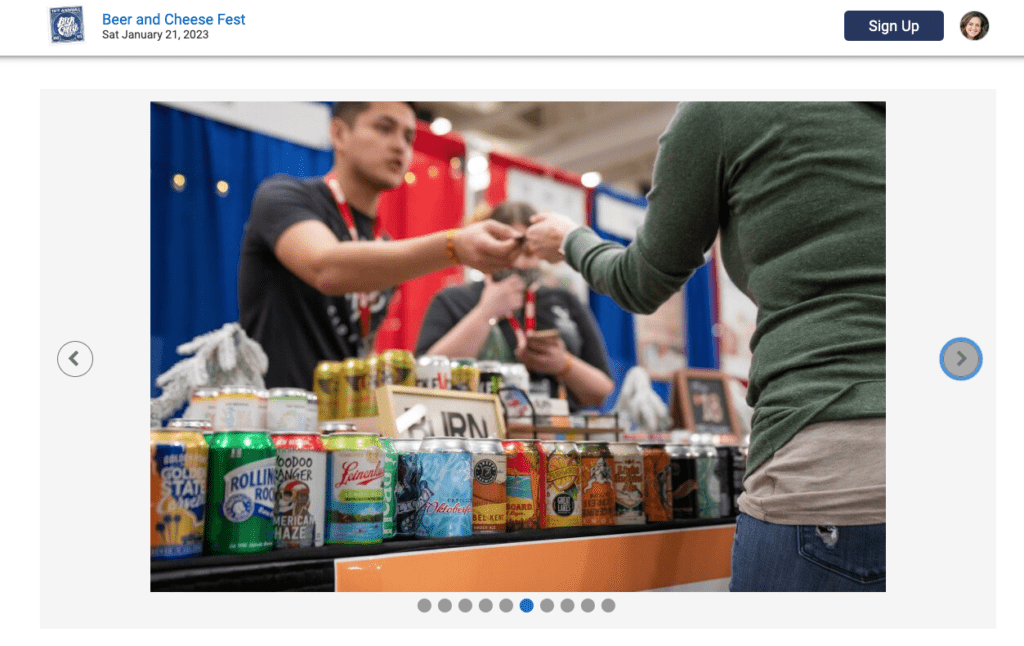 Custom Ticket Tiles: Ticket tiles are fully customizable and can be displayed anywhere on ticket websites, with options to add images, quick purchase, date and time display, and more.
Calendar: TicketSignup is purpose-built for multi-day, timed entry events. The first version of the calendar was introduced in 2022 to make it easy for attendees to select a date and an optional time slot for their tickets.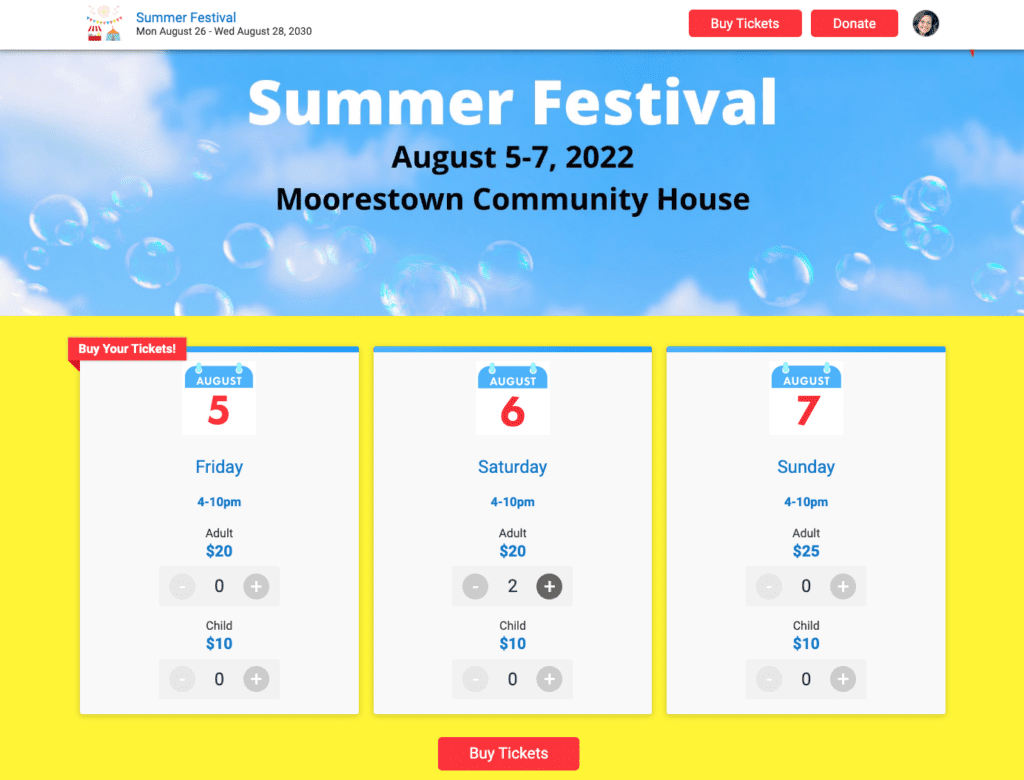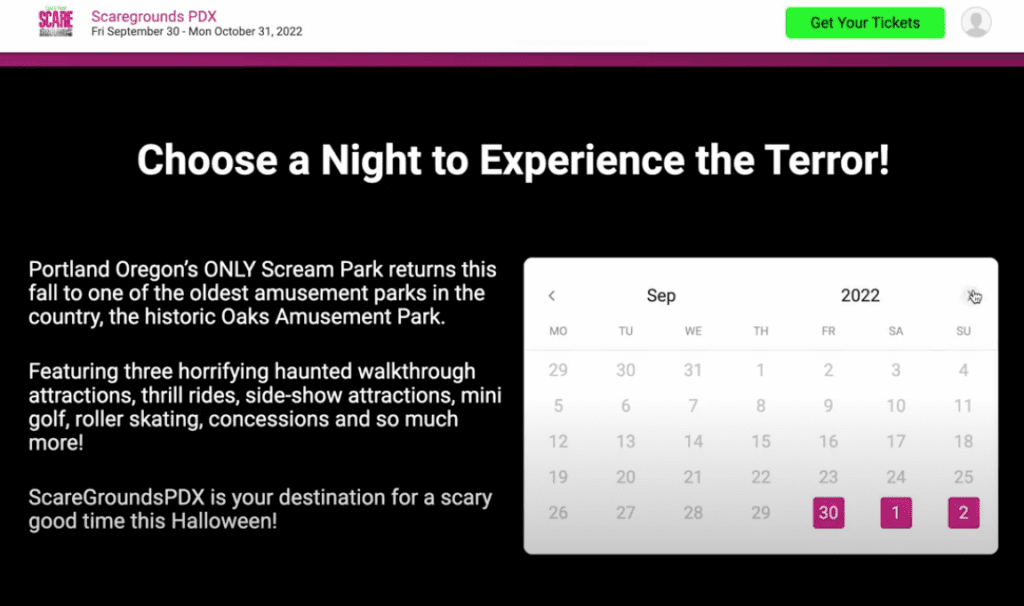 Preferred Domain: While we offer the option to bring a domain or subdomain for free, many events choose to use our default URLs for their events. Preferred Domains allow events to choose one of our brands as the default URL: TicketSignup, GiveSignup, or RunSignup.
Facebook Conversion API: TicketSignup websites offer integrations with external platforms like Meta and Google for more analytics and tracking capabilities. This year we upgraded to the Facebook Conversion API so that events have enhanced ad tracking capabilities.
Evvnt Integration: TicketSignup's free ticket event websites are optimized to ensure that events are easily found online. In 2022 we were happy to announce a new integration with Evvnt, which automatically lists TicketSignup events on local news syndications and event listings from its network of more than 2,500 US-based calendars.
We also released the first version of Organization Websites in 2022. Organization Websites offer a powerful standalone website capability for organizations with outdated and expensive websites that are difficult and time-consuming to maintain. The dynamic event list, extensive library of website builder content blocks, and custom domains/subdomains are all available in this first version of Organization Websites.
Email
Events can send unlimited emails to unlimited contacts for FREE with TicketSignup's next-generation Email Marketing. In 2022 we enhanced TicketSignup's free Email Marketing platform with the introduction of the Email Builder and dozens of other features from content blocks and replacement tags to Email Capture and deduplication support. There was also a lot of behind the scenes infrastructure work on enterprise email deliverability – we are currently sending more than 20 million emails per month with a failure rate of less than 0.01%!
Email Builder: The Email Builder makes it fast and easy to create beautiful email layouts and templates – no coding required! The library of content blocks offers flexible ways to design emails with images, text, and call-to-action buttons.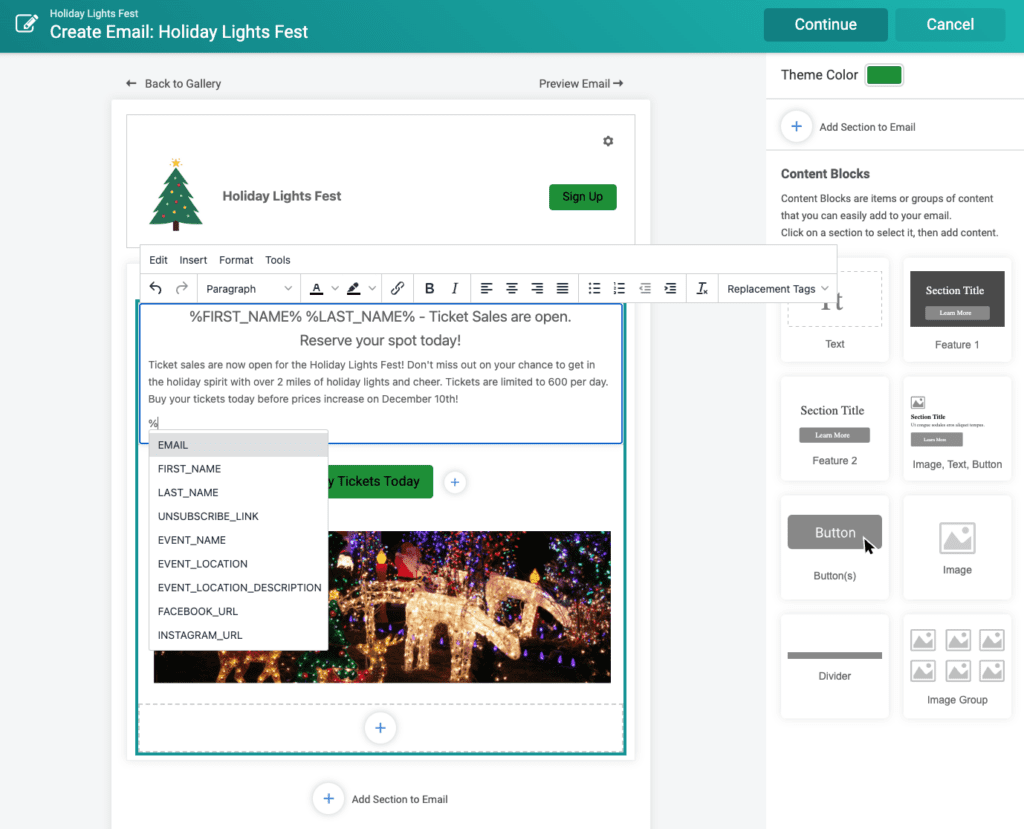 Data Replacement Tags: Replacement tags personalize emails and contain important event details like ticket purchase summary and QR Codes. The Email Builder makes it even easier to add – just type % and you'll get a dropdown of suggested tags! We continued to add more tags throughout the year, including unique Manage Ticket links so that attendees can manage their own tickets, referral codes to promote Referral Rewards in Email Marketing, ticket name, and more.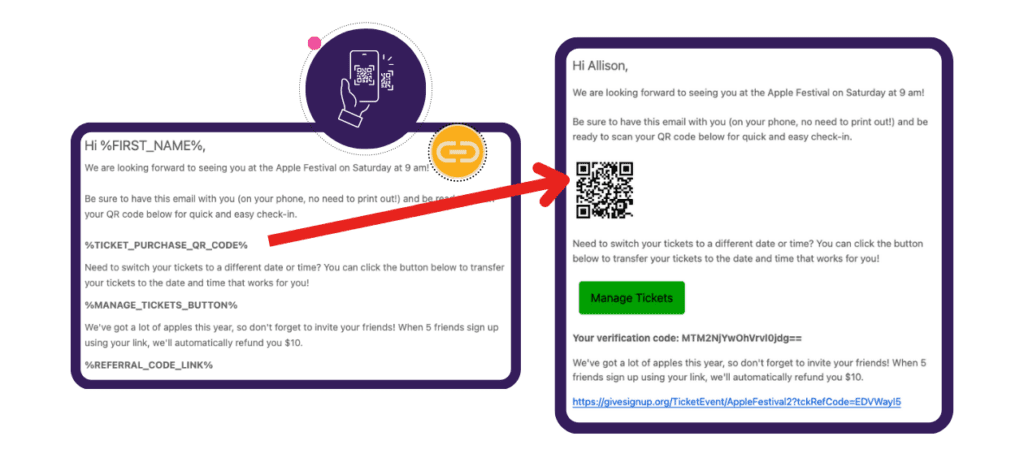 Email Capture: The Email Capture pop-up helps events grow their email lists by collecting contact info and automatically adding to an Email Capture list in TicketSignup's email marketing to include in promotions and newsletters. Add unique content, calls to action, display, and timing.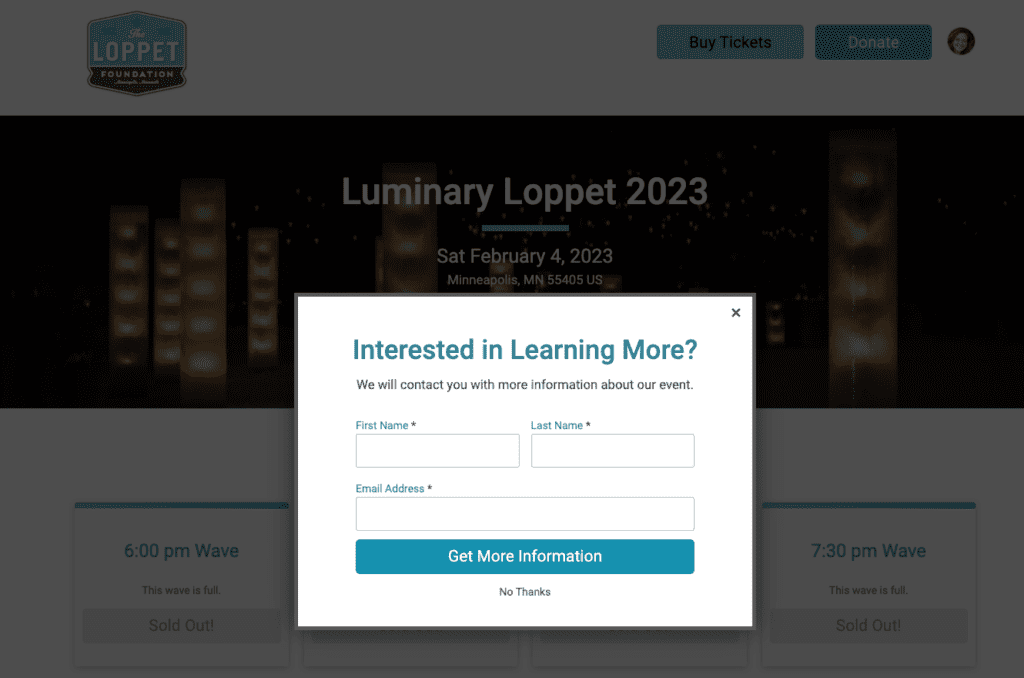 Automated Emails: Set up a drip campaign that automatically sends a set number of hours/days after ticket purchase and/or on a certain date. Customers leveraged automated emails to promote Referral Rewards programs, other upcoming events, and more.
Image Grid: Perfect for featuring sponsors on emails, the image grid is a new content block that features a set of images in a group, with options to choose the number of images in a row, add hyperlinks, and a heading.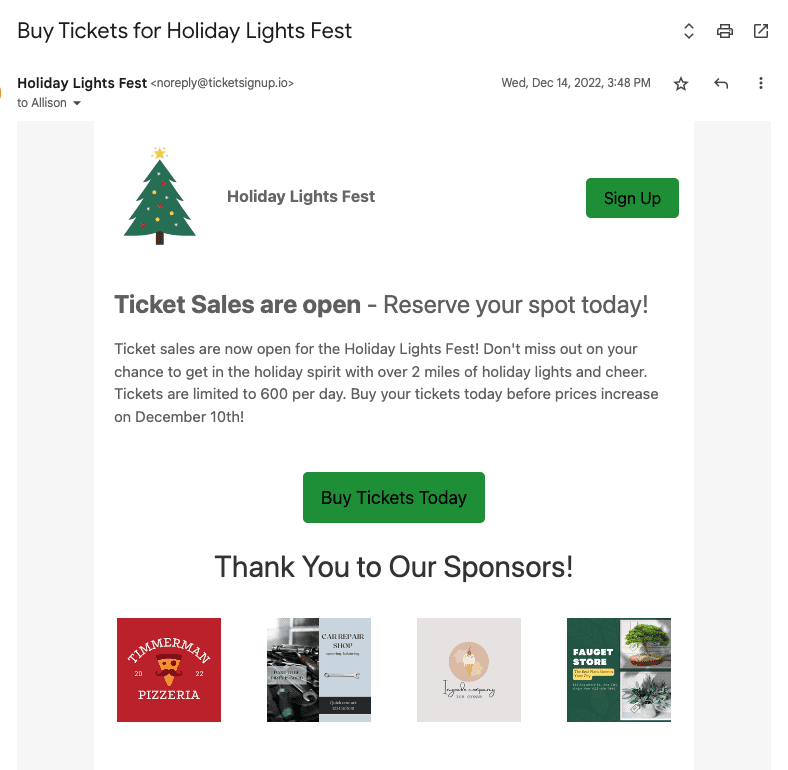 Free Organization Email Marketing was also released in 2022. Similar to Organization Websites, Organization Email offers the power of TicketSignup's Email Marketing across all of your events and contacts. This allows more of our customers to cut expensive email platforms like Constant Contact and Mailchimp, as well as leverage active system lists across all events. Unlimited custom contact imports (we've had customers imports hundreds of thousands of contacts at a time!) make the transition to TicketSignup Organization Email Marketing even easier.
Referrals
The highest ROI marketing tool outside of Websites and Email that events used this year was TicketSignup's automated Referral Rewards, with an average of a dollar spent for an $81.66 return in ticket sales! Events set a referral threshold and a refund reward (i.e. Refer 5 friends and get $25 back on your ticket purchase). The refund is only issued once attendees have reached the ticket threshold via their unique link. We've had Referral Rewards in Tickets since 2019 and added more functionality last year. We wanted to highlight some of the complementary features released this year that helped accelerate the success of our customers' Referral Rewards programs:
Feature Referral Code on Purchase Confirmation Page: The confirmation page that attendees see when their purchase completes is customizable. Show a pop-up with the attendee's unique referral code and a message that incentivizes them to share that code and bring their friends & family to your event.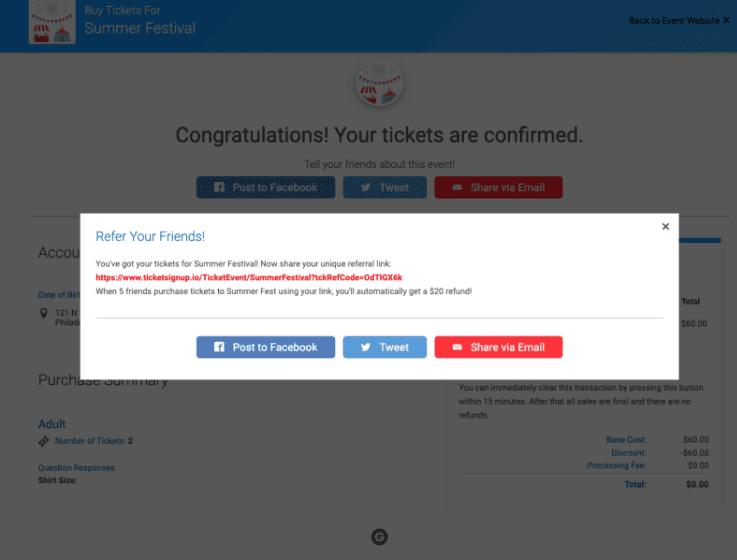 Automated Emails: Many events set up an automated email to send one hour after ticket purchase with the purchaser's unique referral link and a description of the incentives program.
Ticket Analytics: Our first release of Ticket Analytics this year included a chart with Referral Rewards data so that events can easily track how many referrals they've received vs how many refunds they have issued from their dashboard.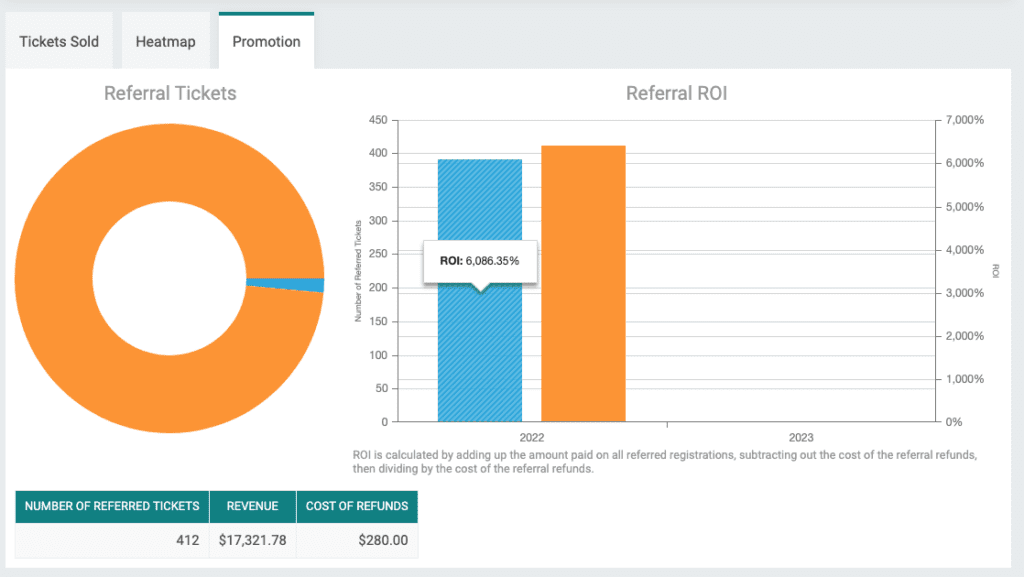 Tickets
Ticket Purchase
Since we launched TicketSignup, we've focused on making it fast and easy for attendees to buy tickets – no logins or passwords required! This year we made it even faster with the elimination of billing address on the checkout page, and even more flexible with new features for caps, notifications, and more.
Copy Ticket Event: For organizations with multiple events or as a way to easily set up an event for the next year, Copy Ticket Events makes it fast and easy. Select the settings you want to bring over and get your next event up and running in minutes!
Sales Tax: TicketSignup takes care of all the obligations of calculating, collecting and remitting sales tax for ticket events. This takes many hours of work, as well as fears of incorrect calculation, off of event operators.
Fast Checkout: Ticket purchases only require a credit card number and zip code (state and country automatically populate based on zip code) so that ticket purchase is even faster. An optimized ticket purchase path is key to selling more tickets so that you don't lose people who are confused or unwilling to enter information into fields.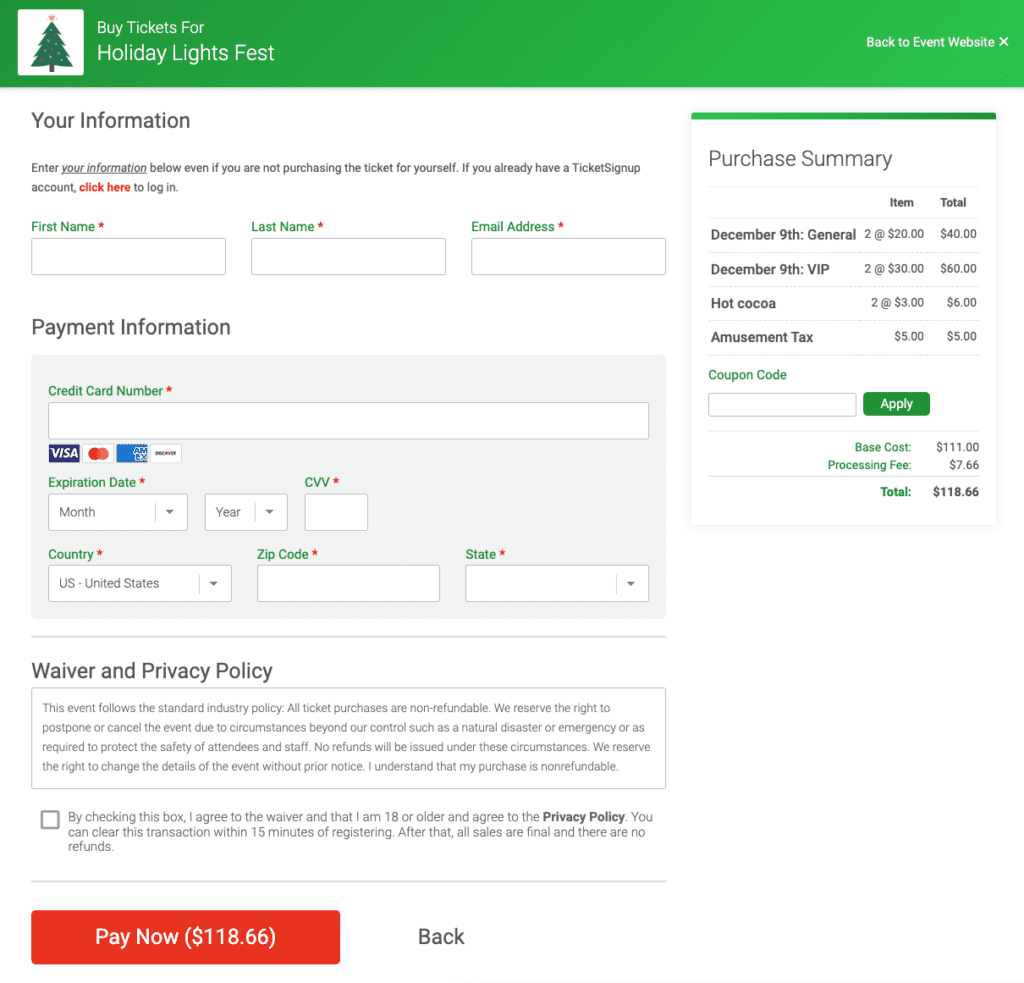 Ticket Analytics: In 2022 we added powerful functionality to the ticket dashboard. There are 3 analytics charts that we released in our first version of Ticket Analytics: Tickets Sold, Heat Map, and Referrals.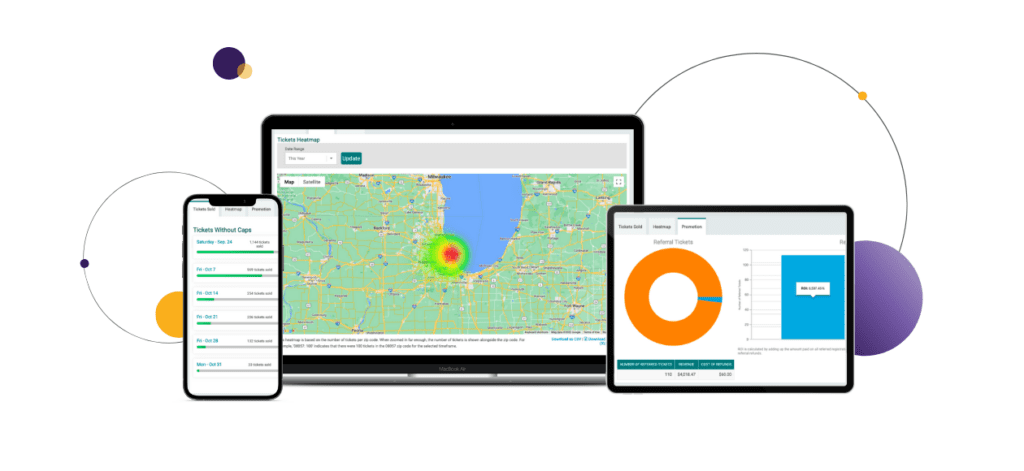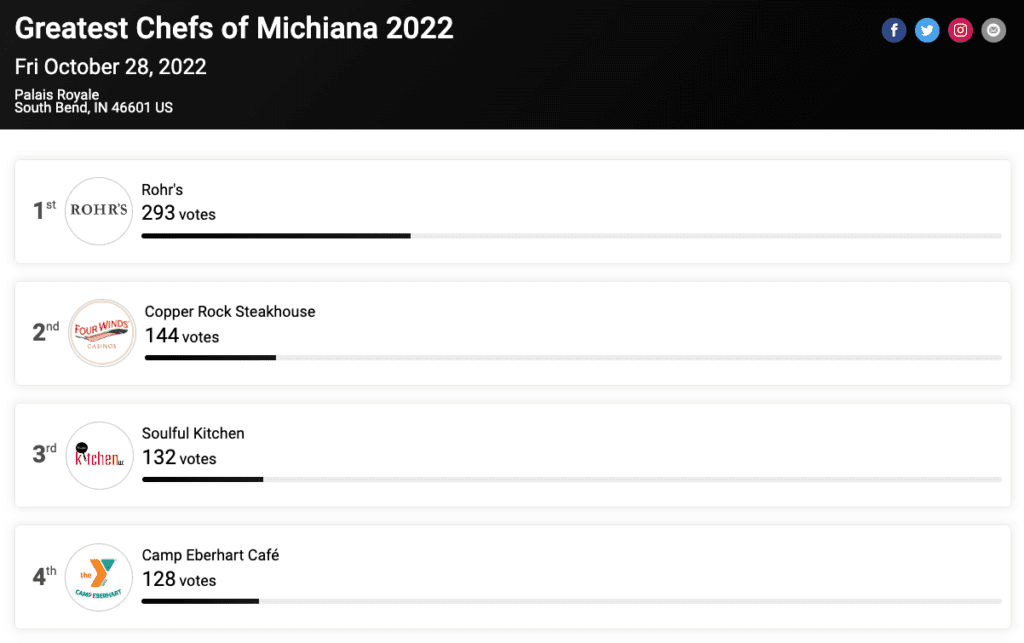 Ticket Management
Ticket Management is how your event delivers exceptional customer service. In 2022 we added more functionality for directors to manage their attendees' tickets, as well as more options for self-serve ticket management.
Attendee Quick Search: TicketSignup's dashboard became more powerful with the Quick Attendee Search, letting directors pull up a ticket purchase via name, email, or confirmation number from the top right corner of the dashboard.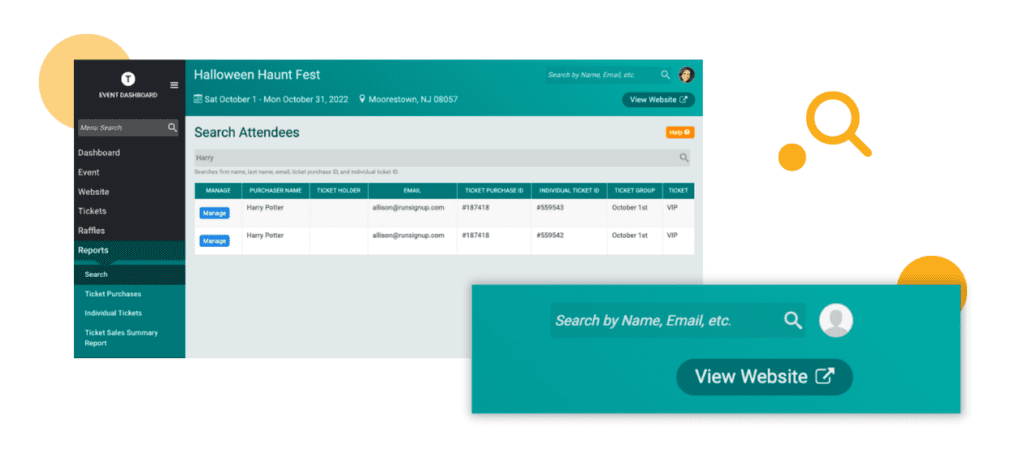 Store
Many ticket events use TicketSignup's store to sell additional items and experiences, as well as automatically include attractions or items with a ticket purchase. In 2022 we introduced a powerful next-generation Store for tickets with the introduction of the Warehouse, Bundles, and Standalone Store. These features were complemented by store fulfillment capabilities in the Ticket App CheckIn, reporting enhancements, and advanced store management options for directors.
Warehouse: The Warehouse is a powerful inventory management tool for organizations with multiple events. Items can be shared across events with a shared inventory and item settings.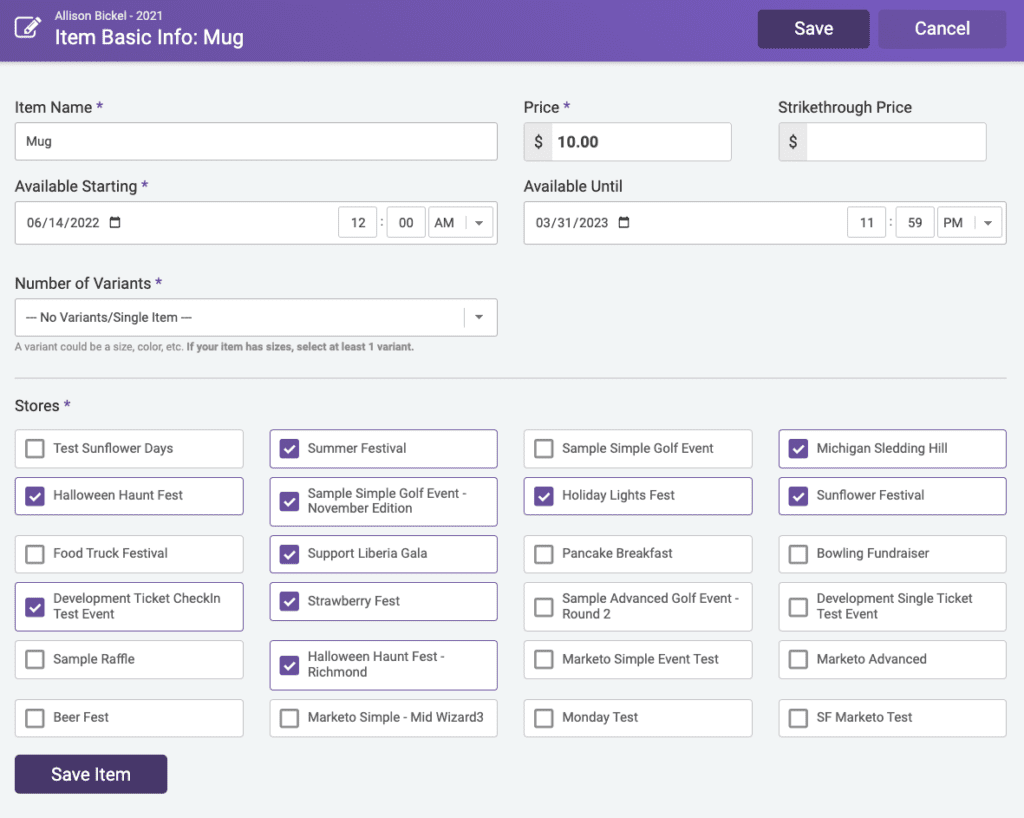 Ticket Bundles: Bundles allow events to automatically include store items with tickets. For example, VIP Tickets include 2 drinks and Kid Tickets come with a free Corn Maze pass. This is a powerful way for farm events, beer fests, golf tournaments, and more to automatically include additional items with certain (or all) tickets.
Standalone Store: The first version of the standalone store for Ticket Events was released this year. This allows website visitors to purchase available store items without buying a ticket, making it a great solution for events looking to grow revenue through store sales and organizations that want to keep store sales open beyond ticket sales.
Reports
A big focus in 2022 was creating the next generation of reporting for tickets. TicketSignup has made a number of updates to improve the ways that directors can view, customize, and export their data from their dashboards.
EventDay
CheckIn App
We spend a lot of time speaking to people about pain points and issues that come with putting on events. While ticketed events vary in many ways, the one thing they almost always have in common is a need for a smooth check in experience. The TicketSignup Tickets App for CheckIn makes event day check in easy and allows event organizers the bandwidth to focus on event day – across all of our events, it was the most popular TicketSignup feature!
CheckIn: The EventDay team did dozens of releases to improve CheckIn App functionality and user experience. Some of the key updates this year included:

Store Fulfillment: Fulfill store items on site with the Ticket App CheckIn. This functionality works for items sold as well as bundled items/experiences. Additional options to only show one or several store items in the App ensure that staff can only fulfill the item(s) that they are responsible for.
Ticket Filters to only view one ticket type at a time in the CheckIn App
Enhancements to configuration set ups, making it simpler for staff/volunteers to view the correct data (i.e. tickets only, store only, etc.) in the CheckIn App
In App Support so that our team can automatically get info they need to troubleshoot user errors.
Continued UX improvements as we got feedback from dozens of events with 10k – 60k tickets sold to make continuous improvements
CheckIn Stats: On the dashboard, there are multiple ways to view event CheckIn Stats. This dashboard view helps event directors quickly and easily understand how many tickets have been checked in by ticket, ticket group, and across all tickets being sold at the event with visual graphs that make it easy to leverage on site. We also introduced a CheckIn Intervals Report this year so that directors can view the volume of CheckIns within or across dates.
On Site Ticket Sales
Point of Sale: We announced our beta Point of Sale solution in the Ticket App to offer a free and easy way for events to sell on site tickets. Point of Sale is in the Ticket App, and events can choose to only use CheckIn, only use Point of Sale, or navigate between the two per device. We chose to integrate with Square due to their prevalence as well as their affordable and high quality hardware. Our beta was used to successfully manage on site ticket sales for several events this fall.
QR Codes and Quick Text: TicketSignup offers easy-to-print QR Codes and Quick Text links for key pages of your event website – including Buy Tickets and Donate. Featuring signs with QR Codes and Quick Text links makes it fast for people to buy tickets from their own phones so they can skip lines and get to the event even sooner.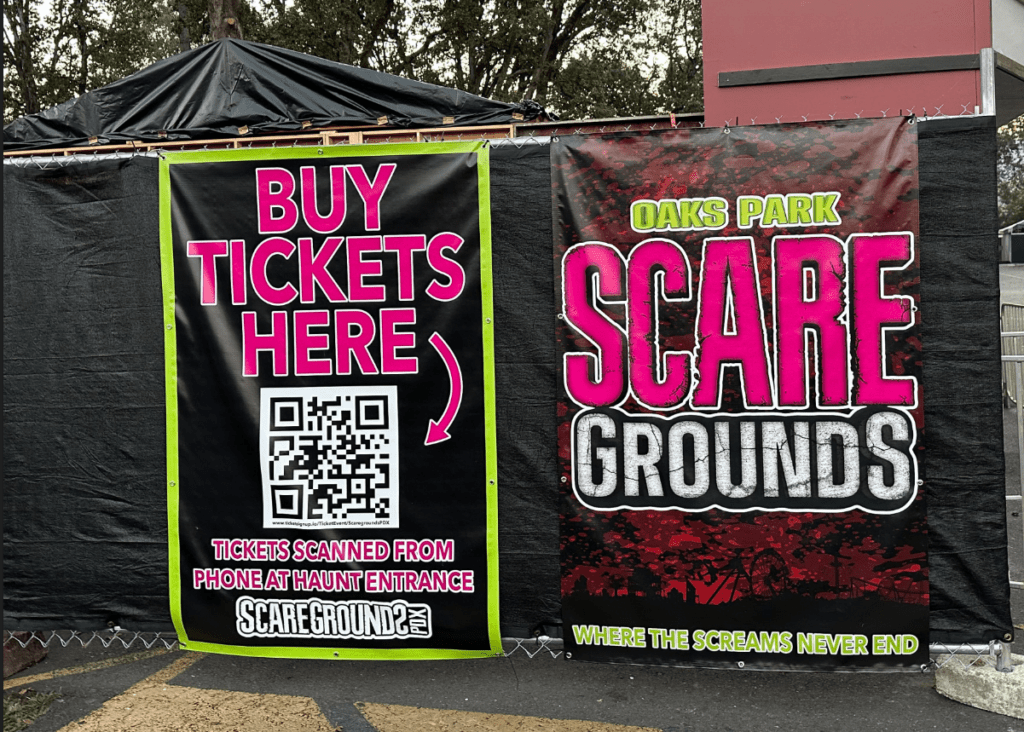 Summary
Our development team did an incredible job in 2022. We made huge and foundational investments in Email, Websites, Tickets, Reports, Store, and EventDay technology. We have great customers who communicate what they need for their events to our sales & support teams, and based on their feedback we released many new features that helped our customers grow their events, manage attendees and ticket sales, and streamline EventDay operations. As we head into 2023, our product roadmap will build on this incredible foundation of software we created in 2022.