You've promoted your event and sold tickets – now it's time to get ready for the event. Whether your event is just one day or runs for several months, TicketSignup has the free tools you need for check-in, ticket management, and on site sales. This Event Day Guide gives your event a checklist for what you need to do in the week leading up to your event.
1. Communicate Event Day FAQs to Attendees
TicketSignup's free Websites and Email Marketing help you communicate logistics and other event information to attendees.
Add a page to your website to feature Event FAQs. Including this information on your event website can reduce customer support, help your team better answer customer questions, and help people purchase tickets.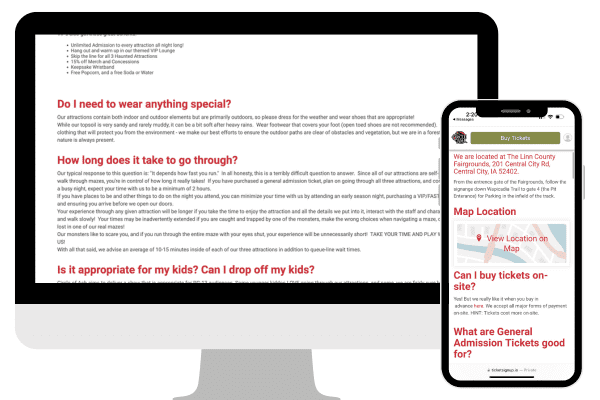 Make it easy for attendees to resend their confirmation emails, or manage their tickets. While we make it easy for directors to resend confirmation emails from the dashboard, add an option for attendees to resend themselves is even better.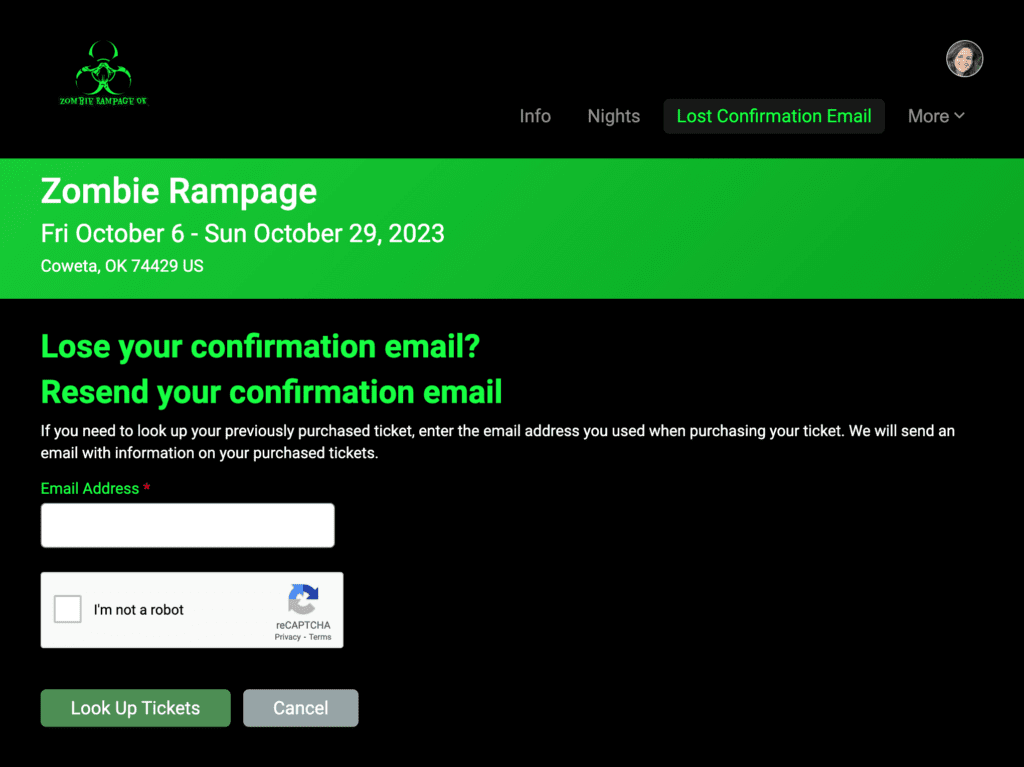 Schedule pre-event emails. TicketSignup's free Email Marketing makes it seamless to select attendees as recipient lists. Best of all, any new ticket purchasers that meet your email's recipient filters will be added to emails up until your scheduled send date.

Include replacement tags like ticket purchase summary and Add to Apple Wallet, which automatically populate with attendees' information. We make it even faster to email attendees with Pre-Built Emails.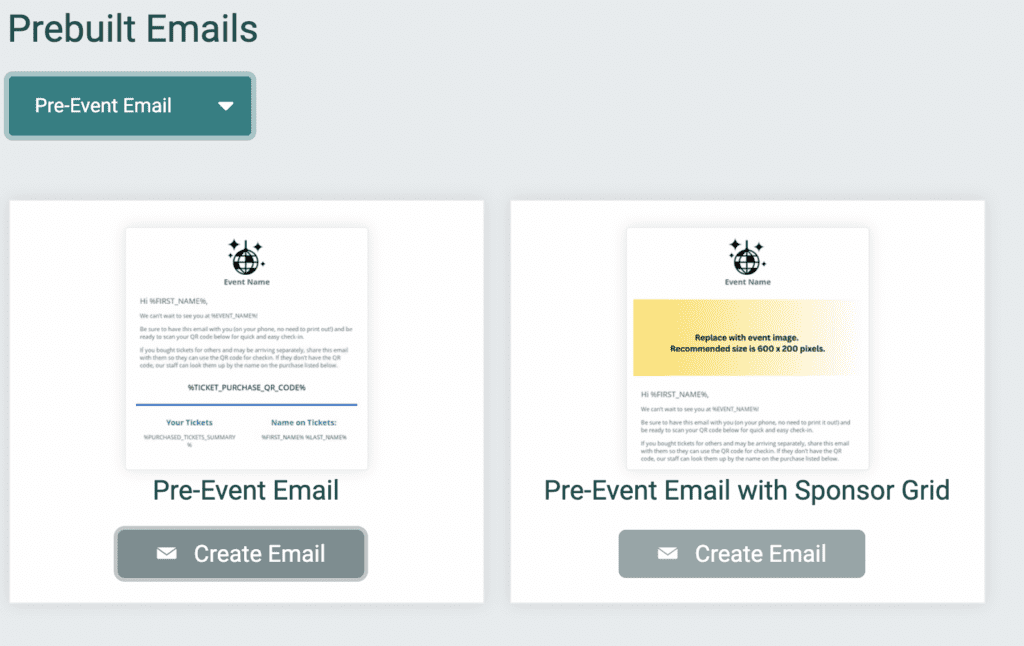 2. Connectivity Plan
Whether you are hosting a beer festival at a brewery, a haunt on a farm, or an airshow in a field, attendees and organizers generally need access to reliable and fast internet to ensure a successful event. It's important for your event to understand on site internet options – and have back-ups. Check out our Connectivity Guide for Events to learn more about why it's important and different options available for events.
3. Check-In Attendees
Most of our customers list the Ticket App as their favorite feature on TicketSignup. It's easy to set up and even easier to check-in attendees. Events like the options to do full and partial check-ins, scan QR codes OR pull up by name, filter by date, track event pass usage, and view/fulfill add-ons purchased.
If this is your first event on TicketSignup, we recommend setting up the Ticket App and testing it out at least a few days ahead of your event. Email info@ticketsignup.io or your Account Manager with any questions, or if you have a complex event set-up.
The Ticket App is available on any ioS, Android, or Chromebook device. You do not need to go out and purchase special software for your event. Most event staff prefer using the Ticket App on their phones. Make sure you communicate the device plan to all staff, and have chargers/battery packs available.
Set Up the Ticket App for Check-In
---
Step 1: Enable CheckIn via the Ticket App from your Event Dashboard. Navigate to Event >> CheckIn. Add dates and a password.

Step 2: Download the Ticket App from Apple or Android. You'll need to download the app on each device you'll be using to check-in attendees at the event.

Step 3: Find your event on the app and enter the password you set in Step 1 to access.

Step 4: Navigate to More >> Event Settings. Add configurations based on the info and permissions you want your staff to have when they check-in tickets. You can create one or many configurations; each device can have its own. Learn more here. Be sure to test!

Step 5: Select the configuration you want to use on each device used at check-in. You can lock the app for staff if you do not want them to make changes to any settings or see overall check-in stats in the app (you can also view stats from the event dashboard)!
4. On Site Ticket Sales
There are several options for handling on site ticket sales. It's important that you have a plan on Event Day, and be sure to communicate that plan while providing opportunities for people to buy last minute tickets.
Communicate that there are no box office sales. Tell attendees that they need to buy their tickets online. If you aren't going to sell tickets on site, then we recommend having posters with QR codes so that people can buy tickets from their phones. This is how many events, including the sign here from XPoNential Musical Festival, handle on site ticket sales. We've made this an even easier process with fast checkout and Apple Pay – people don't even need to enter their personal info or credit cards!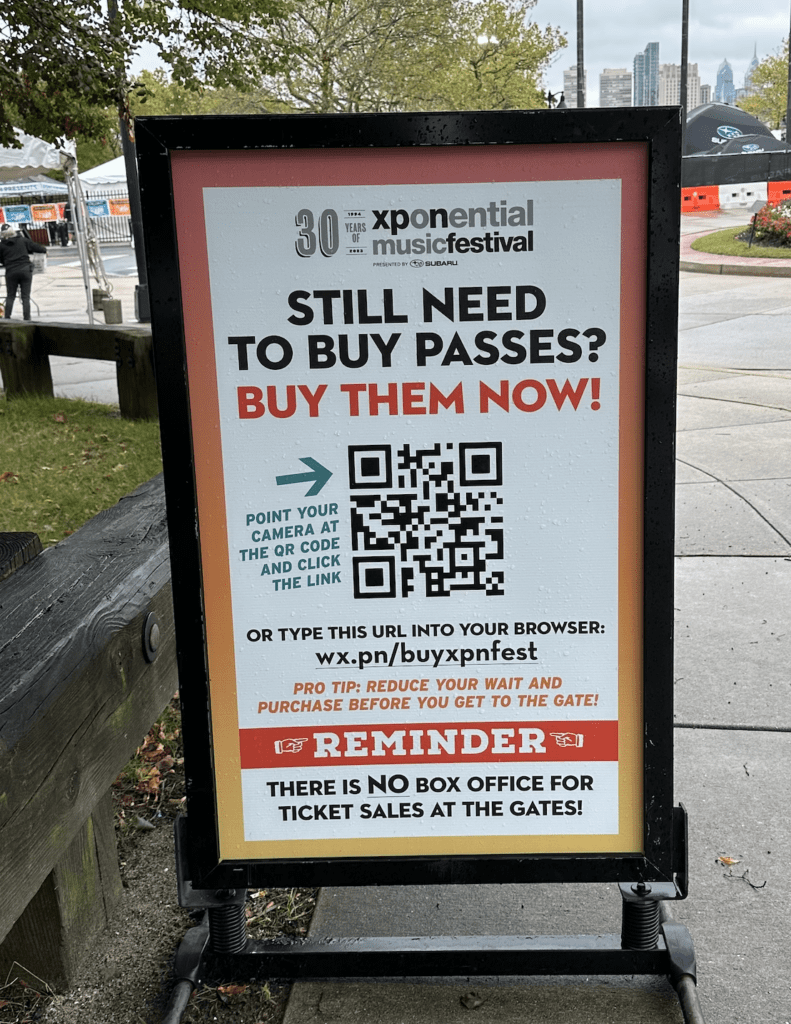 Use TicketSignup's Point of Sale to accept cards, mobile payments, and cash on site, while keeping your ticket sale data (and caps) aligned with online ticket sales. TicketSignup's Point of Sale is built on Square. You'll need a Square Reader and strong connectivity to accept payments (note that the integration does not work with Square Terminals.) TicketSignup's Point of Sale also works for store purchases not associated with tickets. You can print tickets (read this blog for more detail on printer hardware), or choose to auto check-in on site sales.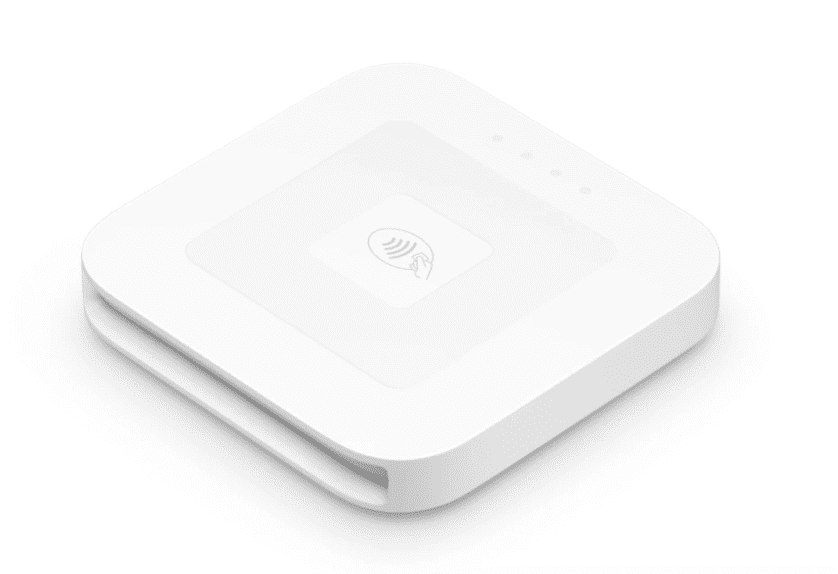 You can also use your own Point of Sale solution, or accept cash on site. Just note that the data will not sync with your event on TicketSignup. For events that are using caps, this would not be a recommended option.
5. Ticket Management
TicketSignup has the tools you need to deliver best in class customer service. Quick search on the dashboard makes it fast to pull up any purchase. Easy management options, including updating information, issuing full/partial refunds, adding store orders, and transferring tickets, are available for directors to help attendees.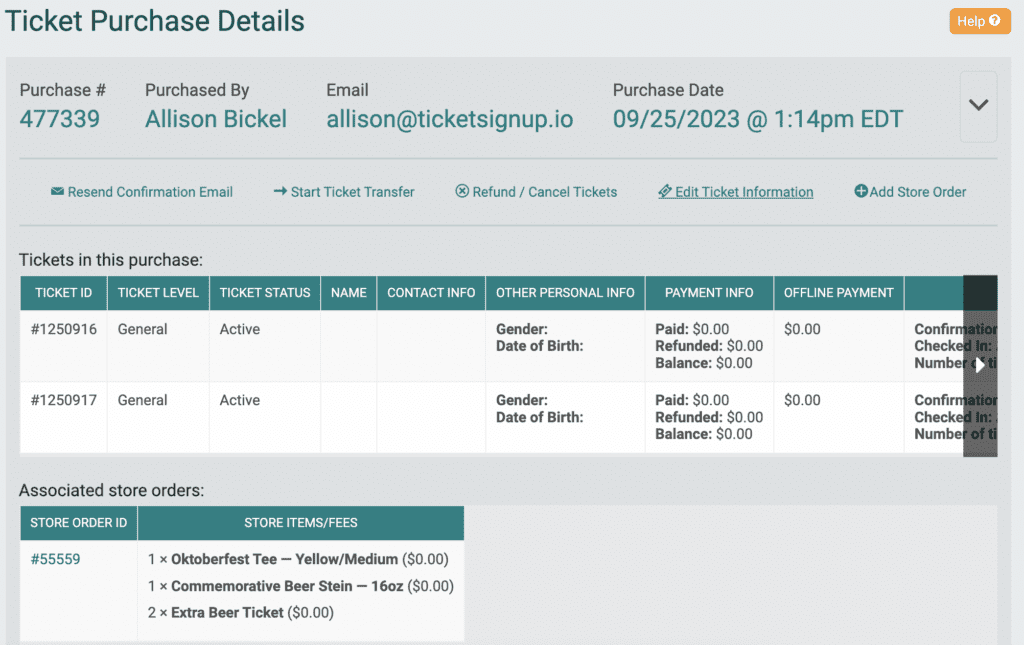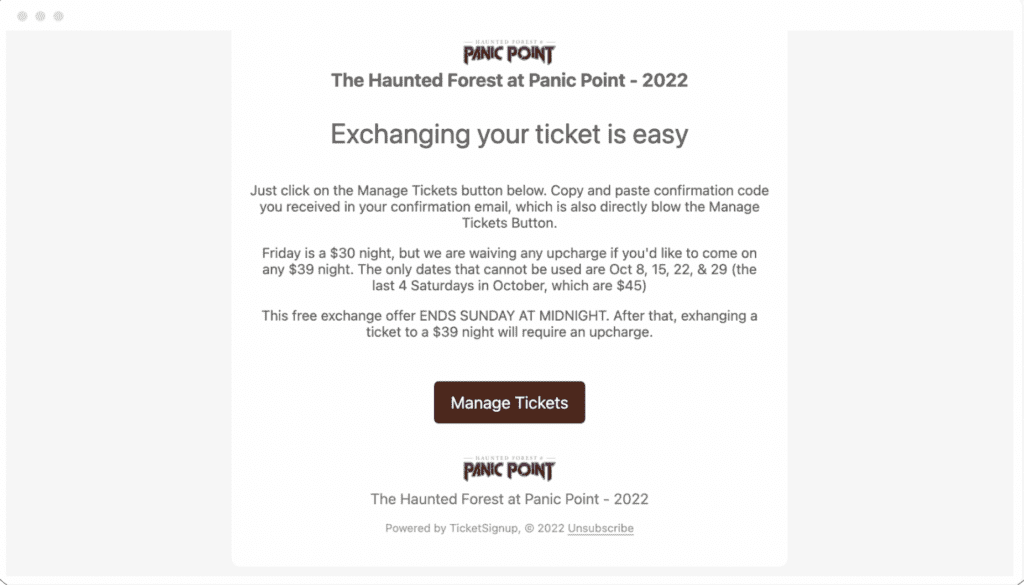 We've also built tools for attendees to manage their own tickets – no passwords or logins required. Many events that we work with are multi-day and outdoors, like haunts and festivals. You can allow attendees to transfer their own tickets when you have a sudden cancellation. Use TicketSignup's Email Marketing to send an email with a Manage Tickets link, which will give them a unique verification code tied to the purchaser's email. Self-serve ticket management significantly reduces customer support time and makes sure that people get to choose an alternative night that works for them.
TicketSignup continues to add more features that help your event on Event Day. We are also available to support you with everyday support coverage via info@ticketsignup.io and dedicated Account Managers to make sure you are prepared for Event Day. Stay up to date on our latest Event Day releases at our blog: https://info.ticketsignup.io/category/products/event-day/.