Reporting is key to any organization. TicketSignup's reporting is designed to be comprehensive but accessible, with reports for your ticket purchasers, promotional efforts, donations, event day operations and your financial team. Dive into your reporting options below, or jump to the reports you're looking for.
Ticket Reports
These reports help you understand and manage your event attendees and ticket purchases.
Ticket Purchase Report
The ticket purchase report shows you every purchase made, with tickets grouped with the other tickets from the same purchase. It includes a search to allow you to more easily find the purchase you're looking for, and gives you the option to add question responses, store items, and donations to the report.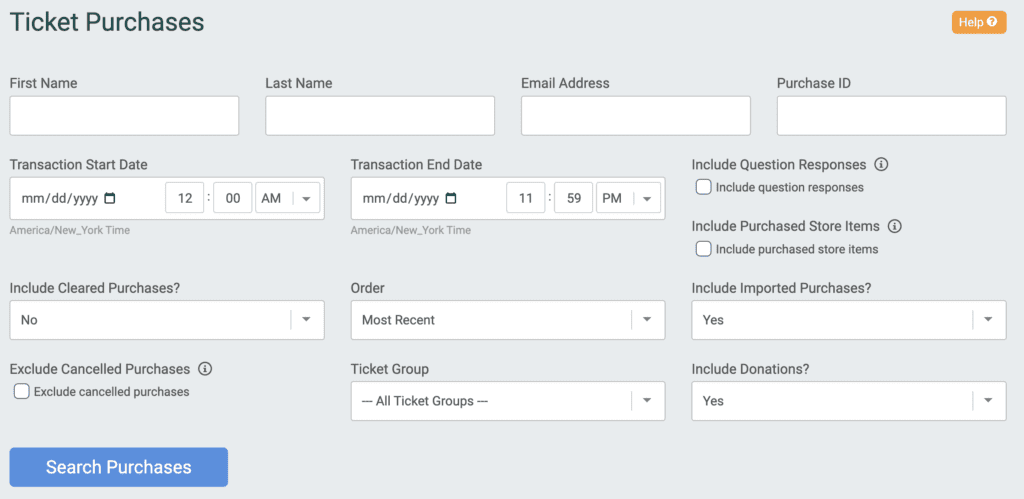 From this report you can use the Manage button to view more details, resend confirmation emails, initiate refunds or transfers, edit question responses and ticket information, and generate a time-stamped version of the waiver they signed.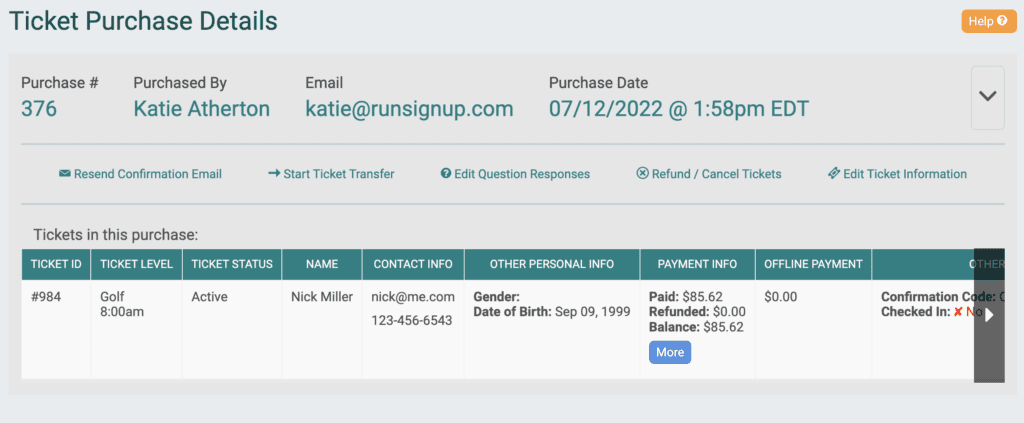 Learn More About Ticket Purchase Reports
---
Individual Tickets Report
The Individual Ticket Report allows you to view the details of every individual ticket, search or filter for specific tickets, customize your report view, and print or download all the data from the report into a CSV or Excel file.
Example Individual Ticket Report

Print and Export Options for Individual Ticket Report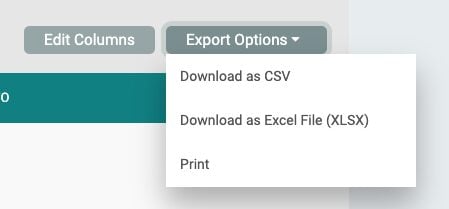 Learn More About Individual Ticket Reports
---
Ticket Sales Summary Report
The Ticket Sales Summary Report will give you a quick view of the financials of your event by ticket group. Please note that this is not intended for reconciling exactly to transactions; you should use the Financial Reports below for that purpose.

Learn More About the Ticket Summary Report
---
Ticket Transfer Report
The Ticket Transfer Report gives you an at-a-glance look at all tickets that have been transferred within your event (if enabled).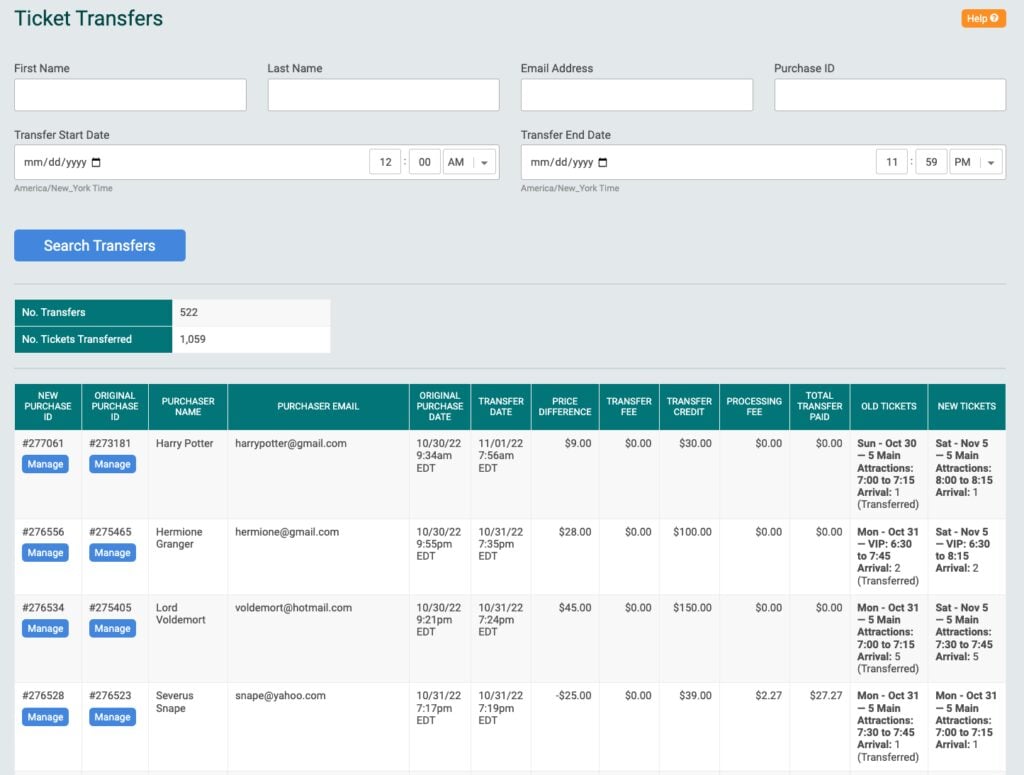 Learn More About the Ticket Summary Report
---
Ticket Analytics Marketing Reports
Ticket Insights
These reports allow you track the source of every click, ticket purchase, and donation so you can make smarter marketing decisions.
This set of reports helps you to understand the current status of ticket sales, identify where your attendees are coming from, and evaluate the success of your marketing efforts.
By default your event will show your page views over the last week, but you can customize it to show any time period up to 90 days.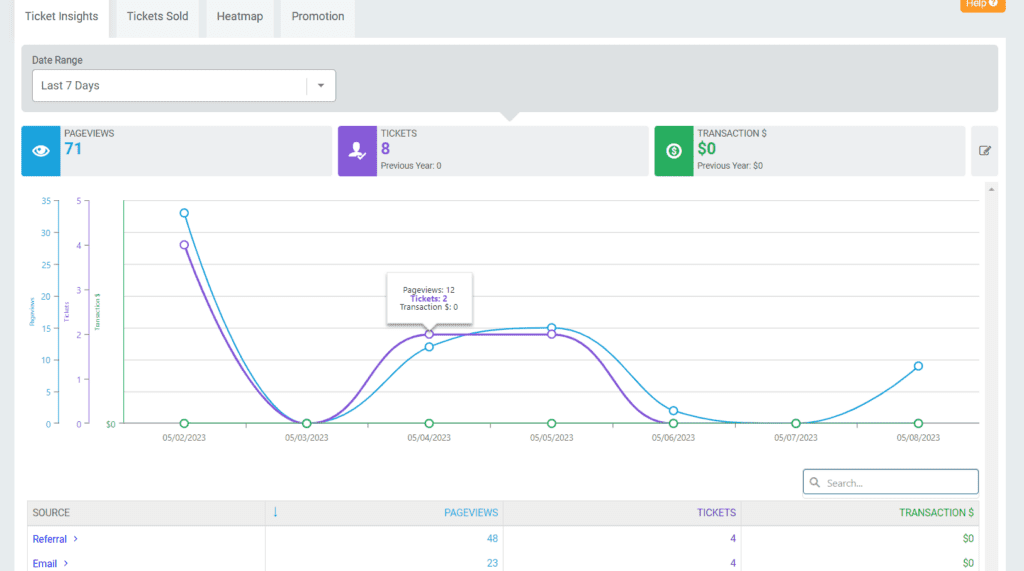 The true power of Ticket Insights can be found at the bottom of the chart, where you can click into each source (Referral or Email) to get a more granular look at how many page views and purchases came from each specific source.

To take your marketing to the next level, you can assign custom referral tracking codes so you can evaluate the success of every marketing action, such as a specific Facebook post or a partner promotion.
Learn More About Ticket Insights
Learn More About Custom Source Tracking
Tickets Sold
This summary report on your event dashboard gives you a quick glimpse of how each ticket sales are going for each ticket option available.

For multi-day, timed-entry events, this report will show the progress of ticket sales by day. Clicking into each day will allow you to further drill down to see the status of ticket sales by time slot.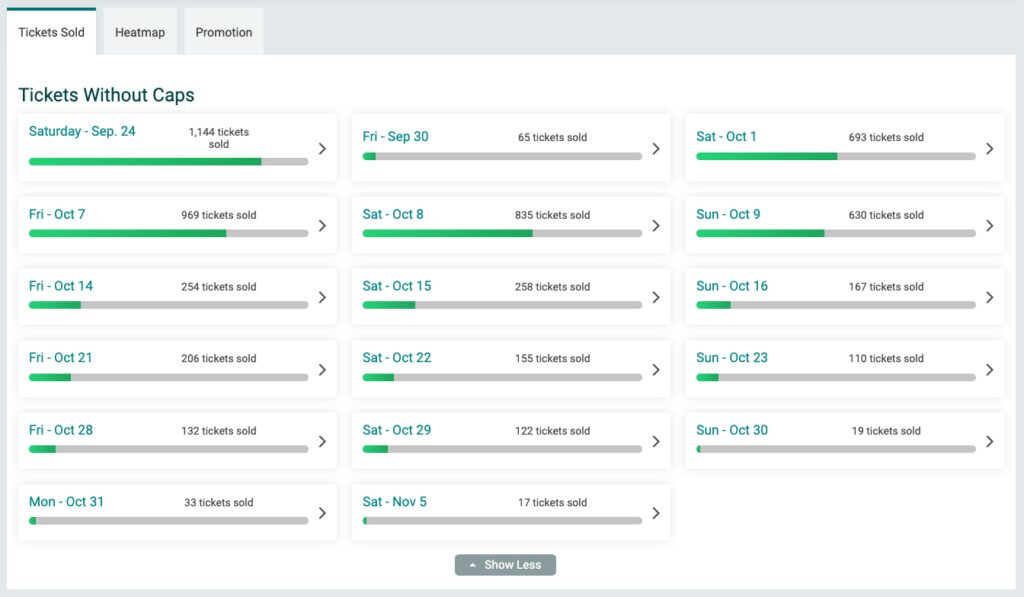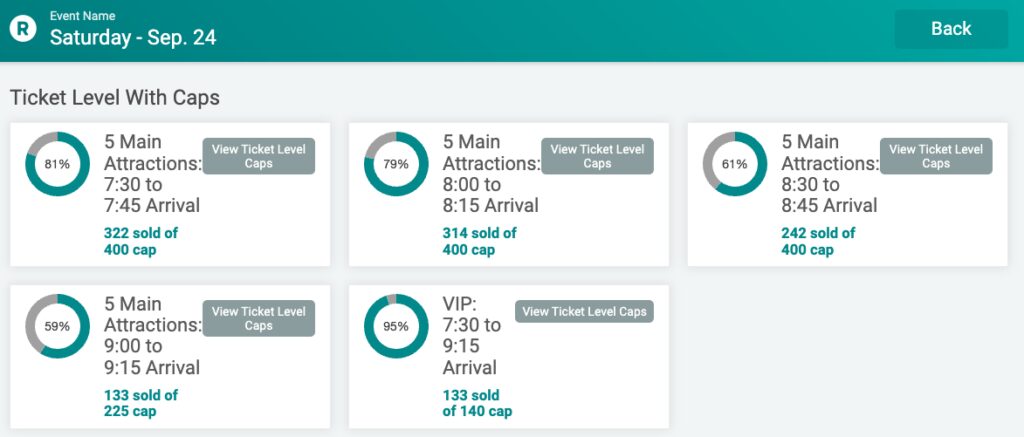 Learn More About the Ticket Analytics Reports
---
Heatmap
See where your attendees are coming from (based on the zip code from their credit card) to help identify what areas you should target with your marketing spend. Beyond the nice visual, this zip code can be downloaded for further analysis.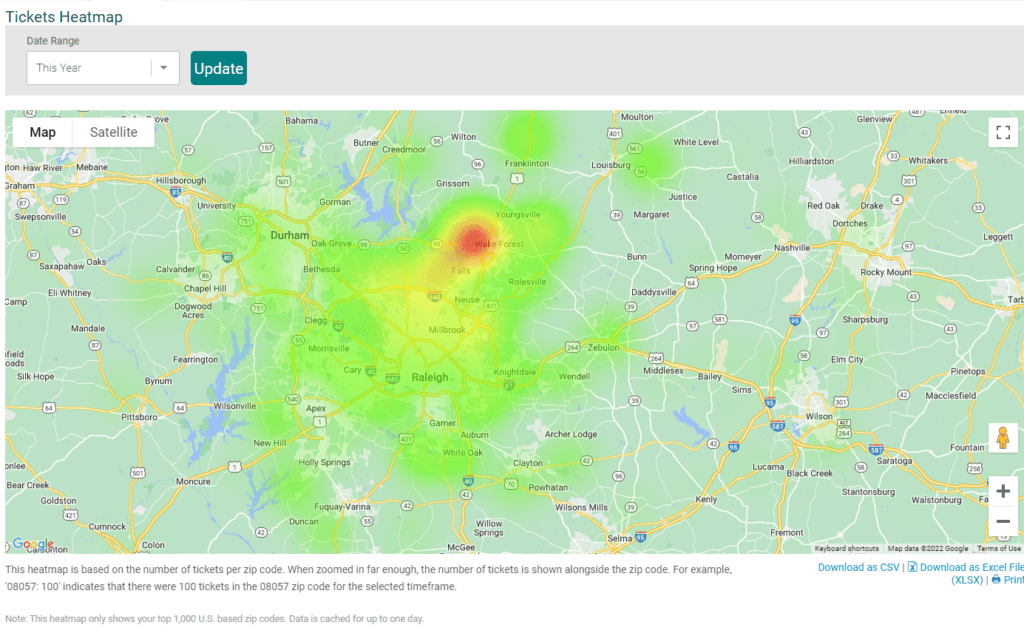 Learn More About the Heatmap Report
---
Referrals
For events that enable a Referral Rewards program, this report breaks down the cost and results of your referral program. The report will show you what percent of all tickets have come from the program, the total cost from refunds, and the revenue from referrals to help you calculate your CPA and ROI.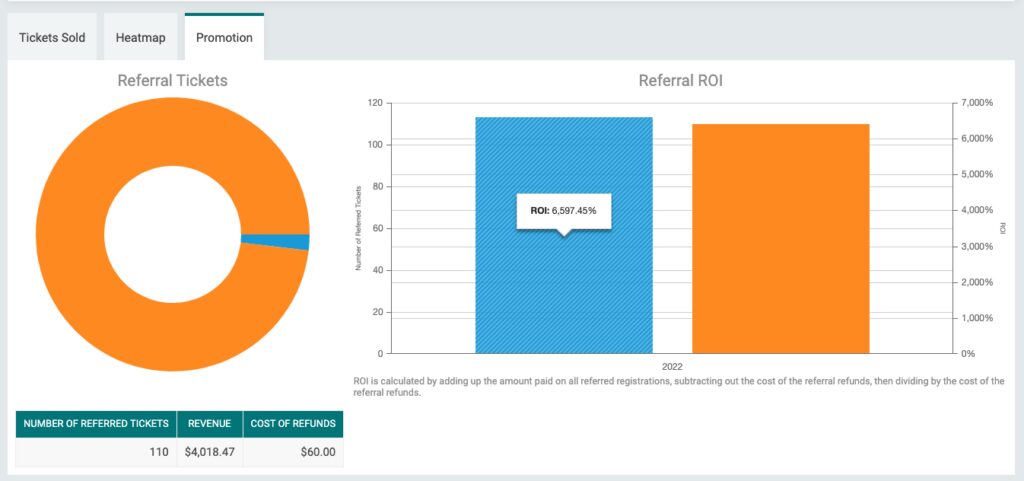 Learn More About the Referrals Report
---
Coupon Reports
If you offer any price incentives via coupon codes, you can access a quick Coupon Report showing you the number of uses, amount of discounts, and related transactions for each coupon code or all coupon codes.

Learn More About Coupon Reports
---
Donation Reports
View all your donors at once, whether they give during the ticket purchase or as a standalone donation. This report gives you easy access to the transaction data, attribution data, and as the ability to refund an erroneous donation.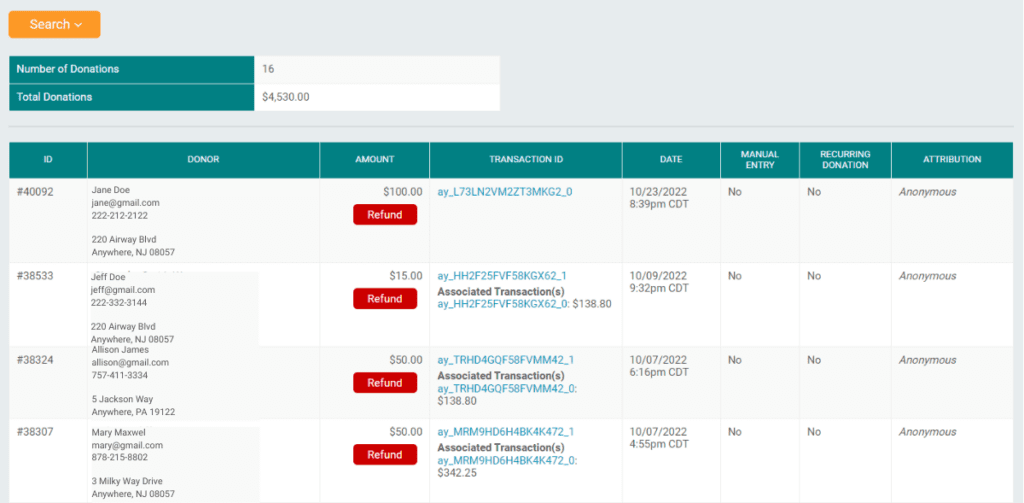 Learn More About Donation Reports
---
Event Day Reports
CheckIn Reports
Use data to better allocate your on-site staff or volunteer assignments. CheckIn Reports from the Tickets App are available on your mobile device or from your event dashboard, giving you a quick look at how many tickets have been checked in for each ticket slot, as well as the time of your first and last check-ins.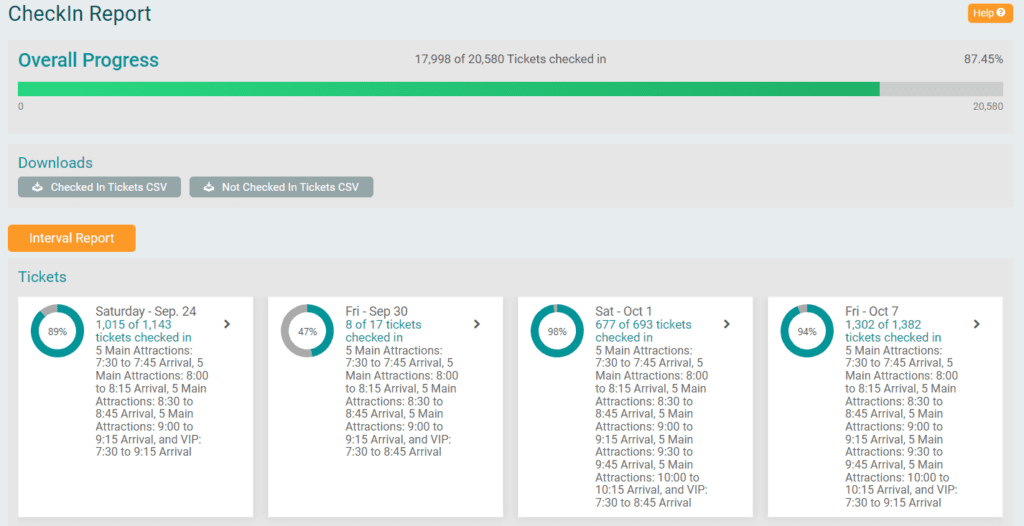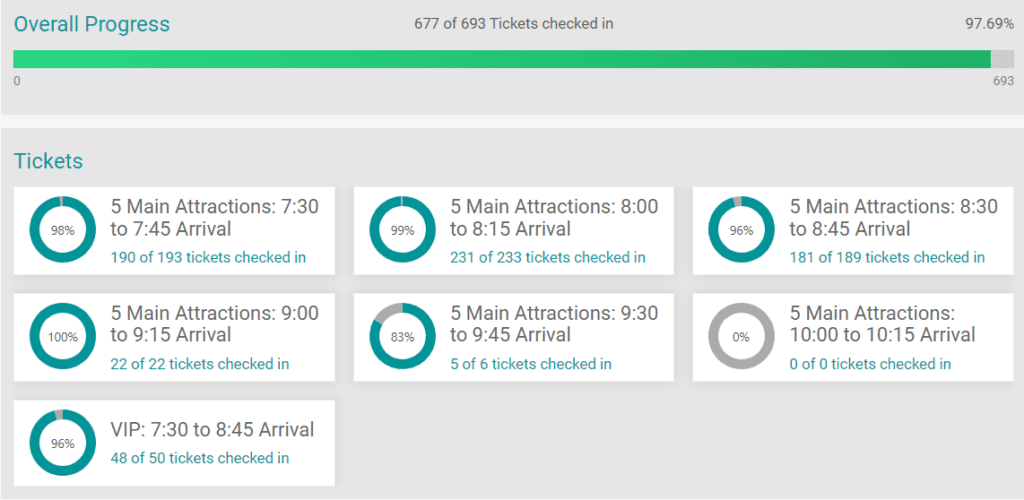 CheckIn Interval Report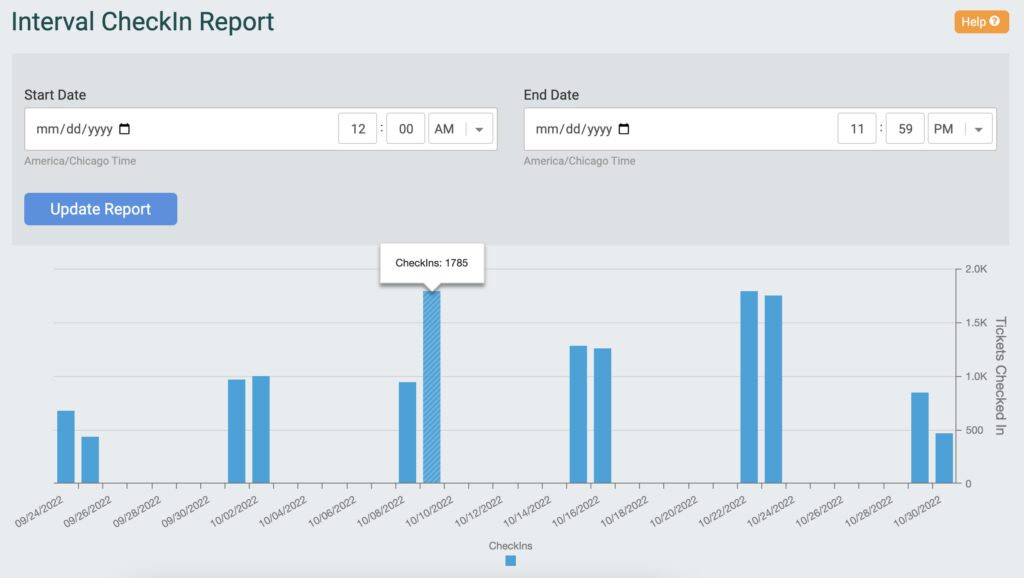 Learn More About Event Day Reports
---
Financial Reports
TicketSignup's financial reports are designed to make your accountants happy, with a range of exportable options.
Financial Summary
The Financial Summary is your hub for financial data about your event, with multiple easily accessible options.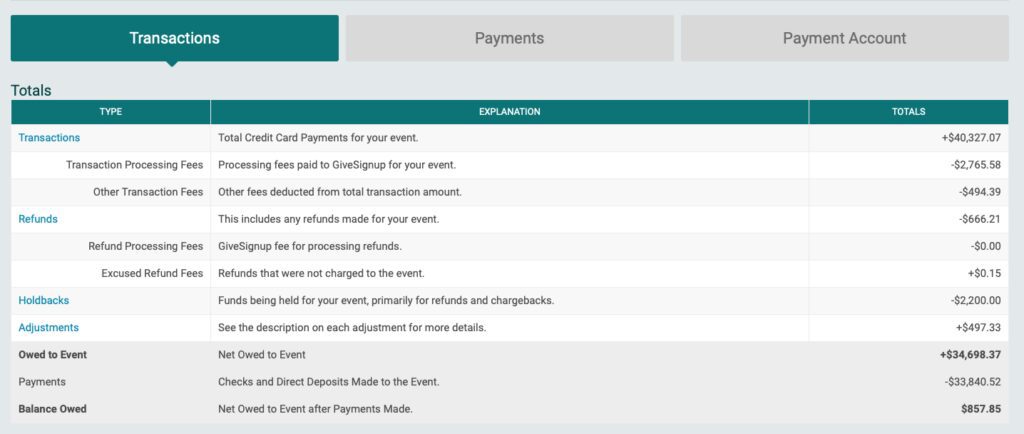 From this screen, you can delve into a number more in-depth reports via the linked "Types".
Transactions
Click on the Transactions link to view a full list of transaction information, including the purchaser information and a breakdown of the fees for each transaction.

Refunds
Click on the Refunds link for a summary of all refunds given for the event, along with the refund recipients and the ticket purchase information. Additionally, it will be noted here if the refund was the result of a referral reward.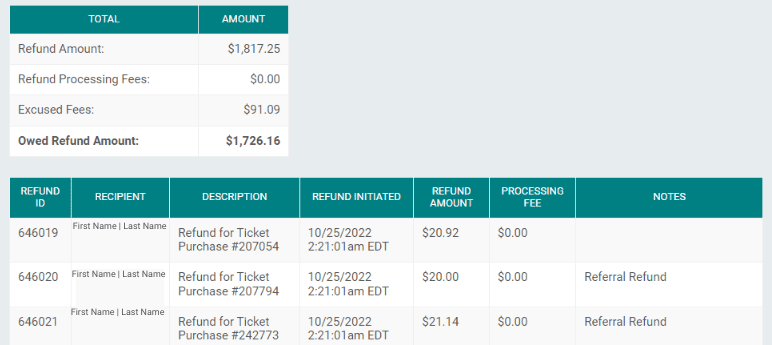 Holdbacks
If you click on Holdbacks link, you will see all transactions that impact your holdback. A holdback is money that is held in your account to handle customer refunds and chargebacks; a positive holdback means that money is being withheld. If you have a referral refund rewards program enabled, you will automatically have a holdback to handle those potential refunds, but you can also add additional holdback money or transfer funds to your refund reserve by navigating to Financial >> Chargeback/Refund Reserve.

Adjustments
If you click on the Adjustments link, you'll see any additional changes to your financials. This is where you'll see any adjustments due to chargebacks. You can learn more about chargebacks here.

Learn More About the Financial Summary Reports
---
Payments
Click on the Payments Tab to access a report of all payments made to your event.

Learn More About the Financial Summary Reports
---
Payment Account Reports
If you have multiple event set up under the same payment account, this reporting will help you to understand all of the payments coming from TicketSignup and RunSignup. This includes access to download all transactions per funds transfer and add custom account codes.
Sales Tax Reports
In states where we are required to do so, TicketSignup collects and remits sales tax on your behalf. You can find a summary of all sales tax collected as well as a list of all the taxable transactions.
---
Store Reports
In addition to displaying store items in the purchase and individual ticket reports above, you can view a store summary with overall quantities, quantities by Ticket Group, and Fulfillment information.
Item Summary

Summary by Ticket Group

Fulfillment/Shipping Summary