2.7 Million+ People Checked In With Our Event Day Apps in 2022
The TicketSignup Tickets App makes attendee check-in a breeze for every event – and for more complex events, allows for easy item fulfillment and attraction checkin.
Download the TicketSignup Tickets App
Whether you want the TicketSignup App for CheckIn or on-site purchase through Square (or both), it's FREE and available on any ioS, Android, or Chromebook device.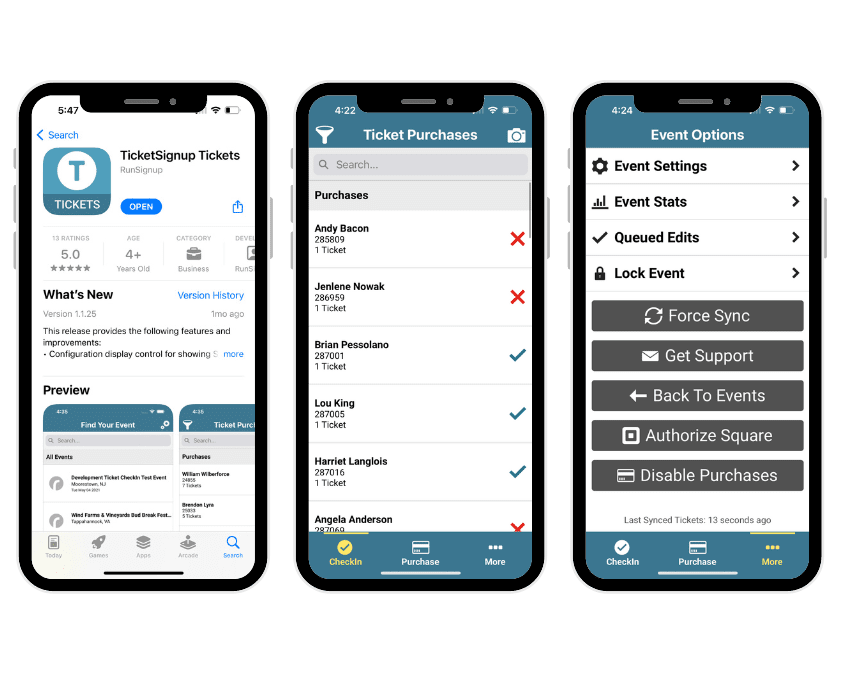 TicketSignup Tickets App for CheckIn
Works online and offline
Spotty connection? Our team has worked with thousands of events in remote locations, from farms to national parks, to make sure our EventDay tools work regardless of connection
The TicketSignup Tickets App stores all tickets and store purchases, allowing you to scan QR codes and look up purchase info without internet
All CheckIn data is queued per device – so edits sync when you get a signal, meaning you never lose check-in data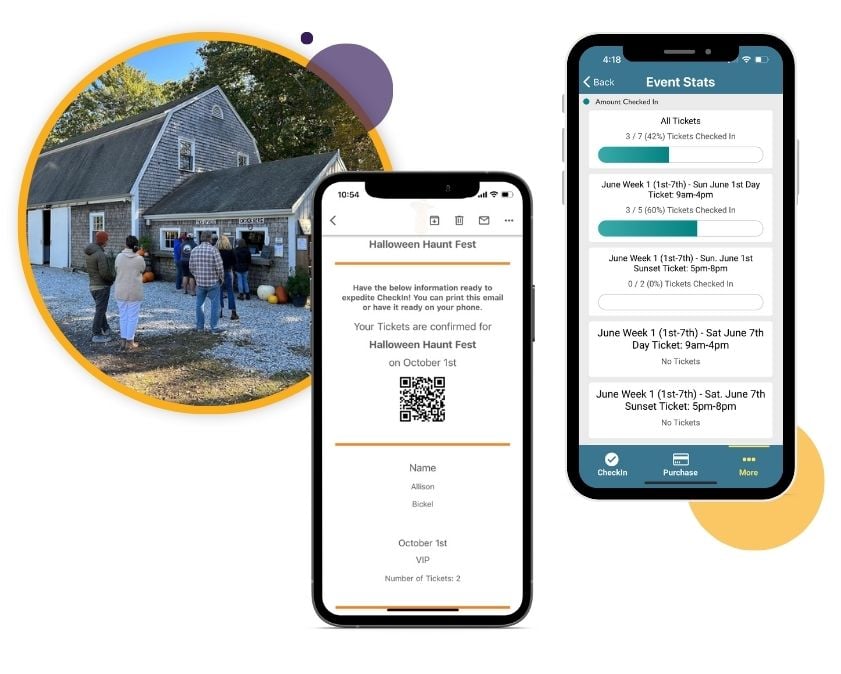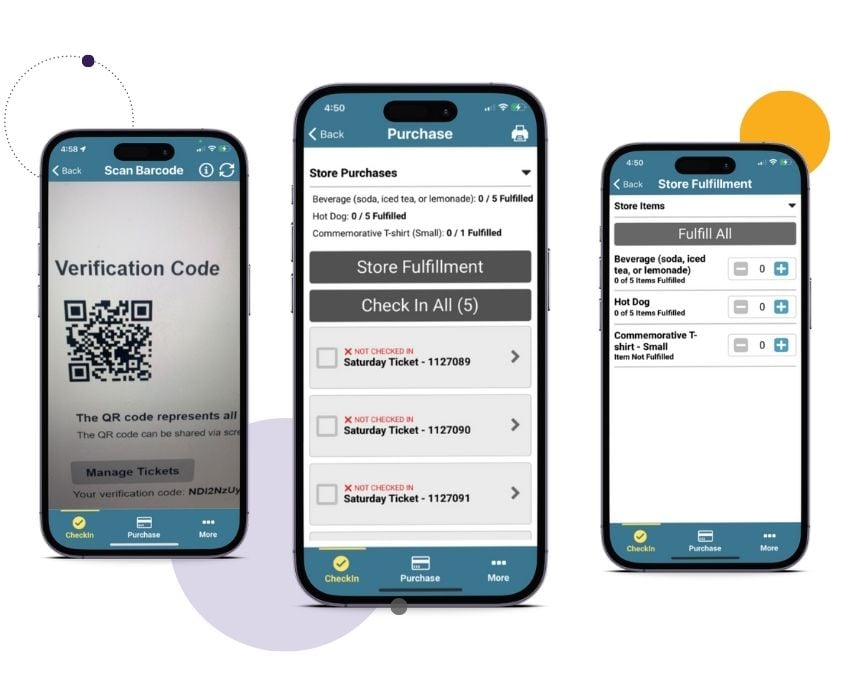 Scan QR codes or Search Purchaser Name
Send attendees their QR code with a scheduled pre-event email. Apple Wallet coming soon!
No QR code? No problem. You can also pull up purchases using a name search to keep lines moving quickly
CheckIn In Action
Check in Attendees in Seconds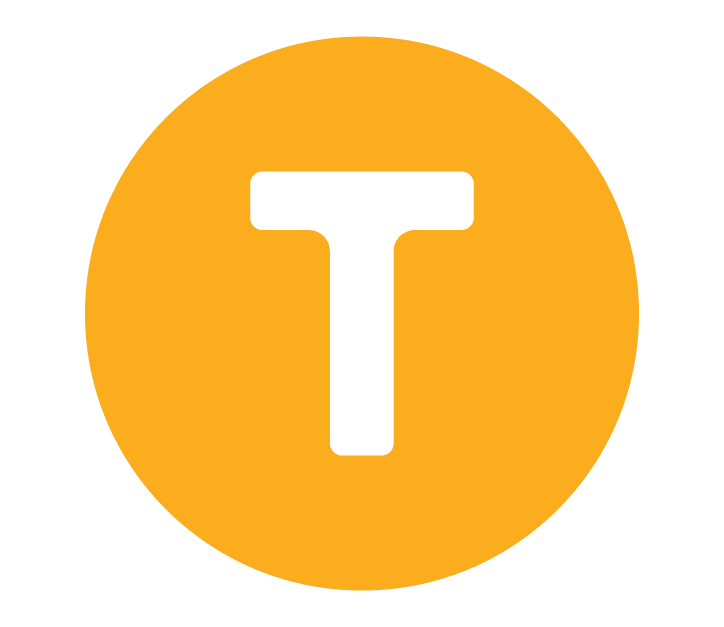 Easily Manage Tickets in CheckIn
Customize CheckIn Display for Event Staff
Show all tickets, or filter on ticket type (I.E. only VIP), date (I.E., only Friday tickets), or time slot (I.E., only Friday 10/13 tickets for 8:00am).
Choose which ticket details to display or hide in the app
Choose which permissions the staff has, like the ability to un-check-in tickets
Create different app configurations for different staff members, depending on their needs and roles
Lock the Tickets App so staff cannot edit settings or permissions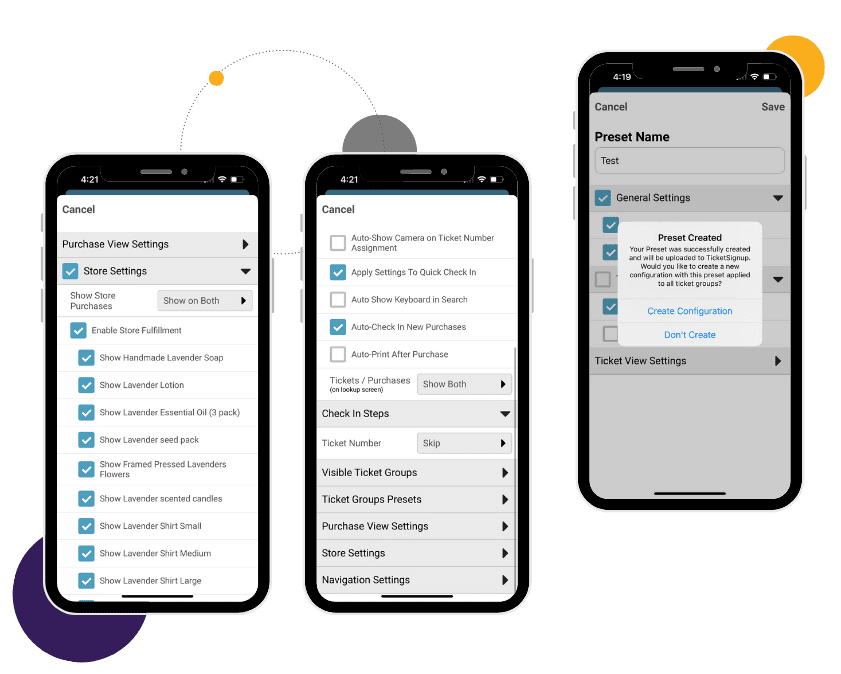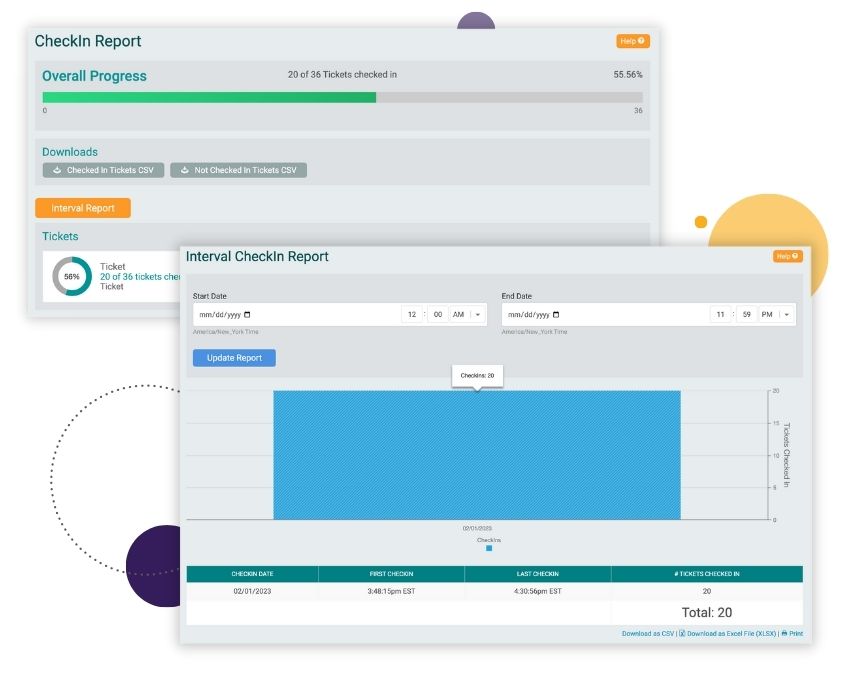 View Stats
Monitor check-in stats in the Tickets App
View aggregate stats by ticket type, date, and time slot
Understand when check-ins occur with time-stamped data through check-in interval reports and check-in report exports
---
Redeem Items with the Tickets App
Redeem Items On Site
Selling merch or upselling with add-ons? Bundling items with tickets? The Tickets App makes it easy to fulfill additional purchases and bundled items

Example: 2 drink tickets are included with VIP tickets. Easily redeem them onsite with the Tickets App
Example: An attendee purchased 3 light wands online, you can mark them as fulfilled when picked up at the event

Configure the app based on each staff member's role to allow only tickets check-in, only store check-in, or check-in of both
Redeem standalone purchases on-site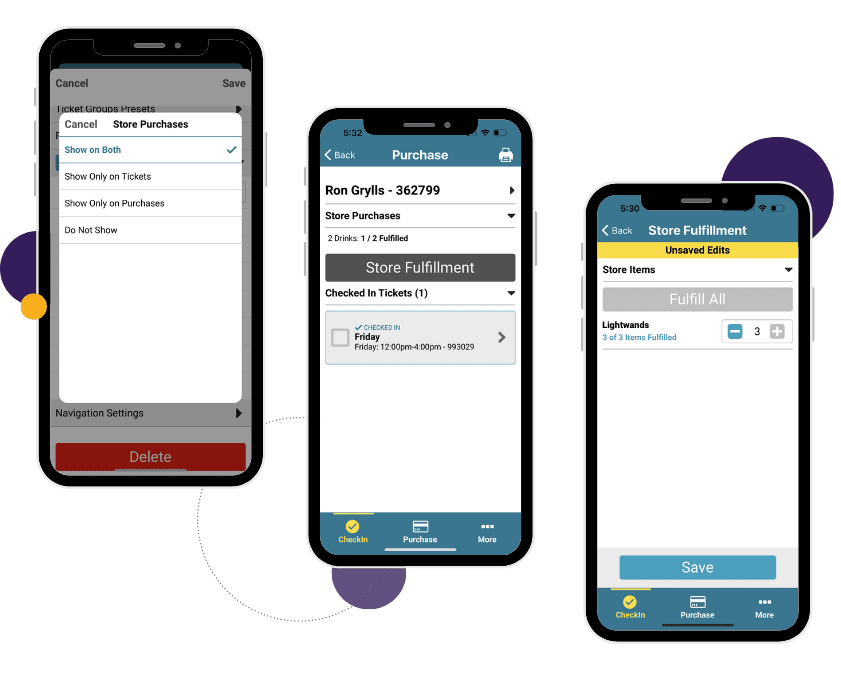 Check-In Attractions with the Tickets App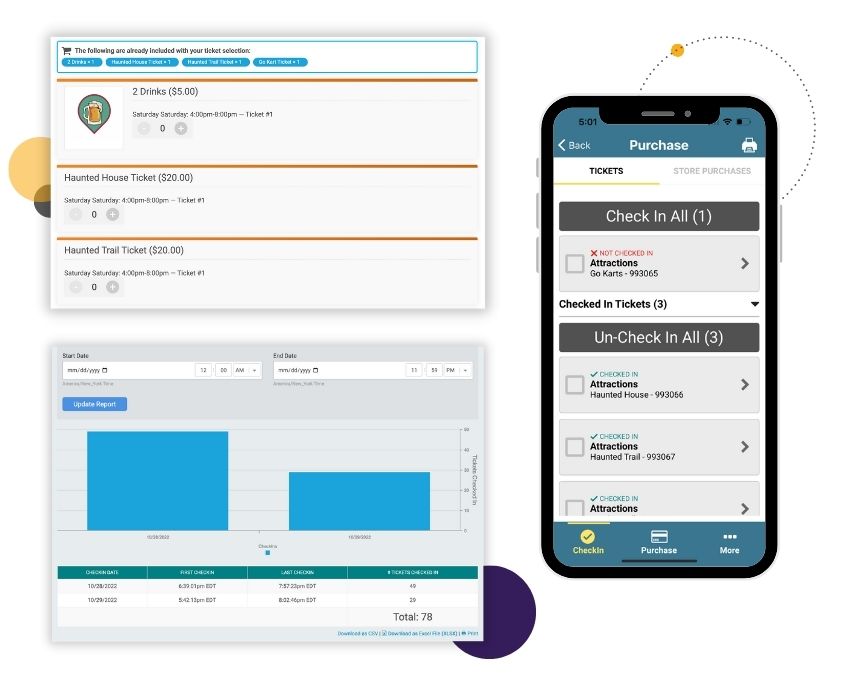 Attraction CheckIn
Seamlessly handle secondary check-ins at attractions and experiences within your event
Automatically include attractions, along with the number of times they can redeemed, with ticket purchases
Dynamically assign ticket data to wristbands with QR codes. Learn More.
Make it easy for ticket holders to redeem their attractions on site

Haunt Example: 4 attractions included with ticket; scan QR code at each attraction to ensure attendees only go through the attraction once

Capture more data to understand throughput and address bottlenecks in lines at attractions/booths with TicketSignup analytics and time-stamped data
What Else Can You Do with the Tickets App?
TicketSignup enables on site sales with point of sale options within the Tickets App. On site sales are built on top of Square so your event can use Square's suite of low-cost, best-in-class hardware to accept payments. Square's on site fees are 2.6% + 10 cents. Add your Square account to your event and start selling tickets on site!
---
All the Latest Blogs on the TicketSignup Tickets App…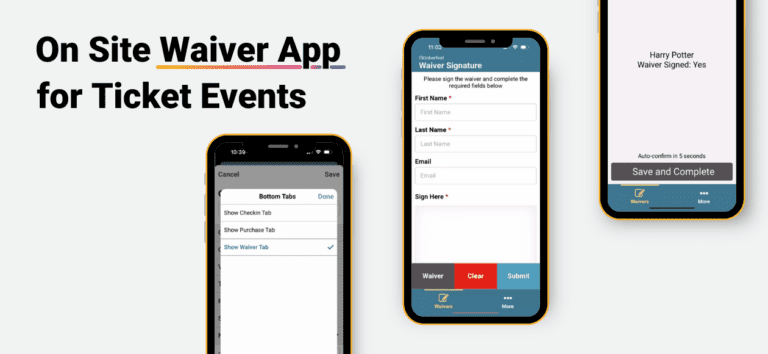 TicketSignup is excited to introduce on site waivers for ticket events through the free Ticket App. Stop using paper waivers and streamline on site waivers for free with TicketSignup. Available for free on any iOS, Android, or Chromebook device, TicketSignup's on site…
Read More
Show More