Hosting an Airshow? There's a range of ticketing, registration, and technology solutions that can help your event to take flight. Whether you're offering a free event with upsell options, a large-scale show with a range of viewing tiers, or a multi-day Airshow with a variety of linked events, you need the right technology for your event.
TicketSignup technology is completely free for you (ticket purchasers pay a small processing fee) and you control your options. In other words, you're always the pilot of your event.
Here are a few ways that Airshows can enhance their events through technology:
1. No Exclusive Contracts
The TicketSignup platform is completely open. That means that you can use the platform (or our RunSignup registration platform) for pieces of your Airshow that make sense – but you aren't obligated to use it for everything if you have another technology piece that's working for you.
For example, we were first introduced to airshows through Runway 5K's hosted on our RunSignup registration platform. These fun runs on airport property are often either a part of the airshow weekend festivities or an annual event to garner more interest in an upcoming airshow. These include recent events like:
You're always welcome to use TicketSignup (or RunSignup registration) for the pieces of your Airshow that make sense, and there will never be a contract obligation to use our technology for everything.

2. Built for Multi-Day and Timed Entry Events
Airshow's with multiple days and multiple timeslots across each day can take advantage of the intuitive setup of TicketSignup's multi-day, timed entry ticketing system. TicketSignup's simple system of creating and managing tickets in groups so it's fast and easy for attendees to identify the right ticket for them.
Flexible display options for multi-day and timed entry events allow you to show your available days on a calendar, feature all available options right on your website, or require attendees to pick a day (or type of ticket) first, before seeing the associated time slots and options.

3. Ticket Management
Reduce customer service and cut your no-show rate with flexible ticket management options that allow attendees to change and edit their tickets directly from their confirmation email (no logins or passwords required). Want to allow but discourage ticket changes (and make a little extra money)? Add an change fee for attendees who decide to move their tickets.
All transfers can be set to respect existing attendance caps, and any attendees transferring to a more expensive time slot will automatically be charged the difference.

4. Easy Upselling and Merchandise Sales
Add store items to your online sales to capture the enthusiasm of attendees in the moment and upsell their ticket purchase. TicketSignup's Warehouse capability will allow you to track your inventory within the event, along with sharing inventory between events.
Want to take your merch sales to the next level? Ticket bundles allow you to create pre-set bundles of tickets and store items (such as 1 VIP Adult Ticket that includes 2 Beverages and 1 Premium Jacket). You ensure the income from those items by selling them upfront, and your on-site team can track the redemption off the drinks and swag separately from the TicketSignup Tickets App.

5. Event Day App
Speaking of the TicketSignup Tickets App, streamline your event day operations with an easy-to-use but powerful app that staff can operate directly from their phones. The Tickets App has several key capabilities:
Check-in attendees individually or as a group based on the ticket purchaser, using an instant QR scan or speedy search
Check in bundle items individually
Enable the Point of Sale for on-site ticket sales via an integration with Square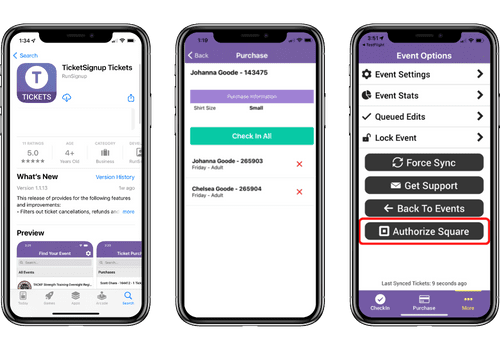 6. Sales Tax and Chargeback Management
Reduce the stress and anxiety of sales tax with built-in tools to manage some of your most frustrating financial tasks. TicketSignup collects and remits all sales tax, specific to the rules of your geographic location, for you. Reports are always accessible to demonstrate that you have met your obligations.
Additionally, we respond to and dispute any chargebacks made against your event to limit fees with no required action from you.